Making It In Michigan Conference and Marketplace goes virtual for 2021
MSU Product Center hosts 13th annual conference in April and May.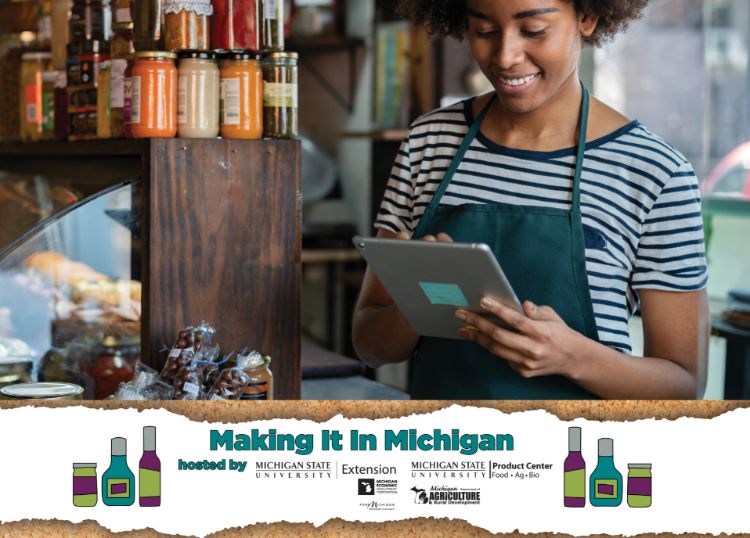 This year's Making It In Michigan Conference and Marketplace Trade Show will be held virtually April 27-29 and May 4-6, 2021. The 13th annual conference is hosted by the Michigan State University Product Center and Michigan State University Extension.
The program will feature in-depth educational sessions, networking opportunities, take-home resources, and a virtual vendor catalog for food entrepreneurs to sell their products and make connections with buyers through a unique buyer-supplier event. The conference will also incorporate a pitch competition through the Michigan Good Food Fund and a collegiate chef recipe showdown in partnership with the Michigan Bean Commission.
"We are excited to offer a unique opportunity for Michigan food entrepreneurs and food buyers," said Mollie Woods, director of the MSU Product Center. "It is our goal to equip participants with the resources they need to start or grow their food business or value-added agriculture dreams."
The educational program will feature industry leaders, major and community grocery retailers, successful entrepreneurs, regulators, lawyers, and MSU experts sharing trend information, best practices, tips, and regulatory information to help entrepreneurs at all levels improve their businesses. In addition, entrepreneurs will have a chance to virtually meet the MSU Product Center innovation counselors who can serve as a resource long after the conference ends.
The program also offers new and existing businesses an opportunity to find the right customers and buyers to expand their markets. The virtual vendor catalog provides businesses with an opportunity to share their story and products with retailers from large supermarket chains, institutional buyers, independent grocers, specialty food retailers, co-ops, chefs, and more. Buyers also have a unique opportunity to get a first look at the latest food products in Michigan. To learn more about becoming a vendor, visit the Making It In Michigan website.
In addition, the MSU Product Center is excited to welcome as conference partners the Michigan Department of Agriculture and Rural Development (MDARD) and the Michigan Economic Development Corporation (MEDC). MDARD and MEDC Pure Michigan Business Connect will host, as part of the conference, a unique matchmaking opportunity for buyers and sellers on May 6, 2021. This program will bring together purchasers including grocers, retailers, distributors, institutional buyers, or anyone looking to procure Michigan-made food, with suppliers from around the state to connect in one-on-one virtual meetings, all with one common goal: to strengthen Michigan's food supply chain.
"Our team at the MSU Product Center and MSU Extension have pulled together to develop a fabulous educational program and a truly innovative opportunity to connect buyers and suppliers virtually," said Woods. "I am excited to be partnering with MDARD and MEDC; our combined business development and support programs are a real powerhouse for Michigan entrepreneurs."
For detailed conference or trade show information visit, https://www.canr.msu.edu/miim/ or contact ANR Event Services at events@anr.msu.edu. The MSU Product Center supports entrepreneurs in the food industry by offering food product businesses the information and tools they need to succeed today. Previous Making It In Michigan conferences have attracted nearly 200 food product businesses and dozens of food business buyers.