Making Food Safer
Using the only pilot plant-scale processing line for leafy greens in the country, an MSU AgBioResearch scientist is helping companies control transmission of E. coli O157:H7 in lettuce.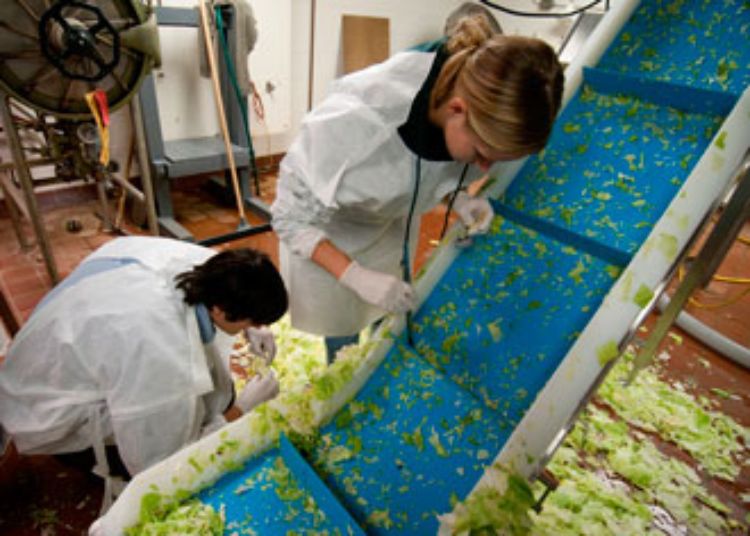 Each year, an estimated one of every six people in the United States will get sick from eating contaminated food. MSU AgBioResearch scientist Elliot Ryser, one of the country's leading microbial food safety experts, is helping companies control transmission of bacteria in food, especially E. coli O157:H7.
E. coli is a natural inhabitant of the intestines of all animals, including people, and can contaminate farm-grown fruits and vegetables through irrigation water. The O157:H7 serotype can severely damage the lining of the intestine and cause severe cramping, fever and bloody diarrhea. In most cases, symptoms are mild and usually clear up after about eight days, but E. coli produces a potent toxin that can cause acute kidney failure in children. Undercooked or raw hamburger has been linked to many O157:H7 outbreaks, with alfalfa sprouts, unpasteurized apple cider and leafy greens now increasingly implicated.
After three outbreaks of E. coli O157:H7 were linked to contaminated spinach and lettuce in 2006, Ryser began a multipronged research program to give the leafy greens industry hands-on information about steps that could be taken if contamination were detected.
"The overall goal of this five-year USDA-funded study is to develop strategies to enhance the safety, quality and shelf life of ready-to-eat foods, focusing on providing critical quantitative data on the transfer of E. coli O157:H7 during commercial-scale processing of leafy greens," he explained. "We know that washing lettuce in tap water containing commonly used commercial sanitizers will remove only 90 to 99 percent of the contamination, which is not sufficient to ensure end product safety."
Ryser and his team of more than 10 students have conducted experiments to determine how fast and how long a commercial lettuce processing line would be contaminated if a small amount of contaminated product happened to get into the mix.
Using a commercial-sized processing line in his lab on the MSU campus, the researchers contaminated 20 pounds of radicchio leaves with non-pathogenic strains of E. coli O157:H7 and ran it through the processing line (shredding, conveying, washing, drying). They then ran 2,000 pounds of uncontaminated iceberg lettuce through the same equipment. After sorting through 40, 50-pound bags of greens and combing through all the bits left on the processing equipment, they found radicchio in every bag of processed lettuce and hundreds of small pieces on the processing line waiting to be spread further.
"We wanted to demonstrate how far the contaminated product can spread during processing," Ryser said. "These findings clearly show that an entire day's production is likely at risk if a processor has a contamination event and needs to issue a recall. The goal is to give the leafy green industry suggestions about improved equipment design and when they need to shut down the line and sanitize the entire processing line, and predict how much additional product may be at risk if E. coli O157:H7 is later found in a bag of salad greens."
Having the only pilot plant-scale processing line for leafy greens in the country gives Ryser and his team an advantage.
"My laboratory is uniquely positioned to provide answers to these and other urgent food safety questions, including the impact of water quality and newly emerging sanitizer treatments to minimize E. coli O157:H7 transfer and subsequent contamination during commercial processing of leafy greens," he added.
For more information on Ryser's research on E. coli and leafy green contamination, visit YouTube.