2012 PhD alumnus Max Melstrom returned to campus to give an AFRE seminar on his evolving work with the Endangered Species Act and its effects on land values.
Department of Agricultural, Food, and Resource Economics (AFRE) PhD alumnus Max Melstrom returned to campus to speak at November 29's AFRE Seminar on, "The Effect of Land Use Restrictions for Endangered Species on Agricultural Land Values."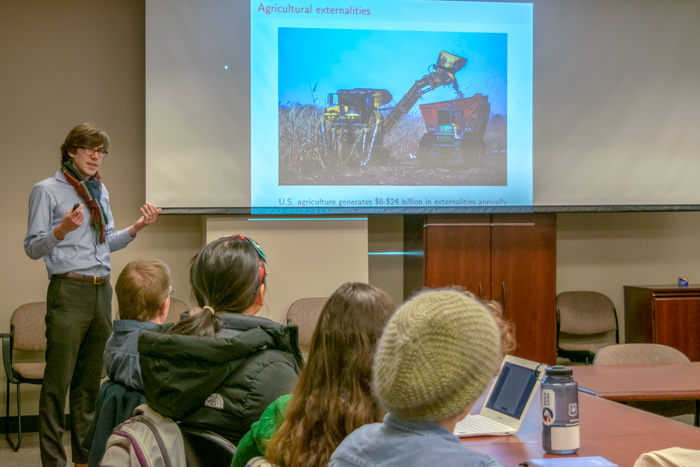 Melstrom was studying business and economics at Kalamazoo College when he met AFRE professor Scott Loveridge, who introduced him to agricultural economics research. "Scott would bring an AFRE graduate student to give a research presentation at Kalamazoo every year," said Melstrom. "And then he would talk about the programs at MSU, which is when I first thought about graduate school and diving into research."
After studying abroad at the London School of Economics and seeing the possibilities of graduate research, Melstrom enrolled in the joint Economics and AFRE PhD program at MSU, where he was mentored by faculty members like Rick Horan and Frank Lupi.
"Max was one of the most successful students I had in terms of publishing while he was on campus," said AFRE professor Rick Horan. "As a team and individually, Max published papers in elite environmental economics journals while also taking on a teaching role back at Kalamazoo College — he was incredibly motivated to develop strong academic skills while he was here."
"My time at MSU was phenomenal," said Melstrom. "I not only had that great research direction and support from the faculty, but also had an awesome cohort of students to go through the program with."
Since graduating in 2012, Melstrom taught at Salisbury University before moving to a research and extension appointment at Oklahoma State University. It was there that he began his research on endangered species, and how their listings affected land values and agricultural industries.
"I started looking at the effects of the U.S. Endangered Species Act (ESA) after a controversial debate began in Oklahoma about the Lesser Prairie Chicken," said Melstrom. "And from there I've expanded my research to how this act affects the entire United States."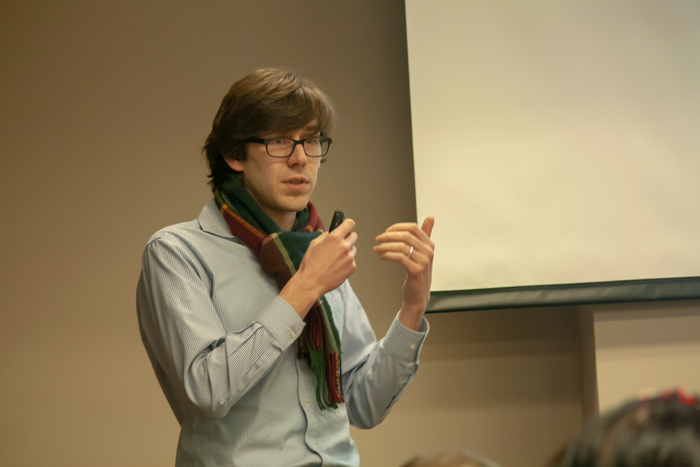 It's some of these effects that Melstrom presented to faculty members and graduate students on November 29, explaining there is evidence that restrictions activated by a new listed species does lower land values, especially in dryland areas.
Now an Assistant Endowed Professor of Ecological Economics and Environmental Policy at Loyola University – Chicago, Melstrom teaches, researches, and mentors undergraduate students interested in environmental research, and is the incoming editor of the Northeastern Agricultural & Resource Economics Association's Agricultural and Resource Economics Review.
"I want to continue to do my research and work on projects that interest me, but I also want to develop programs for students interested in environmental sustainability," said Melstrom. "That includes developing new interdisciplinary courses, and new degree options such as a Master's program I'm helping to create at Loyola."
Learn more about AFRE alumni and the PhD program.
Did you find this article useful?
---