Michigan Event Highlights Agricultural Research and Extension
MSU, Farm Journal Foundation host Congresswoman Slotkin for roundtable discussion on importance of research and outreach in addressing global hunger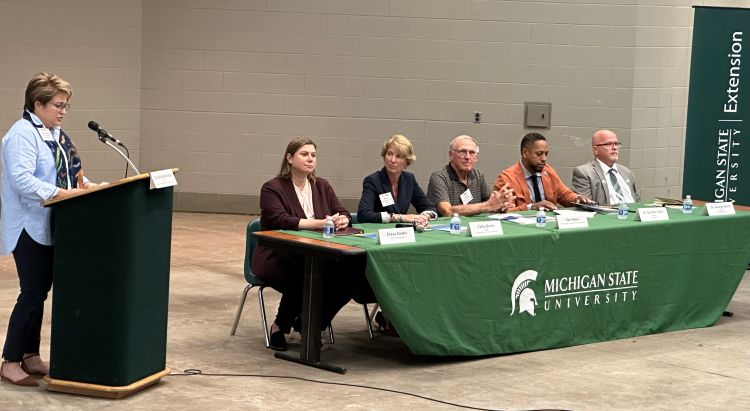 LANSING, MICH. (SEPT 5, 2023) – U.S. Congresswoman Elissa Slotkin met today with agricultural scientists at Michigan State University and leaders from Farm Journal Foundation to discuss how public support for agricultural research, development, and extension can help alleviate global hunger and malnutrition.
The event included a panel discussion with Congresswoman Slotkin and Dr. George Smith, Director of AgBioResearch at MSU; Dr. Quentin Tyler, Director of MSU Extension; Ken Nobis, Farm Journal Foundation Farmer Ambassador; and Cathy Burns, Chief Executive Officer of the International Fresh Produce Association. Panelists talked about how agricultural research and extension can enable farmers to increase production with fewer resources, strengthen food supply chains, and contribute to global food and nutrition security. Discussions about public support for agricultural innovation are particularly timely now, as Congress works to craft the next Farm Bill.
"Agriculture research drives the innovation that delivers better outcomes for farmers, lower costs and expanded options for consumers, and a stronger, more resilient food supply," said Slotkin. "In one of the most agriculturally diverse states in the country – the most diverse with regular access to fresh water – it's critical that we in Michigan remain at the cutting edge of agriculture, especially as adversaries like China spend more and more on ag research. The incredible work happening at Michigan State will help bridge that gap and will undoubtedly pay dividends for years to come. As the only Michigander on the House Agriculture Committee, I've introduced legislation to support agriculture research and will continue to advocate for it on Capitol Hill as my colleagues and I draft this year's Farm Bill."
Investing in agricultural innovation and extension is increasingly important, as global hunger and malnutrition have risen significantly over the past few years due to challenges including the conflict in Ukraine, extreme weather events driven by climate change, and the COVID-19 pandemic. New technologies and agricultural practices can enable farmers to become more resilient, increase production of crops including healthy foods, preserve natural resources, and adapt to changing climatic conditions. Investing in agricultural research and international development also benefits U.S. national security, according to a recent Farm Journal Foundation report.
"Farmers and food producers are under intense pressure to meet rising global demand for food with fewer resources and high input costs," said Ken Nobis, a Michigan dairy farmer and Farmer Ambassador with Farm Journal Foundation. "Agricultural research conducted at universities and other public institutions right here in the U.S. benefits American farmers, as well as smallholder farmers in developing countries where hunger and malnutrition are significant challenges."
Agricultural research has one of the highest returns of any public investment, returning on average $20 in benefits for every $1 invested, according to data from the U.S. Department of Agriculture. Agricultural innovation and extension are particularly important for Michigan, which has one of the most diverse agricultural industries in the country. The food and agriculture industry contributes $104.7 billion annually to the state's economy and over 800,000 jobs, according to the Michigan Department of Agriculture and Rural Development.
"In a state such as Michigan, with a rich agricultural diversity of roughly 300 commodities, federal funding to support agricultural research is vitally important," said Dr. George Smith, director of MSU AgBioResearch. "The Michigan agriculture industries rely on our scientists to help address both short-term needs and long-term challenges of the future, such as climate change and food security. Through partnerships with agricultural industries, as well as the state and federal governments, we're conducting research to help ensure a bright future for Michigan agriculture. However, the U.S. is falling behind competitors such as China and the European Union relative to public funding for agricultural research and development, and critical research infrastructure. Greater investment in public research is needed to avoid further jeopardizing the ability of the U.S. to lead the world in agricultural innovation and chart a food-secure future for citizens of Michigan, our country and beyond."
Agricultural research undertaken in the public sector, such as that being conducted at Michigan State University, has an important role to play in strengthening global food security. While private sector research investments have had a significant impact, particularly on yields for large commodity crops such as corn and soybeans, the public sector can support early stage research to pave the way for significant long-term innovations. Public investment can also support comparatively under-explored areas such as animal health, environmental, and food safety research, and unlock innovations for smallholder farmers overseas, helping developing countries feed themselves. Investing in agricultural extension alongside innovation helps ensure that farmers have access to the latest tools and farm management practices.
"Michigan State University Extension improves lives through an educational process that applies knowledge to critical issues, needs, and opportunities. This is made possible through the unbiased and factual public agricultural research from MSU that we take to all residents of the state of Michigan to provide people with better solutions to improve their families, communities and businesses" said Dr. Quentin Tyler, director of MSU Extension. "We, MSU Extension, are proud to state that the research that we receive from our faculty and staff is innovative, cutting edge and allows our constituents to be out in front of opportunities as well as responsive to emerging threats and challenges."
About Farm Journal Foundation
Farm Journal Foundation is a nonprofit organization dedicated to achieving global food security by sustaining modern agriculture's leadership role and ability to meet the vital needs of a growing population. The organization works to advance this mission through key issue areas, including global food and nutrition security, conservation and sustainability, rural development, and agricultural research and innovation. To learn more, visit www.farmjournalfoundation.org.