Michigan Grape Scouting Report – August 2, 2023
Veraison in Michigan: The beginning of the harvest celebration!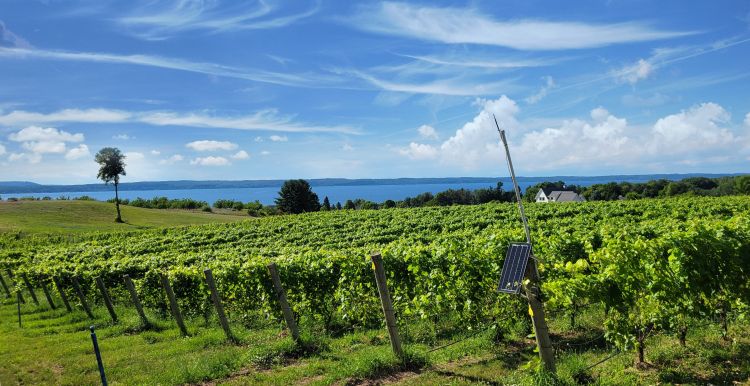 Weather
Click below for detailed seven-day forecasts for various grape production regions.
Southwest
Southeast
Northwest
Report on growing degree days (GDD)
The following table summarizes the GDD 50 degrees Fahrenheit for the current week and the previous week, as well as the accumulated GDD for each location:
| | | | |
| --- | --- | --- | --- |
| Michigan Grape Growing Regions | Current GDD 50 F | GDD 50 F last week | Collected the past week |
| Benton Harbor (SWMREC) | 1676 | 1523 | 153 |
| Fennville | 1511 | 1366 | 145 |
| Lawton | 1673 | 1527 | 146 |
| | 1625.8 | 1476.8 | 149 |
| Romeo | 1522 | 1476.8 | 45.2 |
| | 1557.8 | 1414.7 | 143.1 |
| Old Mission | 1286 | 1153 | 133 |
| Petoskey | 1287 | 1160 | 127 |
| Traverse City (NWMHRS) | 1423 | 1284 | 139 |
| | 1309.3 | 1179.9 | 129.4 |
Based on the latest data collected, an update on the GDD values based on 50 F for grape growing regions in Michigan is provided below.
Analysis:
In southwest Michigan, the average GDD is 1625.8, showing an increase of 149 points from the previous week's average of 1476.8.
Southeast Michigan shows an average GDD is 1557.8, indicating a rise of 143.1 points compared to the previous week's average of 1414.7.
Northwest Michigan has an average GDD is 1309.3, with an increase of 129.4 points from the previous week's average of 1179.9.
Interpretation:
The data indicates that all three regions experienced an increase in GDD values, suggesting favorable conditions for grapevine growth.
Southwest Michigan maintains a relatively higher average GDD, reflecting steady progress in grapevine development.
Similarly, southeast Michigan shows a significant increase in GDD values, signifying favorable grape growth conditions in that region as well.
Vine growth
Southwest Michigan
The wine grape clusters are currently in the bunch closure phase. Early hybrid and some vinifera wine varieties, including Marquette, Geneva Red, Golubok, and Vanessa, have reached veraison, which marks the transformation of grapes from small and green to larger, softer, and colorful.
Northern Michigan
Moving north to Northern Michigan's vineyards, the grapes are still in the pre-veraison stage. Most varieties have small and firm berries, indicating that veraison has not yet begun in the region. The critical phase of grape growth is yet to commence, but the vineyard team is closely monitoring the progress.
Tip of the Mitt region
In the Tip of the Mitt Region, all hybrid cultivars are advancing through bunch closure, with berries starting to soften, showcasing ongoing grape development. However, veraison has not yet been observed. The vineyard team expects veraison to occur within the next two weeks.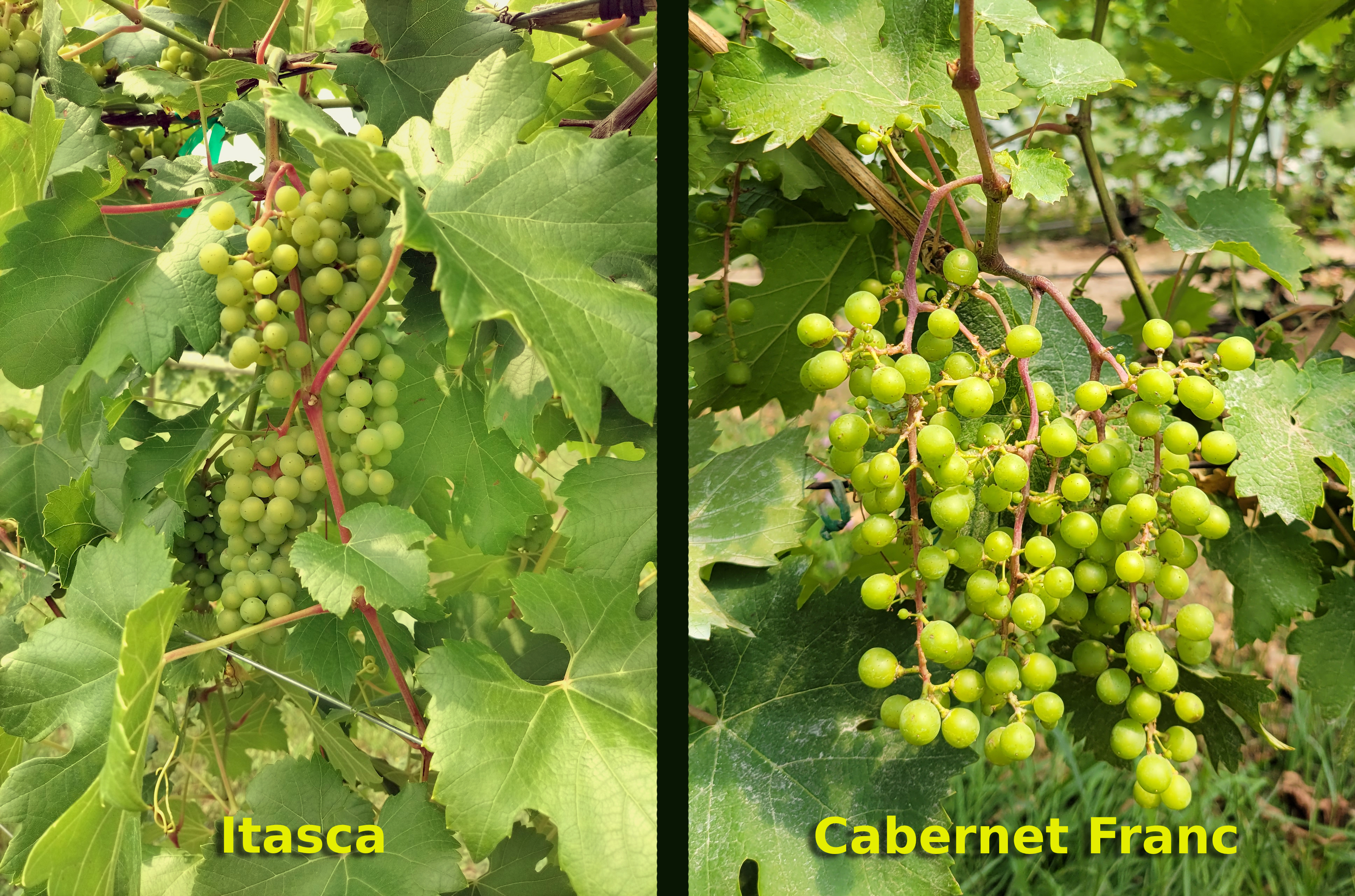 See this chart for grape growth stages.
Horticulture
Vineyard hedging is set to commence soon in Michigan, aiming to achieve several key objectives. The primary focus is on curtailing excessive primary and lateral shoot growth on the canopy's top and sides to prevent shading and entanglement between vine rows. By doing so, the vineyard becomes more accessible for workers and tractors. Interestingly, hedging also stimulates growth by promoting lateral shoot development in robust vines, despite the reduction of the canopy due to the removal of primary and lateral shoots. It is recommended to perform hedging during the early to mid-summer period.
Ideally, hedging is carried out between fruit set and veraison, a stage when primary and lateral shoots start bending at a 45 degree angle. This timing is crucial as it ensures adequate exposure of leaves, fruit, and developing buds to sufficient light, especially in dense canopies of hybrid cultivars with excessive vegetative growth. To avoid potential issues, it is essential to refrain from hedging too early in the growing season, as it may lead to increased lateral growth and canopy density.
Additionally, some juice grape vineyards have reported instances of over-cropping. Effective crop load management plays a pivotal role in achieving the desired Brix level. An excellent tool to assess crop load is the MSU Concord model on Enviroweather, and conducting cluster thinning at 1500 GDD is recommended.
Diseases
At this time of year, the disease focus is on phomopsis, black rot, anthracnose and powdery mildew. For more information on pre-bloom fungicide options and the impacts of rain on disease spread, check out this previous grape scouting report or this article on early season disease management. This week some growers have been finding sparse downy mildew and downy mildew infections on flower clusters in vineyards.
In the northwest, most grape-growing areas have been relatively dry with mild airflow and disease pressure has remained low. However, in the Tip of the Mitt AVA, in some spots, due to recent rainfall, disease pressure is increasing and black rot has been observed.
In this growing stage, you should consider choosing fungicides that control all the fruit diseases. For example, with downy mildew we are most concerned with fruit infection at this time and sprays should be timed prior to bloom and at bloom for optimal control. Downy mildew is caused by a fungal-like organism, so many site-specific systemic fungicides that target other spring diseases do not work on downy mildew. Effective fungicides for downy mildew include products in FRAC codes 4, 11, 21, 40 and 45 as well as phosphorus acid salts and some biologically based products.
Except for powdery mildew, these spring disease infections typically require rain events. It only takes 0.1 inches of rain above 50 degrees Fahrenheit to trigger a possible infection. Viticultural practices that reduce canopy wetness such as good irrigation timing, leaf removal and good weed management can reduce many of these diseases in a vineyard. Typically, DMIs (FRAC 3), captan and EBDCs (FRAC M3) are effective for phomopsis, black rot, and anthracnose.
Insects
Grape berry moth (GBM) is a major pest of grapes in southwest Michigan. The third generation of GBM is expected to start laying eggs and hatch within the next week. This is an important time for grape growers to take action to protect their crops.
The GBM model predicts that the peak of egg laying and larval pressure for the third generation will occur 10 to 14 days after the start of egg laying. It is important to time applications of insecticides to coincide with this peak pressure. For broad-spectrum insecticides, it is recommended to target as close to the egg hatching time as possible.
In addition to timing applications correctly, it is also important to make sure that the insecticides you are using are effective against GBM. Some insecticides, such as Intrepid and Intrepid Edge, have activity on eggs, while others only control larvae.
After the 2021 season, we are carefully watching vineyards with weekly scouting. We are also encouraging growers to do the same to make sure that cluster rots and vinegar flies do not develop to be too much of a challenge. We are already primed for seeing some late-season GBM pressure in southwest Michigan given the early start to the third generation, and the long-lead weather forecast also calls for warm evenings. Continue to monitor this as we approach harvest and be prepared to control rots and their vinegar fly vectors with treatments once the berries reach 14 Brix.
Grape leafhopper populations have remained low so far, and there was no big influx of potato leafhopper this spring so damage from that pest has not been reported. However, we are seeing Japanese beetles moving into vineyards and start to feed on upper leaves, so that should be included in scouting. Established vines can withstand significant feeding injury from these beetles, but on young vines or highly susceptible cultivars.
Some of the northern vineyards, grape erineum mite infestation have been reported. The grape erineum mite is a tiny worm-like pest that feeds on the underside of grapevine leaves during the spring and summer seasons. While it can cause cosmetic damage to leaves, it is generally not a significant threat to mature vines. However, young vines can be susceptible, necessitating regular monitoring for infestations. Several control methods, including the use of sulfur, horticultural oil, and Envidor miticide, can effectively manage the grape erineum mite.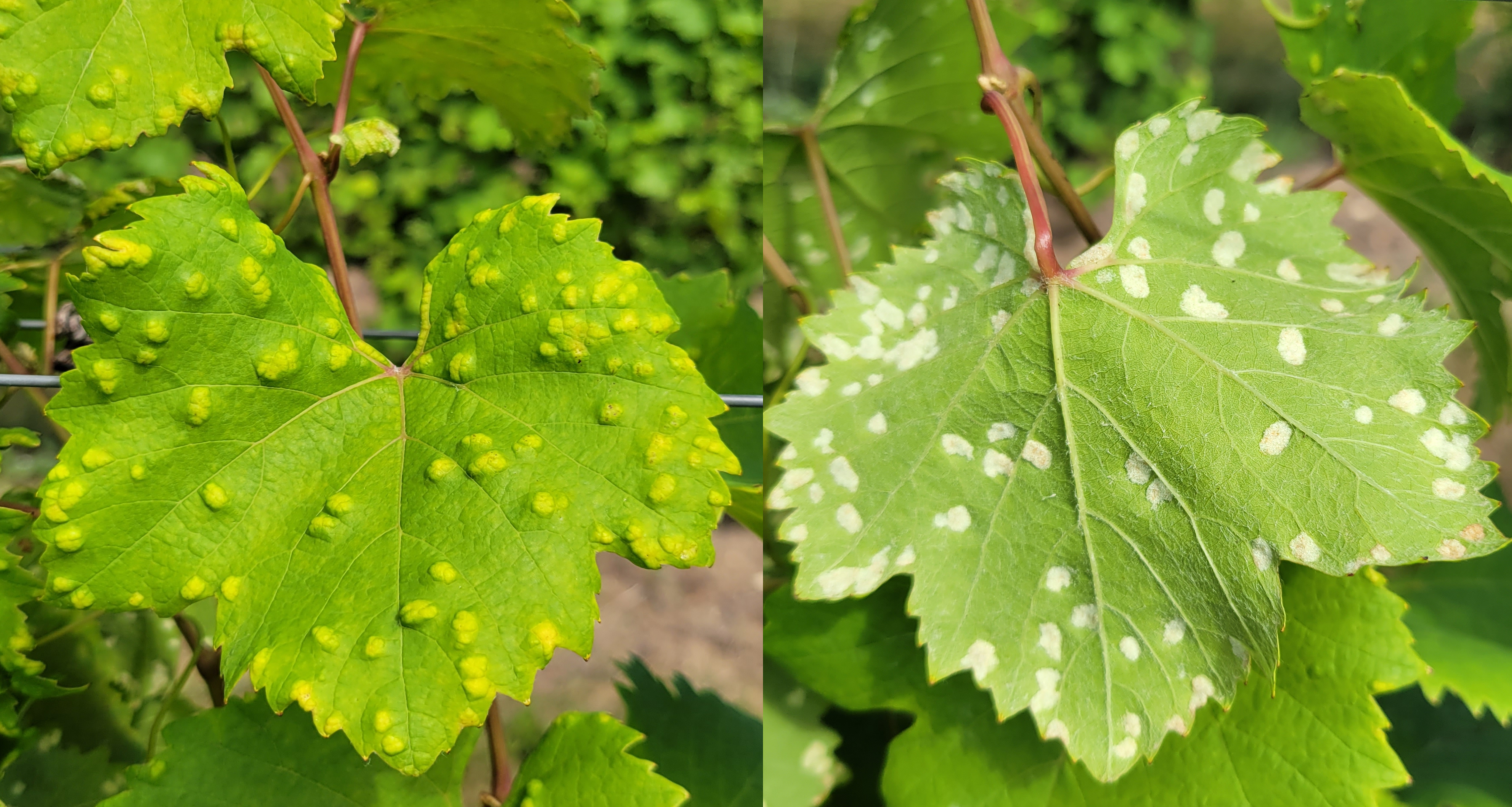 Upcoming events
Join us at Holmstrom Vineyard and discover the power of lasers to protect your grapes on Aug. 4. Join this First Friday event for insights, live demonstrations, networking, and wine tasting.
Register for Dirt to Glass 2023: Elevating Michigan Wine from the Ground Up taking place Aug. 24-25. Dirt to Glass aims to connect growers and producers each year and provides information to support the Michigan grape and wine industry in understanding the critical relationship between better farming and world class wine. Experience the pinnacle of collaboration at this groundbreaking event, where MSU, MSU Extension and industry innovators and educators come together. Join us as we share the latest research findings and cutting-edge practical information to elevate your knowledge and expertise in the field.
Related articles