Michigan grape scouting report – July 12, 2023
Promising grape growth and pest and disease challenges in Michigan vineyards.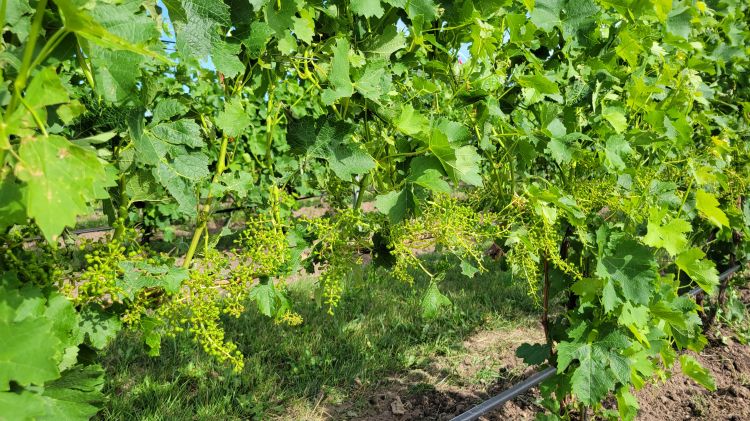 Weather
Click below for detailed seven-day forecasts for various grape production regions.
Southwest
Southeast
Northwest
Report on growing degree days (GDD)
The following table summarizes the GDD 50 degrees Fahrenheit for the current week and the previous week, as well as the accumulated GDD for each location:
| | | | |
| --- | --- | --- | --- |
| Michigan grape growing regions | Current GDD 50 F | GDD 50 F last week | Collected the past week |
| Benton Harbor (SWMREC) | 1226 | 1083 | 143 |
| Fennville | 1089 | 949 | 140 |
| Lawton | 1236 | 1089 | 147 |
| | 1186.9 | 1043.4 | 143.5 |
| Romeo | 1091 | 941 | 150 |
| | 1127 | 972 | 155 |
| Old Mission | 905 | 777 | 128 |
| Petoskey | 934 | 812 | 122 |
| Traverse City (NWMHRS) | 1019 | 880 | 139 |
| | 937.8 | 810.4 | 127.4 |
Based on the latest data collected, an update on the GDD values based on 50 F for grape growing regions in Michigan is provided below.
Analysis:
In southwest Michigan, the average GDD is 1,186.9, with an increase of 143.5 points from the previous week's average of 1043.4.
Southeast Michigan shows an average GDD of 1,127, which indicates a rise of 155 points compared to the previous week's average of 972.
Northwest Michigan has an average GDD of 937.8, with an increase of 127.4 points from the previous week's average of 810.4.
Interpretation:
The data reveals that all three regions experienced an increase in GDD values, indicating favorable conditions for grapevine growth.
Southwest Michigan maintains a relatively higher average GDD, suggesting steady progress in grapevine development.
Southeast Michigan shows a similar trend, with a significant increase in GDD values, indicating favorable grape growth conditions.
Vine growth
Southwest Michigan
Wine grapes in southwest Michigan are between berry touch and bunch closure. Tight clustered varieties like Vignoles and Pinot Noir and many hybrid varieties are very near bunch closure in some locations. Looser clustered varieties are just reaching berry touch now. Juice grapes have larger, looser clusters. They are at berry touch as well. Hedging, leaf pulling and shoot thinning are all being performed in their region right now for good vine growth.
Northern Michigan
Northern Michigan's vineyards are making significant progress in grape growth. In the grape-growing regions of northwest Michigan, the bloom time has come to an end. The clusters on all vinifera cultivars have entered the fruit set stage. Notably, in the northwest region, vine shoots have grown above the top wire, indicating the need for canopy management practices, such as late leaf removal, to ensure optimal vine growth.
Tip of the Mitt region
Hybrid cultivars in the Tip of the Mitt region are showing pea-sized berries, with some varieties even starting to exhibit bunch closure. Vinifera grapes are also progressing well, with berries reaching the pea-sized stage.
See this chart for grape growth stages.
Horticulture
Shoot thinning and trunk cleaning should be completed in the southern vineyards and underway in many varieties in the northern vineyards. Shoot thinning plays a crucial role in canopy management, offering multiple benefits such as enhanced air circulation, reduced disease susceptibility, minimized shading, improved spray penetration, and ultimately elevating fruit quality during the harvest period. It is advisable to perform shoot thinning when the shoots reach a length of 5 to 12 inches, ensuring they are still easily breakable from the woody tissues.
In the Tip of the Mitt region, shoot positioning and leaf pulling activities have already commenced in vineyards. These practices play a vital role in maintaining a well-managed canopy, which ensures optimal light exposure and airflow around the grape clusters. Continue implementing canopy management strategies to support vine health and fruit development.
For more comprehensive information on shoot thinning and other early season vineyard management practices, please refer to the Michigan State University Extension article, "Early season vineyard management."
Diseases
During this time of year, the primary diseases of concern for grape growers are phomopsis, black rot, anthracnose and powdery mildew. If you're seeking detailed insights into pre-bloom fungicide options and the effects of rain on disease spread, we recommend referring to a grape scouting report from earlier or exploring an article on early-season disease management. It's worth noting that some growers have recently observed isolated cases of downy mildew infections in vineyards.
As bloom continues in southwest Michigan, start choosing fungicides that control all the fruit diseases. For example, with downy mildew we are most concerned with fruit infection at this time and sprays should be timed prior to bloom and at bloom for optimal control. Downy mildew is caused by a fungal-like organism, so many site-specific systemic fungicides that target other spring diseases do not work on downy mildew. Effective fungicides for downy mildew include products in FRAC codes 4, 11, 21, 40 and 45 as well as phosphorus acid salts and some biologically-based products.
With the exception of powdery mildew, these spring disease infections typically require rain events. It only takes 0.1 inches of rain above 50 F to trigger a possible infection. Viticultural practices that reduce canopy wetness such as good irrigation timing, leaf removal and good weed management can reduce many of these diseases in a vineyard. Typically, DMIs (FRAC 3), captan and EBDCs (FRAC M3) are effective for phomopsis, black rot and anthracnose.
Insects
This week's scouting revealed vineyards in southwest Michigan where the recent start of the second generation of grape berry moth is apparent, with increasing levels of cluster infestation. On red varieties, infestation is evident as a prematurely colored area on the berry, often with a small hole and some webbing between adjacent berries. On white grapes, the tunnels of the larvae might be seen but there's no color change. The highest level we saw was 9% of clusters with some grape berry moth feeding, but many other vineyards have successfully prevented this infestation and have very low (zero or only 1% infestation).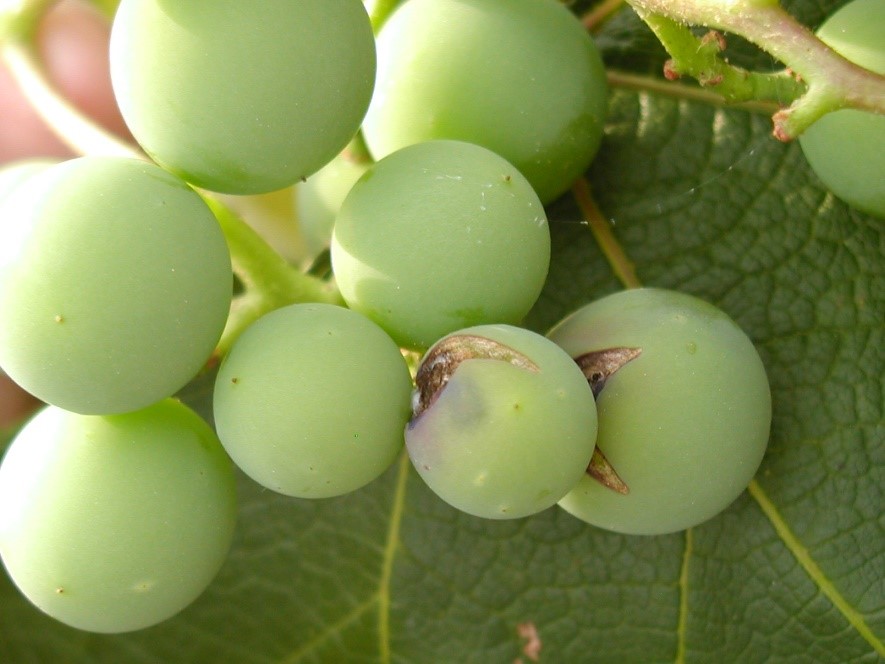 Background pressure, timing and coverage of application, product selection, pesticide rate and weather conditions can all affect the performance of these sprays. With the growing canopy density, increased gallonage and spraying every row becomes more important. If an application was made to target the 810 or 910 timing for protecting against the early part of berry moth second generation, consider a follow-up treatment for the second half of July in high pressure sites. Base the timing on the weather, and the expected residual control provided by the first treatment.
Grape leafhopper populations have remained low so far, and there was no big influx of potato leafhopper this spring so damage from that pest has not been reported. However, we are seeing Japanese beetles moving into vineyards and start to feed on upper leaves, so that should be included in scouting. Established vines can withstand significant feeding injury from these beetles, but on young vines or highly susceptible cultivars.
Upcoming events
Optimize grapevine health and productivity at Michigan grape pre-veraison meeting
Enhance grapevine health and productivity with valuable insights from industry experts at our July 14 meeting focused on optimizing grape cultivation. Don't miss out, register now!
Southwest Michigan Viticulture Field Day
This all-day event with steak fry and wine tasting will be held Wednesday, July 26, at the Southwest Michigan Research and Extension Center in Benton Harbor, Michigan. Stay tuned as more details become available.
Register for Dirt to Glass 2023: Elevating Michigan Wine from the Ground Up taking place Aug. 24-25. Dirt to Glass aims to connect growers and producers each year and provides information to support the Michigan grape and wine industry in understanding the critical relationship between better farming and world class wine. Experience the pinnacle of collaboration at this groundbreaking event, where MSU, MSU Extension and industry innovators and educators come together. Join us as we share the latest research findings and cutting-edge practical information to elevate your knowledge and expertise in the field.
Related articles