Michigan grape scouting report – June 28, 2023
Get the latest insights on grape growth in Michigan. Explore vine development, canopy management, and potential concerns like drought and smoke. Stay informed about disease and insect issues. Essential for grape growers and viticulture enthusiasts.
Weather
Click below for detailed seven-day forecasts for various grape production regions.
Southwest
Southeast
Northwest
Report on growing degree days (GDD)
Southwest Michigan GDD summary from March 1 through June 27, 2023
Southeast Michigan GDD summary from March 1 through June 27, 2023
Northwest Michigan GDD summary from March 1 through June 27, 2023
The following table summarizes the GDD 50 degrees Fahrenheit for the current week and the previous week, as well as the accumulated GDD for each location:
| | | | |
| --- | --- | --- | --- |
| | Current GDD 50 F | GDD 50 F last week | Collected the past week |
| Benton Harbor (SWMREC) | 953 | 811 | 142 |
| Fennville | 828 | 691 | 137 |
| Lawton | 961 | 824 | 137 |
| Average for southwest Michigan | 915.4 | 779.2 | 136.2 |
| Romeo | 814 | 683 | 131 |
| Average for southeast Michigan | 843.7 | 713.5 | 130.2 |
| Old Mission | 665 | 538 | 127 |
| Petoskey | 704 | 574 | 130 |
| Traverse City (NWMHRS) | 759 | 621 | 138 |
| Average for northwest Michigan | 699.3 | 569.8 | 129.5 |
Based on the latest data collected, an update on the GDD values for grape growing regions in Michigan is provided below: Southwest Michigan, including Benton Harbor, Fennville, and Lawton, continued to enjoy favorable growing conditions for grape cultivation as GDD values increased further compared to the previous week. The average GDD for this region rose from 779.2 to 915.4, representing a weekly increase of 136.2 GDD. Notably, Benton Harbor experienced a GDD increase of 142, Fennville saw an increase of 137, and Lawton recorded an increase of 137.
Southeast Michigan, represented by Romeo, also witnessed a significant rise in GDD values, indicating ideal conditions for grape growth. Romeo's GDD increased from 683 to 814, marking a weekly increase of 131 GDD. The average GDD for southeast Michigan rose from 713.5 to 843.7, with a weekly increase of 130.2 GDD.
Northwest Michigan, encompassing Old Mission, Petoskey, and Traverse City, maintained reasonable conditions for grape growth as GDD values increased compared to the previous week. The average GDD for this region climbed from 569.8 to 699.3, reflecting a weekly increase of 129.5 GDD. Old Mission observed a GDD increase of 127, Petoskey saw an increase of 130, and Traverse City recorded an increase of 138.
These updated insights serve to assist grape growers in Michigan in making well-informed decisions regarding planting, growth, and management strategies tailored to the localized GDD conditions. It is worth noting that last week the grape growing regions in Michigan experienced above-normal warm weeks, with temperatures consistently ranging 2 to 5 F above average. However, the current week began with cooler-than-normal temperatures, and a severe rainstorm has been reported since April 2023. These weather conditions can impact grape cultivation and should be taken into consideration by grape growers when making decisions pertaining to planting, growth, and management strategies. Monitoring not only the GDD values but also the overall weather patterns is essential to optimize grape production outcomes in Michigan.
Vine growth
Southwest Michigan
Grape growers in Southwest Michigan have observed distinct stages of grape growth. The bloom period for hybrid and juice grapes has recently concluded, while vinifera grapes are still in the midst of their bloom. At the Southwest Michigan Research and Extension Center, early hybrid varieties have progressed to the buckshot berry stage. Meanwhile, other hybrid wine grapes and several vinifera varieties are nearing the end of their bloom stage.
Northern Michigan
Vineyards in Northern Michigan are experiencing significant advancements in grape growth. Clusters on all vinifera cultivars are expanding, indicating healthy development. Particularly in the Northwest region, vine shoots have extended to reach the top wire. This suggests that some canopy management practices, such as shoot edging and leaf removal, will be conducted earlier this season to maintain optimal vine growth.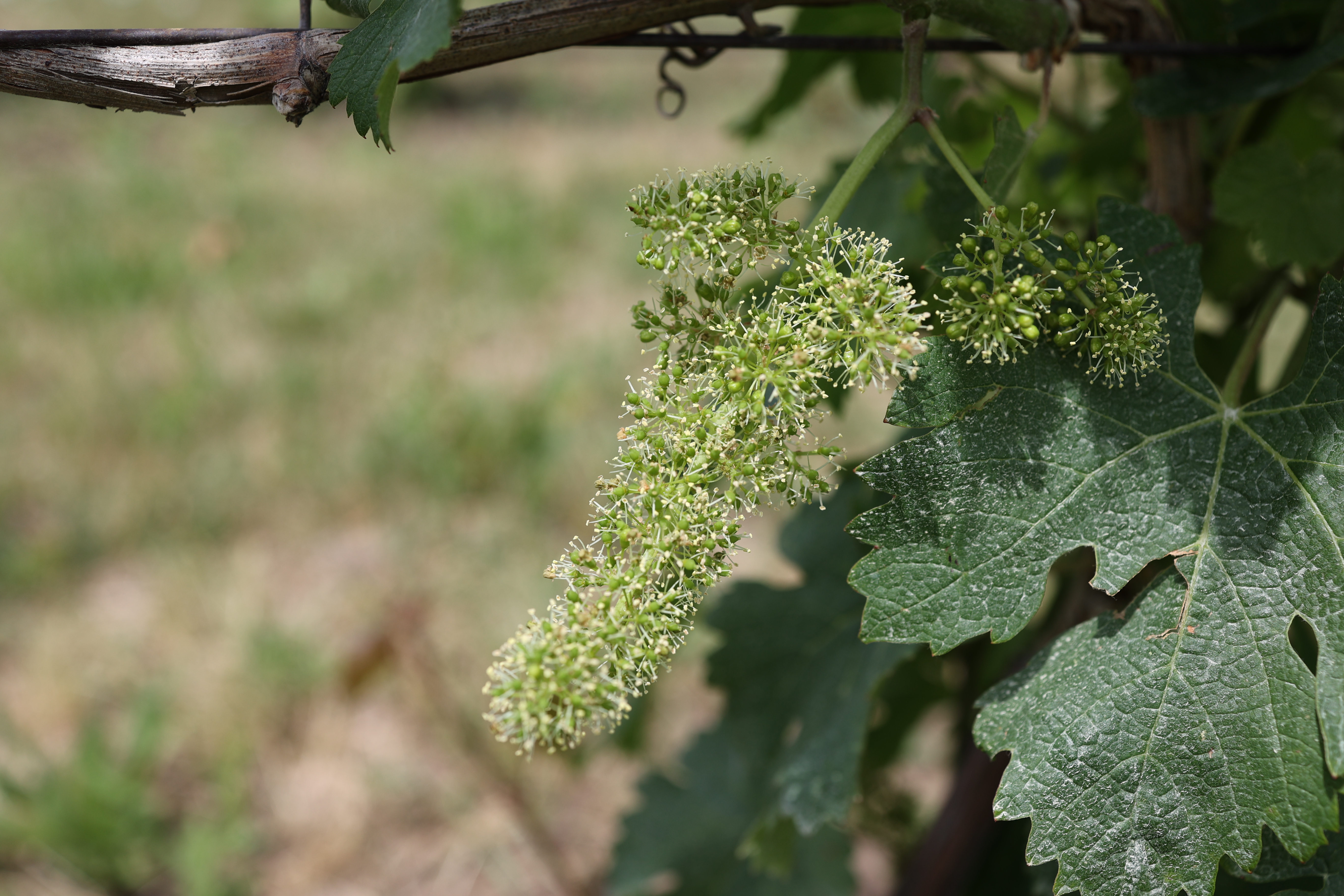 Tip of the Mitt region
In the Tip of the Mitt region, the following observations and concerns have been noted: Fruit set: Most hybrid cultivars have successfully set fruit, fortunately prior to the recent wet weather. However, the wet and cooler conditions might potentially affect the fruit set for vinifera cultivars. It will be interesting to monitor the impact of these weather conditions on the overall grape development.
See this chart for grape growth stages.
Horticulture
Shoot thinning and trunk cleaning should be completed in the southern vineyards and underway in many varieties in the northern vineyards. Shoot thinning plays a crucial role in canopy management, offering multiple benefits such as enhanced air circulation, reduced disease susceptibility, minimized shading, improved spray penetration, and ultimately elevating fruit quality during the harvest period. It is advisable to perform shoot thinning when the shoots reach a length of 5 to 12 inches, ensuring they are still easily breakable from the woody tissues.
In the Tip of the Mitt Region: Shoot positioning and leaf pulling activities have already commenced in the vineyards of the Tip of the Mitt region. These practices play a vital role in maintaining a well-managed canopy, which ensures optimal light exposure and airflow around the grape clusters. Growers should continue implementing canopy management strategies to support vine health and fruit development.
For more comprehensive information on shoot thinning and other early season vineyard management practices, please refer to the article titled "Early Season Vineyard Management" from Michigan State University Extension.
Drought and Smoke
The drought period and smoke coming from Canada are also potential concerns for grape growers in the region. New vineyards that are not irrigated may be particularly vulnerable to the effects of drought. Smoke can also impact grape growth and quality, so growers should monitor the smoke levels and take steps to protect their vines.
Diseases
During this time of the year, the primary diseases of concern for grape growers are phomopsis, black rot, anthracnose, and powdery mildew. If you're seeking detailed insights into pre-bloom fungicide options and the effects of rain on disease spread, I recommend referring to a grape scouting report from earlier or exploring an article on early-season disease management. It's worth noting that some growers have recently observed isolated cases of downy mildew infections in vineyards.
As bloom continues in southwest Michigan, start choosing fungicides that control all the fruit diseases. For example with downy mildew we are most concerned with fruit infection at this time and sprays should be timed prior to bloom and at bloom for optimal control. Downy mildew is caused by a fungal-like organism, so many site specific systemic fungicides that target other spring diseases do not work on downy mildew. Effective fungicides for downy mildew include products in FRAC codes 4, 11, 21, 40 and 45 as well as phosphorus acid salts and some biologically-based products.
With the exception of powdery mildew, these spring disease infections typically require rain events. It only takes 0.1 inches of rain above 50 F to trigger a possible infection. Viticultural practices that reduce canopy wetness such as good irrigation timing, leaf removal and good weed management can reduce many of these diseases in a vineyard. Typically, DMIs (FRAC 3), captan and EBDCs (FRAC M3) are effective for phomopsis, black rot, and anthracnose.
Insects
Some cluster feeding by first generation larvae of grape berry moth (GBM) have been detected in clusters in recent weeks in SW Michigan, but the levels remain low in vineyards where there was insecticide used during or after bloom. Depending on the site we scouted this week, there were 0-9% of clusters with some evidence of feeding by GBM larvae, but recent treatments have controlled the larvae so most vineyards had only about 1% of clusters with live larvae found in the clusters. Overall, the cluster quality is excellent, as shown in the photo of Chancellor vines in Lawton shown below.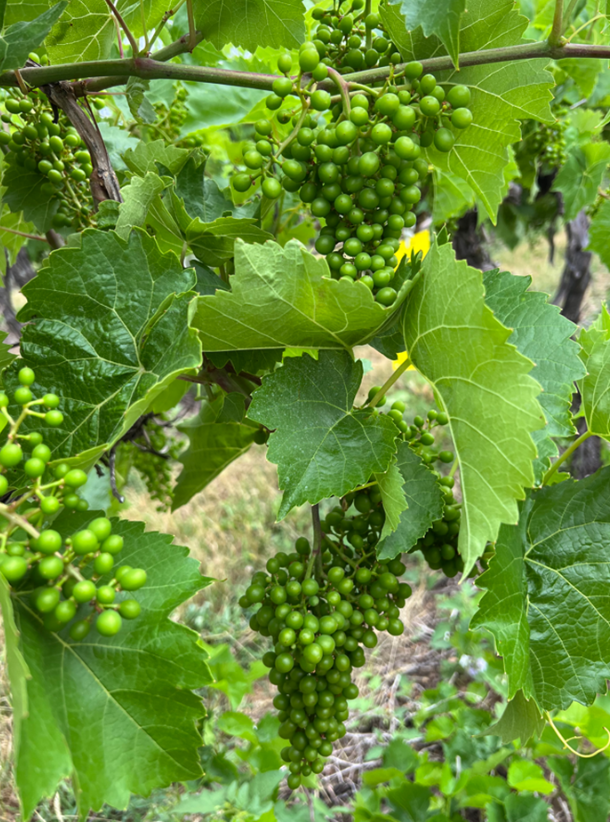 The upcoming second generation of GBM is important to control in July and early August, so we have been checking the MSU Enviroweather model for guidance on the timing. Based on wild grape bloom recorded in late May in the earliest sites in SW Michigan the second generation of GBM is predicted to start at 810 degree days after wild grape bloom, on July 3. Delaying applications until returning from the July 4 break is not expected to greatly affect the outcomes at harvest. It's important to emphasize that this is the START of egglaying, and would be the timing used for Intrepid 2 F or other egg-active insecticides. For broad-spectrum insecticides targeting the larvae at egg hatch, the treatments should be timed for 910 degree days which will likely be a week later. Keep checking the Enviroweather site for predictions of that timing, as we see weather predictions further into July. For sites with later phenology this season (i.e. most of the rest of the state), the spray timings will be later into July. For vineyards with higher pressure from GBM, a second follow-up insecticide application is needed to cover the full second generation activity period. So depending on the timing of the first treatment based on the model predictions, plan for a second spray a week or two after the first based on the weather and the product's longevity. Using the model on Enviroweather can help tailor these timings for your own vineyard location(s).
We also observed a little skin darkening from thrips damage on less than 1% of clusters. These insects feed by scraping and the damage from a few weeks ago is now evident as a crackled dark path on the outside of the berry. There was also one hotspot of grape cane gallmaker along a wooded border at one juice grape vineyard location (photo). Rosechafers were reported last week at a few southwest Michigan locations, but our scouting has not identified Japanese beetles yet.
Upcoming events
Optimize grapevine health and productivity at Michigan grape pre-veraison meeting
Enhance grapevine health and productivity with valuable insights from industry experts at our July 14 meeting focused on optimizing grape cultivation. Don't miss out, register now!
Southwest Michigan Viticulture Field Day
This all-day event with steak fry and wine tasting will be held Wednesday, July 26, at the Southwest Michigan Research and Extension Center in Benton Harbor, Michigan. Stay tuned as more details become available.
Register for Dirt to Glass 2023: Elevating Michigan Wine from the Ground Up taking place Aug. 24-25. Dirt to Glass aims to connect growers and producers each year and provides information to support the Michigan grape and wine industry in understanding the critical relationship between better farming and world class wine. Experience the pinnacle of collaboration at this groundbreaking event, where MSU, MSU Extension and industry innovators and educators come together. Join us as we share the latest research findings and cutting-edge practical information to elevate your knowledge and expertise in the field.
Related articles