Michigan grape scouting report – July 13, 2022
Most of northwest Michigan's grape-growing regions have reached over 900 GDD. In grape berry moth egglaying sites, plan for a lengthy period of protection from the second generation, as this pest's egglaying continues through July.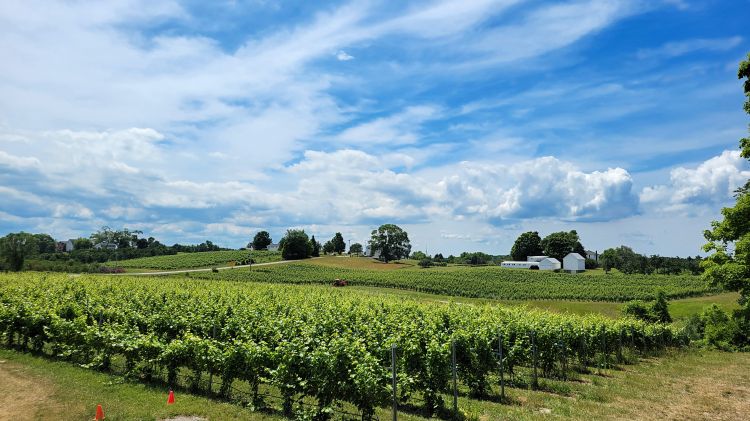 Weather
A Canadian air mass will bring a cool and dry couple of days in all the Michigan AVAs. The following days are expected to be in the 70s close to the 80s. By Saturday, the highs will return to the mid-80s. Morning temperatures will follow 50s before rising to the 60s by this weekend.
On Friday and Saturday, most of Michigan AVAs will return to normal warm days.
Last week was the warmest week of the year in Michigan. On average, Michigan AVAs accumulated 281 growing degree days (GDD). Benton Harbor in southeast Michigan was the warmest grape-growing region and picked up 322 GDD, 136 GDD more than the previous week. The Tip of the Mitt AVAs in Michigan was the coolest region, with an average GDD of 243, while southwest Michigan had the highest average GDD for grape-growing regions in Michigan (310 GDD).
Southwest Michigan GDD Summary from March 1 through July 11, 2022
Southeast Michigan GDD Summary from March 1 through July 11, 2022
Northwest Michigan GDD Summary from March 1 through July 11, 2022

Enviroweather station

Current GDD 50 F

GDD 50 F last week

Collected the past week

Benton Harbor (SWMREC)

1349

1027

322

Fennville

1200

910

290

Lawton

1345

1030

315

SW Average

1320

1010

310

Romeo

1196

905

291

SE Average

1257

962

295

Old Mission

926

684

242

Petoskey

888

645

243

Traverse City (NWMHRS)

976

724

252

NW Average

922.5

684

238.5
Vine growth
In the southwest AVAs, many vinifera wine grape cultivars are at buckshot berry stage. Most hybrid wine grape varieties and juice grapes are nearing berry touch to bunch closure.
In northern Michigan, all vinifera wine grapes have finished blooming and most of the cultivars are at buckshot berry (Photo 2). In the Tip of the Mitt AVA, most hybrid cultivars are reaching pea- sized berries (Photo 3) while vinifera cultivars are in fruit set.
See this chart for grape growth stages.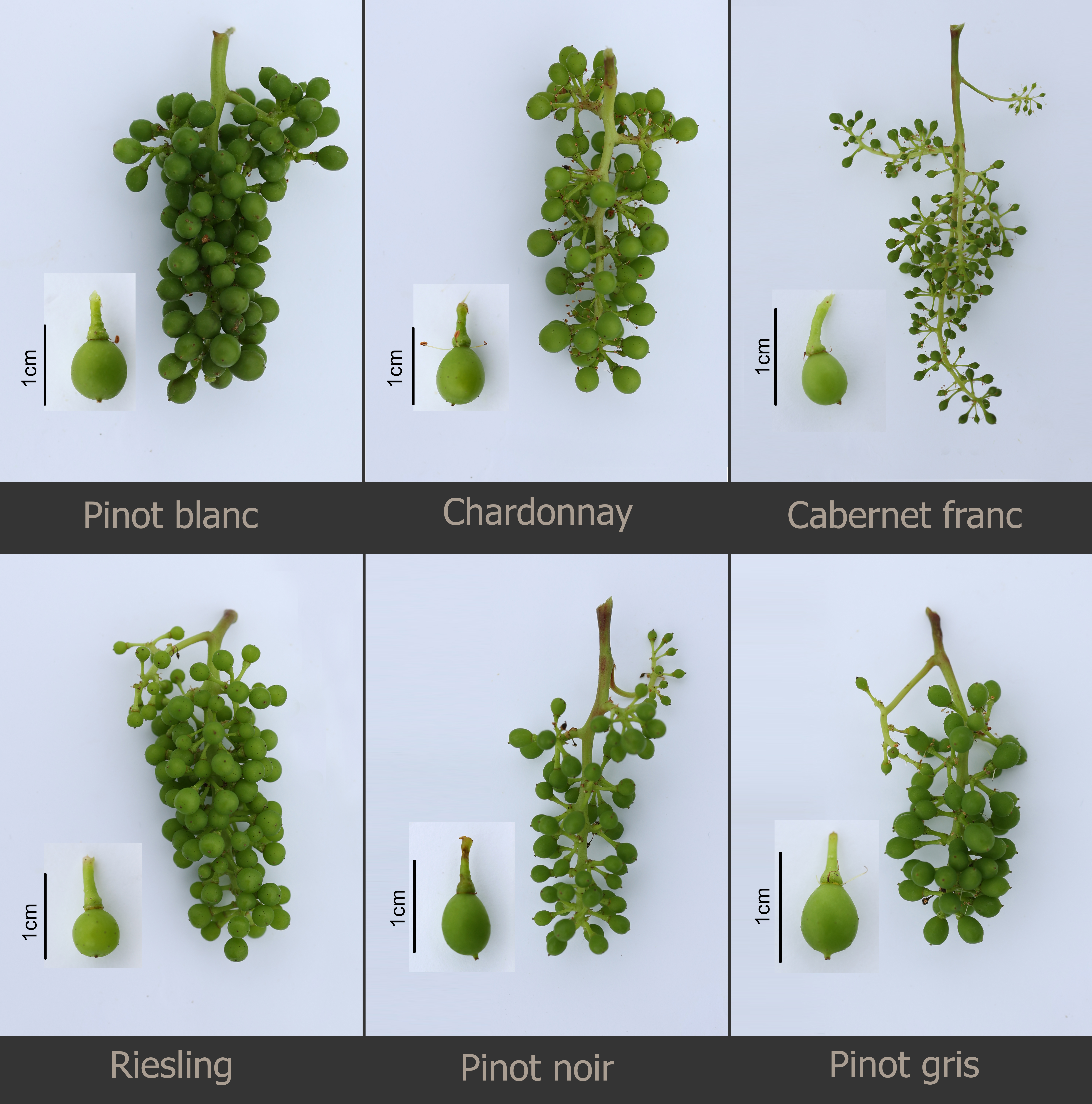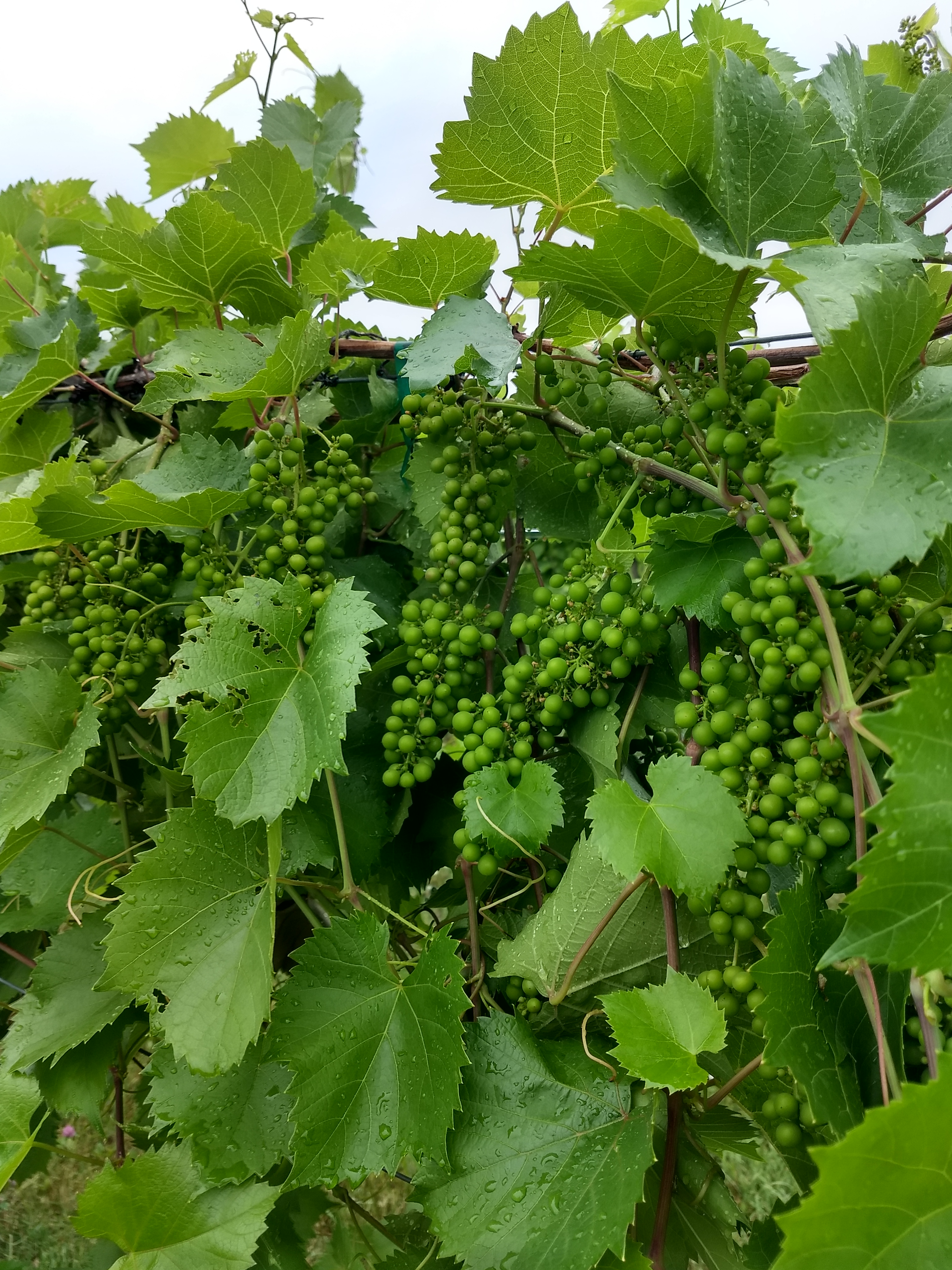 Horticulture
Early leaf removal should be completed throughout Michigan at this time of the season. It is usually done around bloom time after the shoots have been thinned. This is an effective way to control yield and improve fruit quality. By removing the leaves at the bases of shoots at this time of year, airflow is improved and the vine's physiology is modified. In particular, it decreases fruit set, controls the yield per vine, and reduces cluster rot.
Read here for more detail: Early season vineyard management.
Diseases
This week is going to be a cool and dry week in most of the grape-growing areas. Grape growers need to be prepared for powdery mildew because it can thrive easily in cool, dry conditions.
In some spots in southwest AVAs, management of phomopsis, black rot and downy and powdery mildew are the primary focus currently.
At this time of year, the disease focus is on phomopsis, black rot, anthracnose and powdery mildew. For more information on pre bloom fungicide options and the impacts of rain on disease spread, check out this previous grape scouting report or this article on early season disease management. This week some growers have been finding sparse downy mildew and downy mildew infections on flower clusters in vineyards.
In the northwest, most grape-growing areas have been relatively dry with mild airflow and disease pressure has remained low. However, in some spots in the Tip of the Mitt AVA, due to recent rainfall, disease pressure is increasing and black rot has been observed.
In this growing stage, consider choosing fungicides that control all the fruit diseases. For example, with downy mildew we are most concerned with fruit infection at this time and sprays should be timed prior to bloom and at bloom for optimal control. Downy mildew is caused by a fungal-like organism, so many site-specific systemic fungicides that target other spring diseases do not work on downy mildew. Effective fungicides for downy mildew include products in FRAC codes 4, 11, 21, 40 and 45 as well as phosphorus acid salts and some biologically-based products.
Except for powdery mildew, these spring disease infections typically require rain events. It only takes 0.1 inches of rain above 50 degrees Fahrenheit to trigger a possible infection. Viticultural practices that reduce canopy wetness such as good irrigation timing, leaf removal and good weed management can reduce many of these diseases in a vineyard. Typically, DMIs (FRAC 3), captan and EBDCs (FRAC M3) are effective for phomopsis, black rot, and anthracnose.
Insects
Grape berry moth second generation began just over a week ago in southwest Michigan. The 810 GDD biofix used for grape berry moth insecticide timing for products targeting eggs was around July 2 for most growers in the southwest region. The 910 GDD timing for traditional insecticide applications was on July 6. Grape berry moth damage was found in Van Buren and Berrien counties. See this article for more information on grape berry moth biofix.
From scouting in Lawton area vineyards on July 11, it appears that cover sprays from the 810/910 have effectively reduced grape berry moth damage on clusters at most farms. Some growers have been reapplying insecticides to ensure protection after the rains last week. Trap catch was an average of 28 per trap. Average 2-4% damage at sites with high pressure, with one to four berries affected on damaged clusters.
Based on a May 28 date for 50% wild grape bloom, which will mark the start of egg laying, most of the northwest Michigan grape growing regions have reached over 900 GDD this weekend. Growers with a history of grape berry moth infestation in their clusters should plan for a lengthy period of protection from the second generation of grape berry moth, as this pest's egg laying continues through July. Additional sprays after the biofix spray will be required in high-pressure areas to maintain coverage and keep infestations at bay.
Japanese beetles feeding on foliage have been reported in Emmet County and the southwest AVAs.
Japanese beetles have only one generation per year, but these beetles emerge over a long period from late June through August, and they live for over 30 days. They feed on the foliage and fruit of various fruit crops grown in Michigan. Their emergence during mid-summer can also result in their presence during the harvest of some fruit crops, creating a risk of contamination.
Read here for more detail: Managing Japanese beetles in fruit crops.
Upcoming events
July 15 grapevine soil and plant testing options hybrid meeting - This time of year is critical for evaluating grapevine nutrition status and supplying grapevine nutrition needs to improve yield and quality.
The Southwest Michigan Viticulture Field Day will return to the Southwest Michigan Research and Extension Center for 2022. As tradition holds, the event will be the last Wednesday of July (July 27, 2022) and will include presentations of ongoing research in southwest Michigan. The event will once again conclude with a steak dinner and local wine tasting. Registration for the Viticulture Field Day is online through the Michigan Grape Society's website.
Register for Dirt to Glass 2022: Elevating Michigan Wine from the Ground Up. Michigan State University Extension is hosting a new conference for the Michigan grape and wine industry. Dirt to Glass 2022: Elevating Michigan Wine from the Ground Up is the first ever of its kind in Michigan and this year it will take place in Traverse City on August 25-26. This year's Dirt to Glass conference will focus on soil health, soil identification and soil fertility. Each year, the conference chooses a specific area of study based on the results of an annual educational needs assessment survey. Registration by July 10 is required.
Tile Drainage Field Day 2022 - Linking Soil Health, Nutrient Management, and Water Management for Improved Water Quality. The event will be hold on Thursday, Aug 25, 2022 at 13000 Bird Lake Rd., Camden, MI 49232
Related articles
---
This work is supported by the Crop Protection and Pest Management Program [grant no 2021-70006-35450] from the USDA National Institute of Food and Agriculture.