Michigan grape scouting report – July 8, 2020
Vinifera grape bloom is continuing in northern Michigan. Egglaying by the next generation of grape berry moth is expected to start soon in southwest Michigan.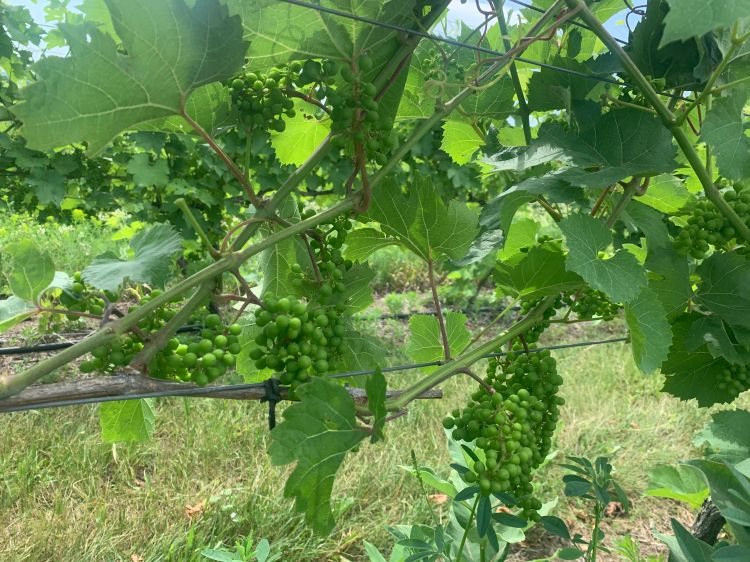 Weather
It was another seven days of high heat for Michigan. Much of the state saw high temperatures in the upper 80s. The heat and humidity resulted in isolated afternoon showers in parts of the state that brought a 0.25 inches or less. The hot, dry weather should continue for another couple days. There is a chance of storms Friday, July 10. A weak cold front will follow, dropping temperatures into the low 80s for Saturday and Sunday until the heat returns next week.
With the hot week, we picked up a lot of growing degree days (GDD) last week: 175-190 GDD base 50. The southwest region is 320 GDD base 50 ahead of the northwest region.
Northwest Michigan GDD summary from March 1 - July 6, 2020
Southwest Michigan GDD summary from March 1 - July 6, 2020
Southeast Michigan GDD summary from March 1 - July 6, 2020

Northwest stations

GDD 50 F

GDD 47 F from wild bloom
(grape berry moth model)

Petoskey (Petoskey)

764

490

Traverse City (NWMHRC)

848

543

Old Mission (Old Mission)

794

510

Avg for NW region

815

Average last week

640

Southern stations

GDD 50 F

GDD 47 F from wild bloom
(grape berry moth model)

Benton Harbor (SWMREC)

1166

883

Lawton (Lawton)

1150

815

Fennville (TNRC)

1023

734

Avg for SW region

1136

Avg last week

950

Romeo (Romeo)

1053

734

Avg for SE region

1073

Avg last week

884
Note: Wild grape bloom dates are estimates. See "Mid-season management of grape berry moth" for bloom dates.
Vine growth
All grapes in southern Michigan are at or near buckshot berry. Tight cluster varieties are at berry touch (e.g., Vignoles). Growers have begun leaf removal on some vinifera varieties. This will allow any sprays to reach the clusters easier and improve sunlight penetration to the clusters. Juice grape and hybrid growers have been combing vines to position the shoots to grow out and down from the cordon. Vinifera growers are continuing to perform shoot positioning. This is the time to accurately estimate vine yield to determine whether, when and how much fruit to remove at thinning time, in a month or so. The Michigan State University Extension bulletin "Predicting Harvest Yield in Juice and Wine Grape Vineyards (E3186)" provides tools to reduce both annual yield and quality variability among years.
In northern vineyards, vinifera are between full bloom and buckshot berry, depending on the variety. Growers are starting to perform leaf removal while they are tucking shoots in the catch wires. See this chart for grape growth stages.
The hot, dry weather the last several weeks has dried many soils around the state. The southwest and southeast portions of the state are the most impacted at this point. Any growers that have irrigation setup on their vineyards should inspect their systems to be ready in case they start seeing water stress. With the hot, dry weather continuing for at least the next week, irrigation might be necessary soon, especially on young vines and vineyards on lighter soils. Symptoms of water stress will follow a general progression. Tendrils will first start to desiccate, followed by shoot tips flopping downward and leaves bending. Under severe water stress, shoots stop, tendrils will dry up and shoot basal leaves will turn yellow.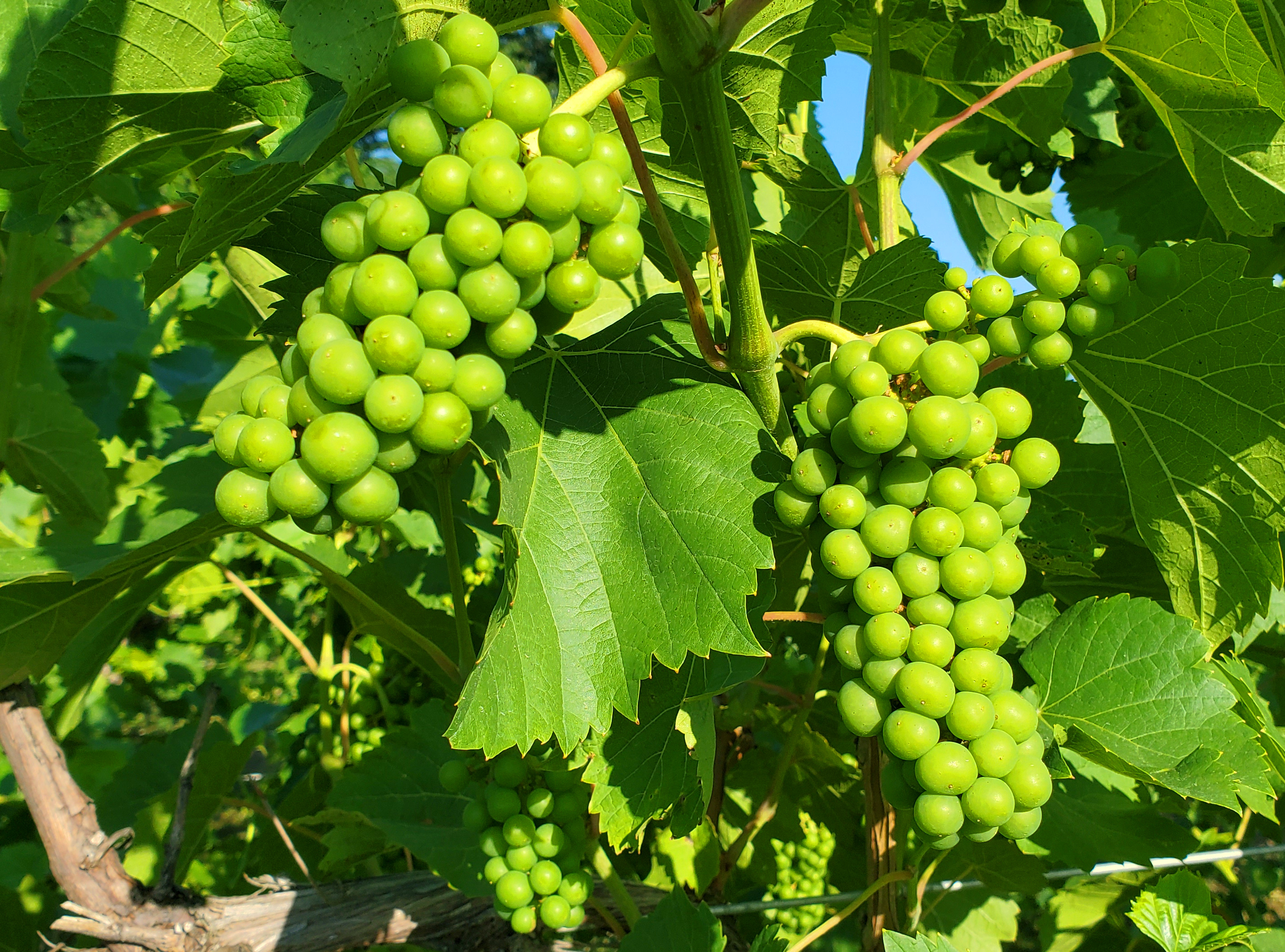 Diseases
At this time of year, the disease focus for most grape growers around Michigan is on downy mildew and powdery mildew management. Downy mildew cluster damage has been observed for several weeks. Reports of powdery mildew have been coming in from several regions of the state beginning late last week.
Downy mildew requires wet leaves to develop. Rain is the most common source for leaf wetness. As little as 0.5 inch of rain is enough, but warm nights with high humidity such as those most have experienced in the last few weeks are also good for development. During buckshot berry, downy mildew infections that occurred in previous weeks may become visible, especially with enough moisture. Fungicides applied more than one week post bloom will help protect against defoliation but have limited control over fruit infections.
Unlike the other fungal diseases that attack grapes, powdery mildew doesn't need leaf wetness to infect, just humid conditions. Even if the ambient humidity is low, the humidity inside the shaded canopy is likely higher. Opening up the grape canopy for air movement helps reduce powdery mildew while also allowing better spray penetration. Shoot positioning and cluster zone leaf removal can help. For information on how weather conditions affect powdery mildew development, see "Why some seasons are worse for powdery mildew" from Good Fruit Grower.
For more information on both powdery and downy mildew, see "Protecting young clusters from powdery and downy mildew" from MSU Extension. For an overview on the general diseases and management options, se "Early season vineyard disease management" from MSU Extension.
Black rot cluster damage is also starting to be seen in research blocks in southern portions of the state. Black rot develops when rains trigger spore releases, typically in the spring. The timing for management is from immediate pre-bloom until three to four weeks after bloom has ended. This window is rapidly closing for juice and hybrid grapes in southern Michigan.
A complete list of fungicides for all these diseases with efficacy and other details can be found in the E154 Michigan Fruit Management Guide from MSU Extension. Check the guide for potential phytotoxicity of certain sprays on Concord grapes especially (this has been particularly noted for fungicides like Revus Top). Phytotoxicity risk is higher with high temperatures and quickly growing vines.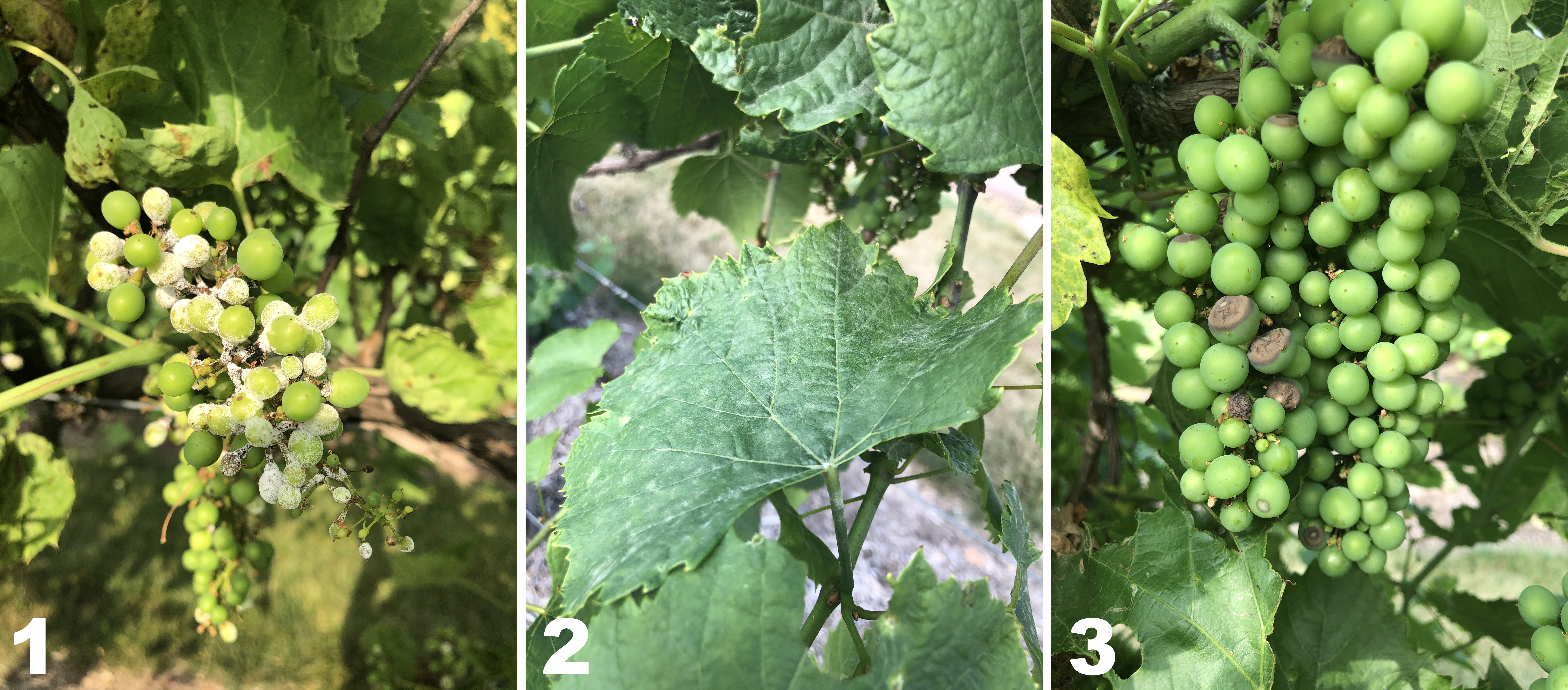 Insects
Note: Thoroughly scout before assuming insects are an economic problem.
Grape berry moth populations are looking high this year. Several vineyards scouted in southwest Michigan have had significant numbers of larvae feeding in the clusters during the first generation, some with multiple larvae per cluster. Moth catches still low, indicating that the first generation flight has ended. We expect the second generation egg laying to be starting now in Berrien and Van Buren counties. First sprays for grape berry moth should be going on this week for much of southern Michigan.
Wild grape bloom is used as biofix for the grape berry moth model predicting timing for insecticide sprays. This biofix is recorded as 50% of the clusters on wild grape are at 50% bloom. For 2020, approximate wild grape bloom dates are June 2 in Berrien, June 4 in Van Buren, June 5 in Allegan, June 11 in Ottawa and June 12 in Grand Traverse counties. The date can be entered into the grape berry moth model in Enviroweather to predict when egglaying will start for the second generation of berry moth.
Using the approximate bloom dates above, the start of egglaying are July 4 in Berrien, July 6 in Van Buren, July 9 in Allegan, July 9 in Macomb and July 13 in Ottawa counties. This highlights the timing when growers should be starting to think about protecting clusters from the second generation of this pest.
Once egglaying has begun, there are a number of insecticides that can be used to prevent grape berry moth infestation, but their timing is critical to give the best performance. Insecticides that affect eggs should be applied at the beginning of egg laying at 810 GDD47 after wild grape bloom. The most commonly used examples are Intrepid and Altacor. Insecticides that are best used against berry moth larvae should be applied when eggs start hatching. This is 100 GDD47 after the start of egglaying (910 GDD47). The first larvae are predicted to start hatching in the southwest around July 7 in Berrien County and July 9 in Van Buren County.
Keep a close eye on the grape berry moth model for your area to know when to make applications and to select products that will target the correct life stage. There are a number of chemical options that target larvae. For vineyards that saw significant damage last year or already have seen damage this year from grape berry moth, a second spray targeting larvae should be applied two weeks after your upcoming spray. For more detailed information to help with choosing the right insecticide, see "Mid-season management of grape berry moth" from MSU Extension.
Since grape berry moth attacks clusters, coverage is critical for good control. Be sure to use enough water to penetrate the canopy and cover the clusters. A spreader/sticker can also help cover the confined spaces inside the canopy.
Rose chafer and potato leafhopper have both been reported throughout the state. Rose chafers can be found feeding on leaves and young clusters. Potato leafhoppers feed on leaves. Some sensitive grape varieties can get yellowed and cupped leaves, and stunted growth in young vines. Most mature vines are very tolerant of their damage and control isn't often warranted.
Japanese beetles have been seen feeding on grape leaves throughout the state. They cause a lace-like skeleton on heavily damaged leaves. Since they usually do not feed directly on clusters they are generally only considered a pest of new vineyards where vines are more sensitive to leaf feeding.
Foliar infestations of grape phylloxera are continuing to be seen throughout much of the state. These small, aphid-like insects produce galls as the feed and develop. In the fall, the insects drop to the ground and overwinter in galls, feeding on the roots. Vinifera varieties are sensitive to root damage from these galls. Hybrid and juice grapes are significantly more tolerant of root infestations. Hybrid grapes, however, are more susceptible to significant foliar infestations of this insect. Vines can withstand a lot of leaf damage.
If there is a high infestation, Movento is an effective insecticide for phylloxera. This should be applied at the first sign of infestation. Movento needs to penetrate the waxy leaf surface, so application with a penetrating adjuvant is essential to get control.
Treatment recommendations for these insects can be found in the MSU Fruit Management Guide (E154).
Upcoming meetings
Our grower meetings have moved online. We are using Zoom for our meetings. Here is more information on Zoom.
In place of Viticulture Field Day, we are having Viticulture Field Week online. This will be a week of webinars from 12-1 p.m. during July 27-31. More information to come.
See also