Michigan grape scouting report – Sept. 2, 2020
With harvest approaching, keep clusters protected from insects and rots. Watch your preharvest intervals.
Weather
Last week started warm with highs near 90 in southern Michigan and mid-80s further north. A storm system brought 0.5 to over 2 inches of rain to most of the state but missed the southwest counties. This rain event lead to an increase in fruit cracking in some areas. A cold front passed through on Friday, Aug. 28, bringing temperatures down by 15 degrees Fahrenheit. The front also brought 0.5 to 1.5 inches of rain to the southern parts of Michigan. Another rain system brought another 0.5 to 1.5 inches of rain to much of the state on Tuesday afternoon, Sept. 1.
The lower temperatures will continue for at least the next week with highs in the mid-70s in southern tiers and upper 60s in northern grape growing areas. The only chance of rain in the forecast is on Sunday-Monday, Sept. 6-7.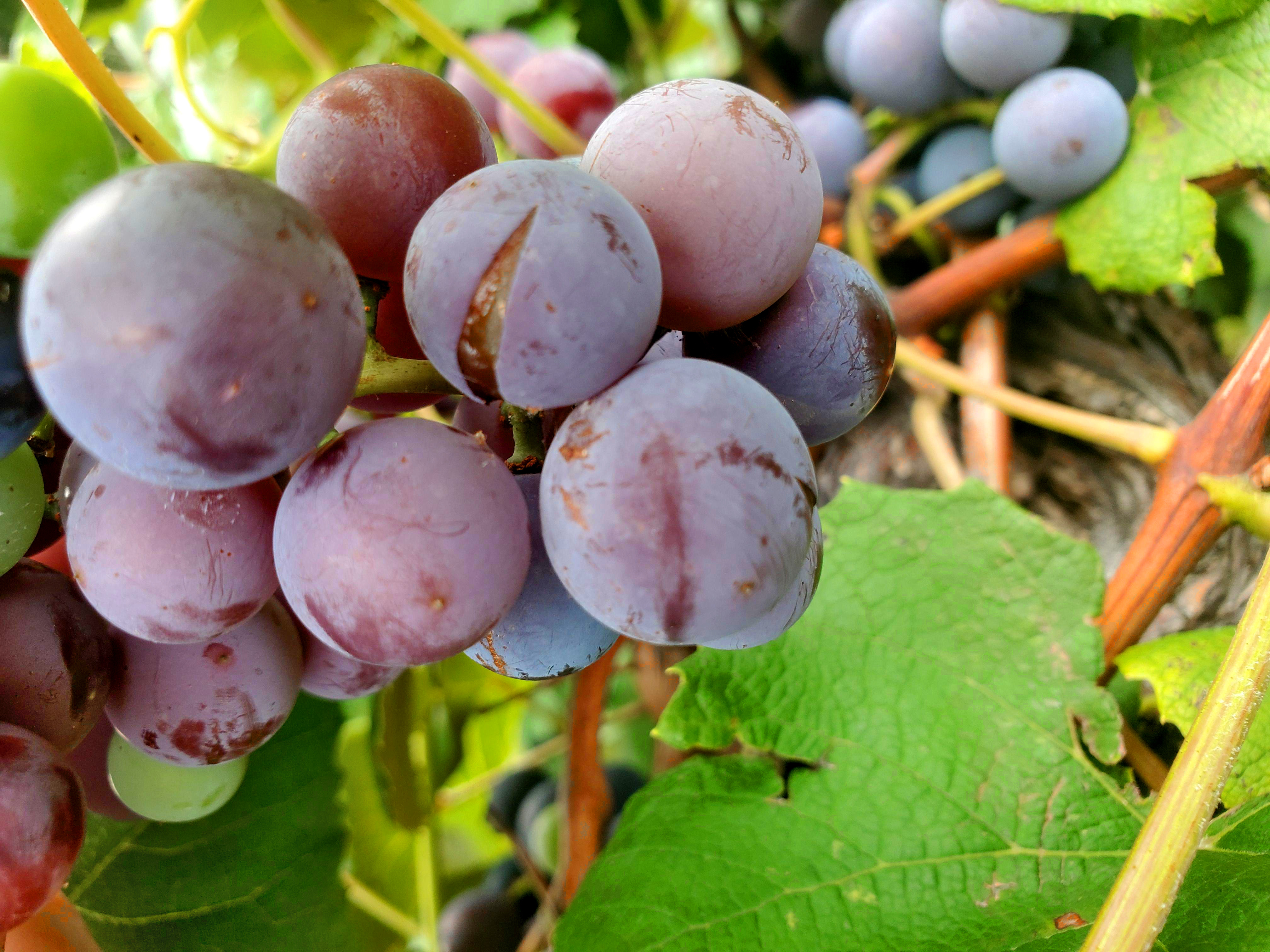 Depending on the growing region, there was 120-160 growing degree days (GDD) base 50 accumulated last week. The southwest region is 465 GDD base 50 ahead of the northwest region.
Northwest Michigan GDD summary from March 1 – Aug. 31, 2020
Southwest Michigan GDD summary from March 1 – Aug. 31, 2020
Southeast Michigan GDD summary from March 1 – Aug. 31, 2020

Northwest stations

GDD 50 F

GDD 47 F from wild bloom (grape berry moth model)

Petoskey (Petoskey)

1800

1684

Traverse City (NWMHRC)

1981

1869

Old Mission (Old Mission)

1921

1783

Avg for NW region

1911

Average last week

1790

Southern stations

GDD 50 F

GDD 47 F from wild bloom (grape berry moth model)

Benton Harbor (SWMREC)

2442

2331

Lawton (Lawton)

2393

2240

Fennville (TNRC)

2225

2096

Avg for SW region

2378

Avg last week

2218

Romeo (Romeo)

2305

2163

Romeo last week

2163
Note: Wild grape bloom dates are estimates. See "Mid-season management of grape berry moth" for bloom dates.
Vine growth
Most grape varieties are beginning to soften and acid levels are starting to drop. Harvest of table grape cultivars and some early hybrid wine grapes, such as Marechal Foch and Marquette, has begun. Other varieties in southwest Michigan are getting near the harvest window.
Crop adjustment work is still underway in the northwest part of the state, both mechanically and by hand in wine grape vineyards. The Michigan State University Extension bulletin "Predicting Harvest Yield in Juice and Wine Grape Vineyards (E3186)" provides tools to reduce both annual yield and quality variability among years by aiming for improved vine balance (fruit to vegetative growth). The intensity of crop thinning depends on the cultivar and vine vigor.
Veraison is also the time to plan for "green drop" to ensure the highest quality harvest for any specific cultivar. This technique reduces variability in fruit ripening by removing "green" fruit that are behind in maturation (selected at late veraison stage) so that uniform ripeness can be achieved at harvest for optimal wine quality. Green clusters are still being seen in many cultivars around the state. Growers or their vineyard workers can scout for clusters that are unlikely to ripen and remove them from the vine. Those clusters are usually green, in the wrong position in the canopy, or starting to show signs of infection.
During fruit maturation, bird damage is a challenge in vineyards. Crop losses can reach up to 95% and 60% in red and white varieties, respectively. Several methods of protection can be implemented, including the use of bird nets, streamers, scare-eye balloons, electronic bird distress calls and propane-fired bird-scaring cannons.
| Variety | Northwest region (degrees Brix) | Southwest region (degrees Brix) |
| --- | --- | --- |
| Pinot Noir | 13.2 | -- |
| Pinot Gris | 13.2 | 14.8 |
| Pinot Blanc | 16.7 | 14.1 |
| Cabernet Franc | 10.3 | -- |
| Zweigelt | 14.3 | -- |
| Riesling | 10.2 | -- |
| Madeleine Angevine | 17 | -- |
| Chardonnay | 15.6 | -- |
| Cabernet Sauvignon | -- | 18.4 |
| Sauvignon Blanc | -- | 17.0 |
| Chancellor | -- | 15.2 |
| Vignoles | -- | 19.6 |
| Marquette | -- | 19.4 |
| Concord | -- | 13.6 |
| Niagara | -- | 14.6 |
Weeds
Weed control is always an important component in vineyards for keeping grape vines healthy and ensuring good quality grape yield. At this time of the year, weed control in vineyards is mainly important to reduce weed interference in machine or manual harvest and to reduce the soil weed seed bank for the following season.
The application timing for most of the herbicides during this time of season is mainly based on the preharvest interval (PHI). PHIs have been established for most herbicides except for paraquat (Gramoxone). Aim (three-day PHI), Rely (14-day PHI) and Gramoxone (Restricted Use Pesticide) provide quick burn-down of weeds. Rely and Gramoxone control both broadleaves and grasses, but Aim is only effective for broadleaves.
Poast and Fusilade are selective, post-emergence grass killers and can be used in vineyards based on 50-day PHI. Venue (zero-day PHI) can be added to improve burn-down and broaden the weed control spectrum. Some herbicides will damage grape green bark, new shoots, leaves or vines, so minimize contact with vines during application.
Glyphosate also has a short, 14-day PHI, but it is not advisable to apply it after bloom. Significant injury may occur during the current season or the following year if glyphosate comes in contact with leaves, green shoots or is absorbed by bark.
Diseases
The disease focus for most grape growers around Michigan is still on downy mildew and cluster rots, and growers should now pay close attention to preharvest intervals for specific products. Insect and bird damage is a major contributor to rot development. This week, some southwest vineyards with early ripening hybrids are showing botrytis symptoms. The time to manage sour rot is also approaching as berries begin to ripen.
At this time, we continue to be concerned about defoliation caused by downy mildew when it will reduce vine winter hardiness. This Michigan State University Extension article provides more information on late season downy mildew control.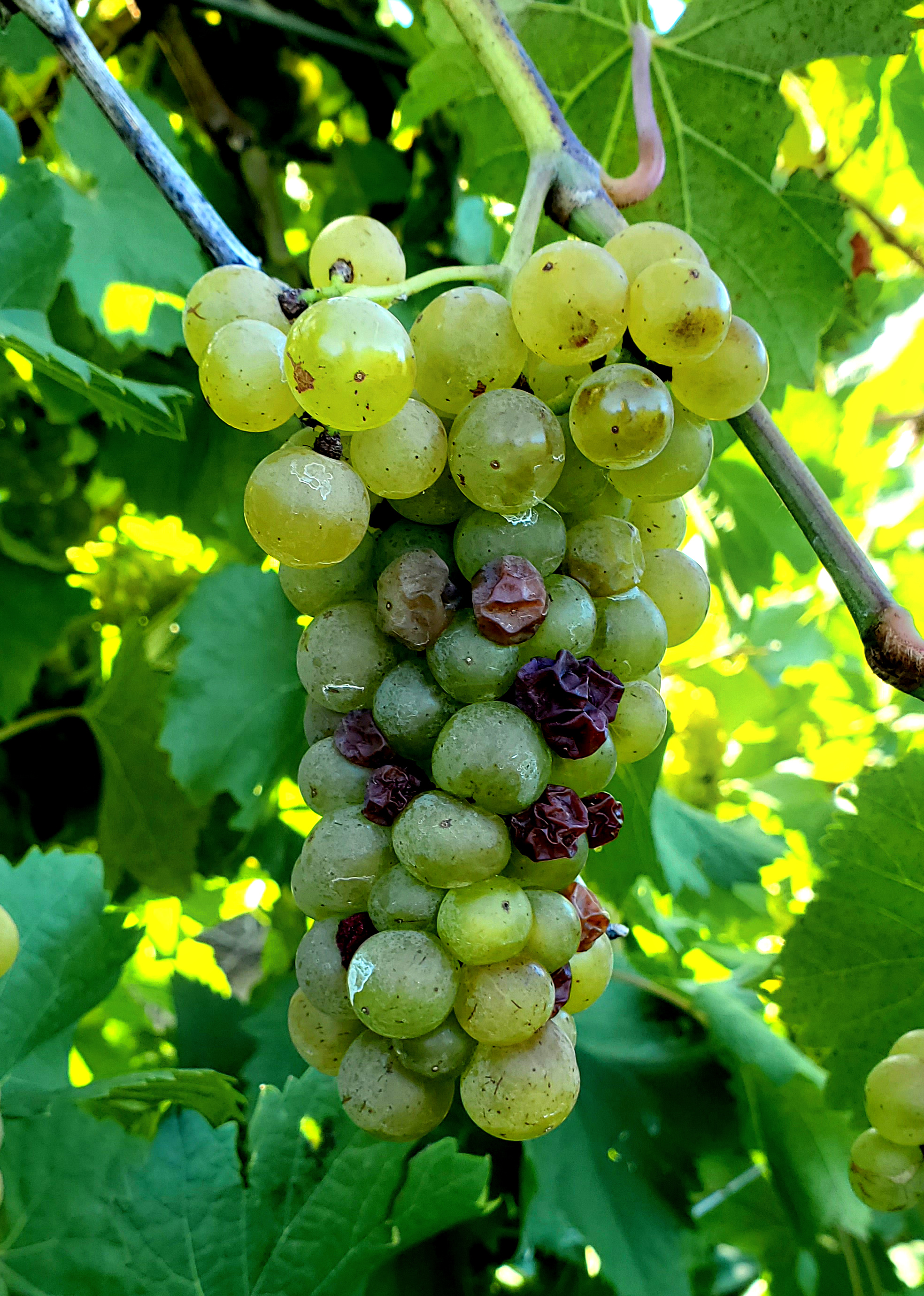 Several strategies contribute to good botrytis bunch rot management. These include opening up the canopy, properly applying fungicides and using resistant cultivars when possible. Good botrytis control depends on getting good coverage. Fungicide resistance management is also important. The most effective products for botrytis are site specific and prone to resistance development. A new Michigan Grape Fact Sheet is now available for managing botrytis bunch rot.
Sour rot can be particularly difficult to control on tight clustered varieties. Enhancing airflow through the canopy and clusters can help, so leaf pulling, thinning, shoot positioning and weed control can all provide some reduction in sour rot risk. Another important aspect of control is preventing berry damage (e.g., bird pecks, insect feeding and mechanical damage) to reduce the initiation of berry infections. We are finding more cracked berries, too, after the recent rainfall.
Combining an insecticide with a contact fungicide can be effective in managing both the insect vector and the pathogen. In high risk cultivars (e.g., Vignoles) and in hot and humid conditions, these treatments should be applied before symptom development and clusters have reached 13-15 Brix. Under high disease scenarios, reapplication may be needed on seven- to 10-day intervals until harvest, with careful attention to preharvest intervals.
This is a good time to scout for symptoms related to other vine stressors. Many of these problems can be abiotic including nutrient related issues and graft incompatibility, but some of the biotic problems can be caused by grapevine trunk diseases or grapevine viruses. If you are interested in taking samples and testing, send them to MSU Plant & Pest Diagnostics. Please see these articles on grapevine trunk disease and sampling for grapevine viruses.
A complete list of grape fungicides can be found in the E154 Michigan Fruit Management Guide. Check the guide for potential phytotoxicity of certain sprays on Concord grapes especially. Phytotoxicity risk is higher with high temperatures and quickly growing vines. One important thing to remember at this time of year is to keep track of preharvest intervals for fungicides.
Insects
Grape berry moth damage continues to increase at the borders of many vineyards in southwest Michigan as generation three infestation becomes visible. Growers with problems from grape berry moth last year should be scouting and protecting vines through this current third generation. In high pressure sites, multiple insecticide applications may be needed. We provide guidance in this article: August is key time for protecting clusters from grape berry moth.
Egglaying of the fourth generation of grape berry moth is predicted to begin at 2,430 GDD base 47 from the spring biofix. This timing will be met in Berrien County and next week for many of the far southern Michigan counties. This timing will result in the fourth generation overlapping with harvest season this year, potentially requiring control in some hot spots. Preharvest intervals will be especially important for the earliest harvested wine grape cultivars and early Niagara blocks harvested before Sept. 26. For the later wine grapes, Concords, and the last round of Niagara grapes, there is still time for the longer-lasting products to used.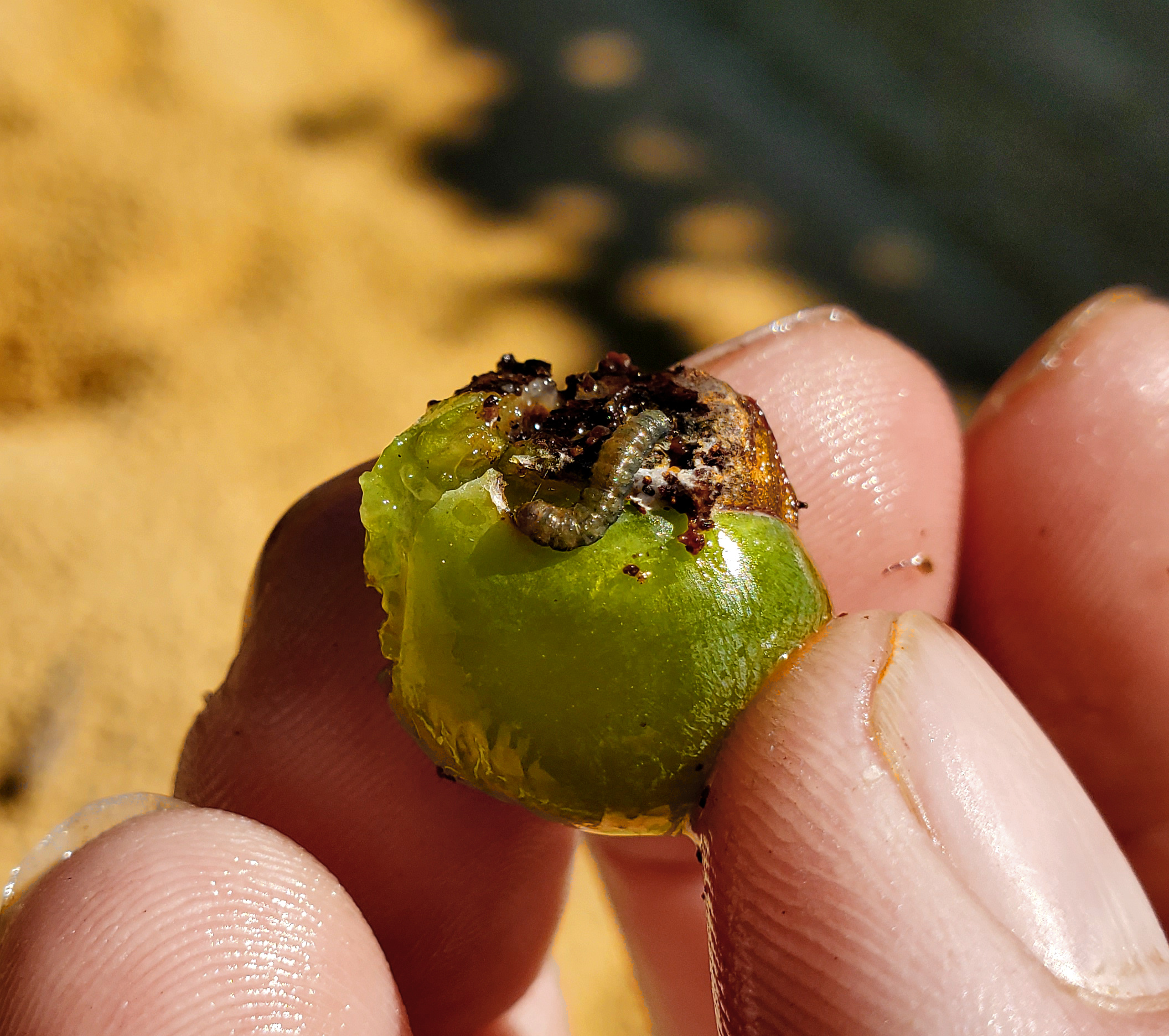 Yellowjacket populations are increasing in vineyards. They are attracted to the accumulating sugars in the berries. Yellowjackets can be very damaging to the berries directly, causing wounds that can lead to cluster rots and reducing harvestable crop. They can also be frustrating to sprayers and harvest crews, trying to avoid being stung while working with the ripening grapes.
As harvest approaches, look out for spider mites, mealybugs and vinegar flies.
Related articles and resources