East Michigan fruit update – Aug. 25, 2020
Brown marmorated stink bug feeding damage in apples is more common this week. Peach and blueberry harvest are nearing an end. Summer apple, blackberry and fall red raspberry harvest continues.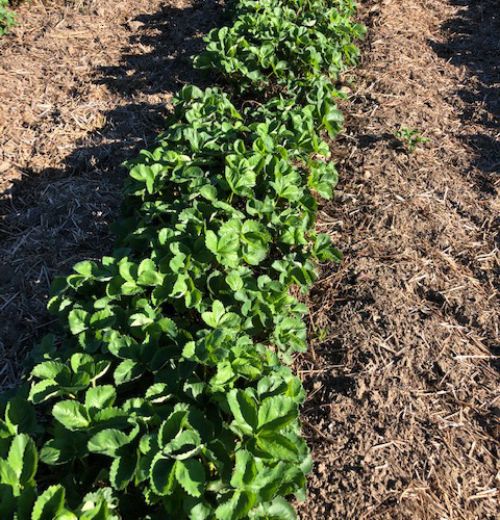 Weather
Another week without any precipitation has brought back signs of drought stress in a number of fruit crops. Fruit crops showing these signs of drought stress include newly planted and young tree fruits under 5 years of age, new and renovated strawberries and summer and fall raspberries. Signs of drought stress include wilting leaves, leaves that are yellowing and dropping prematurely, and lack of fruit sizing.
For most growers, the last significant rain event was Aug. 2, and for others it goes back further to July 16. In observing digging operations for foundations and even deeper excavations for pipeline projects, there is little to no moisture even deeper in the soil profile.
Soils have continued to dry down in the past week. Growers equipped to irrigate have been doing so on a regular basis.
For all of our region, our season has moved ahead again this week to being eight to 14 days ahead of normal for growing degree day totals and just a few days ahead of normal for fruit crop growth stages and beginning of harvest.
East Michigan growing degree day (GDD) totals for March 1 to Aug. 24, 2020

Location

GDD42

GDD45

GDD50

Commerce (Oakland County)

3142

2746

2136

Deerfield (Monroe County)

3360

2945

2312

Emmett (St Clair County)

3052

2657

2057

Flint (Genesee County)

3333

2926

2297

Freeland (Saginaw County)

3127

2732

2128

Lapeer (Lapeer County)

3066

2668

2058

Pigeon (Huron County)

3020

2637

2056

Romeo (Macomb County)

3203

2802

2187
Tree fruit
Apple size is surprisingly good for the amount of precipitation that we have had this season. For growers that have been irrigating on a regular basis over the summer, most fruit are nearing or are at 3 inches in diameter. For growers not able to irrigate, fruit size has slowed in the past three weeks or so to an increase of about 0.125 inches a week, with most of the fruit size being 2.25 to 2.5 inches in diameter. Many apple varieties are coloring well for this time of the season.
Harvest of summer apple varieties continues. Ginger Gold, Paul Red, Wealthy and Akane harvest is underway. Gala harvest might begin in seven days for early maturing strains and for McIntosh about 10 days. Bird feeding damage continues to be seen, especially from crows in Honeycrisp. Growers are setting bins in many blocks.
Brown marmorated stink bug (BMSB) feeding damage in apples is more common this week than last week. This feeding damage is light and isolated in scope. Damage can occur on any variety of apples but is easier to see on light skinned apple varieties, such as Golden Delicious. I am also finding late BMSB instar nymphs and adults in apple and peach blocks. Most of the apple feeding damage is being found on orchard edges and along fence rows and woodlots. Growers with known hot spots for damage in previous seasons are treating these spots with a border application of an insecticide targeting BMSB. Consult the Fruit Management Guide (E154) for specific control recommendations.
The drought conditions we have been experiencing may be creating conditions conducive to stink bug movement from field crops and woodlots into orchards. BMSB damage can occur between now and the end of harvest. As I shared in my report last week, BMSB movement into apple blocks is unpredictable, so growers need to be scouting for these pests every few days. This is hard insect to scout for and to prevent damage.
Codling moth, oriental fruit moth and obliquebanded leafroller flight and trap catch continues across the region, although their numbers are declining. We may need to deal with a third codling moth generation this season, mainly due the heat of this summer. Apple maggot trap catch has dropped off for the second week in a row. Woolly apple aphid numbers have continued to climb in many apple blocks; growers are finding clumps of woolly's on terminal branches. More growers are finding increasing amounts of San Jose scale damage in many apple blocks again this week, second generation crawlers are being seen this week. Now is the time to keep good records of where this damage is being found to target oil applications next spring. Beneficial numbers continue to slowly build.
Black rot and bitter rot fruit infection symptoms are being seen in more and more apple blocks this week. Sooty blotch and fly speck symptoms are being seen by more growers this week.
Pears are mostly 2.25 to 2.5 inches in diameter. Bartlet picked really easy yesterday, and I think if growers wait too long to begin harvest, there may be good amount of fruit drop. So, I believe that a light first picking could be underway in the next few days. The remaining fruit should continue to size well. Some blocks are finding a good amount of sooty mold growth from pear psylla feeding and secretion.
Peach harvest is quickly winding down or has finished in the last few days at most farms. Fruit size was surprisingly good in most blocks this season, despite the drought conditions most farms have seen. In blocks with peach leaf curl this spring, growers found that fruit did not ripen uniformly.
Once harvest is complete in peaches, the need to watch for and control BMSB has ended. However, as growers are finishing up on grading these late season peaches, they need to be on the lookout for BMSB feeding damage.
Sweet cherry leaves are yellowing and leaf drop is common this week where growers received rainfall three weeks ago. Fungicide applications need to be made to slow this leaf infection and drop.
Tart cherry leaves are yellowing even more than sweet cherries, and leaf drop is common where growers received rainfall three weeks ago. Fungicide applications need to be made to slow this leaf infection and drop. It may be hard to distinguish between leaf drop from cherry leaf spot disease and drought stress.
Plums have taken on a slight swell in the past week and continue to color. European varieties are mostly 1.375 to 1.5 inches in diameter. I have been expecting harvest to begin soon, but they are still green to eat and are very firm. Late season Japanese varieties are continuing with harvest. Most plum blocks have a poor crop due to freeze/frost damage.
Small fruit
Strawberry regrowth has continued to rebound in renovated fields that have been well irrigated since renovation. Growers with dry soils are continuing to irrigate both renovated fields and new plantings. Newly planted strawberry rows continue to fill out well. In early September we are approaching the window for another herbicide application in renovated fields.
Raspberry harvest for fall red raspberries has started for almost all growers, however the early pickings have been light compared to most years. Growth or overall length of fall raspberry canes has been much less than in most seasons, mainly from a combination or drought early this spring and too much heat this summer. Blackberry harvest is underway.
Spotted wing Drosophila (SWD) trap catch has taken another jump this week. Trap catch started across the region 10 weeks ago but has been low up until three weeks ago. SWD protection programs need to be ongoing in fall red raspberries.
Blueberry harvest of late season varieties continues. Berry size is diminishing on many varieties. Some farms report that they will finish up with harvest late this week or over the weekend.
SWD trap catch started across the region 10 weeks ago, and until three weeks ago trap catch has remained low. But for the third week in a row I am finding a jump in SWD trap catch. SWD protection programs need to be ongoing in blueberries as long as growers have berries to harvest. Blueberry maggot trap catch is down for the second week in a row.
Grapes are at berry touch for all varieties and clusters are filling out. Veraison started in Freedonia about 10 days ago and are well-colored. I am not seeing veraison in other varieties yet. Downy mildew symptoms continue to be found this week.
Saskatoon leaf yellowing and some drop continues on leaves that were fed on by Japanese beetle earlier in the season. It is too late for control measures at this time, as the damage has already occurred.