Don't guess, get a test from MSU Plant & Pest Diagnostics
Learn how to collect, handle and submit the ideal grape sample for virus testing.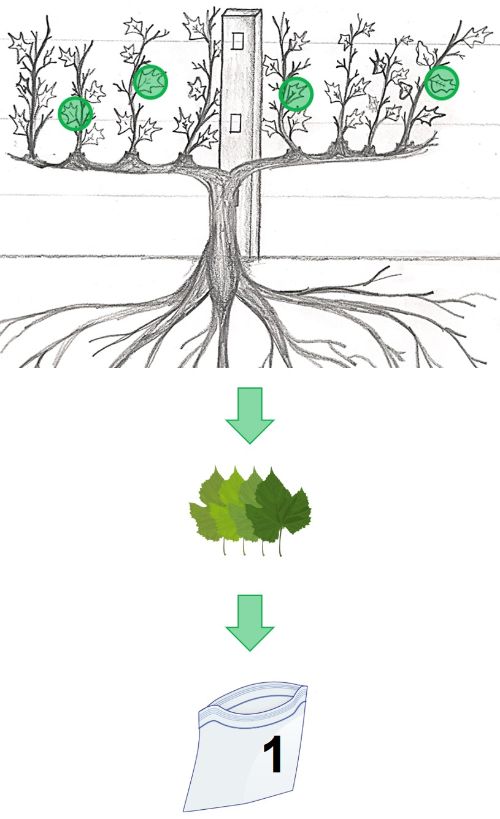 Did you know scientists have found more than 80 different viruses in grapevines? Some of these cause diseases of major economic impact to the grape and wine industries. Unfortunately, viruses responsible for leafroll, red blotch, infectious degeneration/decline and rugose wood have been detected in Michigan vineyards. If you suspect a virus infection in your vineyard, our MSU Plant & Pest Diagnostics lab can provide virus testing. The following recommendations are proper sampling techniques and are essential for reliable virus detection.
Collecting grape samples from suspect vines
Starting in June 2019, MSU Plant & Pest Diagnostics will accept samples of grape foliage for virus testing. You can either collect samples from a single vine or make a composite sample from up to five vines. A sample should consist of leaves of intermediate age (not too young, not too old) with petioles. Every submission must be accompanied by a Sample Submission Form.
We suggest you flag the vines selected for sampling. Depending on test results, it may be necessary to resample and retest.
Single-vine sampling
Using a permanent marker, label a gallon-size resealable plastic bag with your sample identifier.
Reach for a leaf and pull it backwards until the petiole snaps off. Don't touch the end of the petiole.
Take two leaves from each cordon, making sure one comes from the front and the other from the back of the vine.
Stack leaves on top of each other and place them inside your labeled bag. Insert petioles first.
Push some air out of the bag and seal it. Don't add extra moisture to the sample.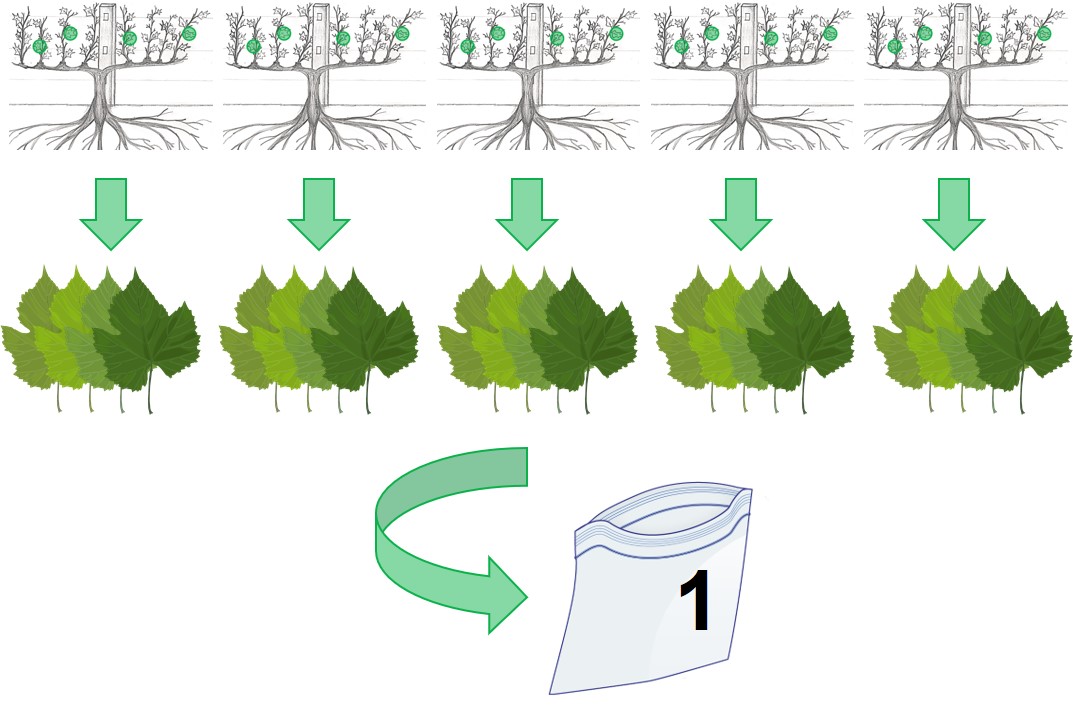 Composite sample
An alternative sampling strategy to reduce testing costs. A composite sample is a collection of individual samples.
Select two to five vines in your vineyard for sampling.
Collect leaf samples from each individual vine as described for single-vine sampling.
Depending on the number of selected vines, a sample bag will contain a total of eight, 12, 16 or 20 leaves.
Handling and shipping of samples
Detached leaves can rapidly deteriorate, especially in warm weather. In the field and during transport, always keep samples inside a cooler with ice packs but not in direct contact as freeze damage can occur. We highly recommend submitting samples on the same day of collection; however, samples can be refrigerated for up to 48 hours.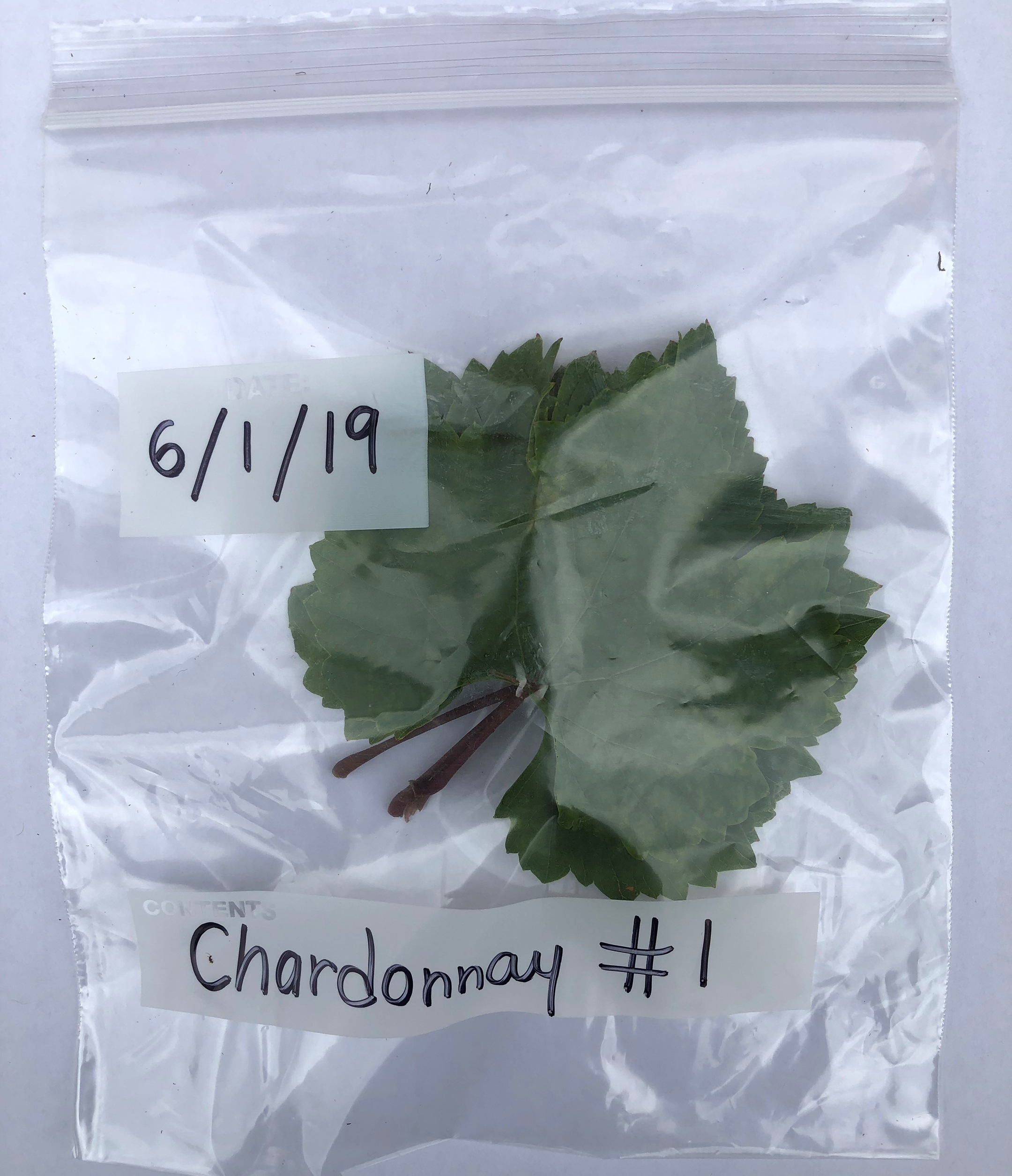 Before shipping your sample, make sure the leaves are still crisp and fresh (Fig. 3). If the sample is in bad condition, we cannot test it.
Please avoid shipping samples on Fridays as packages are not delivered to campus on weekends; samples will not arrive to the lab in good condition the following week.
Ship overnight (FedEx preferred) or deliver samples directly to our facility at:
MSU Plant & Pest Diagnostics
Att. Laura Miles
578 Wilson Road, CIPS 107
East Lansing, MI 48824
Grape virus tests
Samples can be tested for the following:
Grapevine leafroll-associated viruses (GLRaV-1, -2, and -3)*
Grapevine red blotch virus (GRBV)
Grapevine Pinot gris virus (GPGV)
Grapevine fleck virus (GFkV)
Arabis mosaic virus (ArMV)**
Grapevine fanleaf virus (GFLV)**
Tobacco ringspot virus (TRSV)**
Tomato ringspot virus (ToRSV)**
Testing fees
Please note that fees for out-of-state samples are doubled.
Description

Fee per sample

Single virus test

$30

* Leafroll viruses (3)

$50

** Nepoviruses (4)
(Viruses transmitted by nematodes)

$60

All 10 viruses

$100
Support provided by Project GREEEN, Michigan State Horticultural Society (MSHS), Michigan Grape and Wine Industry Council, Michigan Wine Collaborative (MWC) and Michigan Department of Agriculture and Rural Development (MDARD).
Contact us for more information!
Email: lmiles@msu.edu
Phone: 517-355-4536
Website: www.pestid.msu.edu