Michigan pesticide applicator recertification credits available in person and online before the end of the year
Growers needing a few more credits to renew their pesticide applicator license have some online and in-person opportunities available.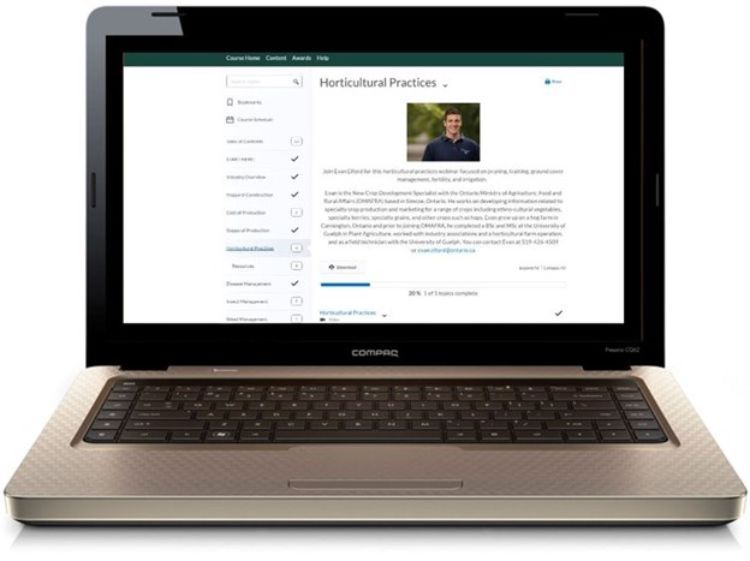 Michigan State University Extension (MSU Extension) has several remote and in-person opportunities for pesticide applicator credits scheduled for the end of the year.
Online opportunities
12 Private Core, Commercial Core and ALL categories on demand
MSU Extension has developed an online, self-paced course for private and commercial pesticide applicators. This course is designed for both new certification and those in need of further education and/or credits. Those that complete the course will obtain 12 RUP credits, private core, commercial core and all commercial categories.
Regular price for the course is $75 a person, veterans and those that have an annual income of $20,000-$40,000 it is $35, and for those with an annual income less than $20,000 it is free. Companies can purchase five to 10 spots for $50 each and 10 or more spots for $35 each.
The course is set up in 12 modules that correlate to the chapters in the national pesticide training manual. Depending on your background and knowledge, it can take 10 to 12 hours to complete the course. The course is self-paced so enrollees can take as much time and as many days as needed to complete. The course must be completed prior to the end of the year for the credits to be used for this year.
For more information, contact Nicole Walker at walke628@msu.edu or 989-224-5241 or Christina Curell at curellc@msu.edu or 231-287-8617.
6 Private Core, Commercial Core, 1A or 1B credits on demand
The Desire to Learn IPM Academy is an interactive, online program designed to provide a comprehensive and convenient learning experience. It offers growers the flexibility to earn pesticide recertification credits on their own schedule from the comfort of their own home and at a very affordable price.
The course is a combination of videos, resources and interactive content that features many MSU experts. The Desire to Learn platform is easy to use and includes an excellent, full service help center with technical support.
The total cost of the course is $10, payable online at the time of registration. Upon course completion, certified pesticide applicators in Michigan can request six credits (1A, 1B, Commercial Core or Private Core). Pesticide credits will be recorded based on the date of request, so growers needing a few more credits in this year have until Dec. 31 to complete the course and make their request. Participants can also print a certificate of completion. The course may be repeated annually for credits or as many times as desired for review.
For more information, contact Erin Lizotte at taylo548@msu.edu.
4 Private Core, Commercial Core or 1B credits on demand
The last decade has seen a rapid expansion of hop acreage outside the traditional North American production regions. To assist prospective hop producers in understanding the challenges and complexity of hop production, the Great Lakes Hop Working Group has developed a comprehensive introductory course focused on production in reemerging regions including the northern Plains, Great Lakes and Northeast.
This online, on-demand hop production course provides detailed and comprehensive presentations and resources that address all aspects of hop production from economic considerations to postharvest handling. The course was developed for beginner or prospective hop producers but could also be utilized by more experienced hop growers.
The cost to register is $50 and includes all course content. Pesticide recertification credits are available for Michigan applicators upon completion (four Private Core, Commercial Core or 1B credits). A certificate of completion is available upon completion of all course work.
For more information, contact Erin Lizotte at taylo548@msu.edu.
1 Private Core, Commercial Core, 1A, 1B, 1C, 7A
Pesticide applicators can learn how they can support bees and other pollinators through the Pollinator Protection for Pesticide Applicators online course. The free online course is self-paced, allowing students to review course materials at their own pace and on their own schedules. The course takes about an hour to complete.
The course contains four modules focused on pollinator appreciation, pesticide toxicity to bees, pesticide labels and supporting pollinator health.
For more information, contact Ana Heck at heckanar@msu.edu.
In-person opportunities
3 Private Core, Commercial Core or 1A credits for attendance on Dec. 14
Join MSU Extension field crops educators along with MSU experts on Dec. 14, 2022, at the Ubly Heights Country Club, 2409 E Atwater Rd, Ubly, MI 48475, from 8:30 a.m. – 3:30 p.m. for the Thumb Ag Day. The event is free, however there will be a $10 charge for those that wish to purchase lunch.
For more information, contact Jenna Falor at falorjen@msu.edu or 989-672-3870, or the Huron County MSU Extension Office at msue.huron@county.msu.edu or 989-269-9949
Credits will depend on session attendance Dec. 6-8.
The 2022 Great Lakes Expo will be held Dec. 6-8 at the Devos Place in Grand Rapids, Michigan. There will be pesticide applicator credits for Michigan licensed applicators offered in several of the educational sessions. Learn more and register
6 RUP credits for attendance on Dec. 19.
The MSU Extension field crops team will host the 2022 Integrated Crop and Pest Management Update on Monday, Dec. 19, from 9 a.m. – 4 p.m. This meeting is offered as a hybrid event—in-person at the MSU Livestock Pavilion and virtually via Zoom.
Register online by Dec. 11 for the in-person meeting or Dec. 16 for the virtual event, both of which include the 2023 Weed Control Guide for Field Crops. Cost for the in-person meeting is $65 per person when pre-registering or $80 per person when registering onsite. Cost for the virtual event is $35 per person. The in-person meeting will include a light breakfast, hot lunch and snacks. Registrants for the virtual option will receive information on how to join via Zoom.
Contact Eric Anderson at eander32@msu.edu or call 269-359-0565 with questions or accessibility requests.
Additional MDARD approved seminars
Please note, these listings include both MSU and non-MSU seminars. View the Michigan Department of Agriculture and Rural Development (MDARD)-approved online seminars by month as well as the complete list of approved online seminars (including on-demand). Contact the associated phone number for more details on each program.
Taking the test?
MSU and MSU Extension are hosting 25 sessions throughout the state between October 2022 and June 2023. These sessions are for Michigan private and commercial pesticide applicators looking to review the core applicators manual before completing the pesticide applicator test with MDARD.
It is important to note that participants must attend the core review if they plan to take the test in-person. A complete list of available sessions, along with registration and additional information, can be found at the MDARD In-Person Core Testing and Core Review web page
This work is supported by the Crop Protection and Pest Management Program [grant no 2021-70006-35450] from the USDA National Institute of Food and Agriculture. Any opinions, findings, conclusions, or recommendations expressed in this publication are those of the author(s) and do not necessarily reflect the view of the U.S. Department of Agriculture.