Michigan pesticide applicator recertification credits available online before the end of the year
Growers needing a few more credits to renew their pesticide applicator license have some online opportunities available.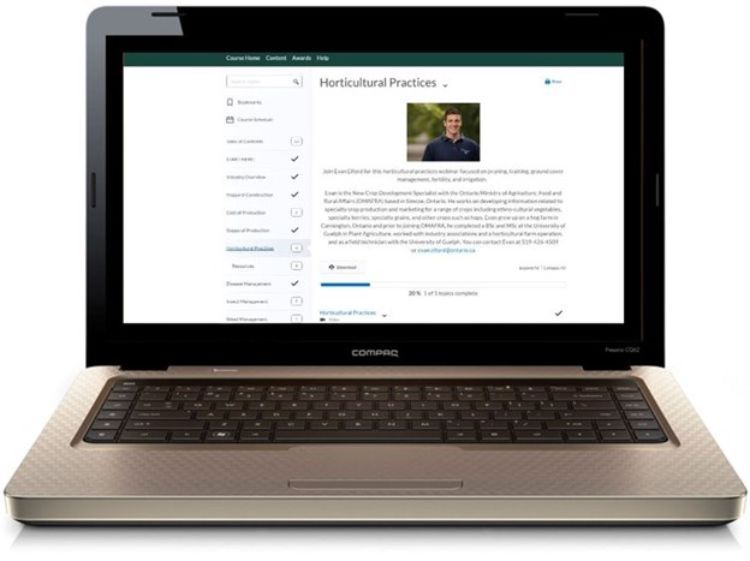 With the COVID-19 pandemic impacting in-person programming, Michigan State University Extension and our partners are happy to offer a number of remote opportunities for pesticide applicator credits.
6 Private Core, Commercial Core, 1A or 1B credits on demand
The Desire to Learn IPM Academy is an interactive, online program designed to provide a comprehensive and convenient learning experience. It offers growers the flexibility to earn pesticide recertification credits on their own schedule from the comfort of their own home and at a very affordable price.
The course is a combination of videos, resources and interactive content that features many MSU experts. The Desire to Learn platform is easy to use and includes an excellent, full service help center with technical support. The total cost of the course is $10, payable online at the time of registration. Upon course completion, certified pesticide applicators in Michigan can request six credits (1A, 1B, Commercial Core or Private Core). Pesticide credits will be recorded based on the date of request, so growers needing a few more credits in 2020 have until Dec. 31 to complete the course and make their request. Participants can also print a certificate of completion. The course may be repeated annually for credits or as many times as desired for review.
Accommodations for persons with disabilities may be requested by contacting Erin Lizotte at taylo548@msu.edu. All videos include closed captioning.
4 Private Core, Commercial Core or 1B credits on demand
The last decade has seen a rapid expansion of hop acreage outside the traditional North American production regions. To assist prospective hop producers in understanding the challenges and complexity of hop production, the Great Lakes Hop Working Group has developed a comprehensive introductory course focused on production in reemerging regions including the northern Plains, Great Lakes and Northeast.
This online, on-demand hop production course provides detailed and comprehensive presentations and resources that address all aspects of hop production from economic considerations to postharvest handling. The course was developed for beginner or prospective hop producers but could also be utilized by more experienced hop growers.
The cost to register is $50 and includes all course content. Pesticide recertification credits are available for Michigan applicators upon completion (four Private Core, Commercial Core or 1B credits). A certificate of completion is available upon completion of all course work.
Accommodations for persons with disabilities may be requested by contacting Erin Lizotte at taylo548@msu.edu. All videos include closed captioning.
3 Private Core, Commercial Core or 1A credits for attendance on Dec. 9.
Join MSU Extension field crops educators along with MSU experts for this free Virtual Thumb Ag Day, featuring a variety of topics including soil compaction, commodity outlook, soybean fungicides and nitrogen in wheat. For more information, contact Bob Battel at battelro@msu.edu or 989-672-3870, or Phil Kaatz at kaatz@msu.edu or 810-667-0341.
Credits will depend on session attendance Dec. 8-10.
The 2020 Great Lakes Expo will be held virtually Dec. 8-10 and will again offer pesticide applicator credits for Michigan licensed applicators. Learn more and register.
4 RUP credits for attendance on Dec. 16.
MSU Extension will host the 2020 Integrated Crop and Pest Management Update on Wednesday, Dec. 16, from 8 a.m. to 12:30 p.m. Normally held at the MSU Livestock Pavilion, we are moving the program to an online format this year. The audience will include farmers, agribusiness representatives, retail sales and service professionals, and private crop consultants. Out-of-state participants are also invited to attend. Learn more and register.
MDARD approved seminars
Please note, these listings include both MSU and non-MSU seminars. View the Michigan Department of Agriculture and Rural Development (MDARD)-approved online seminars in December as well as the complete list of approved online seminars (including on-demand). Contact the associated phone number for more details on each program.
Taking the test?
Michigan private pesticide applicators looking to review the Core applicators manual before completing the pesticide applicator test with MDARD now have access to a free online review with MSU Extension. To purchase the Michigan Pesticide Applicator Core Manual, visit the National Pesticide Safety Education Center website. For more information on current MDARD testing opportunities, contact MDARD directly at 800-292-3939. MSU is also launching a more interactive online review this winter, so stay tuned for that as well.
This material is based on work supported by the USDA National Institute of Food and Agriculture, Crop Protection Pest Management Program and the North Central IPM Center (2014-70006-22486) and (2017-70006-27175). Any opinions, findings, conclusions or recommendations expressed in this publication are those of the author(s) and do not necessarily reflect the view of the U.S. Department of Agriculture.