Michigan vegetable crop report – August 30, 2023
Extreme storms have damaged crops but growers will prevail. Farm markets have a strong supply going into Labor Day Weekend.
Weather
Watch Dr. Andresen's weather update here.
Many farms through central and eastern Michigan are dealing with wind damage and flood conditions from last Thursday's storms. In west Michigan, the heat dome brought with it an intense migration of corn earworm moths, and potentially other insects. Irrigation is going to be important in southwest Michigan this week.
Here is this week's forecast:
Partly to mostly sunny, dry, and warm with scattered showers and thunderstorms possible north Wednesday.

Partly sunny with scattered shower and thunderstorms north Thursday. Fair and warm with isolated showers possible south.

Fair, dry, and cooler Friday and Saturday.

Increasing clouds with showers and thunderstorms possible Sunday through Tuesday.

High temperatures from the low 80s degrees Fahrenheit north to upper 80s F south Wednesday and upper 70s F north to mid and upper 80s F Thursday, falling back to the upper 70s to low 80s F Friday through this weekend. Low temperatures generally in the low-mid 60s F Thursday falling back to the mid-upper 50s F this weekend.

Medium range outlooks generally call for near to below normal mean temperatures and near to above normal precipitation totals.
Weed of the week
Common chickweed (Stellaria media) is an annual broadleaf weed in the carnation family. It is identified by its small drop-shaped leaves, mat-forming growth habit, and tiny white flowers (each with five split petals). While commonly classed as a winter annual, chickweed can also emerge/set seed at various other times throughout the season. The plant spreads over the ground rooting at stem nodes, but overall forms a shallow root system that is easily disrupted using tillage. Likewise, mulch cover can work well for weed suppression as the weed grows laterally rather than upwards like grasses or other broadleaves. Densely seeded winter cover crops suppress chickweed emergence and establishment. Many pre-emergents work well on common chickweed, such as Caparol (prometryn), Chateau (flumioxazin), Command (clomazone), Goaltender (oxyfluorfen), Lorox (linuron), Prowl (pendimethalin), Spartan (sulfentrazone), Tricor (metribuzin) and more. Selective herbicides with satisfactory postemergent action are relatively less common, but include 2,4-D, Matrix (rimsulfuron), Sinbar (terbacil), Starane Ultra (fluroxypyr), as well as some of the previously mentioned pre-emergent chemistries.

2023 MSU Extension Southeast Michigan Farmer Survey
MSU Extension is pleased to announce our 2023 Southeast Michigan Farmer Needs Assessment Survey. This survey will gather information about your farm and your potential interest in learning more about various farm-related topics. The information gathered will inform future programs and educational opportunities offered by MSU Extension educators for agricultural producers in southeast Michigan. This survey will take approximately 10 minutes to complete and is accessible at the link below:
Take the 2023 MSU Extension Southeast Michigan Farmer Needs Assessment Survey!
Feel free to share the survey link with other growers. We welcome any participation in the survey in order to help Michigan State University Extension better serve its communities.
Crop updates
Asparagus
Between 6-10 DSVs accumulated between Aug 22 to 28, in 7 Oceana County asparagus fields MSU Extension is monitoring. Based on DSVs at these locations, a fungicide application would have been due Monday, August 28 if nothing had been applied since about the end of the first week of August. Read more about purple spot control in our June 14 report.
Celery
For celery, scouts and growers have observed thrips moving into celery surrounded by maturing onions. Celery leaftier is "acting normal", and has not been observed in hearts. Growers are also doing well controlling the other main caterpillar pest, variegated cutworm. Exirel and Radiant are both labeled for celery and have activity against thrips and caterpillars (1 day PHI for both). Lannate is also labeled (7 day PHI).

Cucurbits/pickles
Pumpkins are ripening on many farms. Early melon and watermelon plantings are being shut down, while later plantings are staying steady. Cucumber and pickle harvests continue from a rolling set of plantings. Both downy and powdery mildew are widespread, but powdery mildew pressure is relatively low overall.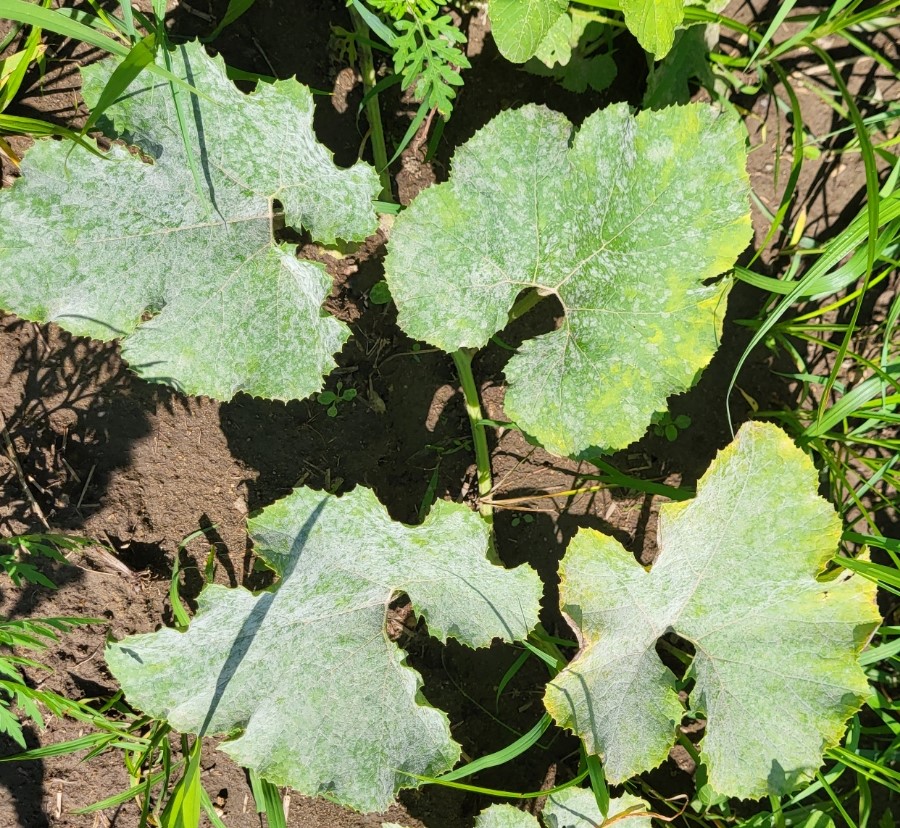 Besides insect pests, rodents such as voles have been causing damage to pumpkin plantings this year. In Michigan, we primarily have meadow voles, with some pine and prairie voles as well. No-till cucurbit production can encourage vole populations by providing habitat for the varmints. Bare soil typically reduces vole activity as it exposes them to aerial predators. Control measures include providing predator perches near your planting to support raptor hunting or providing alternative food sources to deter crop feeding. For more information, check out this resource from the Nevada Department of Agriculture.
Fruiting vegetables
Early pepper and tomato plantings are getting shut down in southwest Michigan, with later plantings picking up. Colored peppers are going to market. Processing and fresh-market tomato harvests continue. Caterpillar sprays may be warranted as a large migration of corn earworm/tomato fruitworm arrived last week in west Michigan during the heatwave (see sweet corn section).
Sweet corn
Many regions in Michigan are dealing with lodged sweet corn from last Thursday's storms.
Corn earworm pressure remains high in west Michigan in MSU and scout traps. A 2 to 3 day interval could provide better protection if and when captures approach 50 per night (steel trap) or 13 per night (cloth trap). Temperature also matters: hot temps mean that silks grow faster, creating unprotected silks where moths can lay eggs. Cool temps help.
Products with chlorantraniliprole (Besiege, Vantacor, Coragen) or spinetoram (Radiant, Intrepid Edge) are the most effective options for periods with high pressure. Spraying can be discontinued once corn has 90% brown silks, as it's the green silks that attract egglaying females. According to insectforecast.com, weather will create a low risk of additional migration into the southwest quarter of the lower peninsula this Thursday, August 31. To our south, all Purdue University trap sites are now catching corn earworm each evening, with very high captures in some locations. Ohio has also reported lower numbers on their Lep Monitoring Network Update #17.
Corn earworm captures. Total in trap for week1 (avg # per night2)

Week

Ottawa County

Oceana County

Monroe County

Wayne County

Berrien County

8/28

256 (85)

553 (138)

9 (1.5)

7 (<1)

546 (109)

8/23

83 (8)

371 (37)

0 (0)

-

53 (7.5)

8/16

3 (<1)

6 (2)

0 (0)

0 (0)

15 (2)

8/9

0 (0)

0 (0)

0 (0)

0 (0)

0 (0)

7/31

0 (0)

0 (0)

0

0

1 (<1)

7/24

2 (<1)

1 (<1)

0

1 (<1)

1 (<1)

7/17

0 (0)

0 (0)

0 (0)

1 (<1)

-

7/10

-

0 (0)

0 (0)

0 (0)

-

7/3

-

0 (0)

3 (<1)

0 (0)

-

1Total number collected since last trap check; 2The total number divided by the number of nights since the last trap check
On-Farm Food Safety
MSU and the conservation districts offer a program to visit your farm to go over your food safety program to provide critiques and comfort in a confidential fashion. You can then use these notes to make changes ahead of an actual inspection from the Michigan Department of Agriculture and Rural Development. If you are interested in an On-Farm Readiness Review, please fill out this On-Farm Readiness Review request survey to start the scheduling process (the sooner the better).
Events
This work is supported by the Crop Protection and Pest Management Program [grant no 2021-70006-35450] from the USDA National Institute of Food and Agriculture. Any opinions, findings, conclusions, or recommendations expressed in this publication are those of the author(s) and do not necessarily reflect the view of the U.S. Department of Agriculture.