Michigan vegetable crop report – September 6, 2023
Thanks to all our readers! This is the last report of the season. We hope harvest goes well!
Weather
Watch Jeff Andresen's weather update here.
Here is this week's forecast:
Showers and thundershowers likely during the morning Wednesday (Sept. 6) to the north, west and redeveloping again during the afternoon to the east, south.
Cloudy and cooler with a continuing threat of showers Thursday into early Friday, especially north. Fair, dry and cool this weekend.
Showers possible again by next Tuesday, Sept. 12, with cool temperatures likely midweek.
High temperatures from the upper 70s to mid-80s Wednesday to the mid- to upper 60s by Friday continuing into the weekend. Low temperatures from the mid-50s north to low 60s south Thursday cooling to the low 40s to low 50s by Friday into this weekend.
Medium range outlooks generally call for near to below normal mean temperatures and precipitation totals for the first half of September and for warmer and drier than normal weather for the second half of the month. Partly to mostly sunny, dry and warm with scattered showers and thunderstorms possible north Wednesday.
Weed of the week
Fall panicum (Panicum dichotomiflorum) is a summer annual grass and important weed in Michigan. It can be distinguished by similar looking grasses like witchgrass by the general lack of leaf hairs (apart from the ligule), conspicuous leaf midrib and zig-zag stem growth pattern. Fall panicum is closely related to the cultivated grasses proso millet and switchgrass. This weed can compete aggressively with crops, grow up to 6 feet in height and produce up to 500,000 seeds per plant if the conditions are right.

As a warm-season grass, seeds of fall panicum germinate best at high soil temperatures, making weed suppression with smother crops established early in the season an effective option. Preemergent herbicides that provide successful control include Treflan (trifluralin), Prowl (pendimethalin), Dual Magnum (S-metolachlor), Curbit (ethalfluralin), Devrinol (napropamide), Prefer (bensulide) and more. Timely applications of standard post-emergent grass killers like Select Max (clethodim), Poast (sethoxydim) and Fusilade (fluazifop-P) will typically handle fall panicum. Effective non-chemical options are mechanical cultivation when seedlings are still small or mowing.
2023 MSU Extension Southeast Michigan Farmer Survey
Michigan State University Extension is pleased to announce our 2023 Southeast Michigan Farmer Needs Assessment Survey. This survey will gather information about your farm and your potential interest in learning more about various farm-related topics. The information gathered will inform future programs and educational opportunities offered by MSU Extension Educators for agricultural producers in southeast Michigan. This survey will take approximately 10 minutes to complete and is accessible at the link below:
Take the 2023 MSU Extension Southeast Michigan Farmer Needs Assessment Survey!
Feel free to share the survey link with other growers. We welcome any participation in the survey in order to help Michigan State University Extension better serve its communities.
Crop updates
Asparagus
When to stop spraying asparagus? Keep an eye on the weather to see if continued protection against purple spot could be helpful. It could be helpful if we hit weather with warm temperatures during dew periods, or see warm days with all-day rains. The TomCast disease weather model has a nice way of summarizing this as a daily disease severity value, which ranges from 0 (weather not favorable for disease) to 4 (weather extremely favorable). Continued protection could be helpful if higher values are popping up (e.g., 1s, 2s, some 3s). On the other hand, if there are extended periods with 0s and 1s protection is less critical. Read more about purple spot control in our June 14 report.
What to use for a last fungicide cover? Some growers are planning on using azoxystrobin. Mary Hausbeck's trials suggested it can be very effective and could be a nice way to provide good purple spot protection that lingers a bit after a final pass over the field.
What about rust? Scouting can be helpful to determine if an additional tebuconazole application could help. The repeating stage of rust that causes epidemics is spurred onward by orange, blistery uredospore lesions. As fall moves on, the pathogen forms black teliospore lesions as well, which is the overwintering stage that doesn't cause epidemics. If you are mainly seeing black lesions, it could be less important to apply tebuconazole. On the other hand, the material is affordable!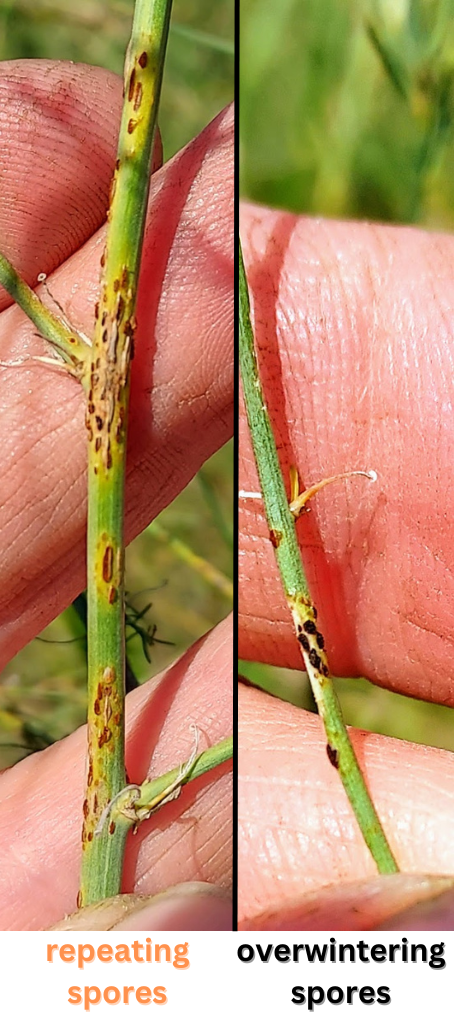 Cucurbits/pickles
Pumpkins are ripening on many farms. Early melon and watermelon plantings are being shut down while later plantings are staying steady. Cucumber and pickle harvests continue from a rolling set of plantings. Both downy and powdery mildew are widespread, but powdery mildew pressure is relatively low overall.
It's fairly dependable to get calls from growers concerned about their pumpkin yield this time of year, but after picking starts anxieties tend to disappear. Good yield assessments are hard to achieve because the plants are huge and viney, and fruit are dark green while they size up. If you've had a good spray program and favorable weather, the fruit are still shaded and hard to spot. Once leaves dry out and pumpkins color, yields seem to materialize. There is not much you can do about low yields now anyway except to ask "Why?"
If yields are in fact low, the primary culprit varies with your location and rotation. The droughty period through June, of course, affected any dryland plantings. The immense rains received in east Michigan have played a role, especially in fields with a history of Phytophthora. Depending on the degree to which your fields experienced the drought and subsequent rains, the cumulative effect of these wide-swinging environmental pressures could have the effect of creating uneven and incomplete stands, delaying growth, upsetting pollination, creating smaller fruit on smaller plants, and delaying overall ripening.
Temperatures over 85 and below 50 halt pollination from honey bees, but squash bees and bumble bees will continue working beyond those temperatures if you have local populations. However, higher temperatures cause plants to close their flowers early even if pollinators are operating. Rain will also damper pollination, and again the honey bees are the first to quit, while squash bees and bumble bees will fly through low to medium levels of precipitation if you have them. The native squash bees tend to stay close to pumpkin production areas. Maintaining a healthy crop rotation within a few miles of each other tends to build the squash bee population.
There are more actionable management strategies to take your pumpkin crop to the finish line to protect whatever yields you have.
Fruiting vegetables
In southwest Michigan, pepper and tomato harvests continue. Fresh market growers are marketing canners. Caterpillar sprays may be warranted as a large migration of corn earworm/tomato fruitworm arrived last week in west Michigan during the heatwave (see sweet corn section).
Some growers are experiencing slow ripening in certain varieties of tomatoes. There could be differences in how a particular type (roma, cherry, etc.) or variety responds to environmental conditions, such as fertility, irrigation and temperature. However, the general rule of thumb is that the optimal ripening temperatures for tomatoes is between 70 and 75 degrees Fahrenheit. They will ripen fastest at those temperatures and will ripen less fast up to 85 F and down to 65 F. Light levels do not have a direct effect on ripening tomatoes but can elevate microclimate temperatures.
We collected hourly temperature data from the Hartford Enviroweather station from the entire month of August in 2022 and 2023 to compare across years. This year, the Hartford station logged 17 fewer hours in the optimal range of 70.0 – 75.9 F than last year. Perhaps more telling is that when we factor in the less optimal temperatures just above and below the best range then the station logged 45 fewer hours of ripening time this year compared to 2022. So, when compared to last year, growers could potentially see about two days in delayed ripening due to temperatures if these numbers are to be believed.
| Years | 2022 | 2023 | Difference (2023 – 2022) |
| --- | --- | --- | --- |
| < 64.9 F (Too Low) | 218 | 256 | 38 |
| 65.0-69.9 F (Low OK) | 131 | 164 | 33 |
| 70.0-75.9 F (Optimum) | 169 | 152 | -17 |
| 80.0-85.9 F (High OK) | 214 | 153 | -61 |
| > 86 F (Too High) | 12 | 19 | 7 |
| Total ripening hours (Low OK + Optimum + High OK) | 514 | 469 | -45 |
Other factors influencing ripening could be high nitrogen and irrigation rates pushing plants to stay green instead of maturing fruit. Manufacturing stress in the plants by cutting nitrogen at initial fruit set and reducing irrigation frequency and length can help ripen fruits. Indeterminate plants can benefit from topping to allocate more resources to existing fruit as long as your market can support the sacrifice of future fruit.
Sweet corn
Many regions in Michigan are dealing with lodged sweet corn from last Thursday's storms. Corn earworm pressure remains high in west Michigan in MSU and scout traps; one scout reported captures slowed down at the start of last weekend but a fresh, big slug of moths arrived last night. A two- to three-day interval could provide better protection if and when captures approach 50 per night (steel trap) or 13 per night (cloth trap). Temperature also matters. Tot temperatures mean silks grow faster, creating unprotected silks where moths can lay eggs. Cool temperatures help.
Whether or not control is successful depends on timing, coverage, product selection and moth pressure. For timing, increasing spray frequencies is important when moth pressure is high and/or weather is warm. More moths equals more eggs hatching at different times on more ears. Warm weather means new silks are growing out that need protection. For coverage, it's critical to cover the silks where eggs are laid, spraying corn foliage won't help. For product selection, newer chemistries may be helpful when pressure is high (see below).
Lastly, there is only so much an insecticide and sprayer can do! When moth pressure is high, some may sneak through. Put another way, if you kill 90% of hatching worms, 10% of a large number is still a lot.
Products with chlorantraniliprole (Besiege, Vantacor, Coragen) or spinetoram (Radiant, Intrepid Edge) are the most effective options for periods with high pressure. Spraying can be discontinued once corn has 90% brown silks, as it's the green silks that attract egglaying females.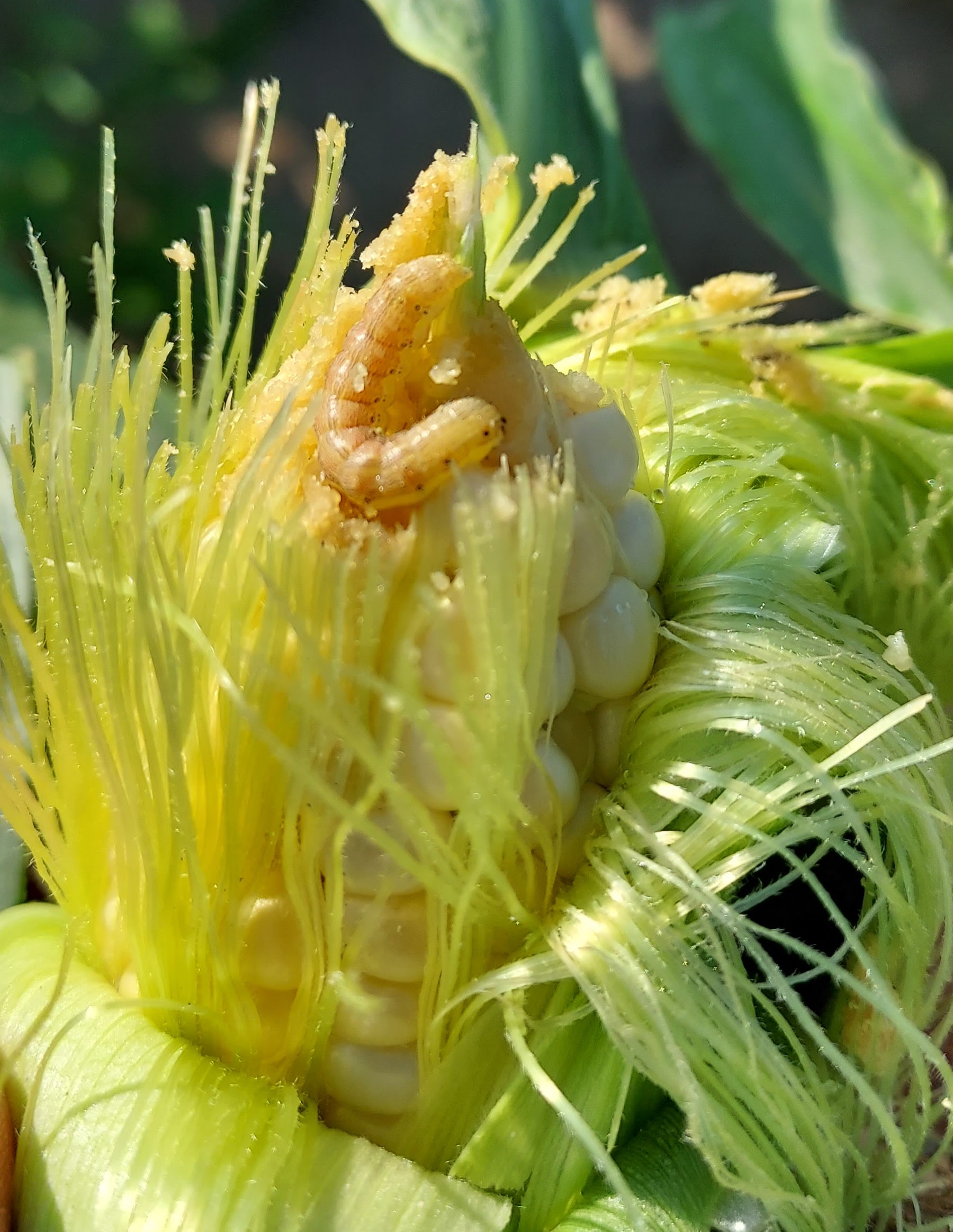 Corn earworm captures. Total in trap for week1 (avg # per night2)

Week

Ottawa County

Oceana County

Monroe County

Wayne County

Berrien County

9/4

649 (93)

-

-

-

-

8/28

256 (85)

553 (138)

9 (1.5)

7 (<1)

546 (109)

8/23

83 (8)

371 (37)

0 (0)

-

53 (7.5)

8/16

3 (<1)

6 (2)

0 (0)

0 (0)

15 (2)

8/9

0 (0)

0 (0)

0 (0)

0 (0)

0 (0)

7/31

0 (0)

0 (0)

0

0

1 (<1)

7/24

2 (<1)

1 (<1)

0

1 (<1)

1 (<1)

7/17

0 (0)

0 (0)

0 (0)

1 (<1)

-

7/10

-

0 (0)

0 (0)

0 (0)

-

7/3

-

0 (0)

3 (<1)

0 (0)

-

1Total number collected since last trap check; 2The total number divided by the number of nights since the last trap check
On-Farm Food Safety
MSU and the conservation districts offer a program to visit your farm to go over your food safety program to provide critiques and comfort in a confidential fashion. You can then use these notes to make changes ahead of an actual inspection from the Michigan Department of Agriculture and Rural Development. If you are interested in an On-Farm Readiness Review, please fill out this On-Farm Readiness Review request survey to start the scheduling process (the sooner the better).
Events
This work is supported by the Crop Protection and Pest Management Program [grant no 2021-70006-35450] from the USDA National Institute of Food and Agriculture. Any opinions, findings, conclusions, or recommendations expressed in this publication are those of the author(s) and do not necessarily reflect the view of the U.S. Department of Agriculture.