Michigan Homemaker of the Year reflects on her lifelong 4-H experience
When she was named the 2013 Michigan Homemaker of the Year, Kristin Leach could not believe it.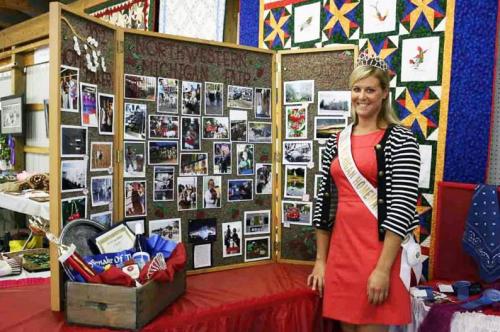 EAST LANSING, Mich. – When she was named the 2013 Michigan Homemaker of the Year, Kristin Leach could not believe it.
"Homemaker" tends to bring to mind keeping a neat home, preparing exceptional meals, and caring for children and a spouse. Leach does not exactly fit this description – she is single and does not have children.
Nonetheless, Leach is Michigan Homemaker of the Year because she puts all of what 4-H has taught her through the years to good use.
She won the local title at the Northwestern Michigan Fair in Traverse City, where contestants were judged in a variety of categories including communication, enthusiasm and homemaker strength. Judging was done through interviews and submissions in subcategories such as food and arts and crafts. Submissions were required in only three out of five categories, but Leach entered 52 cumulative entries in the five groups.
At the state-level competition at the Monroe County Fair, Leach was interviewed and presented a self-made tri-fold display of her county. Leach prevailed over nine other contestants to win the state title Aug. 1.
Participating in 4-H since age 5, Leach was involved with the Northwestern Michigan Fair, so the competitive process was nothing new.
"I have been doing 4-H for 25 years," she said. "When I was too old to be in 4-H, I became a 4-H leader."
When Leach started in 4-H, she showed horses and poultry and entered various items such as sewing projects. She was also involved with a 4-H food program that focused on nutrition and healthy eating.
Leach said that many of the programs that were offered when she was young were hands-on, which started preparing her at a young age to be an exceptional homemaker. For example, in the food program, a frequent activity was preparing healthy snacks.
As Leach matured, she progressed to showing steers and dogs as well as horses, but still entered smaller projects as she did when she was younger.
Leach said 4-H made a huge impact on her as a person and on her life. She credits her 4-H experience for teaching her how to work hard for something she truly wants.
"I think a lot of it has to do with responsibility," Leach said. "I always told my mom it kept me out of trouble – when other kids were doing other stuff outside of school, I always had to go home and take care of my horses."
She said 4-H also gave her a boost of confidence and significantly strengthened her public speaking.
"When you present, you're speaking to judges, and you are required to have great knowledge on whatever you're showing," she said. "In order to be successful, I had to know my stuff."
Leach said one of her proudest and most memorable moments in her 25 years of 4-H involvement was winning Grand Champion Showman with her dog.
"I had done it for three years prior to winning, and I had always done really well but had yet to win," Leach said. "But to win Grand Champion, it was such a great experience because it showed that all my hard work and knowledge had really paid off."
Grand Champion Showman was just one of many various awards that Leach won during her 4-H career, which she said all contributed to her winning State Homemaker of the Year.
Leach is thankful for her 4-H experience because of how much she took away from it.
"I can go through everything in my life and say 4-H helped me get through this, 4-H helped me through that," she said.
Leach has gone through her 4-H journey living by her grandfather's motto.
"My grandpa always said, 'If you're gonna do something, do it well.' My family and I have always gone by that and keep with that saying in everything we do," Leach said. "I especially used it in my 4-H experiences."

Leach recommends 4-H because of the wide variety of activities it has to offer.
"We (in our 4-H organization) had clubs where the kids specialized in specific things," Leach said. "I think it's very important, if someone wants to have a specialty, to find a group that's most fit for them so they can get the absolute most out of the experience."
As 2013 Michigan Homemaker of the Year, Leach is recognized as part of a national program involving people who make a positive difference in their communities – the 4-H Revolution of Responsibility.
To find a Michigan 4-H club near you, visit www.msue.anr.msu.edu/county