MSU agribusiness management student secures job before graduation
Senior Aaron Fahrner accepts employment offer based on internship experiences, interdisciplinary studies at MSU and his background in agriculture.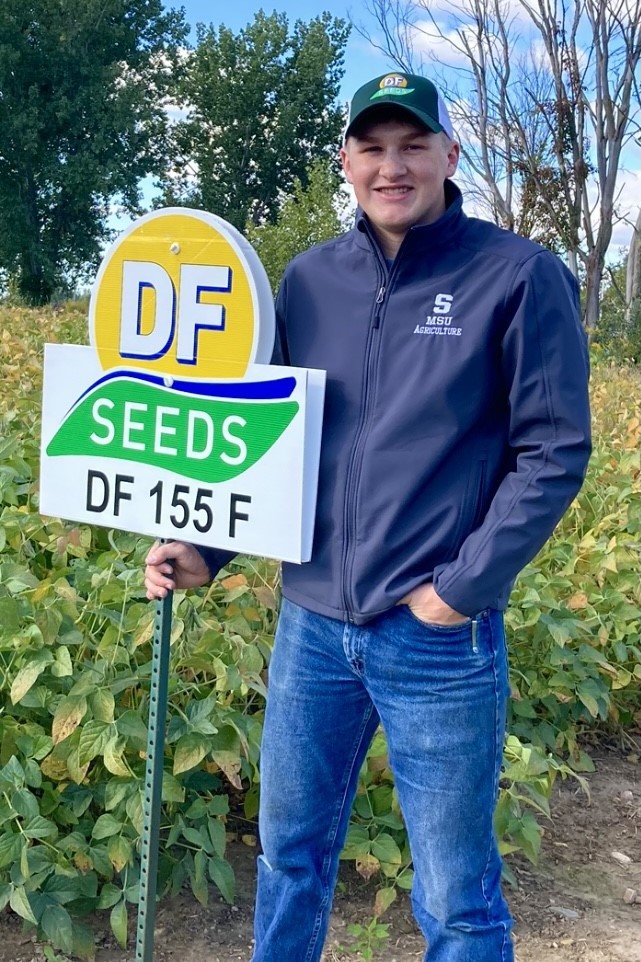 Applying to Michigan State University (MSU) was an easy decision for Aaron Fahrner based on the institution's reputation and location near his hometown of Sebewaing, Michigan.
"I was interested in pursuing a degree in agriculture, and I knew that Michigan State had one of the best programs in the country," Fahrner said.
Growing up on a cash crop farm and talking with people in the industry enabled him to envision different career paths in agribusiness and agronomy early on. While a student at MSU, Fahrner spent two summers interning with the Michigan Agricultural Commodities (MAC) Inc., a corporation that buys, sells and stores agricultural commodities throughout the United States and Canada.
The opportunities allowed him to put skills from the classroom into practice and secure a job at MAC following graduation.
"It was very refreshing to take what I learned in the classroom and see how it would apply to my everyday life while working in the industry," he said. "Internships have also taught me valuable skills, such as working with coworkers, building relationships, and dealing with customers, all of which are not easily taught in the classroom."
---
Name: Aaron Fahrner
Hometown: Sebewaing, Michigan
Academic programs: Major in agribusiness management through the Department of Agricultural, Food and Resource Economics (AFRE); minor in agronomy through the Department of Plant, Soil and Microbial Sciences
Graduation date: Spring 2021

Why did you choose to study agribusiness management and agronomy?
Growing up, I have always been interested in the "numbers" or business side of agriculture, from comparing seed costs to calculating revenue per acre. At the same time, I have always had an interest in the agronomics of farming and being able to make connections between the business side and fieldwork. Majoring in agribusiness management and minoring in agronomy really fit well to combine my interests.
Who or what inspired your interest in agriculture?
I grew up on a farm and worked on several neighboring farms, which gave me lots of insights into the farm side of agriculture. However, it was my interactions with agriculture professionals that perked my interest in agribusiness. Having family friends in the industry, such as our seed salesperson and grain merchant, helped showcase the opportunities available to someone with an agribusiness and agronomy degree.

What has been one of your best experiences within your academic programs so far?
I have always enjoyed having guest speakers from the industry come into class and give presentations. It is interesting to see where alumni from the program end up working and listen to the opportunities that they have had. I hope that one day, my former professors will ask me to guest speak in one of their classes and share my professional experiences.

How have internships and fieldwork helped expand your skills?
I had two summer internships during my three years at Michigan State, and both were at Michigan Agricultural Commodities.
It is always rewarding to see how I can apply what I have learned in coursework to a professional setting. A good example of this was being able to comfortably talk to farmer customers about the grain markets. In these experiences, I was able to put to use information I had learned prior to college and that I had learned in Dr. Whims' commodity marketing class. The same thing goes for Dr. Renner's crop scouting class. The information we learned in class about identifying issues in the field was useful for me to help my farmer customers spot and address a weed or disease issue early in the growing season.

How has COVID-19 affected your experiences as a student?
After being sent home from campus in March 2020 due to COVID-19, it took a little bit of time to adjust to my classes being 100% online. I do miss being able to interact with my friends and professors in person.
What are some of the best things about being an MSU student?
One of my favorite parts about being an agriculture student at Michigan State University is all the opportunities that are available.
These opportunities have come in many ways, such as attending scholarship dinners hosted by groups like the MSU AFRE department, Michigan Farm Bureau and the Michigan Dairy Memorial. I was also honored to represent the Michigan State Agronomy Club at the Collegiate Crops Judging Competition in Chicago in November 2019.
Any thoughts or advice for current students?
My advice to other students would be to get involved on campus. Joining a club or getting a job on campus will help you make friends faster and build lasting connections.
Oftentimes clubs will have guest speakers from the industry give presentations. I strongly recommend going to talk with them after their presentations. This is a great way to network in the industry and will help you get your name out there. I have several friends who have even gotten internships by talking to those speakers after their presentations.

What are your future plans?
I have accepted a full-time position with Michigan Agricultural Commodities as a seed salesperson and non-GMO soybean program representative. In this position, I will be working with farmers to help them select seed varieties, make production decisions and provide further agronomic insight throughout the growing season. I will also continue to farm on the side with my dad and older brother.