World Food Prize Reflections (Part II): Engaging, Inspiring, Humbling
Taking part in the recent World Food Prize celebration alonside leaders in the field of agriculture and human nutrition was an experience that a dozen BHEARD scholars won't soon forget.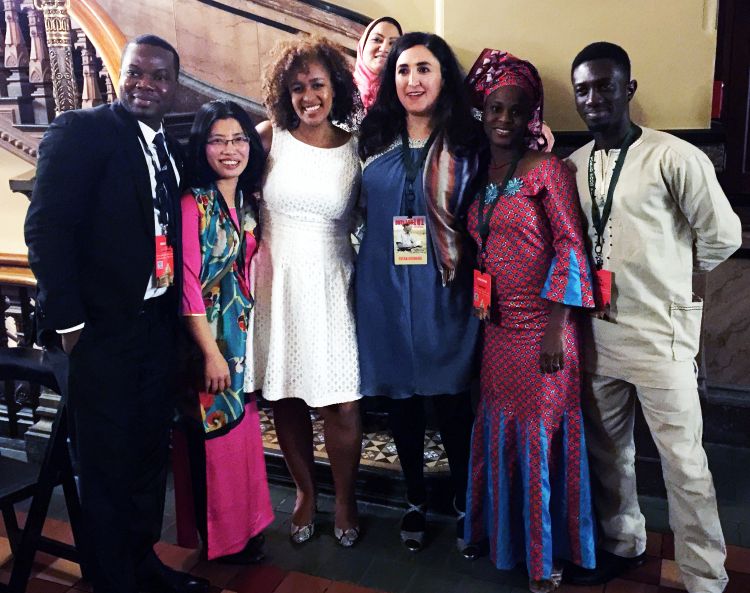 Nana Baah Pepra-Ameyaw (at far right in photo) is a second-year Ph.D. candidate in the Borlaug Higher Education for Agricultural Research and Development (BHEARD) program. Currently studying food science at Michigan State University, Nana's ultimate goal is to return to his native Ghana to teach and train future agricultural scientists. Recently he was one of 12 BHEARD scholars who traveled to Des Moines, Iowa, on Oct. 13-15 for the World Food Prize symposium. Here he shares his thoughts on the conference as well as the role he and his fellow graduate students intend to pursue in order to end world hunger.
From the tear-filled acceptance speech by Borlaug field award recipient Eric Pohlman – whose work with the One Acre Fund in Rwanda has influenced so many lives – to the grand finale where Sir Fazle Hasan Abed was crowned the 2015 World Food Prize Laureate in an epic ceremony, this year's WFP celebration was as gallant and inspirational as expected.
Reflecting on my time at the World Food Prize, several thoughts spring to mind for which I am grateful for having participated. The boundless opportunities to network, especially for graduate students and young professionals, alongside brilliant scientists, experts and leaders from various fields related to food, nutrition and agriculture was incredible. It was fascinating to see all these people making immense contributions to their respective fields, all gathered in one place and to be able to freely interact with them was a truly remarkable experience.
Even more fascinating was how these distinguished individuals seemed genuinely interested in the students and our plans for the future. The opportunities to network weren't limited to exchanging business cards or discussing similar interests; there was also a lot of interaction via social networking, which enabled discussions during the dialogues to continue even after the proceedings.
Side events and breakout sessions were plentiful and focused on nutrition, school feeding programs, building human capital and sustainable agriculture; there was so much to learn from leading professionals who enthusiastically shared their work and knowledge. For many of the attendees, including myself, the series of Borlaug dialogues cleverly titled "Borlaug 101" was a favorite. The variety of topics covered and the depth of the discussions gave a whole new perspective on the way we consider global challenges facing the agricultural sector and food security.
The most memorable dialogue for me was the discussion on the state of the agricultural system and quality of life, one year after Ebola. It included the former Liberian minister of Agriculture, the Honorable Dr. Florence Chenoweth, whose unmistakable passion inspired the entire audience. The people who had dedicated their lives to helping survivors and the painstaking rebuild after the disaster were truly heroes who inspired the rest of us.
Considering the efforts of BHEARD and other USAID initiatives to build capacity in research and education in agriculture, there is the need to ensure sustainable agricultural systems in sub-Saharan Africa and other parts of the world with similar epidemics. The countries affected by the unexpected epidemic could benefit more and recover quickly if more aid and support came from the same region or neighboring countries.
As graduate students connected to the BHEARD program, we try to model our research around community impact. Yet, after exploring a wide range of perspectives from the WFP dialogues we realize how important it is to influence as many lives as possible while supporting the overall development of food, nutrition and agriculture. Throughout the entire event, the importance of communication, sharing and extension were recurring themes. "Take it to the farmers," I believe was one of Norman Borlaug's final words.
A final thought on the World Food Prize: to say that the entire event was awe-inspiring would be an understatement. In the words of Ambassador Kenneth Quinn who so eloquently stated, "It was an assembly of people who in combination, had saved a billion lives besides Dr. Norman Borlaug."
There are no words to describe the humbling experience of sharing drinks with Dr. M. S. Swaminathan or having lunch with former World Food Prize laureates. It was a privilege to share this experience with colleagues and new acquaintances. Following the example of all these distinguished individuals, we are inspired to excel in all we do -- especially in our goals to ultimately feed the world.
*****
Clement Kubuga, Michigan State University: The conference was a great experience -- I was particularly thrilled to meet researchers specializing in areas similar to mine. Above all, I was really touched by the works of the 2015 World Food Prize Laureate recipient (Sir Fazle Hasan Abed), mainly because of his contributions to the welfare of deprived and vulnerable women in Bangladesh.
Sir Fazle's story reminded me that every meaningful contribution that impacts the lives of others requires a sacrifice. One does not need all the possessions in the world to make that sacrifice. I look for forward to seeing the fruits of my sacrifice in the lives of others, too.
*****
Princess Adjei-Frimpong, Michigan State University: Words cannot express how proud I am to have attended the World Food Prize. The event gave me the opportunity to learn more about Dr. Norman Borlaug and his ideologies. I was able to meet and interact with researchers, industry leaders and policymakers, and greatly expand my professional network.
The event instilled within me the responsibility I have as a young scientist to make food security a priority and to alleviate poverty. The opportunity to be around people dedicated to helping the world has empowered me to work hard and help the world's poor.
As I sit back and reflect, two things come to mind: to invest in empowering girls and women, and join the fight to eradicate hunger. One day Africa will be feeding the world and that will require me going to give back to my country.