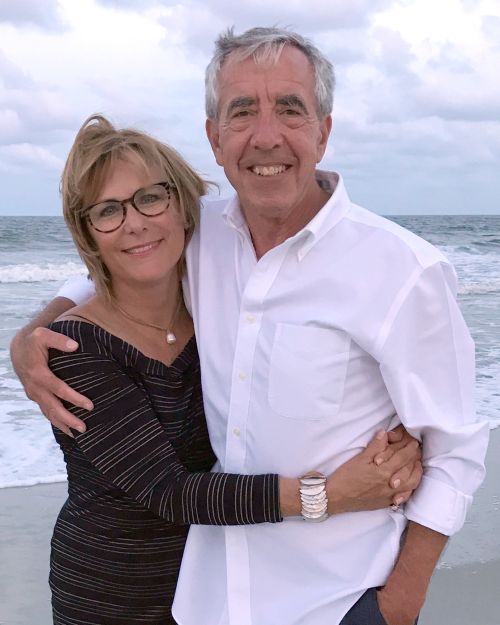 Russell King, of Canton, knows the importance of giving back to his alma mater — he has been a Michigan State University (MSU) donor for nearly four decades. His giving began with annual gifts for the College of Business, where he earned his degree, and areas of greatest need for the university.
"When I was attending MSU, all I knew about landscaping was how to mow a lawn. Despite the lack of the horticulture knowledge, my first walks through campus made it quite clear to me that the college I was attending was far more than a collection of buildings and classrooms, but was actually a garden that made everything else surrounding it come alive. The way the trees were pruned, identified and cared for allowed them to reach their full potential providing a gentle canopy over much of the campus," King said.
Several years ago, King began hearing more about rejuvenating efforts in Detroit and began to focus his MSU giving locally.
Since 2014, King's generosity has supported the gardens which are part of MSU Extension's Detroit Partnership for Food, Learning and Innovation (DPFLI). DPFLI is MSU's first urban food research center, developing solutions to economic and nutritional challenges unique in urban environments. In addition to the garden, DPFLI will have a building for MSU Extension educators to teach about plants — from growing to cooking.
DPFLI is a center dedicated to urban agriculture and forestry research, community engagement, and extension programming. DPFLI demonstrates sustainable ways to practice urban agriculture and land management. The site will operate in a way that transforms how people interact with their food system by creating ways to access food without purchasing it.
According to Naim Edwards, director of DPFLI, his vision is to create a space that is engaging and models what community-based research, food production and landscape management should look like.
"Donors like Russ King invest in opportunities for the site to develop and thrive," Edwards said. "Financial support is like fertile soil that enriches the plant's ability to produce fruit. Although DPFLI can function on its own, donor support enhances our ability to work more efficiently and deliver quality programs. Russ and other donors are an integral component of the site's success."
"One of the most admirable things about Russ is his commitment to serving people, and his faith in the MSU mission. Russ was donating to the DPFLI, before we even broke ground on our first building because he is confident in our ability to develop and provide quality services to Detroit," Edwards continued.
King is eager for the facility to be open to the public. Construction for the site began May 1, 2019. The opening was scheduled for May 2020, but has been postponed due to the novel coronavirus pandemic.
"I'm excited to see it happen and am hoping that it has a really great value to the neighborhood and community," King said. "MSU is a land grant college, part of philanthropy is giving back to the community. I wanted to make an investment that is focused on Detroit neighborhoods."
"I feel that Detroit has been underinvested in and I think there's a lot of effort downtown and in Midtown, but the neighborhoods and the community really need some assets to help them as well," King continued. "I just think it's particularly important in an urban area to understand about gardening – how to grow food and make your place beautiful. It's under-resourced and I just have a heart for it."
As a Detroit native, King has a special connection to DPFLI's location.
"After I got married, our second home was across from Redford High School's ten-yard line, about four blocks from the DPFLI location."
In addition to providing annual support for the DPFLI gardens, King has decided to leave a portion of his estate to further MSU Extension's efforts in the city of Detroit.
"Most people spend their whole life earning and accumulating wealth. It is far more rewarding and fun to just give back," he said. "It has been a privilege to continue investing in Detroit through MSU."
King is president of White Pine Investment Company, a company he started in 1997 after spending four decades in the investment industry. He began as a trainee for Walston & Co. in 1973 and went on to become a senior vice president at Morgan Stanley. He earned a bachelor's degree in business administration from MSU. He also attended a graduate program at the Wharton Business School.
The DPFLI project was a good fit for King, not only because of its Detroit location, but because King also has a passion for both MSU Extension and gardening. After seeing his daughters off to college, he had more free time to take up gardening as a hobby.
"My knowledge of plants was limited," King said. "I really needed to understand more about what I was doing. The Master Gardener Program was a great place to begin for me."
The MSU Extension Master Gardener Program is an adult horticulture education and volunteer leader training program committed to improving science-based horticulture information in communities throughout the state.
When recalling a specific soil science session, he noted, "It was one of the most fascinating lectures I've ever heard. I never understood that soil was the foundation of all plant success."
King also has a history supporting the gardens on MSU's campus in East Lansing. When the MSU Horticulture Gardens opened, King made a lasting difference by donating to the brick and garden walk.
"In 1995, I made a donation in my grandmother's name for her 100th birthday," King said. "The plaque honoring her is still there today."
In addition, when King's first wife passed away about four years ago, he sponsored a bench in her memory in the MSU Horticulture Gardens, which overlooks the garden dedicated to his grandmother.
King has since remarried. He and his wife, Sharon, reside in Canton where they enjoy gardening together.
Related Article