MSU Extension develops online resource, programs addressing historical redlining of Michigan cities
The Redlining in Michigan website includes profiles for 11 cities and a summary of the racist housing justifications, in addition to the legacy it has left on each community.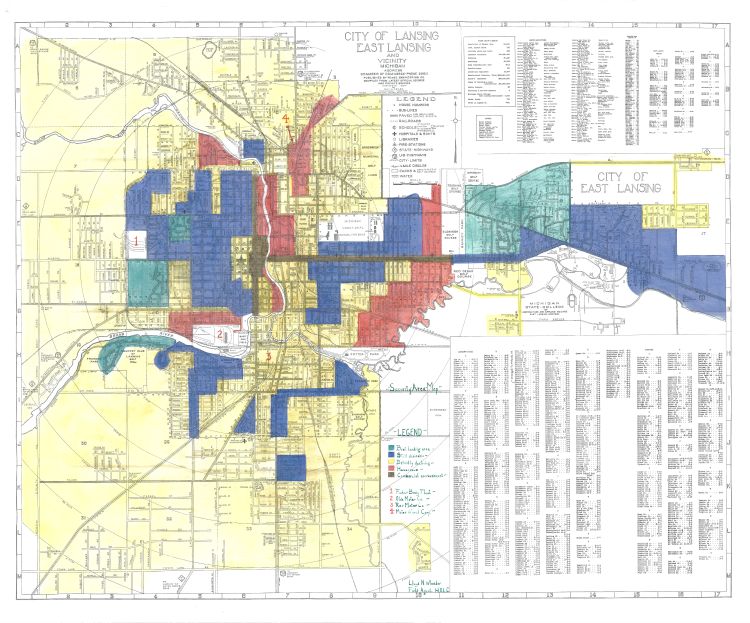 Researchers and specialists with Michigan State University (MSU) Extension developed a comprehensive website detailing the history and legacy of racist housing policies in Michigan through former federally-mandated redlining practices. Created through President Roosevelt's New Deal programs in the 1930s, the Federal Housing Administration's (FHA) "Underwriting Manual" directed government appraisers to specifically deem neighborhoods with residents of color, or those proximal to residents of color, as "hazardous" to investment.
Risk maps following these redlining protocols were created for nearly all cities with populations over 40,000, grading neighborhoods as "best," "still desirable," "declining" and "hazardous." The declining and hazardous designations were often solely based on the race of its residents, regardless of their household incomes or single-family home status. As noted by the "Redlining in Michigan" website, the "Area Description Files" completed by government appraisers utilized racist language that was coarse and offensive in their explanations and justifications for redlining these communities.
The federal redlining policies intentionally excluded and impoverished people of color, preventing Black families from accessing one of the most significant investments in middle class wealth in U.S. history. According to Richard Rothstein in his book "The Color of Law: A Forgotten History of How Our Government Segregated America," redlining was also specifically used as a tool to segregate schools by increasing the risk rating where schools were not segregated. The legacy of redlining not only includes the role it has played in increasing and solidifying segregation, but also its contribution to disparities in homeownership rates and wealth distribution by race in Michigan.
In Michigan, 11 cities and their surrounding suburban communities were redlined as a direct result of racist federal appraisal policies, including Battle Creek, Bay City, Detroit, Flint, Grand Rapids, Jackson, Kalamazoo, Lansing, Muskegon, Pontiac and Saginaw. Each locale is profiled on the "Redlining in Michigan" website, including a summary of the racist redlining justifications and the legacy left behind on each city. The profiles also include maps with the original redlining boundaries overlayed on present-day segregation. The maps starkly convey the lasting impacts of the racist practices long after they were made illegal by the Fair Housing Act of 1968.
"The goal of this website has been to provide factual information to Michigan residents and policymakers in order to start meaningful conversations confronting the injustice and inequality that remains in our cities today, at least in part, as a result of this history," said Craig Carpenter, PhD, the MSU Extension specialist who researched and led the development of the "Redlining in Michigan" website.
The website developed by Carpenter will also support additional MSU Extension programming and outreach in housing policy education, recognizing the currently inseparable intersection of race, housing policy and related outcomes in Michigan and the U.S. These programs provide specific solutions that pursue racial equity in housing policies, as well as case studies of communities currently engaged in the work through their community development and planning endeavors.
Additional related books and research articles are also available on the "Redlining in Michigan" website, along with more information on MSU Extension housing programs, planning and zoning tools, and contact information for relevant MSU Extension specialists and educators.
Visit canr.msu.edu/redlining for more information.