MSU faculty optimize remote field experiences for forestry students
Students and faculty in the Department of Forestry at Michigan State University (MSU) share their experiences adapting to an online setting from a traditionally outdoor-focused program.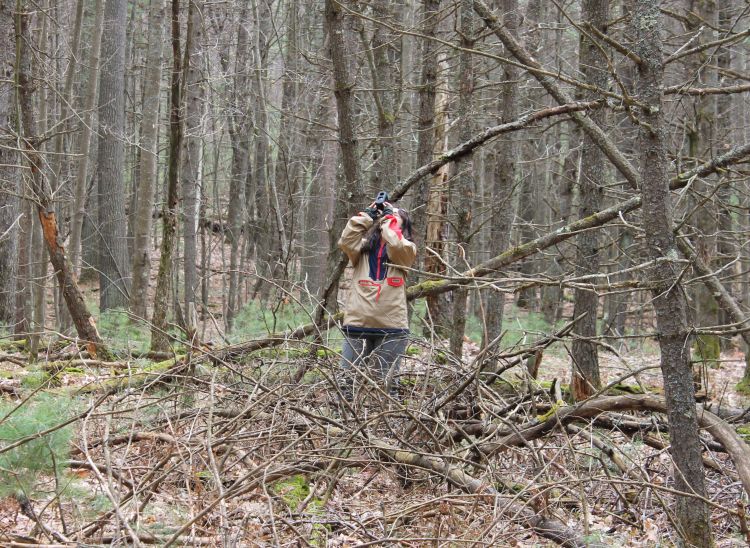 When Michigan State University (MSU) President Samuel Stanley Jr. made the official announcement on Aug. 18 that undergraduate classes for the fall 2020 semester would be transitioned to remote learning, Department of Forestry faculty had to act fast.
Forestry Field Studies course
Professors Dave MacFarlane and David Rothstein already had some experience creating a field experience remotely. Over the summer 2020, Rothstein and MacFarlane taught the Forestry Field Studies course, which is conducted almost exclusively outdoors and typically in an intensive and continuous two-week, field-based session.
In lieu of in-person instruction, field kits containing all relevant tools and equipment were mailed to each student. Students received instructions via D2L – an online learning management system available to all MSU students and faculty. Instructors recorded field lectures and demonstrations on their phones that were identical to what would have been in-person instruction. Meetings, presentations, online lectures and discussions were held via Zoom.
Students selected a local forest stand close to them, wherever they were, that they were able to access easily and safely for their individual projects.
Forestry student Ethan Emick, now graduated, said, "I found [the course] quite fun, collecting and analyzing my own data for a forest of my choosing."
Forestry Field Methods course
Based on the success of the summer course, MacFarlane transferred this method to his Forestry Field Methods course for the fall 2020 semester.
"Both David Rothstein and I learned quite a bit from that experience, so I think round two is better," he said.
MSU Forestry Professor David Rothstein showing his class differences in soil samples in the forest.
For Matt Peña, a freshman in the forestry program, the transition to remote learning was almost a deal-breaker.
"Initially, I wasn't sure if I wanted to do MSU online because I wanted to make sure I learned the forestry material as best as possible, and to me that meant getting a hands on experience with my professors."
"However, after hearing about how each of my professors planned to structure online forestry classes, and especially after learning I would be receiving equipment for FOR 222, I knew that professors were doing everything they could to make sure students learned as best as they could, and I would still get the forestry education I desired despite not being in East Lansing," he said.
Contemporary Issues in Forests course
Over the summer semester, Professor Rich Kobe and Research Specialist Andy Vander Yacht taught the Seminar on Contemporary Issues in Forests course for the first time fully online. Both professors recorded lectures via Zoom and uploaded them to D2L for asynchronous viewing. They also included frequent discussion boards to facilitate student interaction.
"The lectures were as if the professors were in the room with me. This is the most organized and clear online course I have ever taken," said Aidan Morales, a junior in the forestry program.
Similar to Peña, Morales had initial reservations about online undergraduate courses.
"I originally thought that forestry would be very difficult to learn in an online format. However, after the summer semester and the material covered this fall, I can say with confidence that I am learning the practices of forestry and how to use them in the field, from plant identification and forest measurements, to site assessments and data collection for scientific reports," he said.
"You still have access to us. We are still here, and we are here to help you learn." Andrew Vander Yacht, Forestry Research Specialist

Vander Yacht noticed an increase in student interaction even in comparison to past in-person courses. Through the discussion boards in D2L, students were able to provide feedback about anything they found particularly interesting or anything they questioned. He also noticed that throughout the course students began actively helping each other.
Kobe agreed, "This course may actually be a better student experience in an online format. Student questions and instructor responses are posted on a discussion forum, so everyone benefits from the same insights. And we were always available for Zoom conversations."
Wildland Fire Ecology Management course
Another field-intensive course, Wildland Fire Ecology and Management, presented a unique challenge. This course, also taught by Vander Yacht, includes several field activities like a prescribed burn, or a controlled hazard reduction burning in a forest. While not able to hold in-person instruction, Vander Yacht transitioned away from traditional field work and into areas he had not previously been able to spend as much time.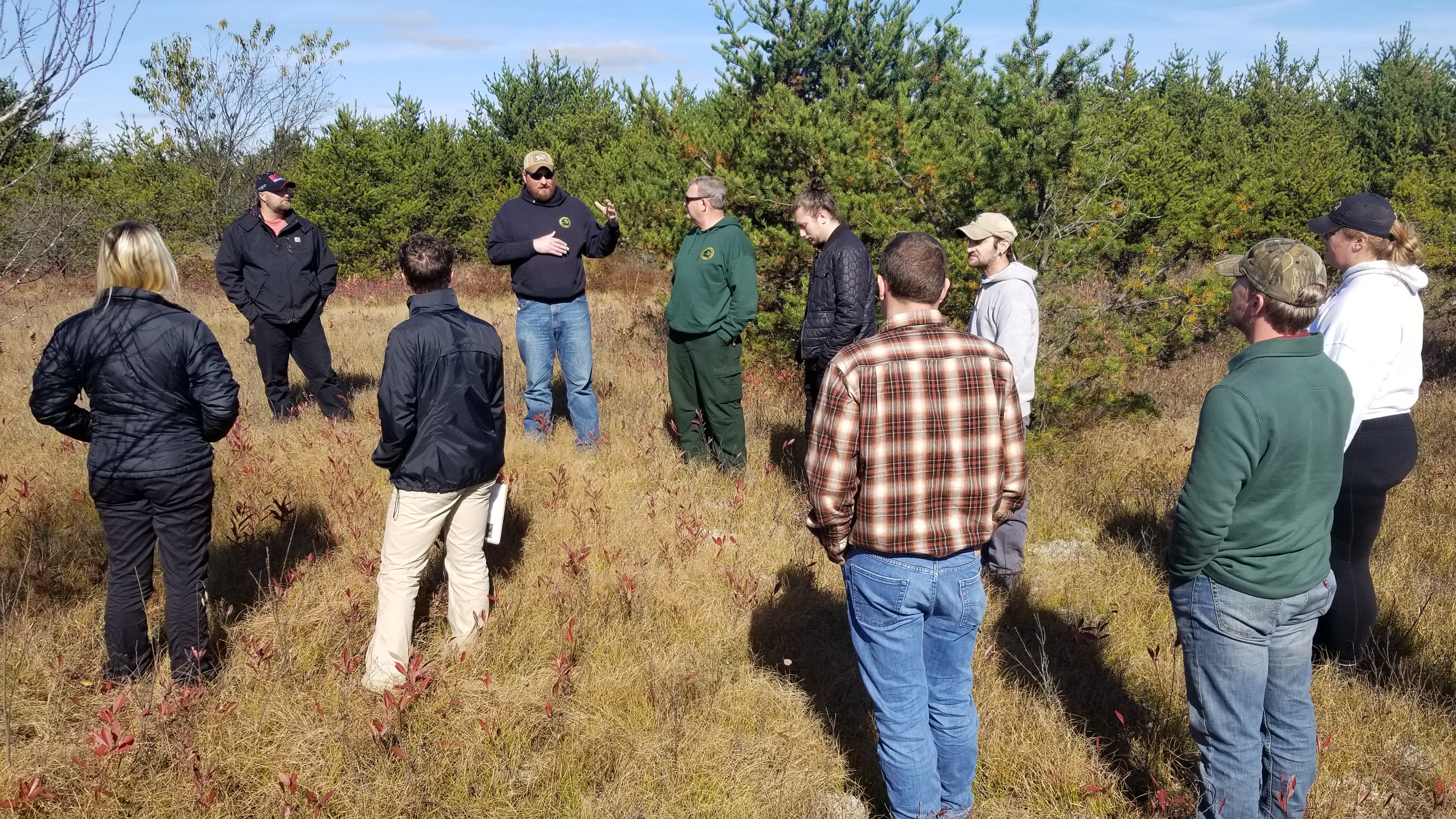 "A big bonus is that I can draw on my network of fire professionals across the country and bring them into Zoom sessions. It's easy for them to attend as opposed to coordinating how to get them to campus," Vander Yacht said.
Professionals from the Southeastern Grasslands Initiative, Missouri Tree Ring Laboratory, Oak Woodlands and Forests Fire Consortium, Michigan Department of Natural Resources (MDNR), botanists from the Michigan Natural Features Inventory, and other fire professionals from across the United States have provided presentations in the course and shared their expertise.
In lieu of a prescribed burn in a forest, the class ran an online smoke model simulation (Vsmoke) with assistance from the MDNR.
In this exercise, they simulated burning the Baker Woodlot on MSU's campus. They input expected fuel and vegetation conditions, and then students explored how variation in weather affected smoke dispersal. In one scenario, unhealthy levels of smoke inundated the entire MSU campus. Students then changed the direction of the wind and atmospheric stability to constrain all smoke within the Baker Woodlot. This effectively demonstrated how weather conditions can be targeted to safety and effectively conduct fire management.
Forestry faculty remain committed to student success, no matter what that looks like. Students' needs and education will always be the number one priority. Vander Yacht hopes to urge students to make sure and connect with their instructors.
"You still have access to us," he said. "We are still here, and we are here to help you learn."