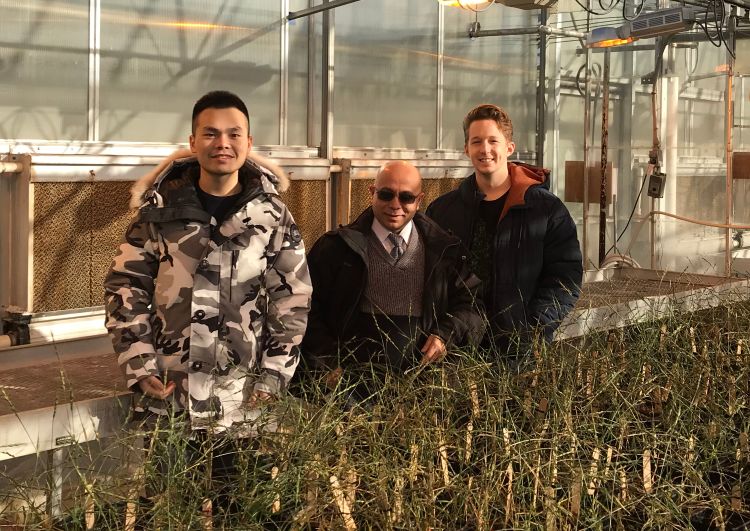 Wheat has been grown and produced for nearly 10,000 years. Its roots can be traced to the Fertile Crescent – a swath of the modern-day Middle East – where it thrived due to the area's abundant resources.
Today, wheat covers more land than any other food crop and ranks second only to maize in worldwide consumption. Allergies to this staple food, however, are on the uptick and scientists are searching for the cause.
Perry Ng, a professor in Michigan State University's Department of Food Science and Human Nutrition (FSHN), is a leading authority on wheat and its physical and chemical properties. He has studied wheat for more than 35 years to assist the cereal industry. Allergies have recently become a greater emphasis of his work.
"Wheat has been bred over many decades with great success in terms of production yield and end-use quality," Ng said. "It's unknown, however, why wheat allergies are growing in recent decades. There are likely several reasons why, so we need to determine how all of these things might be working together to cause this problem."
In this case, genetic modification (GM) can't be blamed for the rise in allergies. There is no GM wheat sold on the market.
Since 2014, Ng has collaborated with Venu Gangur, an associate professor in FSHN, who came from the National Institutes of Health in 2001 to lead MSU's food allergy program.
Wheat is linked to three distinct health issues: celiac disease, non-celiac gluten sensitivity and wheat allergy. While celiac disease is a well-understood autoimmune disease linked to gluten, the specifics of non-celiac gluten sensitivity are less clear. People allergic to wheat, unlike the other two conditions, can have potentially life-threatening anaphylactic reactions.
"Most people don't realize that these are very different conditions," Gangur said. "While celiac disease and non-celiac gluten sensitivity are important issues, we're focusing on wheat allergy to advance control methods."
Gangur and Ng's project began with funding from the Michigan Wheat Program and Project GREEEN (Generating Research and Extension to meet Economic and Environmental Needs). Project GREEEN is an initiative spearheaded by MSU AgBioResearch, MSU Extension, plant agriculture commodity groups and the Michigan Department of Agriculture and Rural Development.
In the first stage, the team sought to create a model using mice to measure the level of allergenicity of wheat varieties supplied by Eric Olson, an assistant professor in the MSU Department of Plant, Soil and Microbial Sciences.
Development of the model included two major steps. First, researchers established that as the exposure to wheat proteins increases, so does the number of Immunoglobulin E antibodies in the blood. This confirmed sensitivity to wheat. Then, they verified that the sensitized mice would display an allergic reaction, resembling a life-threatening reaction in humans. The model is the first of its kind for wheat.
With the proof of concept, Gangur and Ng received a three-year, $470,000 grant from the U.S. Department of Agriculture's (USDA) National Institute of Food and Agriculture (NIFA). The grant is a part of NIFA's Agricultural and Food Research Initiative.
This next phase of the project, which started in June 2018, is geared toward validating the mouse model in an effort to eventually apply it to human health. Gangur said the model is expected to be used as a pre-clinical testing tool to develop hypo/non-allergenic wheat products and to assess allergenic potential of genetically engineered and genetically modified wheats. The project is partially funded by the USDA NIFA Hatch Program.
"This has very broad implications for wheat allergy research," Gangur said. "Once validated, the model can be used to predict whether existing or new wheat varieties are likely to cause allergies in humans. With wheat consumed worldwide and added to all types of food products, developing and using the safest wheat is the ultimate goal. Our team members bring necessary expertise and, in addition to the efforts of graduate students Haoran Gao and Rick Jorgensen, have contributed greatly."
Ng meets annually with industry groups to update them on his research endeavors, including the allergy work. He said there is strong interest to grow the best possible wheat varieties that serve a wide audience.
"Wheat is a wonderful food, and it's essential for food security around the world," Ng said. "MSU is in a unique position to do this type of work because we have experts in immunology, food allergies and cereal sciences, as well as wheat breeding and genetics. We think through partnering with the industry, we can help move the science forward so more people can enjoy safer wheat for years to come."