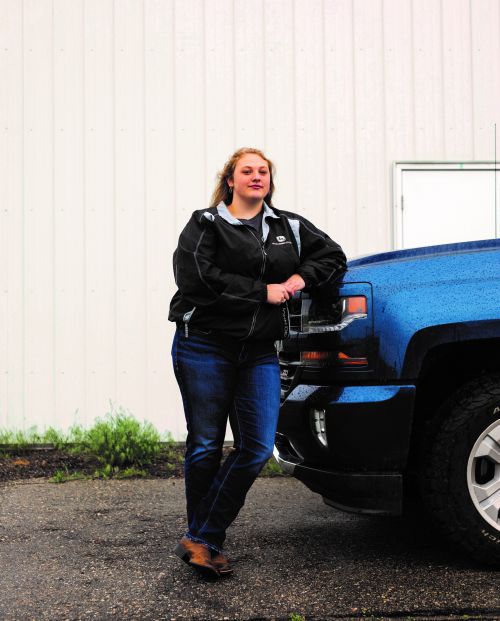 Farming is practically part of Ashley Kuhlman's DNA, but she's doing it her way.
"I've always wanted to be in some sort of farming," Kuhlman said. "I was always out in the field with my dad. Just to be able to watch things grow day by day is remarkable."
But staying current in a rapidly changing industry isn't easy. That's why Kuhlman was so thrilled when her father, Phil, gave her a drone for graduation from the MSU Institute of Agricultural Technology (IAT) program in 2018. Since then, she's been using the drone to take photos of her family's 1,100-acre farm of commercial corn, seed corn and soybean crops, and serving freelance clients.
"There are so many things that have changed since the 1900s in farming and agriculture, and changes are happening more quickly now," she said. "I help offset my dad's farming knowledge with more tech-savvy approaches to agriculture."
Ongoing learning
After graduating from high school in a class of 36 students, Kuhlman enrolled at local Glen Oaks Community College in Centreville, one of 11 community colleges in Michigan offering MSU IAT certificate programs.
As part of IAT, Kuhlman used some elective credits to take a specialized course on drones at Northwestern Michigan College (NMC) in Traverse City, another IAT community college partner.
Under the direction of program coordinator Tony Sauerbrey, the unmanned aircraft systems (UAS) training at NMC is one of the first programs of its kind in Michigan. In 2016, NMC launched a UAS in agriculture course in conjunction with the IAT that has remained popular ever since.
In the UAS class, Kuhlman built a drone, learned about agricultural applications using drones and passed the test to earn her Federal Aviation Administration remote pilot certificate. In addition to agricultural uses, the pilot certificate allows her to explore drone opportunities in construction, search and rescue and real estate.
"Drones are so versatile, and they are only going to continue to grow in popularity," Kuhlman said. "I'm really trying to broaden my horizons with new technology because it's going to continue to change."
Supporting research
As part of Kuhlman's IAT internship in summer 2018, she worked with Dechun Wang, a soybean researcher and breeder in the MSU Department of Plant, Soil and Microbial Sciences.
Kuhlman took drone photos of experimental soybean fields monthly and up to twice a week, depending on the plant growth. It took 30 minutes per two-acre plots to take photos for the three research fields at the MSU Agronomy Farm.
"It takes a lot of people to work a field, so using a drone and software to analyze the images enables us to do things more efficiently."Dechun Wang, MSU soybean researcher and breeder
These images were sent to Progeny Drone Inc., a software startup affiliated with Purdue University that converts aerial crop photos into useful information for plant breeding, crop modeling and precision agriculture.
Without using drones and software technology, Wang said that it would take tens of thousands of field measurements and notes taken plot by plot to collect the same data.
"It takes a lot of people to work a field, so using a drone and software to analyze the images enables us to do things more efficiently," he said. "Having software to stitch those images together and analyze them provides recommendations that we can start implementing immediately."
The drone images helped Wang determine the rate of growth and compare genetically different breeding lines. His research was funded by the North Central Soybean Research Program and the Michigan Soybean Promotion Committee.
"We're trying to find a way to improve yield using modern technology as part of our research," Wang said.
The experience that Kuhlman gained working with MSU researchers helped her draw connections between the drone images, why the images were collected and what the data could show.
"It was a great learning experience to have researchers there to explain to me the value of the data and the way it was being collected," she said. "Using drones for agricultural data is still so new. Seeing the direct application of those images and data helped me understand the larger implications of this technology."
Connecting technology
with agriculture
When Kuhlman transferred to MSU in spring 2019, she chose the agriculture and natural resources exploratory preference. She is leaning toward biosystems engineering to learn more about the intersections of food safety and engineering, nutrient management, bioenergy and climatology.
"My background in agriculture covers practically everything," she said. "But that doesn't mean I know everything. That's why I'm continuing to go to school and want to earn my bachelor's degree."
Kuhlman said she wants to become a consultant to help farmers in her community read and interpret soil test reports from MSU Extension. Kuhlman also wants to add in weather data, tractor GPS information and drone images to make individual field prescriptions for farmers. She's already working on her consultant's license.
"Soil types can have a huge effect on crop yield, and the drone images can help show that. The soil makeup can help determine irrigation and nutrient plans," she said. "The technology helps us learn how to get a better yield."
Additionally, Kuhlman is certified as a commercial pesticide applicator. She says that perspective and her experience working with industry representatives helps her notice things in the fields as she flies her drone.
"I have a broad base of knowledge and experiences that help me make connections between different areas of precision agriculture," Kuhlman said. "My education helps me make in-the-field connections."
Kuhlman is expanding her precision agriculture endeavors and applications closer to home, too. On the family farm, she uses her drone to inspect barn roofs, water towers and irrigation systems, as well as see how crops are growing and determine areas to tweak the irrigation and soil nutrients.
"I grew up with that entrepreneurial spirit. I gained that from working on the farm. We're always looking for new opportunities," Kuhlman said. "I'm open to anything that progresses into precision technology and agriculture."
This article was published in Futures, a magazine produced twice per year by Michigan State University AgBioResearch. To view past issues of Futures, visit www.futuresmagazine.msu.edu. For more information, email Holly Whetstone, editor, at whetst11@msu.edu or call 517-355-0123.