MSU vineyard IPM scouting report – June 5, 2019
Vines are growing with the heat, and spring insects are getting active.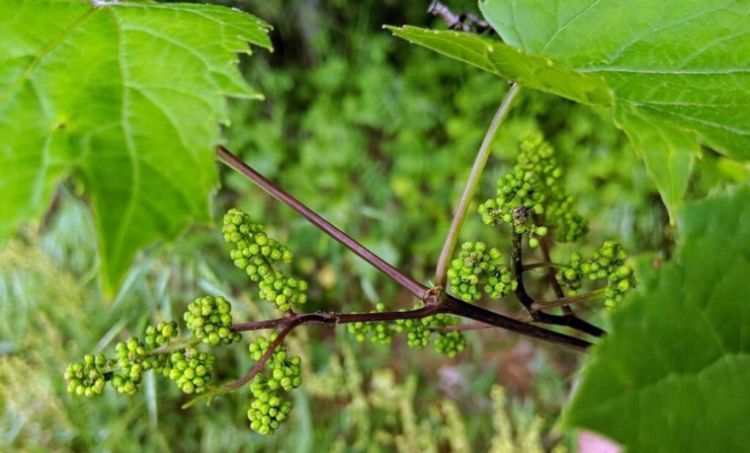 This is the first Integrated Pest Management (IPM) scouting report we are sending out for 2019, based on visits to multiple juice and wine grape vineyards. This report will be available every other week throughout the growing season.
In Berrien County, cv. Concord is at 4-12" shoot growth and growers are working to protect clusters from diseases as the clusters emerge from the protective leaves (primarily focusing on black rot and Phomopsis control). Male grape berry moths were found in monitoring traps, and we are now starting to see wild grape bloom to set biofix for the model that guides timing of sprays. MSU Extension staff have been looking for this phenological marker and saw wild grape bloom last Friday, June 1, in Berrien County, on Saturday in Van Buren County, and trace wild grape bloom in Fennville yesterday, June 4. We will continue to monitor this throughout the state to have solid biofix dates for each region.
There was also some evidence of feeding found (only about 5% of leaf area) by grape flea beetle and rose chafers. Adult flea beetles are no longer active, however growers should be on the lookout for the larvae. These are small and dark brown-black and they feed by scraping off the surface of leaves. There was also some damage from grape tumid gallmaker observed in a Vignoles and a Concord vineyard. Evidence of grape cane gallmaker feeding was found in Vignoles. Growers should keep an eye out for these insects and remove them by hand if found (see photos). The rapidly expanding shoots typically grow out of this damage during the shoot expansion phase of vine growth.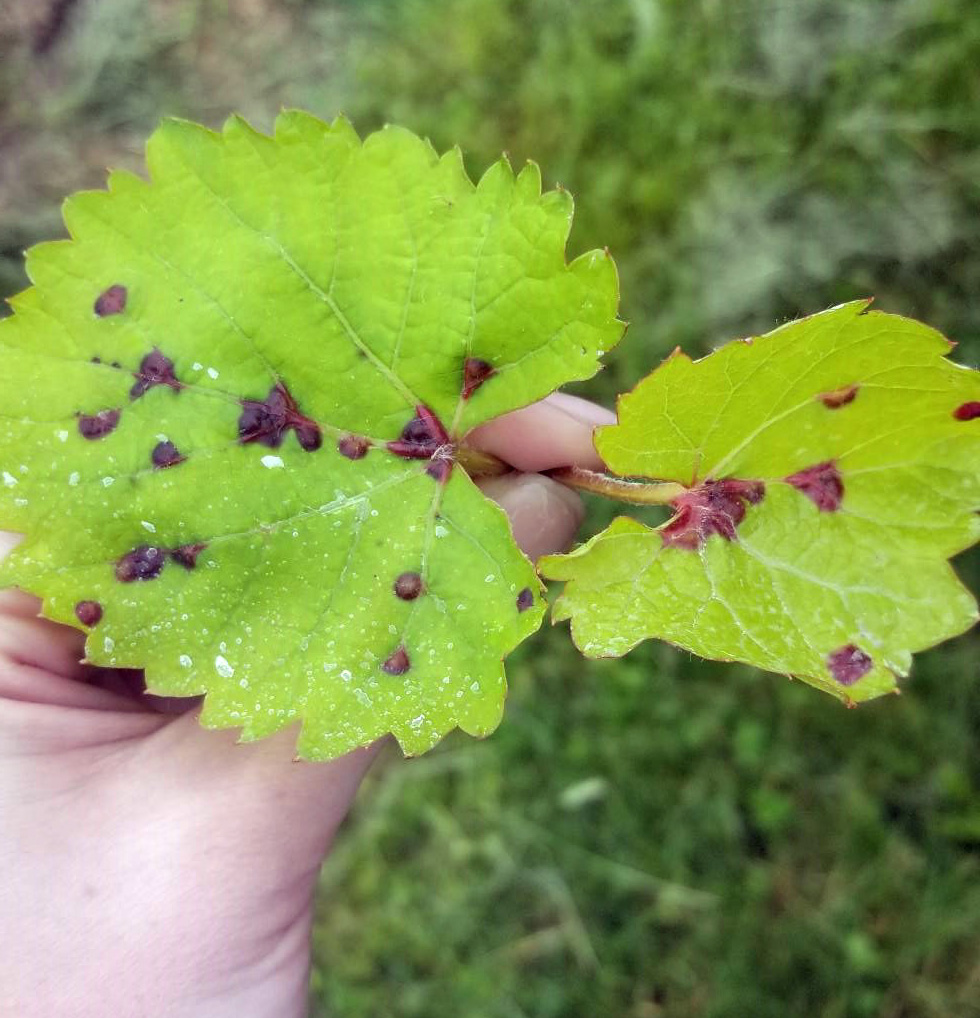 In Van Buren County around Lawton, the juice grape cultivars were a little further advanced, with 16-20" shoots at the Concord vineyard we scouted. Berry moth captures in traps were high, indicating that they have survived the winter just fine. Growers in this area should also be looking for wild grape bloom in their vineyards to set biofix for the degree day model. Flea beetle activity was also found in this region, as well as some minor leafhopper and rose chafer damage. A few leaves with grape tumid gallmaker infestation were detected in a Chancellor vineyard. Growers should keep an eye out for galls and remove them by hand if found (see photos).
There was also some old cutworm damage evident, though the vines are past the susceptibility stage for this pest now. In a Chancellor vineyard, we observed 8-12" shoot growth, high berry moth catches, and also some minor flea beetle and rose chafer damage. Disease issues are not yet evident, although there is some indication of botrytis beginning to form on some clusters. Some pesticide damage was observed on grape canopies, likely from herbicides.
Currently most Vitis vinifera wine grape cultivars are at 2 to 3 leaves unfolded with delicate shoots ~2-4 cm long (E.L. Stage 9), presenting themselves as perfect morsels for opportunistic deer that may find their way into the vineyards. In both Leelanau and Old Mission Peninsula AVAs, the list of recognized wine grape insect pests is very limited, likely due to the slower than normal spring heat accumulation. Cutworms appeared and caused very limited damage. The grape flea beetle was found, but only when actively searching. Sightings of both of these pests were well below any established threshold and their season appears to be over. Infrequent sightings of the grape plume moth have been observed, causing minimal damage to only the terminal end of young shoots, the damage appears to be of no consequence. In isolated locations, very early and light erineum mite leaf lesions were observed on tree leaves adjacent to a vineyard, alongside a wild grape vine, which was at approximately 4 to 5 leaves unfolded, 5-10 cm long shoots, and small underdeveloped inflorescence (E.L. Stage 11-12).
This report and associated scouting is funded by a Michigan Craft Beverage Council grant and by MSU's Project GREEEN. View more MSU grape IPM information.