MSU vineyard IPM scouting report – Sept. 11, 2019
Grapes are past veraison and the berries are ripening throughout Michigan. We are approaching harvest for many varieties. There is high disease and insect pressure throughout many vineyards.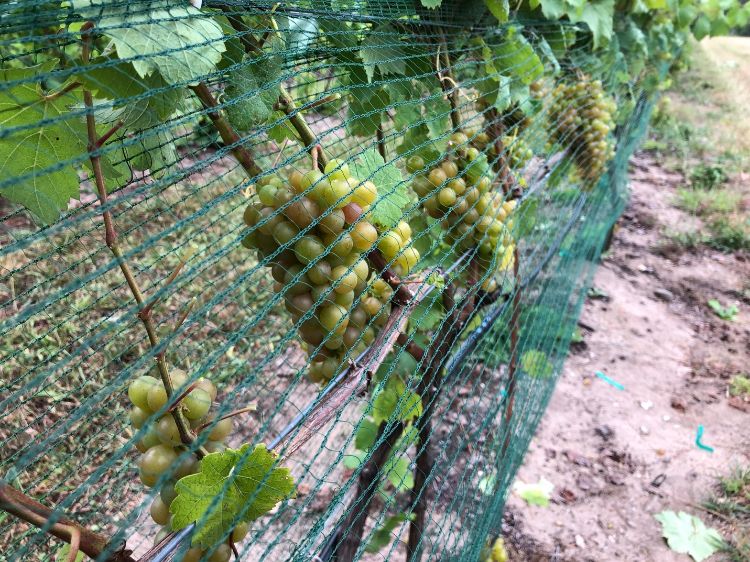 This is the eighth IPM scouting report we are sending out for 2019 based on visits to multiple juice and wine grape vineyards. This report will be available every other Wednesday throughout the growing season. There are various insect and disease issues that are highlighted below, and these vary in intensity from site to site, and from southern to northern Michigan. This highlights the need to scout your own vineyards. Careful scouting is time well spent, to catch issues that might otherwise develop through the remainder of the summer, and cause issues with the harvest.
In northwest Michigan, growers are netting their grapevines to protect clusters from animal damage (Photo 1). Growers have just started to measure fruit chemistry and have found many of their cultivars are behind normal sugar accumulation (°brix). Several cultivars are ripening normally but are delayed from previous years (Photos 2, 3 and 4) and growers are still managing their clusters using chemical applications such as sulfur (Photo 4).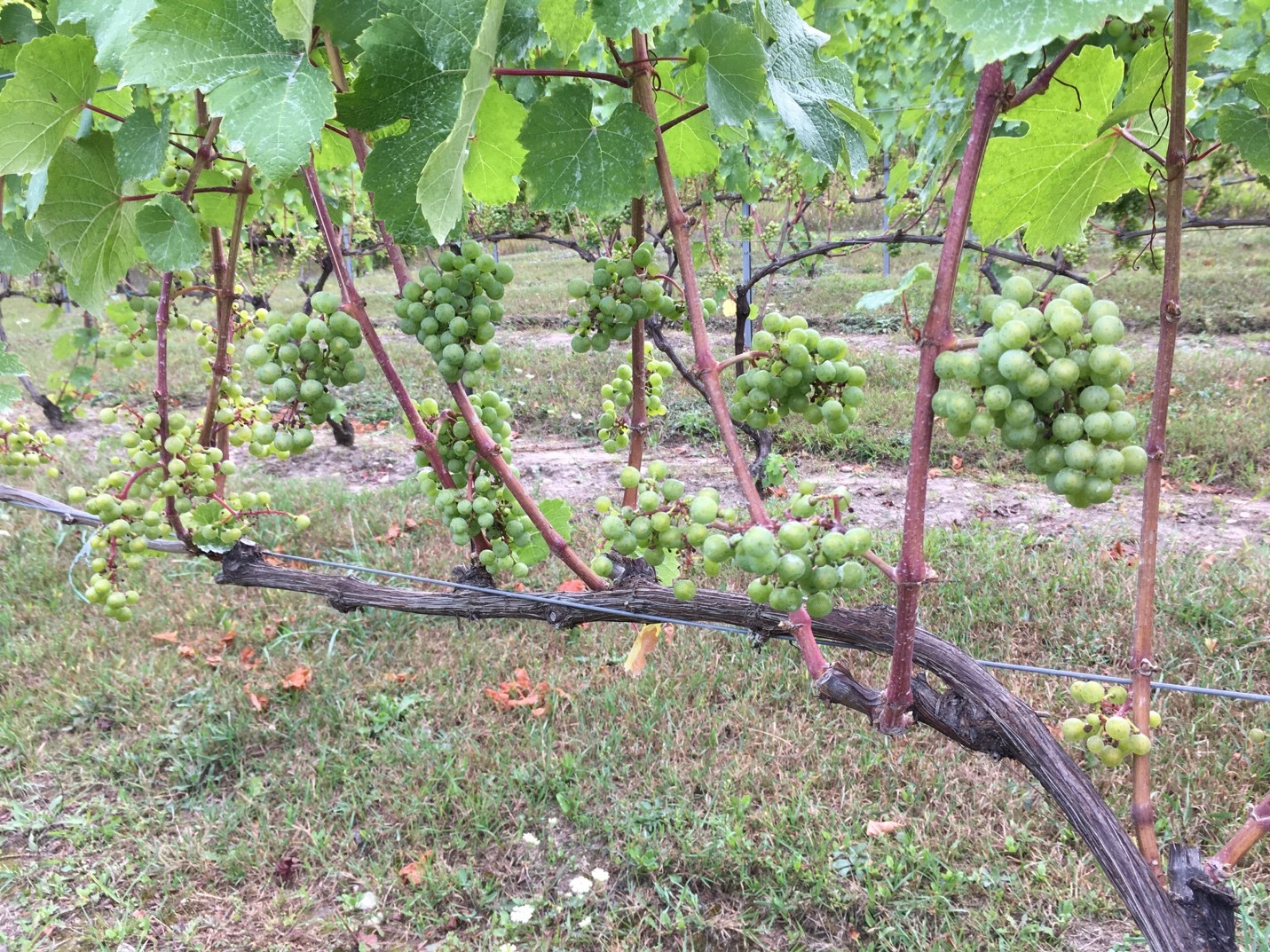 In southwest Michigan, many wine grape varieties are ripening, and some early wine varieties are starting to be harvested. Juice grapes in the south west are starting to ripen, with Niagara harvest likely starting around Sept. 23 and Concord harvest starting in the first week of October (Photo 5). This year looks like a nice crop for juice grapes. Harvest is already underway for table grape varieties in the south west.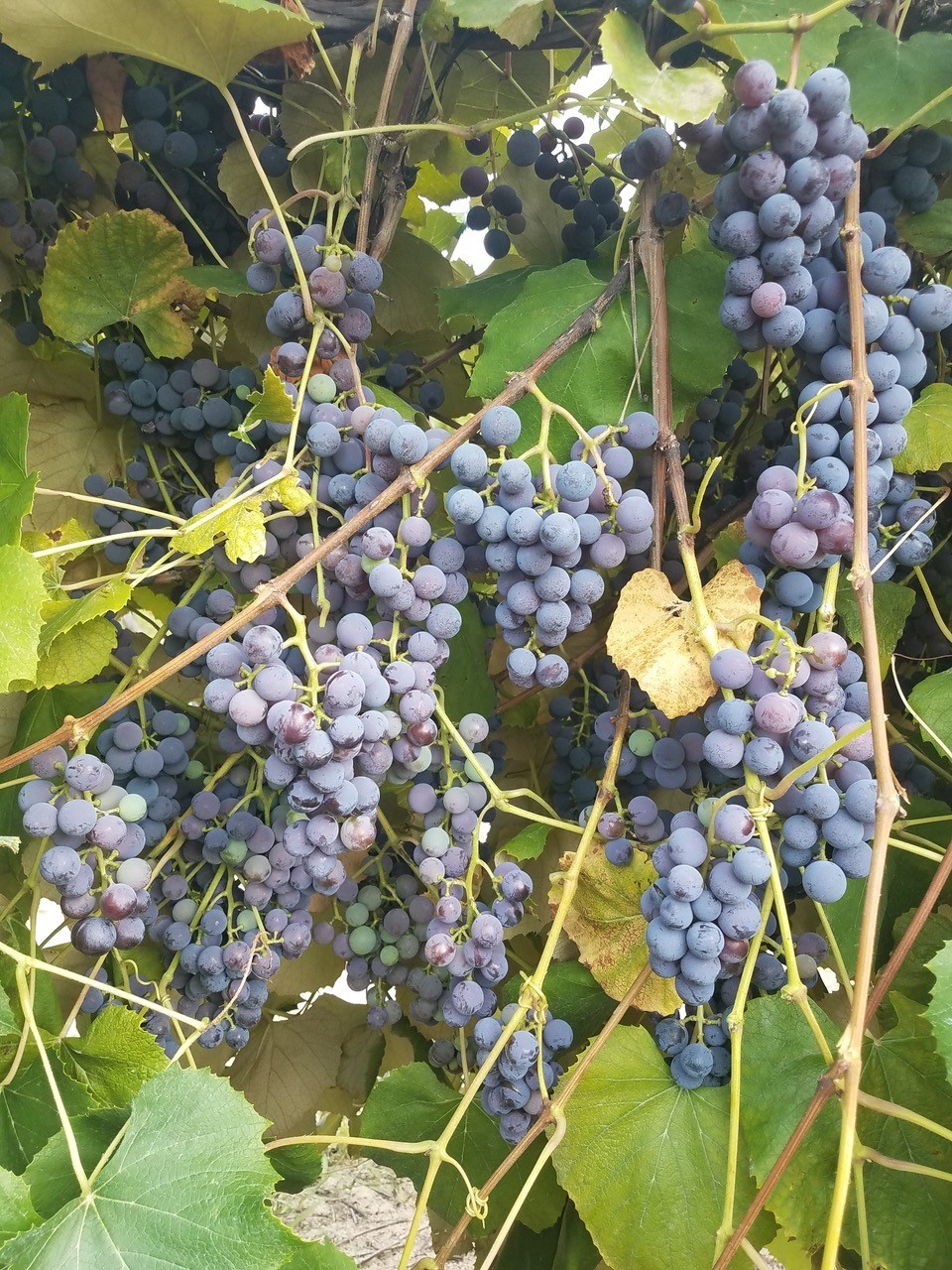 The Michigan State University Extension team has started taking refractometer readings (Brix) of terminal berries in various vineyards representing different varieties and grape growing regions to determine sugar content as we get closer to harvest, and we are monitoring to better understand the berry conditions when these insects start to infest. Many cultivars, particularly in the north west, are behind on their normal sugar accumulations. Current Brix levels from samples this week are shown below by variety and county.
Table 1. Brix readings in different varieties across Michigan

Date

County or AVA

Variety

Brix Reading

9/9/19

Van Buren

Concord

13.8

9/9/19

Van Buren

Niagara

14.1

9/9/19

Van Buren

Chancellor

18.1

9/10/19

Berrien

Vignoles

21

9/10/19

Berrien

Concord

15.4

9/10/19

Leelanau

Riesling

12.1

9/10/19

Leelanau

Chardonnay

15.4

9/10/19

Leelanau

Merlot

13.4

9/10/19

Tip of the Mitt

Frontenac

13.3

9/10/19

Tip of the Mitt

Marquette

15.2
Insect report
As grapes start to ripen and sugar content increases, berries become increasingly susceptible to late-season insect pests. This includes yellowjackets and other stinging insects, as well as vinegar flies. Spotted wing Drosophila (SWD) is a vinegar fly that can cause direct damage, as well as increase sour rot levels if left uncontrolled. This insect is currently already active across Michigan. Numbers of trapped SWD in vineyards have increased from 628 total SWD caught the week of Aug. 19 to 1,125 total SWD caught in traps the week of Aug. 26. This suggests increased activity of the pest in vineyards, and although SWD is not considered a critical pest of wine grape, it is associated with sour rot infections and can increase movement of the pathogens. Scout sites with a history of fruit rot to determine if this insect is present and infesting berries before considering applying control measures.
Yellowjacket activity in vineyards has increased this week and these insects are becoming more active feeding on ripening fruit and are starting to seek out sweet food sources for their colonies (Photo 6). With the recent rains that swept through the region earlier this week, growers should continue to scout clusters carefully for developing issues as the fruit ripen including split berries.
Grape berry moth adults are still actively flying in southwest Michigan, however based on the timing of the third generation of grape berry moth (Table 2), the likelihood of a fourth generation of this pest is relatively low for 2019. This is because eggs laid after early August (when day length gets shorter and shorter) are increasingly likely to be triggered to diapause. This causes the larva to develop through to the pupa stage and stop there, in preparation for the winter. While unusually hot fall weather can change this trend, we expect lower moth activity and infestation pressure in September and will continue to monitor this during our scouting.
Table 2. Timing of grape berry moth generations during 2019 at four primary grape-producing counties.

County

Wild Grape Bloom 2019

Start of second generation egglaying (810 GDD after wild grape bloom)

Start of third generation egglaying (1,620 GDD)

Berrien

May 31

July 8

August 9

Van Buren

June 1

July 7

August 8

Allegan

June 4

July 11

August 13

Leelanau

June 18

July 22

August 29
Brown marmorated stink bug numbers are increasing in vineyard monitoring traps. Although grapes are not a preferred host of brown marmorated stink bugs, vineyards that are neighboring alternative host plants such as peach, apple, wheat, broadleaf maple, English holly, catalpa, tree of heaven and empress tree may experience greater risk of damage. Brown marmorated stink bug feeding can cause direct damage to clusters and injury may lead to soft and discolored fruit or an increase in berry drop. We will continue to monitor this pest as the fall develops.
Grape leafhopper damage has been recently observed in some vineyards. However, most leafhoppers will have been controlled by recent insecticide sprays, and with the relatively slow season, it is unlikely that we will see a large second generation of grape leafhopper this year.
Disease report
There were a variety of diseases observed in both northwest and southwest Michigan over the past two weeks including powdery mildew, downy mildew, botrytis bunch rot and sour rot. In northwest Michigan, growers are observing increasing powdery mildew issues on the fruit and leaves of the upper canopy. Currently in the northwest there are relatively few observations of fruit rots like botrytis and sour rot. However, with recent moisture, higher temperatures and humidity forecast for the region, routinely scout your vineyard for fruit rots in the coming weeks and determine problem areas of the vineyard to build a treatment and control strategy.
In southwest Michigan, a variety of foliar diseases were observed on juice grapes including downy mildew (Photo 7) and powdery mildew (Photo 8). The main worry of downy mildew at this point is defoliation, which can weaken the vine in subsequent years and reduce future yields. The main issue with downy mildew control at this point is to be mindful of the pre-harvest interval, phytotoxicity issues and restrictions associated with your specific grape purchaser. For more information on how to control downy mildew near harvest, see the MSU Extension article, "Late season downy mildew on grapes."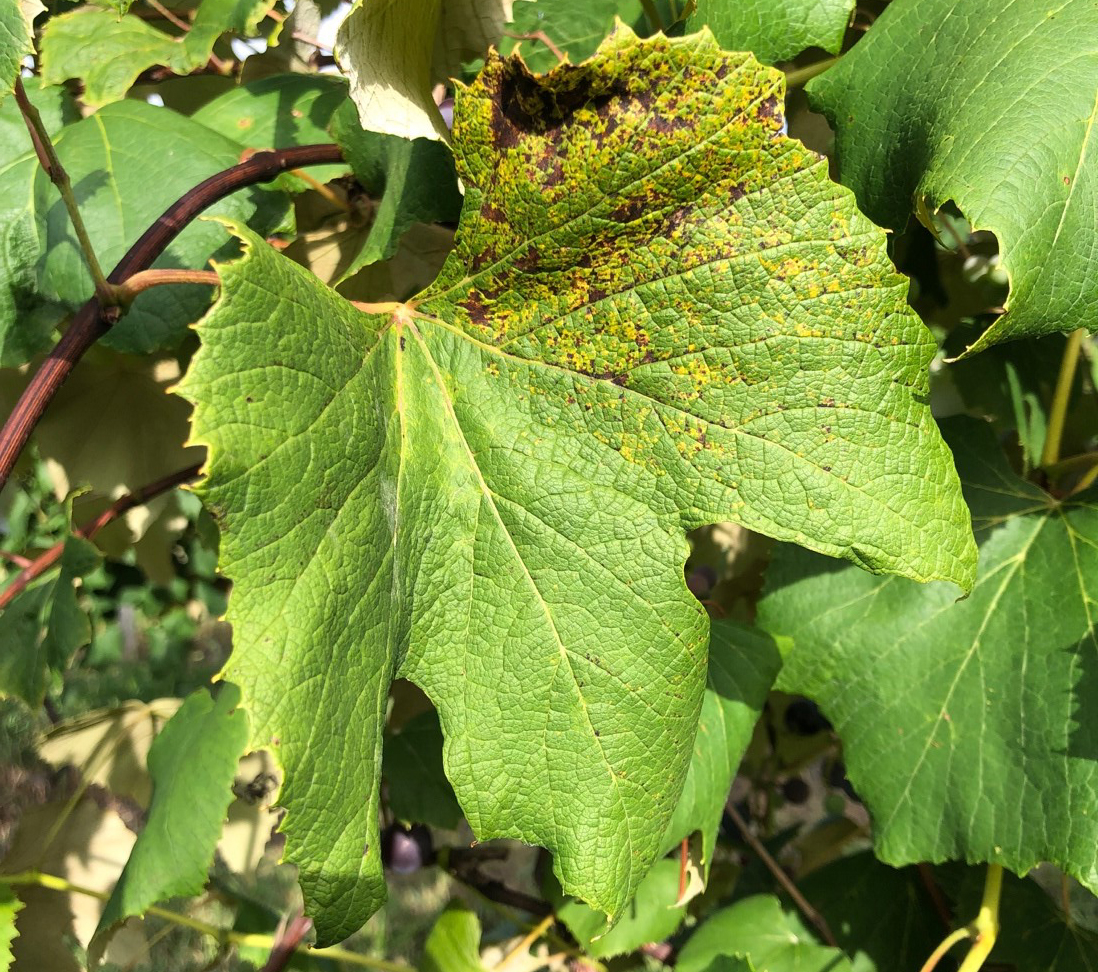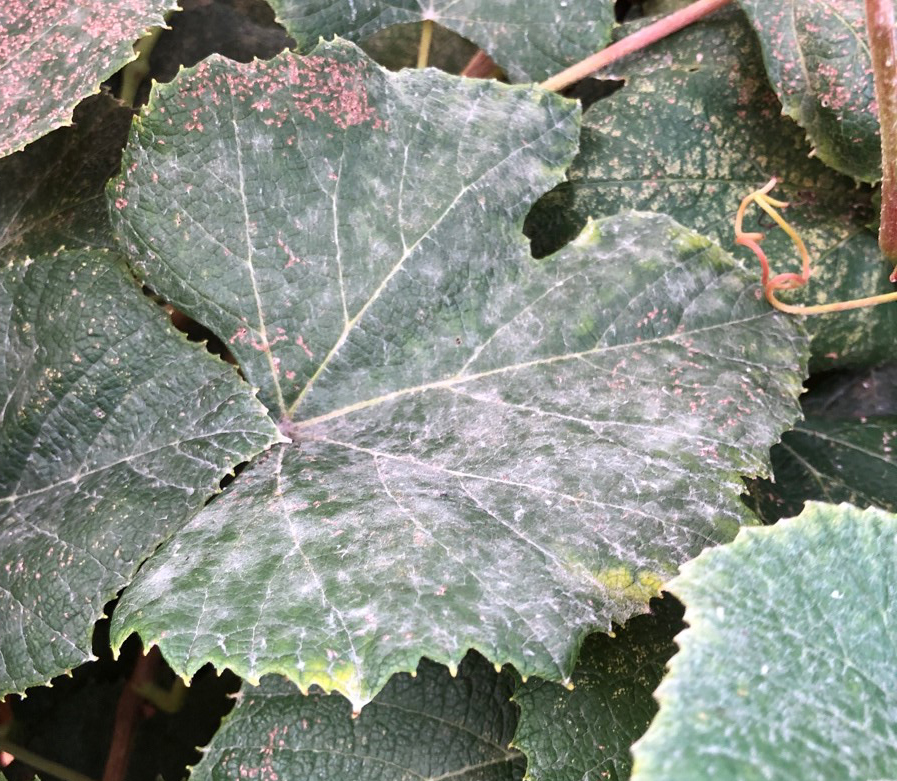 Powdery mildew in southwest Michigan is typically easy to spot in the field on leaves and fruit at this time. Some growers suspect fungicide resistance may be present in their field. If you see powdery mildew and are interested in testing your field for the presence of fungicide resistance, please email milesti2@msu.edu or sharm115@msu.edu. The process is simple and requires only a few minutes to take a sample and place your sample in an overnight mailer back to Michigan State University. This screening is currently funded by a federal USDA grant group called the "Fungicide Resistance Assessment, Mitigation and Extension Network (FRAME)". For more information about fungicide resistance in Michigan, see this article from 2018, "2018 grapevine powdery mildew fungicide resistance survey."
We have also been noticing more Botrytis and sour rot issues in southwest Michigan as fruit begin to ripen (Photo 9). At this point in the season, managing Botrytis bunch rot can be difficult and harvest timing and properly applying fungicides can be important. For more information about botrytis, see our MSU vineyard IPM scouting report from Aug. 28, 2019.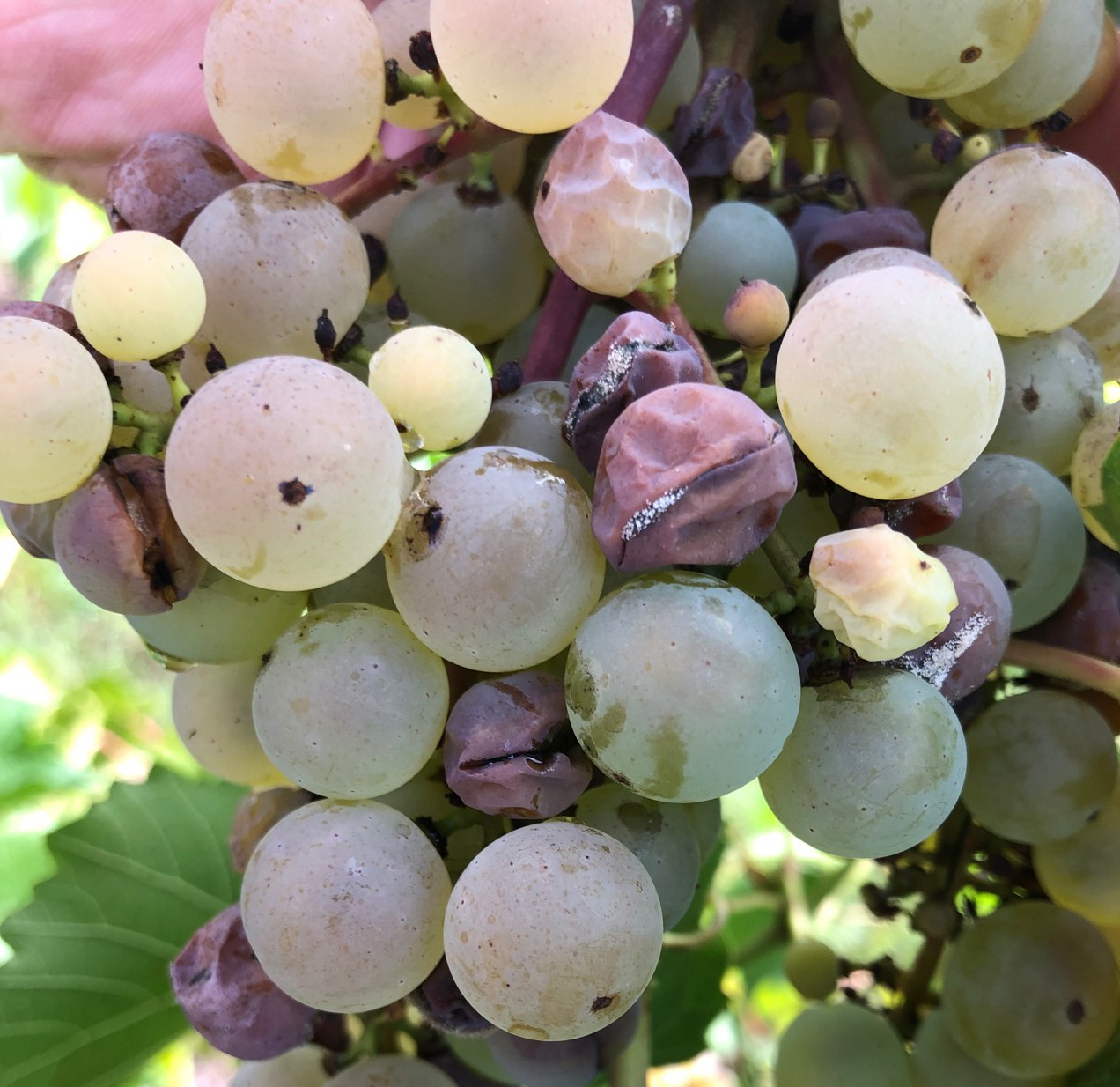 Sour rot / summer bunch rot is a much more complicated disease and is caused by a variety of microorganisms, including bacteria and yeasts and has also been observed in southwest MI. This disease is known to be vectored by drosophila flies that are attracted to the rotting clusters as clusters go above 14 Brix. It is particularly an issue on tight clustered varieties such as 'Vignoles'.
Management strategies currently include sterilants such as Oxidate 2.0 (BioSafe Systems) and Fracture (FMC) combined with an insecticide once fruits reach 14 Brix. Yellowjackets are also a possible vector as they are commonly found on sour rot grape clusters that are high in sugar (Photo 10). More research is needed to determine the best control strategies for sour rot.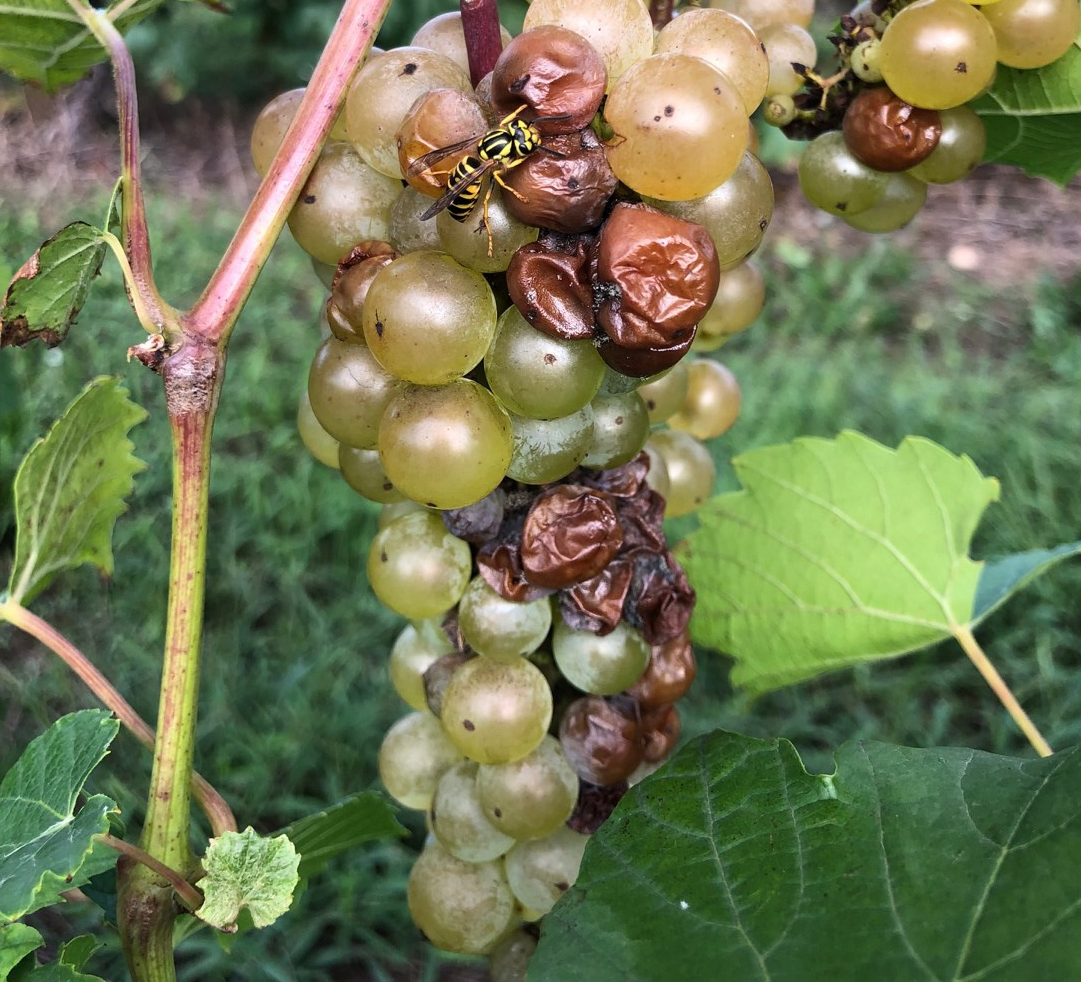 This report and associated scouting is funded by a Michigan Craft Beverage Council grant and by MSU's Project GREEEN. For more on MSU's grape IPM information, visit MSU Extension's Grape Pest Management page.