MSU vineyard IPM scouting report – Sept. 25, 2019
With grapes being harvested, efficacy of insect and disease control programs can be evaluated for 2019.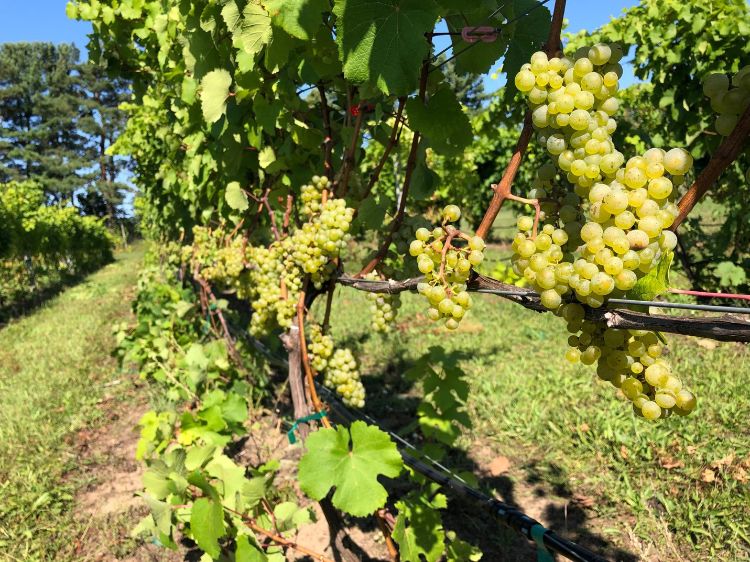 This is the ninth IPM scouting report we are sending out for 2019 based on visits to multiple juice and wine grape vineyards. There are various insect and disease issues that are highlighted below, and these vary in intensity from site to site and southern to northern Michigan. This highlights the need to scout your own vineyards, and this time of the year it should be clear what aspects of your pest management program worked well and which parts did not. Do you have healthy leaves and clean clusters or not? Careful scouting this time of the year just before harvest and taking some notes can help prioritize what aspects to address during the winter months. Pest and disease infestations could be caused by the product selection, timing of applications, canopy coverage or resistance, so keep all those in mind when planning how to improve your integrated pest management (IPM) program for 2020. Although every year is different, understanding where the weak points are can help you improve the chance of having a bumper crop of quality grapes at harvest time.
From our vineyard visits this week in southwest Michigan, we saw that Niagara juice grapes and many earlier wine varieties are starting to be harvested. Concord harvest is likely starting in the first week of October. In the northwest region, grapes continue to mature, and the recent cool, wet weather combined with increased sugar accumulation in grape berries has increased the insect and disease pressure in the fruit zone (Photo 1).
The Michigan State University Extension team has been taking refractometer readings (Brix) of terminal berries in various vineyards representing different varieties and grape growing regions to determine sugar content as we get closer to harvest, and we are monitoring to better understand the berry conditions when insects and cluster rots start to infest. Average Brix levels from samples this week are shown below by variety and county.
Table 1. Brix readings in different varieties across Michigan

Date

County or AVA

Variety

Brix reading

9/9/19

Van Buren

Concord

16.8

9/9/19

Van Buren

Niagara

15.0

9/9/19

Van Buren

Chancellor

19.7

9/10/19

Berrien

Concord

15.2

9/10/19

Leelanau

Riesling

14.0

9/10/19

Leelanau

Chardonnay

17.8

9/10/19

Leelanau

Merlot

16.4

9/10/19

Leelanau

Pinot noir

17.0

9/10/19

Leelanau

Cabernet franc

15.0
Insect report
With the recent warm weather, grape berry moth adults are still actively flying in some parts of southwest Michigan. The traps are not a very reliable indication of pest pressure at this time of the year, so scouting on clusters can help indicate whether there is new activity of eggs and larvae. This moth activity likely means that the high temperatures have signaled to some moths to try one more generation this year instead of preparing for winter, so some new adults have emerged for a fourth generation.
If you are still seeing adults and your crop is still two or more weeks from harvest, consider whether it might be worth a late-season application of a reduced-risk product such as B.t. product, Venom, Delegate, Altacor or other effective options with a relatively short preharvest interval (PHI). Predictions for the start of fourth generation egglaying by grape berry moth are below (Table 2).
Table 2. Timing of grape berry moth generations during 2019 at four primary grape-producing counties.

County

Wild grape bloom 2019

Start of second generation egglaying (810 GDD after wild grape bloom)

Start of third generation egglaying (1,620 GDD)

Start of fourth generation egglaying (2,430 GDD)

Berrien

May 31

July 8

Aug. 9

Sept. 16

Van Buren

June 1

July 7

Aug. 8

Sept. 16

Allegan

June 4

July 11

Aug. 13

Sept. 17

Leelanau

June 18

July 22

Aug. 29

N/A
As grapes continue to ripen and sugar content increases, berries are susceptible to late-season insect pests. This includes yellow jackets and other stinging insects, as well as vinegar flies, and we are seeing more of these insects active in some vineyards, especially on the recent warm days. The invasive spotted wing Drosophila is capable of causing direct damage to berries, opening wounds that can be exploited by native Drosophila, and this can contribute to increasing sour rot levels if left uncontrolled. Scout sites with a history of fruit rot, especially tight clustered varieties, to determine if these insects are present and infesting berries before considering applying control measures.
Brown marmorated stink bug numbers have increased in monitoring traps over recent weeks. Although grapes are not a preferred host of brown marmorated stink bugs, vineyards that are neighboring alternative host plants such as peach, apple, wheat, broadleaf maple, English holly, catalpa, tree of heaven and empress tree may experience greater risk of damage. Also, as field crops dry down, these bugs can move to plants that are still alive, such as nearby vineyards. Brown marmorated stink bug feeding can cause direct damage to clusters and injury may lead to soft and discolored fruit or an increase in berry drop. We will continue to monitor this pest as the fall develops.
Disease report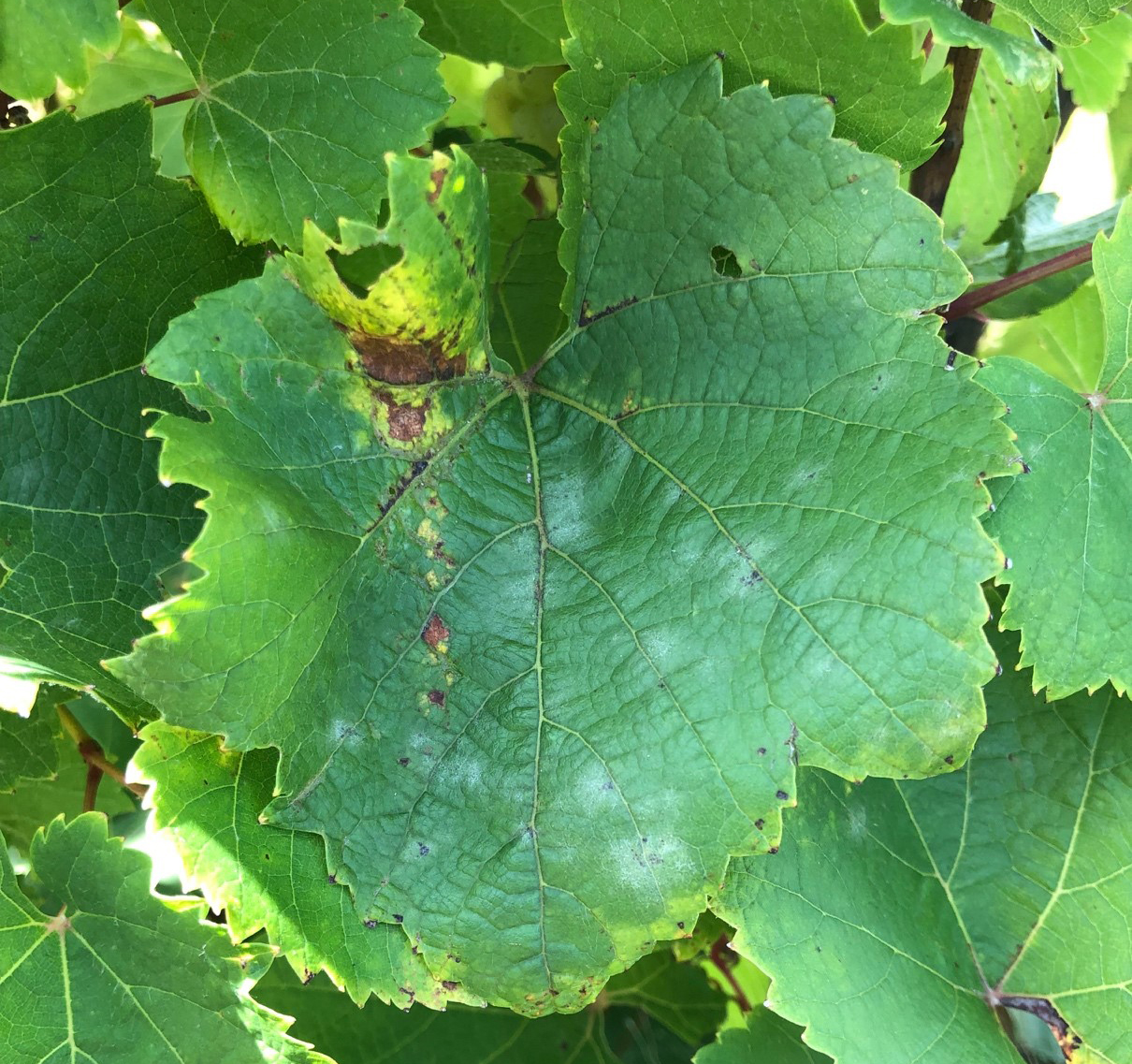 In both southwest and northwest Michigan, a significant increase in downy mildew and powdery mildew symptoms have been observed (Photo 2). Now is a great time to evaluate if your fungicide treatments and other cultural management strategies were effective this growing season. Fruit rot diseases were also observed at nearly all locations, primarily these issues have been Botrytis bunch rot and sour rot. In these locations, there was a significant increase in insect activity as well.
Sour rot is caused by a variety of microorganisms and is often used as a catch all for a variety of cluster problems. It is usually characterized by clusters that smell like vinegar, juice that drips over the fruit surfaces, a melting-type decay with skin slippage, and vinegar flies and larvae typically present. Recent research has shown a significant correlation between insect activity and sour rot movement. These insects have been primarily fruit flies (Photo 3), but at MSU we have observed yellow jackets (Photo 4) and bald-faced hornets (Photo 5) on sour rot clusters. More research is required to see which insects are the most critical in Michigan vineyards.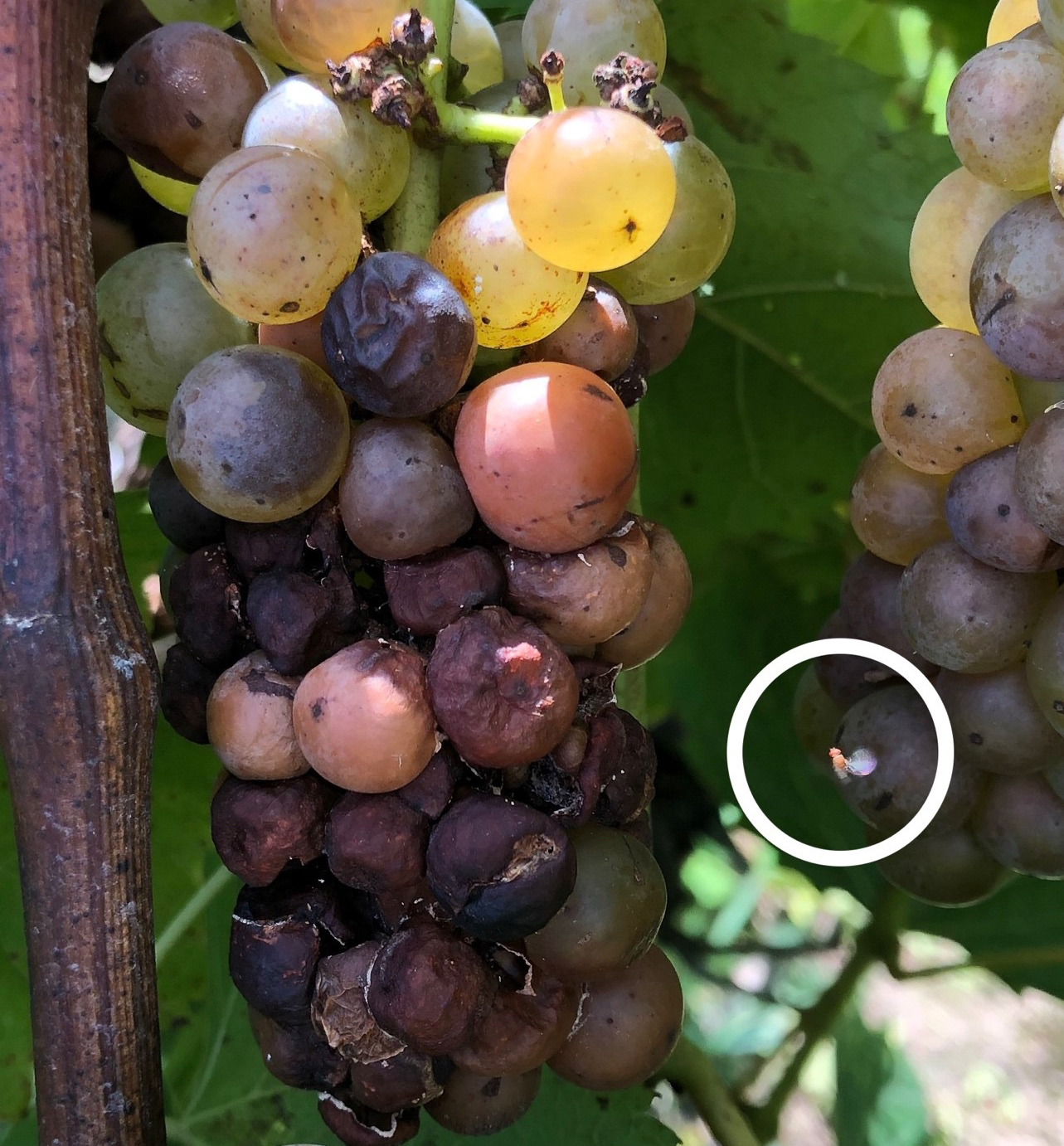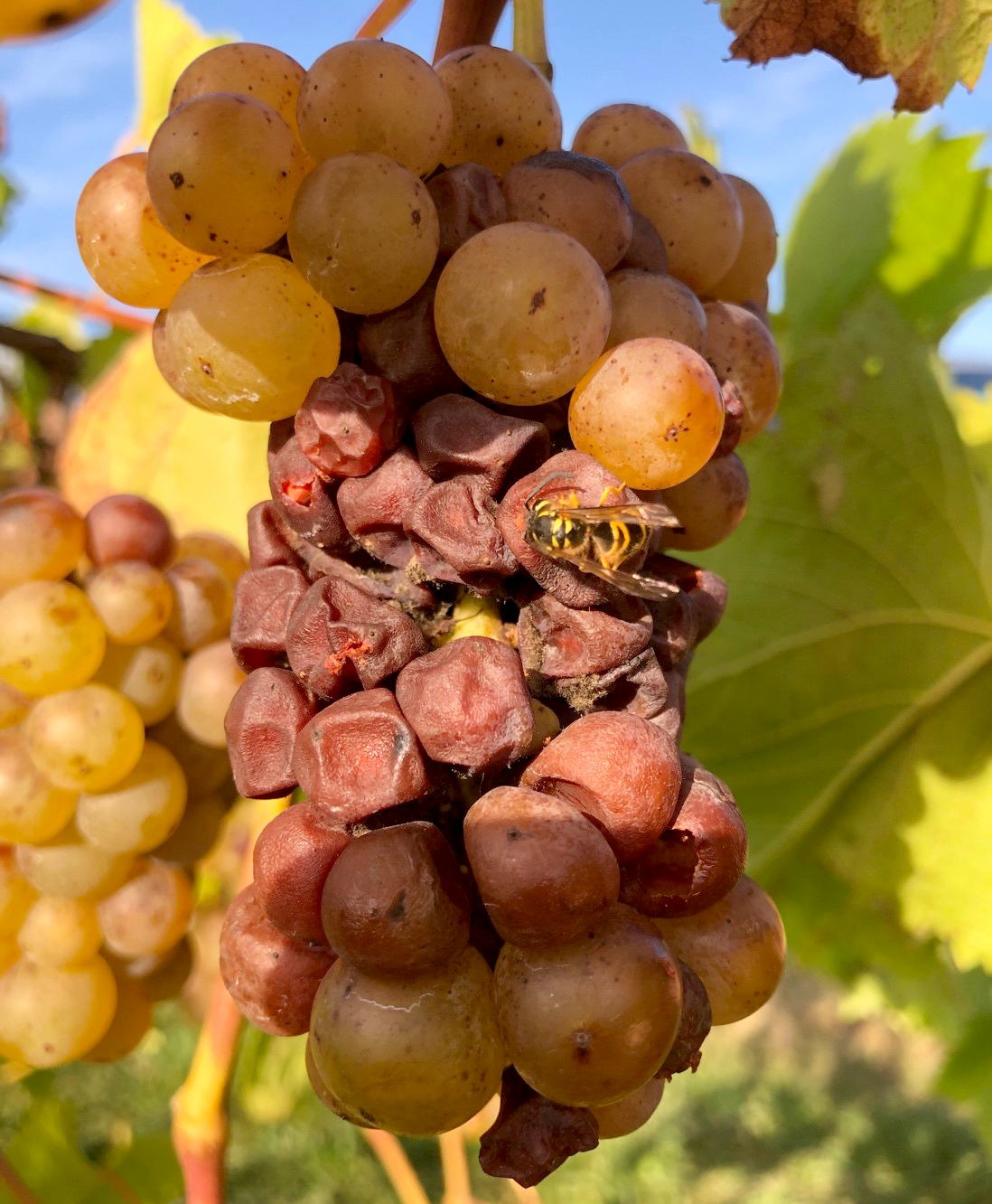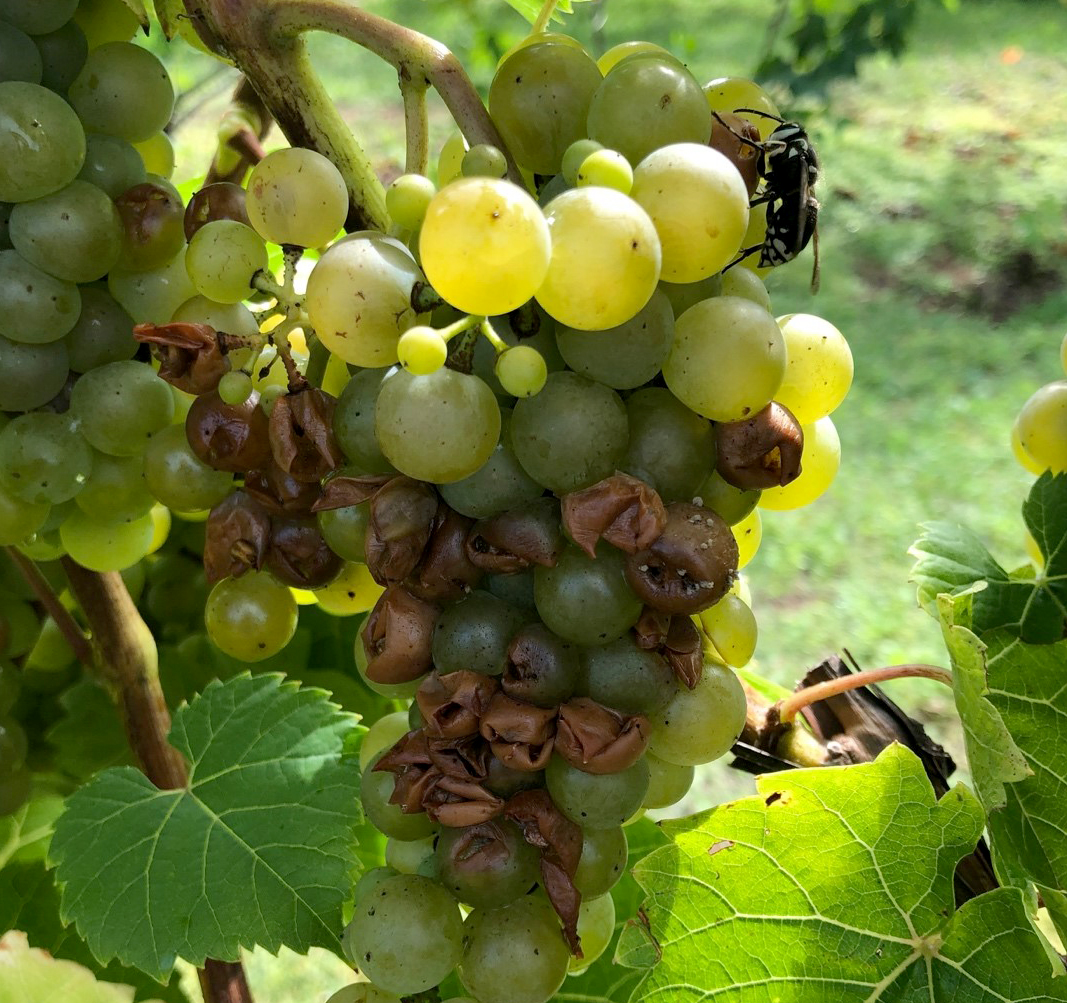 There are a number of fungicide products labeled for Botrytis bunch rot. Begin fungicides at bloom time if chemically managing Botrytis bunch rot. Be prepared to make additional fungicide applications when fruit clusters begin to close, especially in tight-clustered varieties. See this update for more details about late season grape management specifically for Botrytis bunch rot control.
Unfortunately, since sour rot is a disease complex involving many different fungi, there are no conventional synthetic fungicides that are highly effective against sour rot. Recent research into a well-timed insecticide at 14 Brix along with a sterilant (e.g., Fracture or Oxidate 2.0) prior to sour rot symptoms is the best method of control.
This report and associated scouting is funded by a Michigan Craft Beverage Council grant and by MSU's Project GREEEN. For more on MSU's grape IPM information, visit MSU Extension's Grape Pest Management page.