MSU vineyard IPM scouting report – Oct. 9, 2019
Most grapes are harvested in southwest Michigan and wine grape harvest is underway in northwest Michigan. Weather delays have been altering harvest windows and we are noticing benefits in reflective strips in vineyards.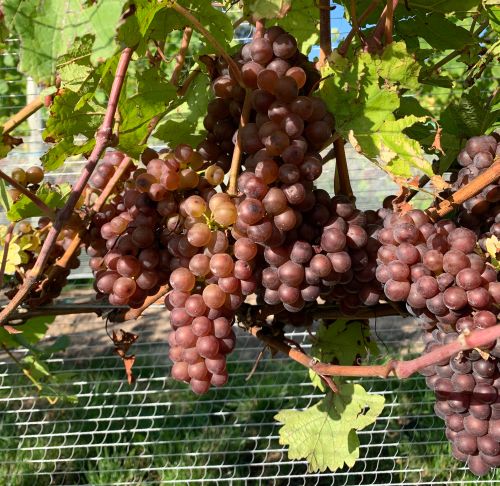 This is the tenth integrated pest management (IPM) scouting report we are sending out for 2019 based on visits to multiple juice and wine grape vineyards. There are various insect and disease issues that are highlighted below, and these vary in intensity from site to site and southern to northern Michigan.
This season, especially the second half, has been characterized as cool and wet, so growers have been trying to find the "sweet spot" for harvest by carefully allowing their crop to hang longer and mature while also not allowing crop deterioration due to weather, and pest predation.
In southwest Michigan, almost all grapes are harvested with some remaining Concords being harvested this week. Fortunately, in northwest Michigan, the cool weather has reduced overall insect activity (yellowjackets and spotted wing Drosophila) in vineyards. Unfortunately, the month of September and into October brought challenging weather conditions to Leelanau and Old Mission Peninsula American Viticulture Areas (AVAs) with higher than normal amount and time of rainfall, and lower than normal heat accumulation, expressed as growing degrees days (GDD, Tables 1 and 2).
Table 1. Weather conditions of Leelanau Peninsula AVA (Sept. 1-30, 2019)

Year

GDD base 50

Rainfall total (inches)

Hours with rainfall

2019

375

5

55

2018

408

3.61

55

2017

442

1.73

38

2016

456

2.48

56

2015

479

4.22

43

2014

294

6.33

61

Avg. of 6 years

408.9

3.9

51.3
Table 2. Weather conditions of Old Mission Peninsula AVA (Sept. 1-30, 2019)

Year

GDD base 50

Rainfall total (inches)

Hours with rainfall

2019

376

4.62

56

2018

401

3.52

57

2017

419

2.46

35

2016

465

3.86

61

2015

485

5.95

37

2014

273

8.16

66

Avg. of 6 years

403.2

4.76

52
This has resulted in a highly variable array of crop responses from some growers drastically adjusting their harvest windows and winemaking goals to other sites only slightly adjusting their typical harvest operations. Growers in Leelanau Peninsula, Old Mission Peninsula and Tip of the Mitt AVAs have estimated their harvest windows will range from early October through mid- to late November (Table 3, Photos 1 and 2).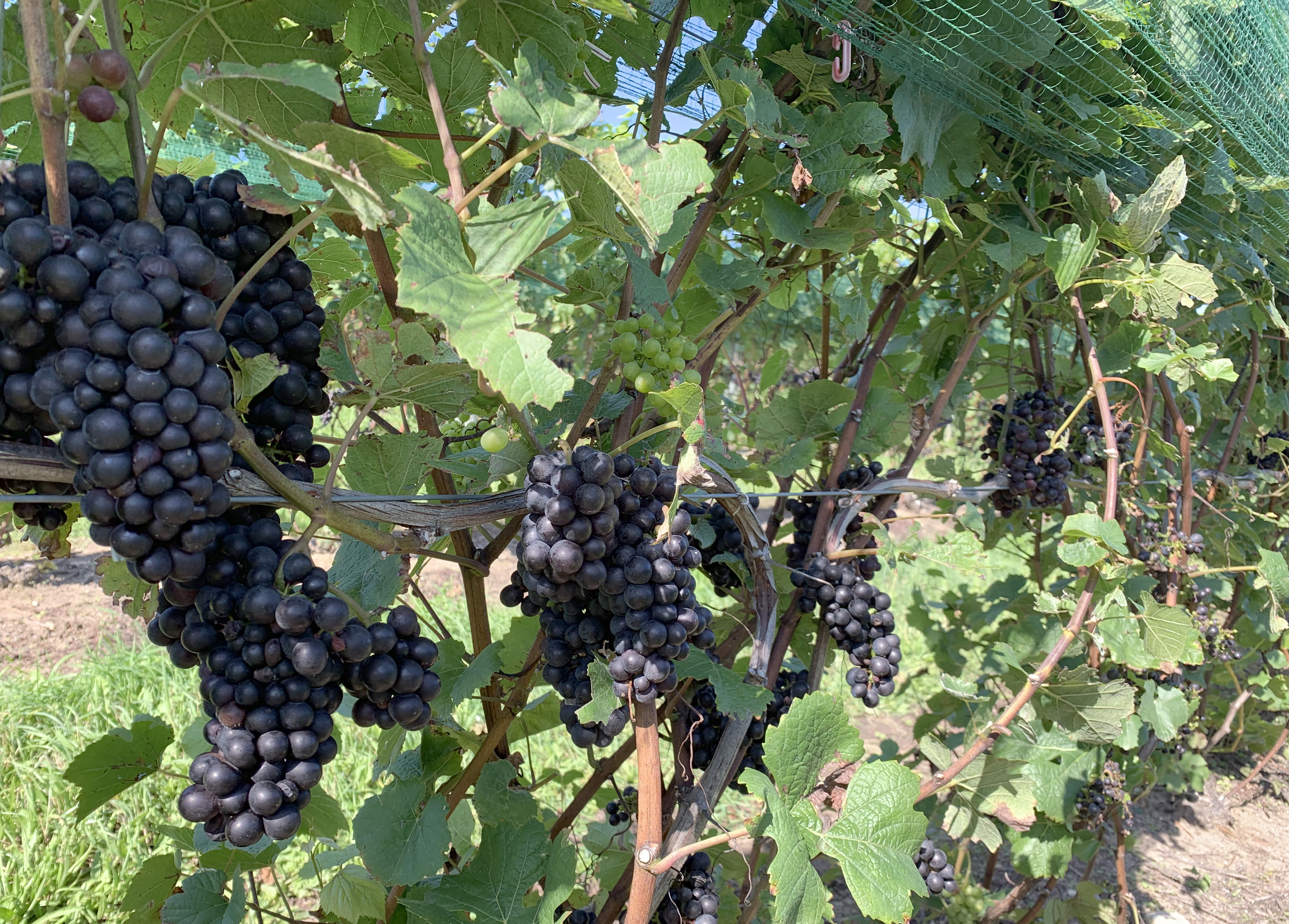 Fruit for sparkling wine benefits from high acidity and does not typically need to be as mature as fruit for still wine. So, in vineyards with severely delayed fruit maturity (low sugar and high acidity), try to allocate at least a portion for sparkling wine production.
Table 3. Estimated 2019 harvest windows of wine grape varieties grown in northwest Michigan.

AVA

Type of wine produced

Early October

Mid- to late October

Early to mid- November

Leelanau Peninsula and Old Mission Peninsula

Sparkling

Pinot blanc
Pinot gris
Pinot noir
Chardonnay
Cayuga White
Auxerrios

--

--

Still

'La Crescent'
'Frontenac'
'Frontenac gris'

Chardonnay
Auxerois
Pinot blanc
Pinot gris
Pinot noir

Riesling
Cabernet franc
Merlot
Marquette

Tip of the Mitt

Still

Baco Noir
Leon Millot
Frontenac blanc

Frontenac blanc
Frontenac gris
Marquette
Frontenac

--
A grower in Leelanau County uses a clever system of reflective strips to utilize more sunlight (Photo 3). These reflective strips were placed on 5 acres of the Blaufrankish and Cabernet Franc vineyard in late August and their purpose is to redirect otherwise wasted sunlight striking the vineyard floor upwards toward the grapevines in order to increase sunlight interception/reduce shading, improve overall vine performance, fruit development and ripening.
The grower using this system stated the benefits outweigh the material and labor to install these reflective strips. In fact, the material and installation costs equal nearly $600 per acre or an estimated added cost of $200 per ton of fruit produced. Given these costs, if the site can hang an additional half-ton per acre (3.5 tons per acre in total) to maturity at harvest, then it pays for itself. Over the course of the season, these reflective strips help support a larger than normal crop in warm seasons and a normal crop in cool seasons.
Diseases
This time of year, especially during the described cool and wet post-veraison period, requires regular daily monitoring of vineyards to stay ahead of late season fruit rot outbreaks of Botrytis bunch rot and sour rot (Photo 4). In cooler temperatures and harvest environments with limited insect activity, growers will predominately find Botrytis if rot is occurring. Botrytis and sour rot are often found on the same clusters and appear to compete for the same spaces on a cluster.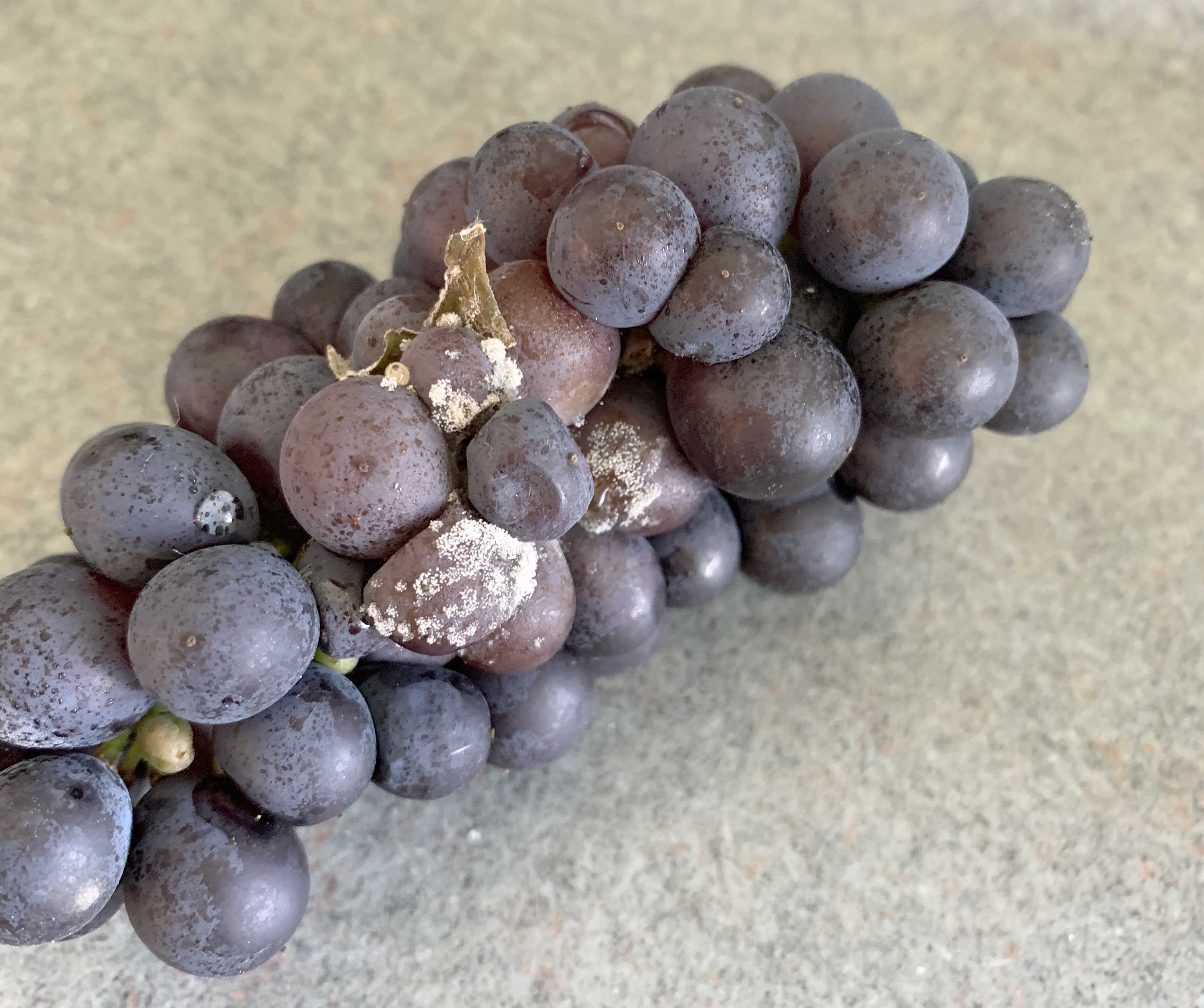 Botrytis typically starts to spread by some sort of wound or fruit cracking on the berries (Photo 5). Botrytis infections usually do not advance on clusters that also have sour rot, while sour rot will continue to advance on clusters with Botrytis. When either disease is on a cluster that comes in contact with a healthy cluster, they can both spread quickly to that healthy cluster.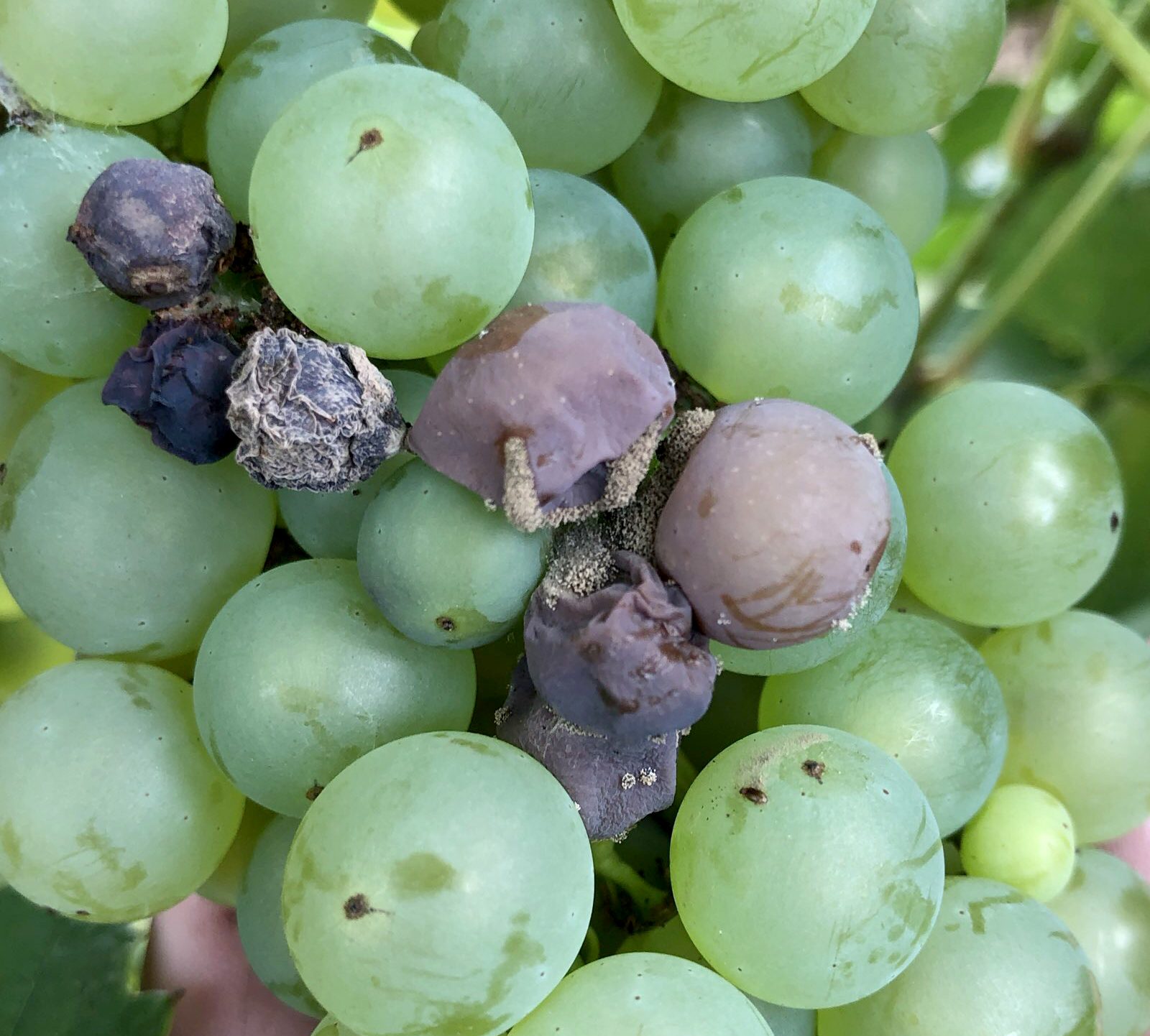 For Botrytis control information, consult the Michigan State University Extension article, "Late season cultural and chemical options for diseases in grapes—don't wait!" and Table 4 for low preharvest interval (PHI) fungicides.
Table 4. Fungicides with Botrytis bunch rot activity with at or below a seven-day PHI.

Trade name

Active ingredient

FRAC group

PHI (days)

Elevate

fenhexamid

17

0

Rovral

iprodione

2

7

Scala

pyrimethanil

9

7

Vangard

cyprodinil

9

7
This report and associated scouting is funded by a Michigan Craft Beverage Council grant and by MSU's Project GREEEN. For more on MSU's grape IPM information, visit MSU Extension's Grape Pest Management page.