MSU vineyard IPM scouting report – Aug. 28, 2019
Grape clusters are ripening across Michigan, so prepare for harvest. The earliest cultivars are starting harvest this week, while some have a long way to go.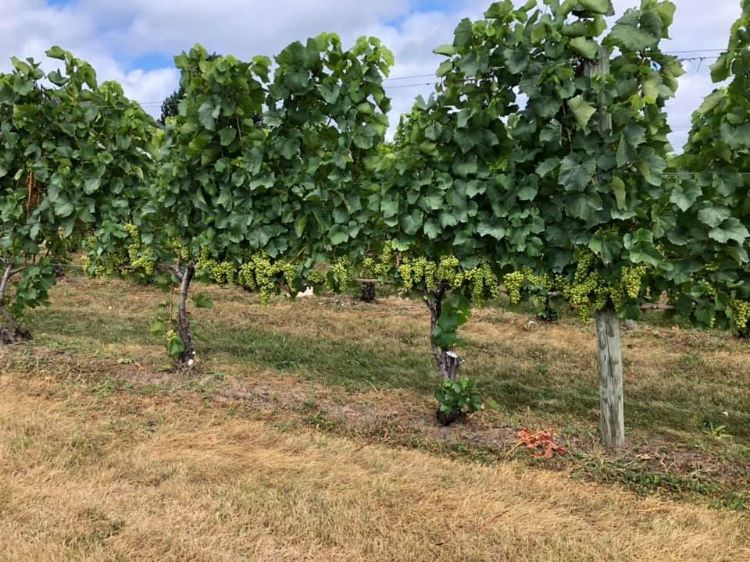 This is the seventh IPM scouting report we are sending out for 2019 based on visits to multiple juice and wine grape vineyards. This report will be available every other Wednesday throughout the growing season. There are various insect and disease issues that are highlighted below, and these vary in intensity from site to site and from southern to northern Michigan. This highlights the need to scout your own vineyards. Careful scouting is time well spent to catch issues that might otherwise develop through the remainder of the summer and cause issues with the harvest.
In southwest Michigan, many wine grape varieties are starting to ripen while juice grapes are passing through veraison. In Lawton, Michigan, this week, we saw a vineyard of table grapes that were ready to harvest. In the northwest, growers are currently applying the finishing touches to their canopy management with a second pass of leaf removal and trunk shoot thinning just in time to net the vines to protect grape clusters from birds, raccoons, etc. (Photo 1). Growers are also busy managing the crown of the vines by training canes for trunk replacement and cane burial.
Insect report
As grapes start to ripen and sugar content increases, berries become increasingly susceptible to late-season insect pests. This includes yellowjackets and other stinging insects, as well as vinegar flies. Spotted wing Drosophila (SWD) is a vinegar fly that can cause direct damage as well as increase sour rot levels if left uncontrolled, and this insect is currently already active across Michigan. Yellowjackets have also become more active feeding on fruit recently and are starting to seek out sweet food sources for their colonies. With the recent rains that swept through the region earlier this week, continue to scout clusters carefully for developing issues as the fruit ripen, including split berries.
Michigan State University Extension has started taking refractometer readings (Brix) of terminal berries in various vineyards representing different varieties and grape growing regions to determine sugar content as we get closer to harvest, and we are monitoring to better understand the berry conditions when these insects start to infest. Current Brix levels from samples this week are shown below by variety and county.
Table 1. Brix readings in different varieties across southwest Michigan for 2019
Date
County
Variety

Brix reading

Aug. 26

Van Buren

Concord

11.7

Aug. 26

Van Buren

Niagara

10.2

Aug. 26

Van Buren

Chancellor

15.6

Aug. 27

Berrien

Vignoles

15.2

Aug. 27

Berrien

Concord

12.2
In northwest Michigan, the predicted start of the third generation egglaying for grape berry moth is this week (Table 2) and the second generation has been seen in Riesling and Chardonnay berries. See the table below for approximate wild bloom dates and subsequent grape berry moth predictions in your region. Third generation egglaying occurs at 1,620 growing degree days (GDD) base 47 degrees Fahrenheit after bloom of wild grapes. Note that the model for this provided on the MSU Enviroweather website predicts the start of egglaying by this pest, so long-lasting insecticides that are active on eggs and young larvae are most effective at this time.
If using a broad-spectrum insecticide, delay the spray for this generation by 100 GDD to be timed more for egg hatch, i.e., 1,720 GDD. In high pressure sites where grape berry moth is at high levels on vineyard borders, a follow-up application at the vineyard borders might be needed between this and harvest time to reduce infestation.
Table 2. Timing of grape berry moth generations during 2019 at four primary grape-producing counties.

County

Wild grape bloom 2019

Start of second generation egglaying (810 GDD after wild grape bloom)

Start of third generation egglaying (1,620 GDD)

Berrien

May 31

July 8

Aug. 9

Van Buren

June 1

July 7

Aug. 8

Allegan

June 4

July 11

Aug. 13

Leelanau

June 18

July 22

Aug. 29
Based on the timing of the third generations (Table 2), the likelihood of a fourth generation of grape berry moth is relatively low for 2019. This is because eggs laid after early August (when day length gets shorter and shorter) are increasingly likely to be triggered to diapause. This causes the larva to develop through to the pupa stage and stop there in preparation for winter. While unusually hot fall weather can change this trend, we expect lower moth activity and infestation pressure in September and will continue to monitor this during our scouting.
Brown marmorated stink bugs are being found in monitoring traps in vineyards in Van Buren and Berrien counties this week. However, the counts are very low and grapes are not a preferred host for this pest. We will continue to monitor this pest as the fall develops.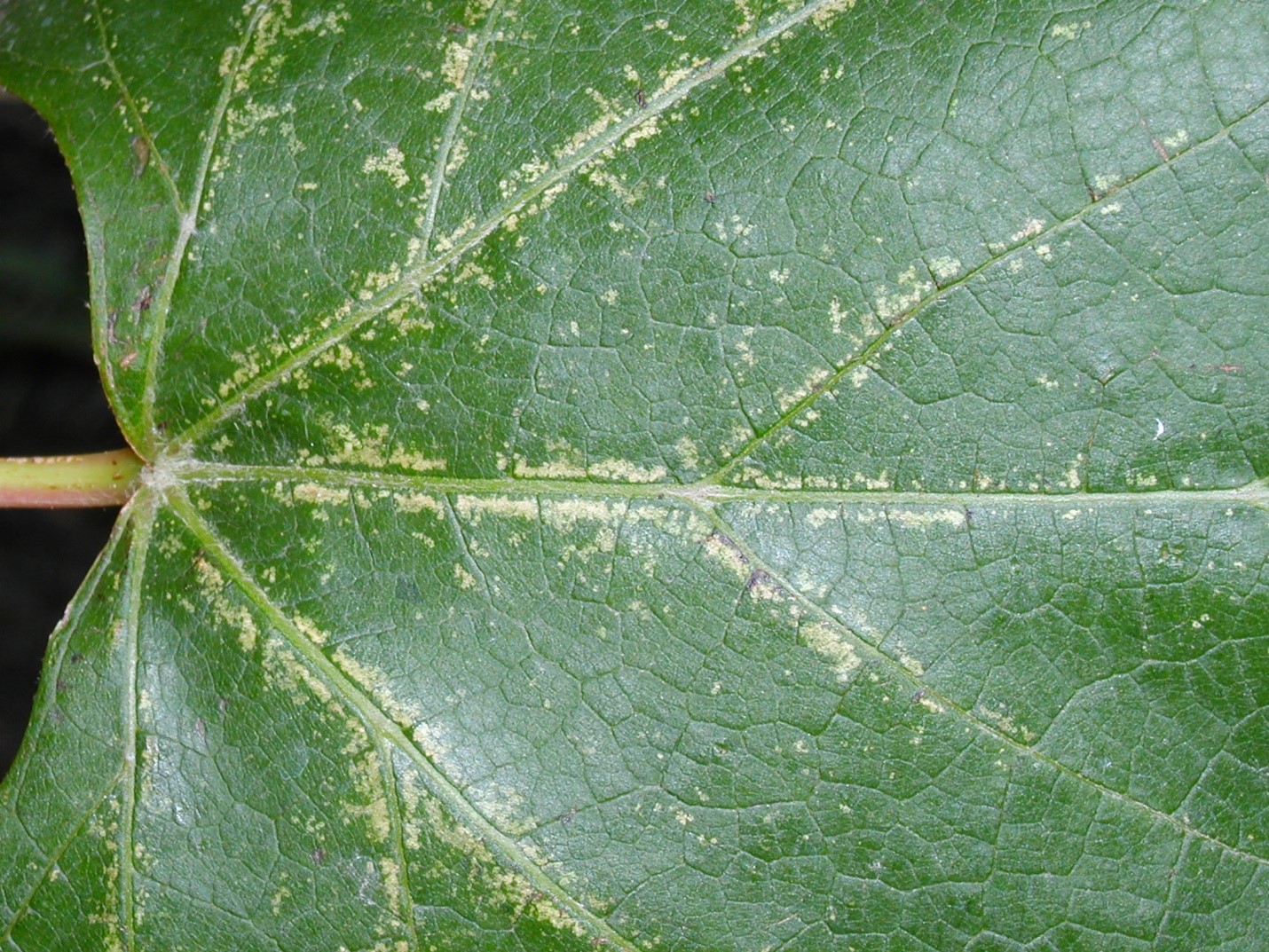 Grape leafhopper was another new pest observed this week in one vineyard in the Lawton region. However, all leafhoppers have been controlled by a recent spray, and there was only some light stippling damage observed on the upper surface of the leaves (Photo 2). With the relatively slow season, it is unlikely we will see a large second generation of grape leafhopper this year.
Also in northwest Michigan, the numbers of trapped SWD have increased from Aug. 6 (31 SWD caught) through Aug. 27 (78 SWD caught). This suggests increased activity of the pest in vineyards and although SWD is not considered a critical pest of wine grape, it is recommended to scout sites with a history of fruit rot to determine if control is required before applying control measures.
Disease report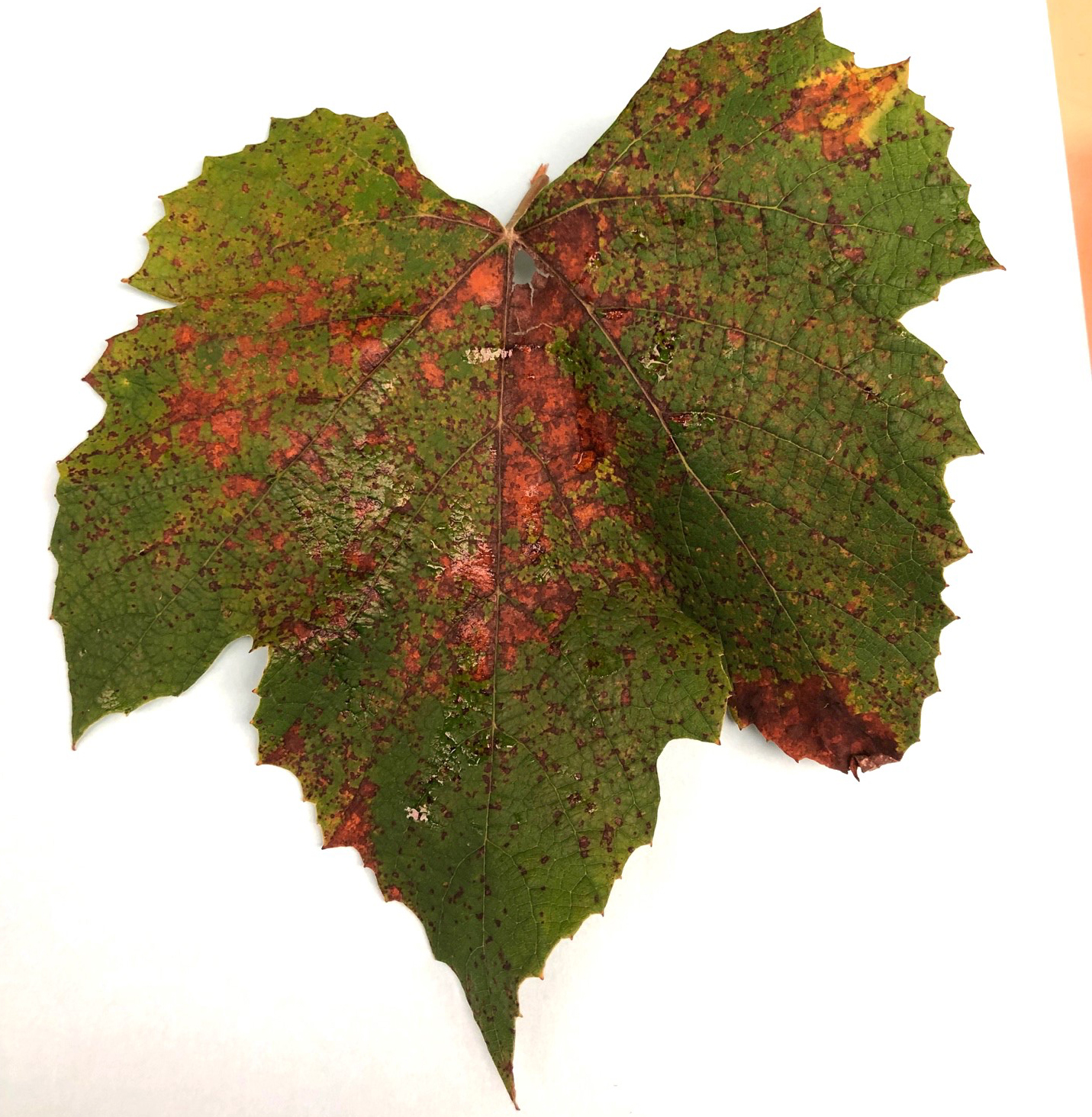 This week in southwest Michigan there was significant disease pressure observed at all vineyards we surveyed. Almost all grapes in southwest Michigan are past veraison at this point (and it began in Concord grapes). Black rot was readily observed at many locations on the fruit and leaves, but now fruit is resistant to new black rot infections. See the MSU vineyard IPM scouting report from July 3, 2019 for more information about black rot.
Downy mildew has become an issue in many fields because there have been heavy dews every morning (Photo 3). There were several other diseases that are established in vineyards at this point including powdery mildew, Phomopsis and ripe rot (Photo 4). Phomopsis fruit infections are currently beginning and can be differentiated from black rot issues because Phomopsis on fruit often includes necrosis on the rachis.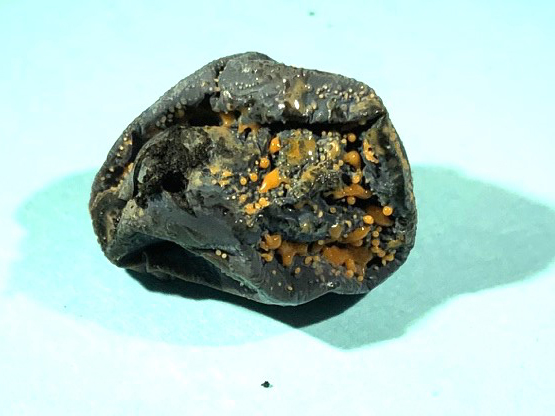 In northwest Michigan, reports of extremely high levels of powdery mildew in the fruit zone have been received from some growers on Old Mission and Leelanau Peninsulas. Apply full rate of the product for powdery mildew and full cover to prevent these types of situations. In other words, use the full rate of the product and cover every single row. It is NOT recommended to cover alternate rows, which only puts more plant materials and fruit at risk. See the MSU vineyard IPM scouting report from Aug. 14, 2019, for more information on controlling powdery mildew.
This week we noted a significant increase in fruit rots at multiple locations in southwest Michigan. Botrytis bunch rot was observed in 'Aurora', 'Niagara' and 'Chancellor' grapes and was attributed to fruit splitting in many cases (Photos 5, 6 and 7). Botrytis bunch rot of grape is a disease caused by the fungus Botrytis cinerea. Successfully managing Botrytis bunch rot can be achieved through several strategies including cultural control methods, properly applying fungicides and using resistant cultivars when practical.
The efficacy of fungicides for Botrytis control depend on getting good coverage and vine growth stage. Effective systemic fungicide products include products within within FRAC codes 2 (e.g., Rovral 4F), 7 (e.g., a portion of Pristine), 9 (Vangard WG), 11 (e.g., a portion of Pristine), 12 (e.g., a portion of Switch 62.5WG) and 17 (Elevate 50WDG).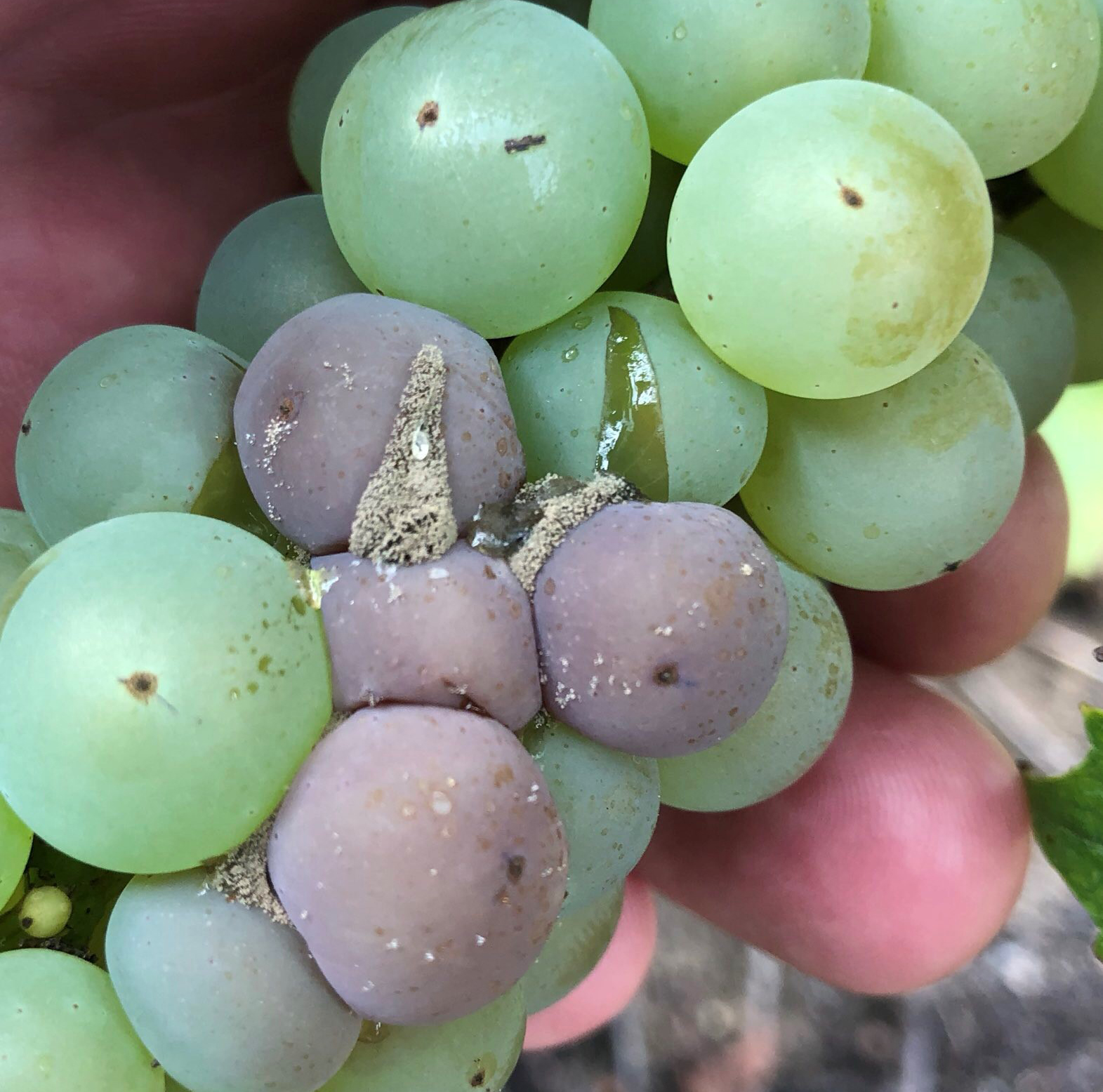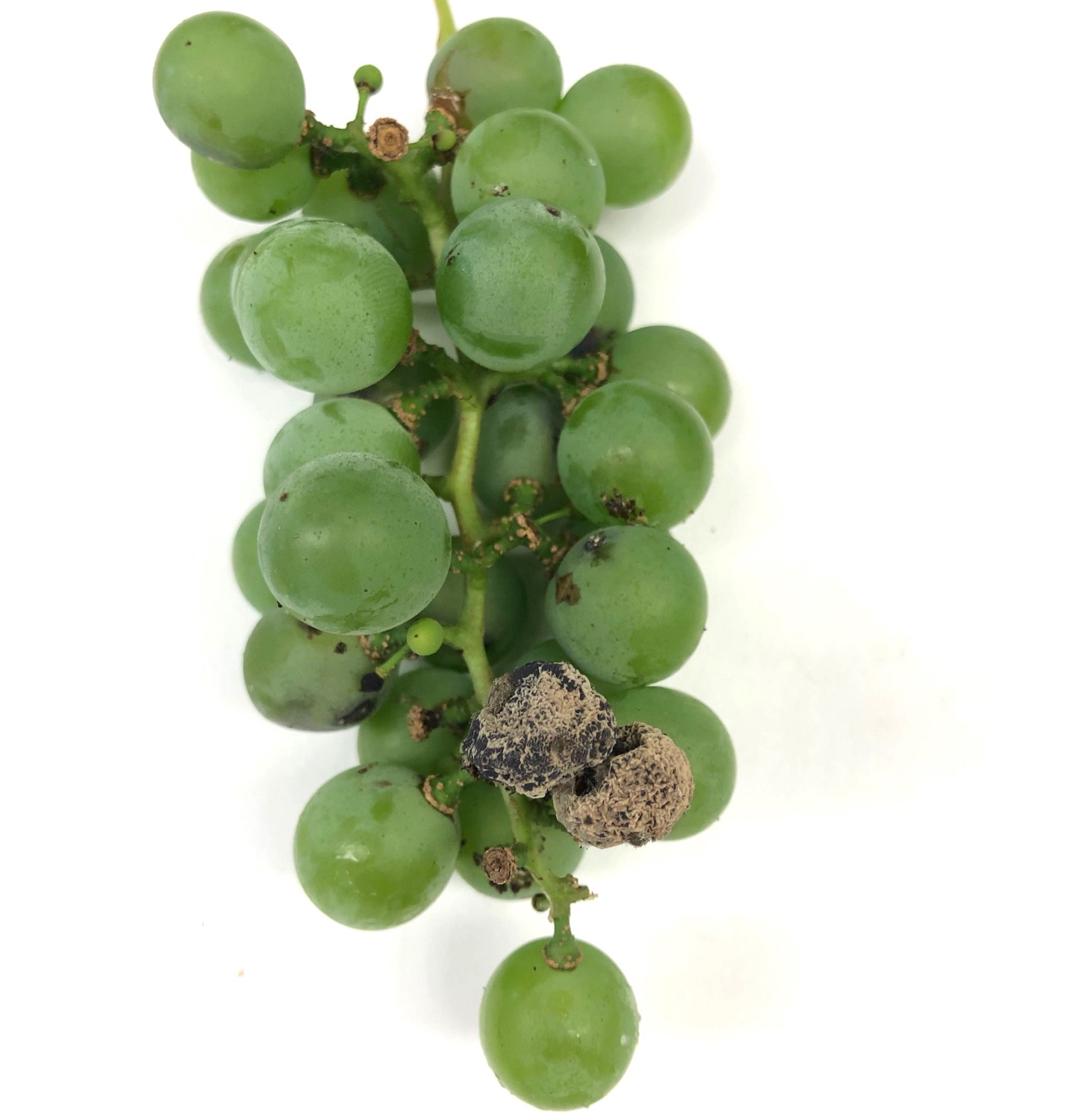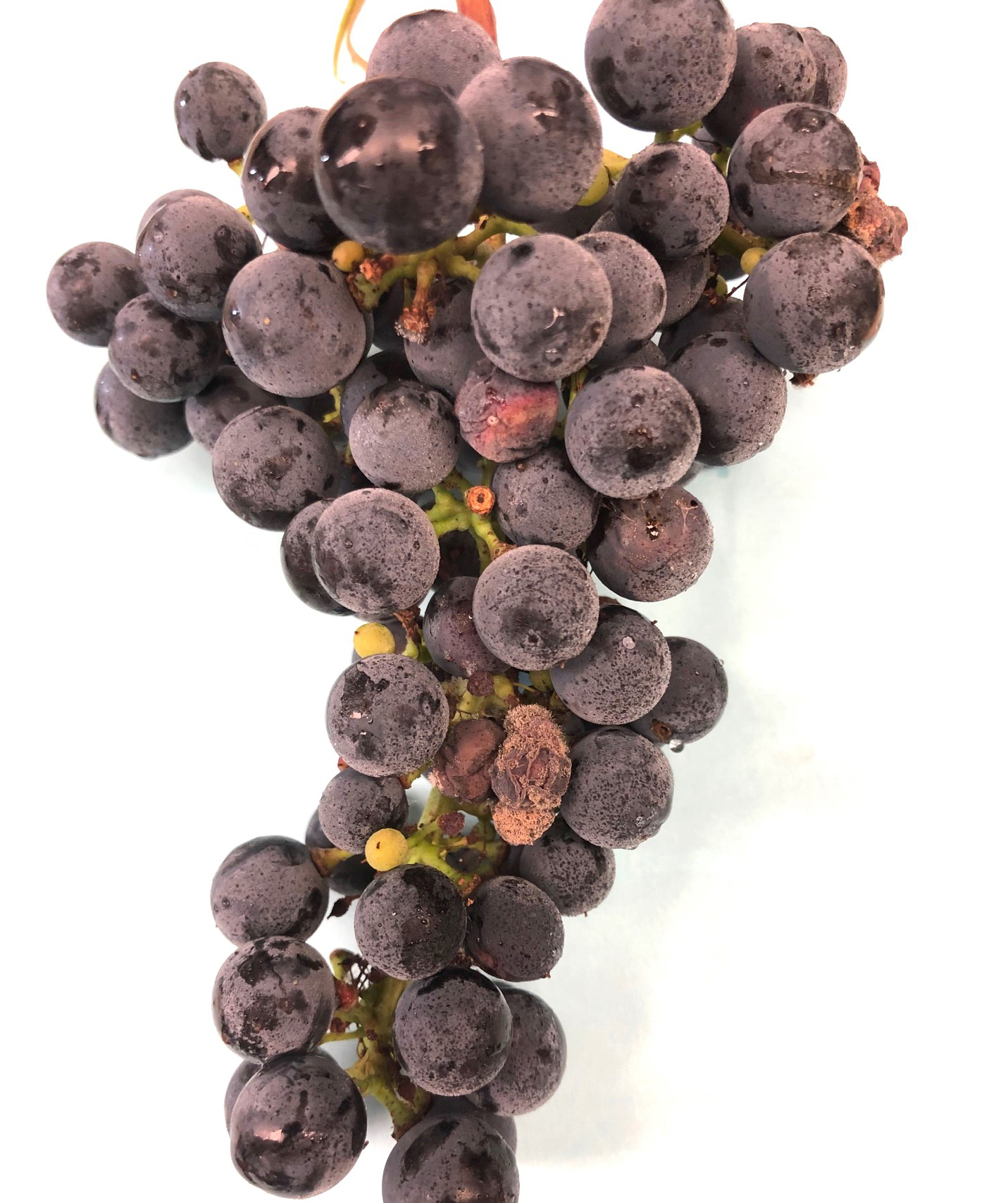 This report and associated scouting is funded by a Michigan Craft Beverage Council grant and by MSU's Project GREEEN. For more on MSU's grape IPM information, visit MSU Extension's Grape Pest Management page.