MSU vineyard IPM scouting report – July 31, 2019
Mid-season pest scouting indicates some developing issues and new pests developing.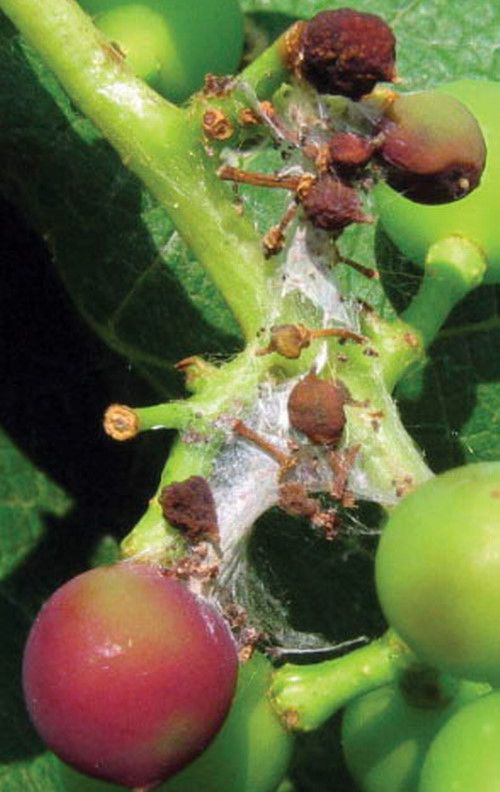 This is the fifth integrated pest management (IPM) scouting report we are sending out for 2019 based on visits to multiple juice and wine grape vineyards. This report will be available every other Wednesday throughout the growing season. There are various insect and disease issues that are highlighted below, and these vary in intensity from site to site and from southern to northern Michigan. This highlights the need to scout your own vineyards. At this time of the season, careful scouting is time well spent to catch any issues that might otherwise develop through the rest of the summer and cause issues with the harvest.
Insect report
In southwest Michigan, most grapes are in the berry touch and bunch closure growth stage, with some varieties nearing veraison. In this region, egglaying for the third generation of grape berry moth is expected to begin late next week (about 10 days). Third generation egglaying occurs 1620 growing degree days (GDD) base 47 degrees Fahrenheit after bloom of wild grapes. Note that this model predicts the start of egglaying by this pest, so long-lasting insecticides that are active on eggs and young larvae are most effective.
In general, this timing aligns with bunch closure, so if there are disease control applications applied at this timing, this is also a good time for use of an insecticide where there is grape berry moth pressure. In northwest Michigan, grape berry moth reached the point of second-generation egglaying just last week, and growers with a history of grape berry moth infestation should be managing for this pest. See the table below for approximate wild bloom dates in your county.
If you have been keeping an eye on wild grape bloom on your own farm, use the Michigan State University Enviroweather grape berry moth model to have a more precise prediction for control dates for either second generation or third generation grape berry moth.
Wild grape bloom dates by Michigan county for 2019

County

Date

Berrien

May 31

Van Buren

June 1

Allegan

June 4

Leelanau

June 18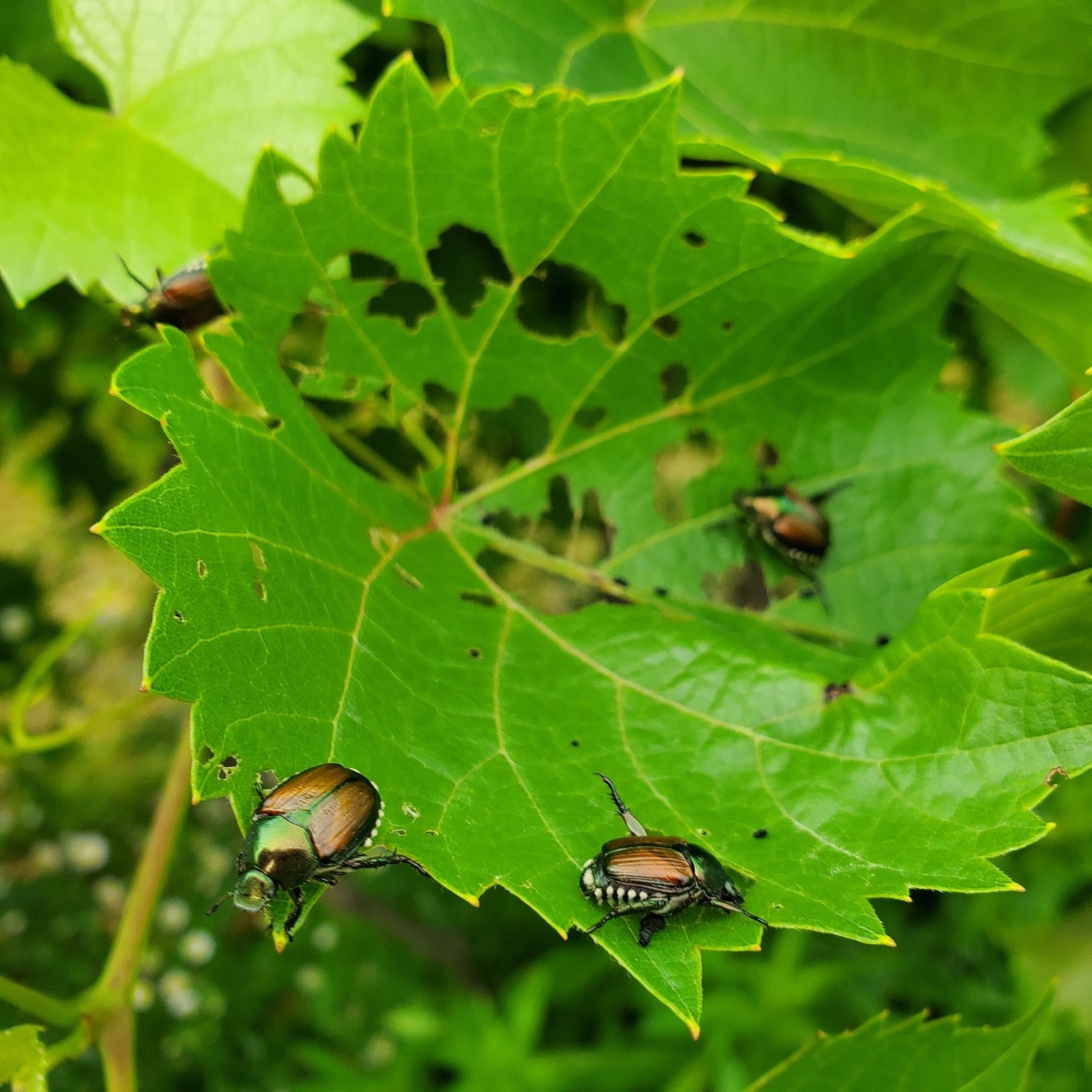 Japanese beetle adults and feeding damage on leaf shoots have been observed across the state and numbers will likely continue to increase over the coming weeks. These beetles feed on the upper surface of leaves and cause skeletonized damage (see Photo 2). Vinifera and hybrids are typically more susceptible to damage than juice grape varieties. Japanese beetle damage is of particular concern for young vineyards.
Leafhopper damage on leaves has been observed as well. In general, juice grape varieties are more tolerant to leafhoppers than wine grapes. Leafhopper feeding can cause leaf yellowing and cupping as well as reduced shoot growth. The most sensitive varieties are white vinifera, such as Pinot Gris and Chardonnay.
New galls on leaves indicate that another generation of Phylloxera is emerging. They can feed on roots or leaf tissue, forming protective galls around the feeding sites. This pest is typically managed through resistant and tolerant rootstocks, but highly susceptible cultivars can be greatly impacted by the leaves being affected. In these cases, early treatment to protect the canopy can prevent further expansion of this damage.
Injury on berries from early-season feeding from thrips has also been observed throughout south western vineyards. As the berries develop, the thrips symptoms become visible and are characterized by brown, elongated corky scars, sometimes causing the berry to crack and the seeds to protrude out of the fruit.
Brown marmorated stink bug and spotted wing Drosophila (SWD) activity has begun in vineyards, although grapes are not a preferred host for either pest and fruit are not susceptible until closer to harvest.
Disease report
Southwest and northwest Michigan were scouted since our last IPM update and in southwest Michigan, grapes are nearing veraison. In the southwest portions of the state, we are still seeing black rot and Phomopsis damage in the Lawton, Michigan, area (on July 29), but berries are currently becoming resistant to black rot infection. For more information about those diseases, please refer to our July 3 vineyard IPM scouting report.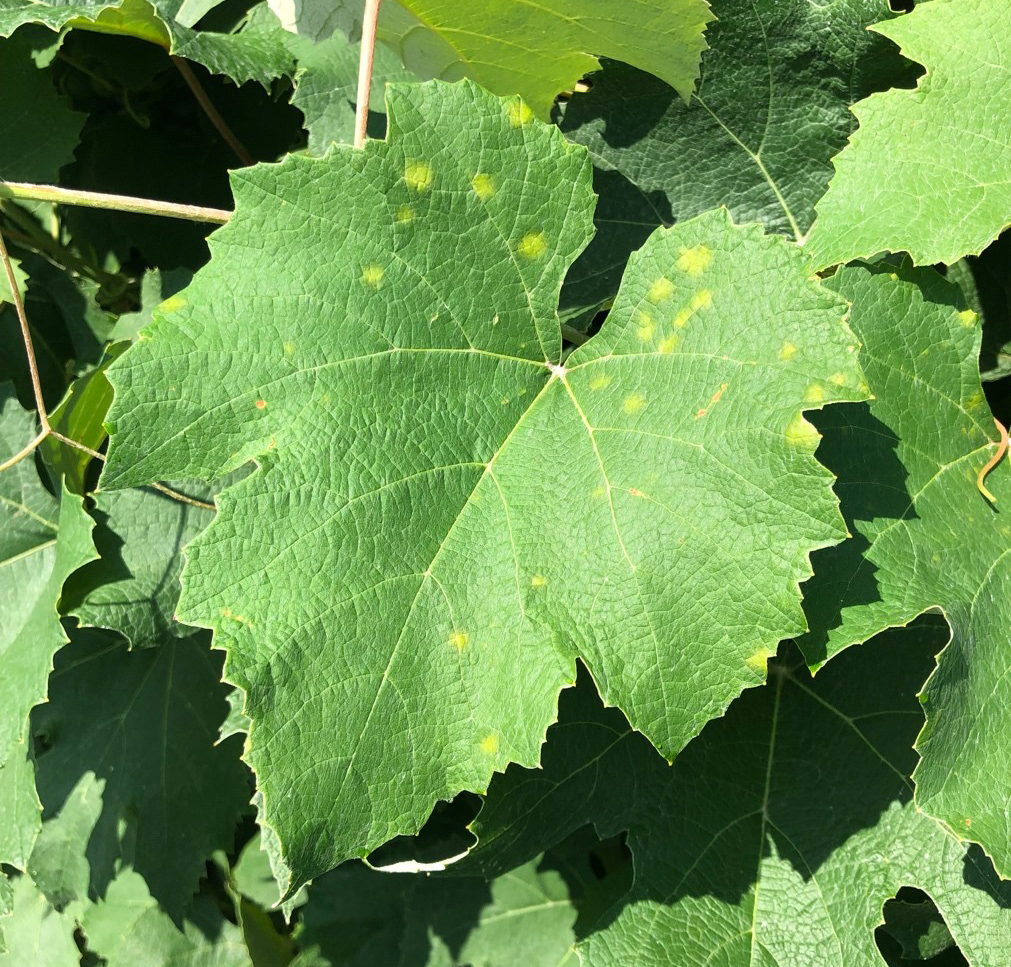 Since we are approaching veraison, growers may want to take this opportunity to get a fungicide active on botrytis into the interior of the fruit cluster to reduce the disease later in the season. Effective fungicides for botrytis control would be products within FRAC codes 7, 9, 11, 12 and 17.
We continued to see downy mildew development in the southwest portions of the state, and we saw significant development out our research station in Clarksville, Michigan, on Niagara grapes, which is typically one to two weeks behind the southwest part of the state (Photo 3). Furthermore, this week downy mildew was seen in Leelanau County on leaves and clusters (Photo 4). We have entered the summer season when we have heavy dews every morning and downy mildew can become a real problem. See our July 3 vineyard IPM scouting report about what can be done to control downy mildew at this time.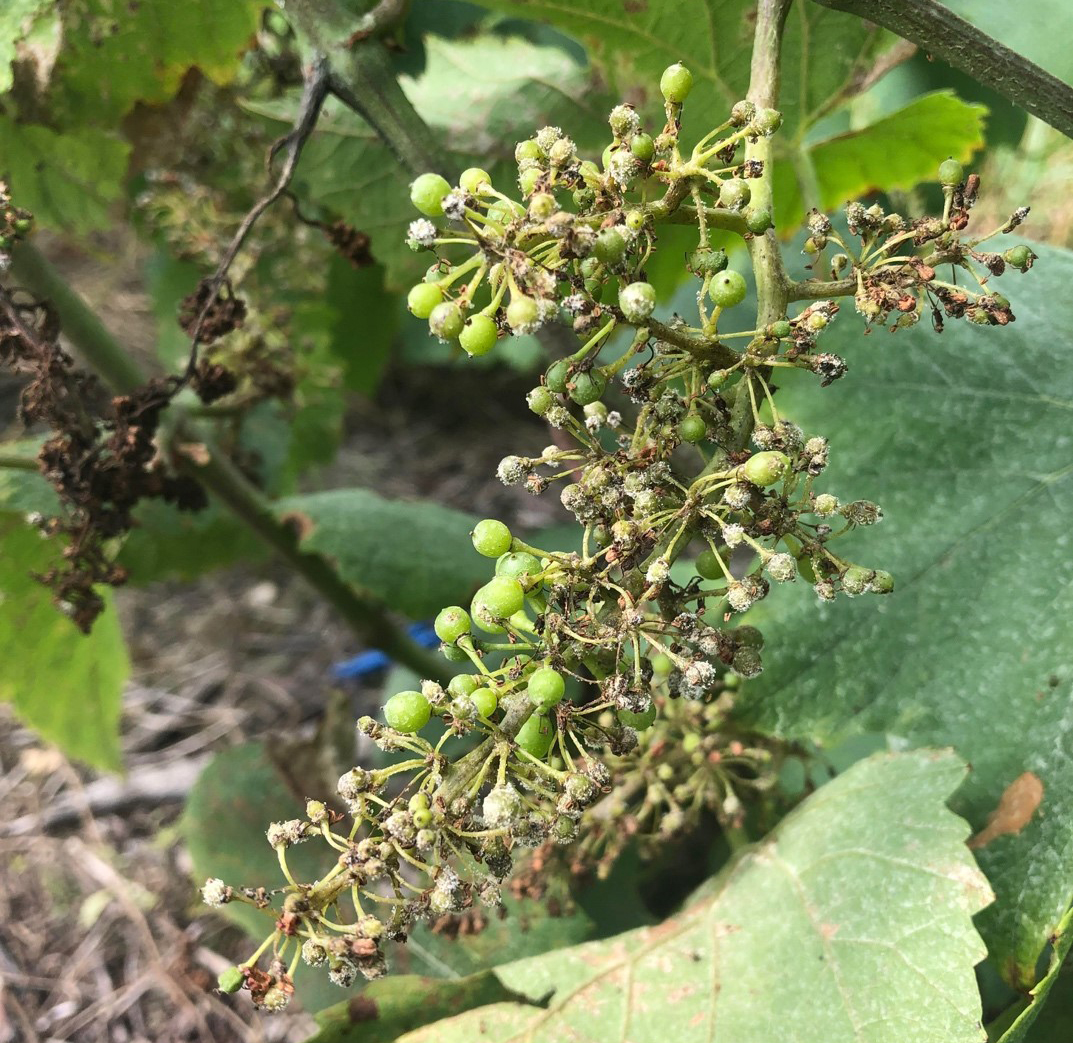 We have also received several samples into MSU's Plant & Pest Diagnostics for suspected grapevine trunk disease. Grapevine trunk disease is a highly complex group of diseases caused by many different fungal pathogens. In general, grapevine trunk disease pathogens are spread by air, rain droplets, arthropods and some can also be propagated through using infected cuttings. In this particular example, Phaeoacremonium, a known grapevine trunk disease pathogen, was isolated from a mature hybrid grape block causing vascular necrosis (Photo 5).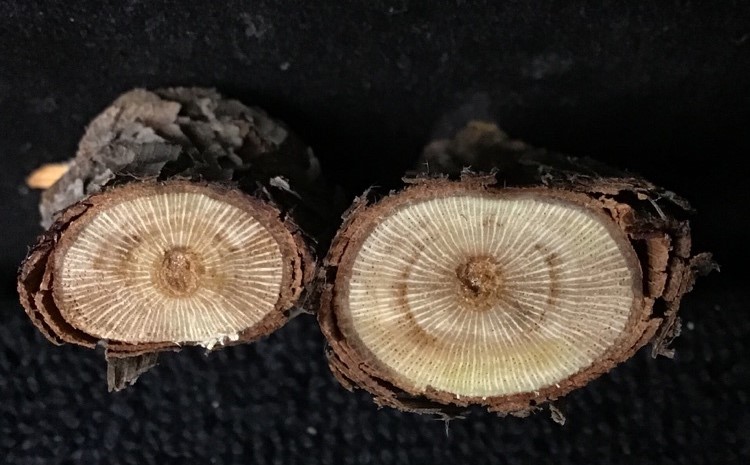 To manage grapevine trunk disease, please first confirm that your vines are infected by sending samples to MSU's Plant & Pest Diagnostics. For further management recommendations and how to take a sample, please refer to the MSU Extension article, "Do you suspect grapevine trunk disease in your vineyard?"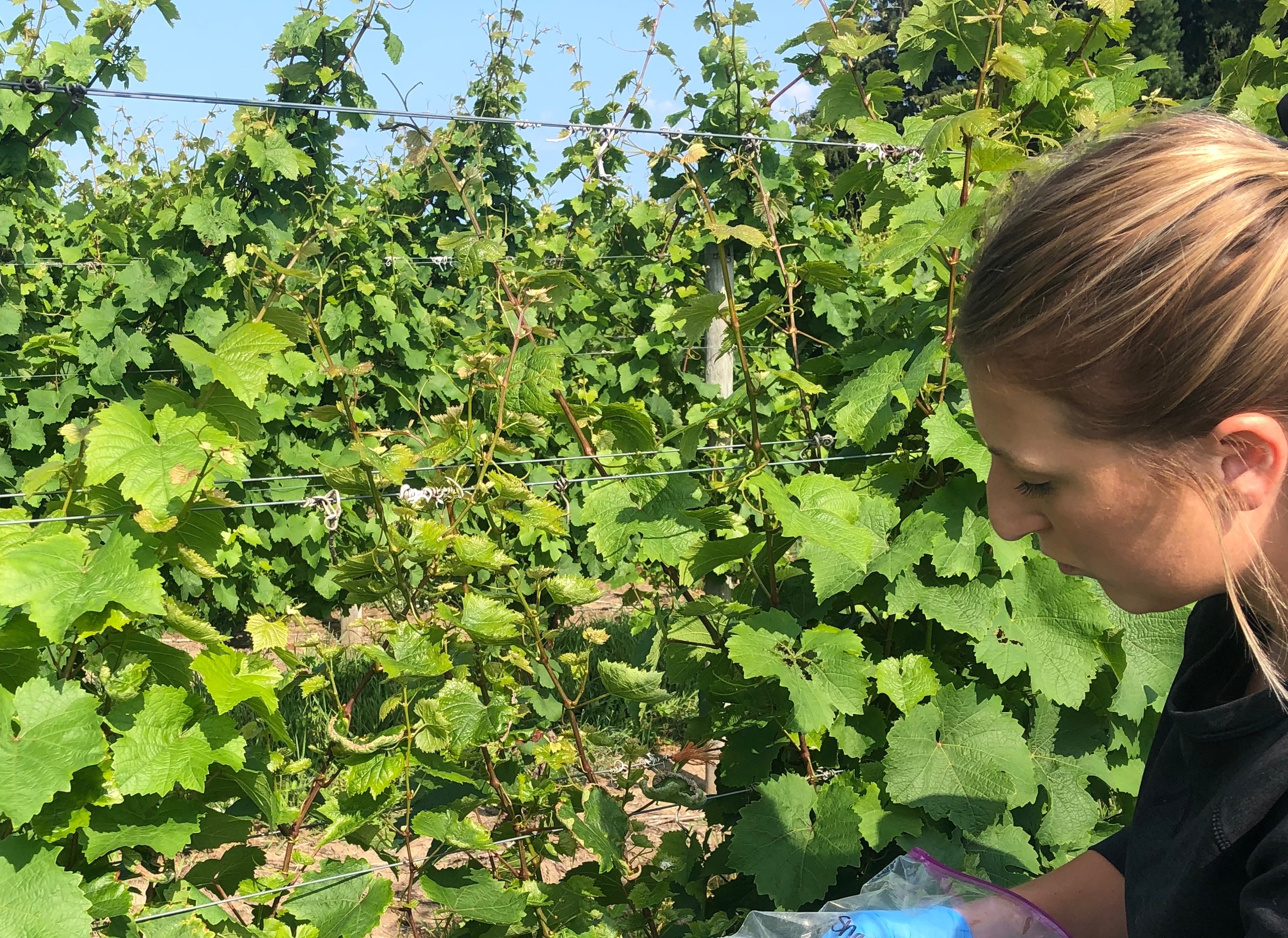 Finally, we have also been detecting various grape viruses throughout Michigan over the past few months. Grapevine leafroll-associated virus 3 and tobacco ringspot virus have been detected most predominately. During a northwest scouting, a symptomatic Riesling sample from Leelanau County was collected last week and processed at MSU's Plant & Pest Diagnostics (Photo 6). This vine was found to be positive for tobacco ringspot virus using a molecular detection assay (Photo 7).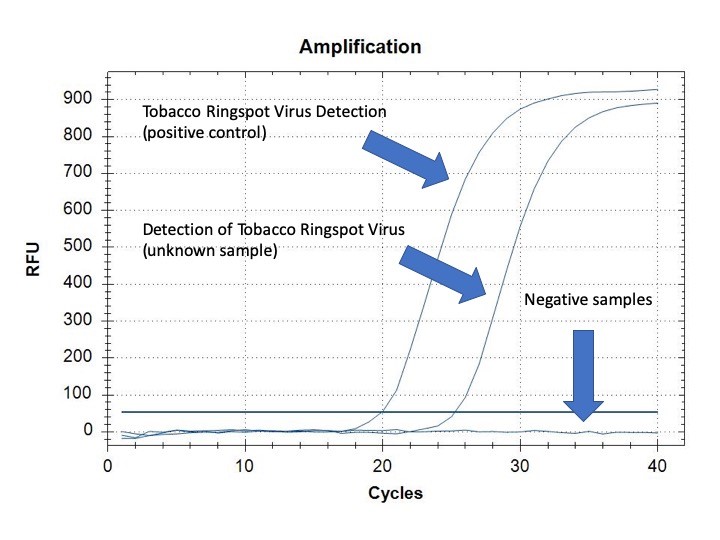 Tobacco ringspot virus is a serious virus and can cause substantial yield loss. Tobacco ringspot virus is vectored by the nematode Xiphinema americanum. To control tobacco ringspot virus, plant certified, disease-free vines and soil test prior to replanting to determine the presence of Xiphinema americanum. The optimal time to sample for these nematodes is spring and fall. Soil should be collected around the roots of their hosts and placed in plastic bags.
If you think you may have a virus in your vineyard, please refer to this article for sending samples in for testing: "Don't guess, get a test from MSU Plant & Pest Diagnostics."
This report and associated scouting is funded by a Michigan Craft Beverage Council grant and by MSU's Project GREEEN. For more on MSU's grape IPM information, visit MSU Extension's Grape Pest Management page.