MSU AgBioResearch scientist honored during ANR Week luncheon
MSU AgBioResearch scientist Weiming Li received a Distinguished Faculty Award at the ANR Week luncheon.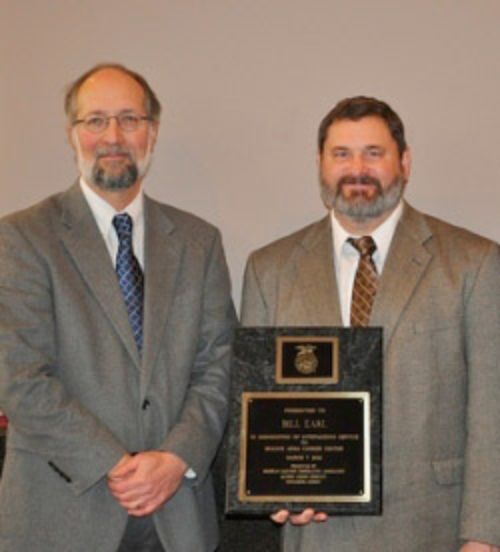 Michigan State University (MSU) AgBioResearch scientist Weiming Li is among those recently honored by the MSU College of Agriculture and Natural Resources (CANR) for their leadership in agriculture and natural resources at the community, state and national levels.
Lou Anna Simon, MSU president, and Douglas Buhler, interim dean of CANR, presented the awards to alumni, industry leaders, and faculty and staff members during the luncheon, which was held March 8 as part of the 97thannual ANR Week.
Li, a professor in the MSU departments of Fisheries and Wildlife and Physiology, was presented with the Distinguished Faculty Award. Li, a widely recognized scientific expert in fish biology, was recognized for his profound impact on science, his students and fisheries resources.
His work on sea lamprey biology has allowed for a better understanding of the invasive and highly destructive fish. Research from Li's laboratory identified a lamprey pheromone that not only provided a way of controlling this invasive species in the Great Lakes but also resulted in the award of a patent.
Li has helped management organizations develop effective and efficient Great Lakes fisheries integrated management systems. During the past 10 years, Li has collaborated with chemists and biologists at MSU and around the world. He has attracted many postdoctoral associates, students and visiting professors with diverse backgrounds and interests to join his laboratory.
A widely published researcher, Li received the first experimental use permit ever issued by the U.S. Environmental Protection Agency for the release of a synthesized vertebrate pheromone into the environment. He has worked to support the Great Lakes Fishery Commission and the National Institutes of Health.
Others honored at the event were:
Bill Earl, Branch Area Careers Center agriscience teacher, Outstanding Agriculture Educator Award.
Dennis L. Grinold, who runs a charter fishing operation from Grand Haven, Mich., Honorary Alumnus Award.
George A. Purvis, vice president of research and development at the Gerber Products Company, Outstanding Alumnus Award.
John M. Clark, chairman of the board for Clark Construction Co., Outstanding Alumnus Award.
Technical University of Dortmund (Germany), Distinguished Partner in Study Abroad Programs Award.
Mark Rey, Demmer scholar executive in residence at MSU, Distinguished Service Award.
The ANR Week luncheon is hosted annually by the CANR, MSU AgBioResearch, MSU Extension and the CANR Alumni Association, with support from Consumers Energy, DTE Energy and the Michigan Electric Cooperative Association.
Additional sponsors are the Corn Marketing Program of Michigan, GreenStone Farm Credit Services, the Michigan Farm Bureau Family of Companies, the Michigan Milk Producers Association, the Michigan State University Federal Credit Union, the MSU School of Packaging Alumni Association, Techmark, Inc., The Andersons, Inc. and United Dairy Industry of Michigan.