MSU history continues strong in Saginaw Valley and Thumb Regions
MSU's Saginaw Valley Research and Extension Center has provided research for the agriculture industry for more than 40 years.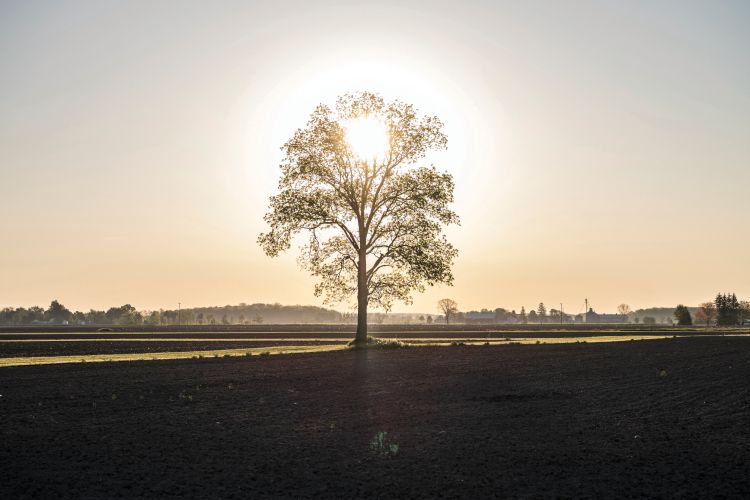 In 1901, Ab Stoutenburg started his family farm growing dry beans, sugar beets and other crops on 80 acres of land near the outskirts of Sandusky in Michigan's Thumb region. Today, 115 years and three generations later, the farm has grown to more than 1,000 acres. The road leading to the farm now bears the family name, and Clint Stoutenburg — Ab's great-grandson — carries on the family business.
The Stoutenburgs have been heavily involved with the industry over the years. Clint's father, Al, sat on the board of the Croswell Beet Growers Association. And Clint himself, once chair of the Michigan Bean Commission, continues to sit on the commission's research and promotion board. He also is on the U.S. Dry Bean Council's executive committee.
Clint believes that research is the major reason for the Michigan dry bean industry's prosperity and competitiveness nationally and internationally. Much of this work is conducted at the Michigan State University (MSU) Saginaw Valley Research and Extension Center (SVREC), situated northeast of Frankenmuth in the heart of the state's dry bean and sugar beet region.
"The technology that has been tested by the scientists at the research center – we use it every day in the field," Stoutenburg said. "Whether they're different bean varieties, seed treatments, chemicals or harvest equipment, they're all things that we need. That we rely on."
Michigan ranks as the largest producer of black beans in the nation and second largest for all dry beans behind only North Dakota. In 2014, Michigan farms produced nearly 327 million pounds of dry beans, valued at over $139 million.
A Legacy of Impact Through Research
Dry beans are known as a difficult-to-grow, high-risk crop. They require very specific growing conditions: temperatures between 64 and 75 degrees Fahrenheit and 20 to 25 inches of rainfall during the growing season. Consequently, most of Michigan bean production occurs in the Thumb and Saginaw Valley regions of the state.
SVREC was founded in 1971 on a 120-acre farm near Saginaw. The land was a joint purchase between the Michigan Sugar Company, the Michigan Bean Commission and the Michigan Bean Shippers Association. In 2008, it moved to its present location near Frankenmuth after the MSU Land Management Office purchased a 250-acre farm to increase research capacity. In addition to sugar beets and dry beans, SVREC scientists assist Michigan corn, wheat and soybean growers.
"Specialty crop industries such as dry beans don't have the resources that larger crops, like corn, have in the private sector," said Joe Cramer, executive director of the Michigan Bean Commission. "We rely on the university to provide the research that keeps cutting-edge technology in the hands of our farmers."
Much of that technology takes the form of improved crop varieties. MSU is home to one of the world's leading dry bean breeding programs under the stewardship of James Kelly, University Distinguished Professor in the Department of Plant, Soil and Microbial Sciences. Since 1982, Kelly's lab has produced 47 dry bean cultivars, many of which are grown widely throughout the state, the nation and the world. SVREC has served as the test site for the vast majority of them.
Paul Horny, SVREC coordinator for the past 32 years, has seen firsthand the positive impact that dry bean research has had on Michigan farmers.
"Without the research support we provide, farmers would have to test these new varieties themselves, risking large acreages and potential losses," Horny said. "Here at the center, we can screw up so they don't have to. About 95 percent of the varieties fail, and most farmers couldn't afford that."
In a given year, the SVREC researchers test approximately 2,000 potential varieties, paring that down over the course of two to three years and numerous trials until a new cultivar emerges superior in some way — whether in yield, canning quality or disease resistance — to those that came before.
"Farmers don't see some diseases, like dry edible bean rust, in the field much anymore because of the improved varieties we've developed," Horny said. "We're now working on doing that for other major diseases, such as white mold and common blight."
Greg Varner, research director for the Michigan Bean Commission and Michigan Bean Shippers, is responsible for coordinating the Michigan dry bean industry's research efforts and communicating goals with scientists. Working closely with Kelly and Horny, Varner plants the potential varieties that show the most promise in test plots to observe performance under practical conditions.
"You can't duplicate everything that you'll run into on a farm," Varner said. "We get better statistical data at the research center because of the greater control we have there, but taking the varieties to test on farms allows us to extrapolate that, as well as get them into the hands of growers so they can see whether the new varieties are relevant to their needs."
Steady, consistent development of technologies at SVREC has yielded real, practical advances for people like Greg Ackerman, a fourth-generation dry bean farmer and member of the Michigan Bean Commission from Vassar, Michigan. Ackerman recalls the state of the industry a decade ago, when nearly all dry beans were harvested by windrowing – a time-consuming practice of pulling crops and allowing them to dry in the field before gathering and bundling. Today, the dry bean harvest looks much different, thanks to SVREC advancements.
"We can directly harvest beans in the field now, and that's all thanks to new technology from the research center," Ackerman said. "A few people tried it earlier, but none of them did it right. It doesn't work unless you have the right equipment and varieties, and the scientists at the center found the right combination to make it work."
A Continuing Partnership
The close relationship between the Michigan dry bean industry and SVREC researchers has yielded a rich body of practical knowledge and a partnership that will continue to serve the needs of Michigan agriculture into the future.
Last year, Michigan's dry bean and sugar beet industries collected $1 million in donations to build a new 11,000-square-foot Agricultural Education Center at SVREC. The new facility, home to a 250-person meeting room, a 50-person classroom, on-site offices and multipurpose reception space will be a key hub for industry, research and outreach.
For Stoutenburg, that means a better equipped, more informed future generation of Michigan dry bean growers. He envisions a day when MSU instructors will be able to hold classes for students from the area, whether in person or through digital communication.
"One of the main functions of the research center is to keep education easily accessible for everyone," Stoutenburg said. "Not every kid on a farm in Michigan is going to be able to go to MSU to take college courses. But if we make courses available close enough to home, we could reach more people than ever before. To me, that's really important, and that's why our farm contributed to funding the new facility."
The new facility is central to Horny's vision for SVREC. He said opportunities to host training workshops, industry gatherings and conventions, 4-H events and Master Gardener courses are just some of the possibilities.
"The industry came together and raised the money for the facility, and they've given us this great opportunity to improve our ability to work with and educate farmers at all levels," Horny said. "My goal is to provide people with as many ways to reach people as possible, whether that means providing space for in-person meetings and courses or the technology for distance learning and digital communication."
The new facility is another step in a long history of cooperation.
"An industry that doesn't invest in research will stagnate and ultimately disappear," Horny said. "Our partnership with the dry bean industry in Michigan has helped the crop group remain not only competitive but a leader in the nation. And we're going to continue that work."
Like so many other things, that is a sentiment echoed by the farmers.
"The Saginaw Valley research center isn't just a facility for MSU faculty and students," Stoutenburg said. "It's an agricultural research facility that we're lucky to have right here in our own backyard. It's the perfect place, it's in the perfect location, and it has everything we need to keep going and keep farming."
This article was published in Futures, a magazine produced twice per year by Michigan State University AgBioResearch. To view past issues of Futures, visit www.futuresmagazine.msu.edu. For more information, email Holly Whetstone, editor, at whetst11@msu.edu or call 517-355-0123.