MSU scientist looking at fatty acids to stop stunting, poor cognitive development
MSU AgBioResearch scientist Jenifer Fenton is studying the relationship between malnutrition and essential fatty acid deficiency.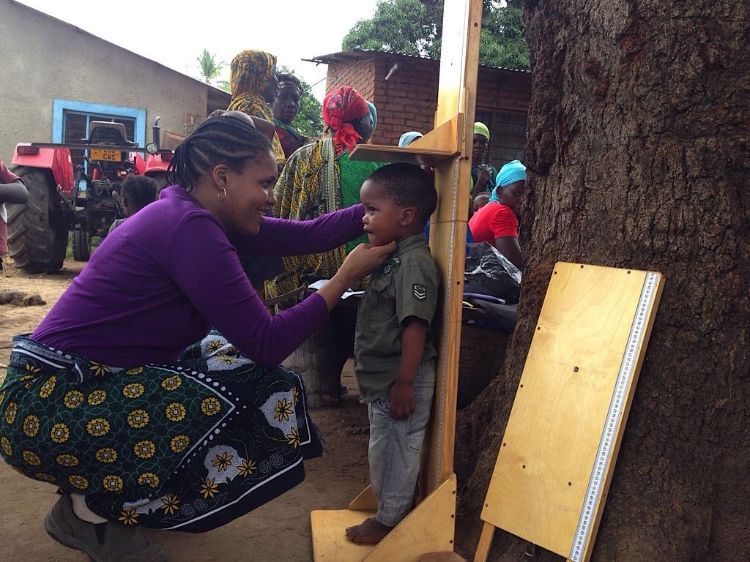 An expert on human nutrition at Michigan State University (MSU), Jenifer Fenton knows the harsh consequences of malnutrition. Some of her ongoing work is in Africa, a continent where 40 percent of children are stunted and nearly 20 percent are underweight, and more than half of the deaths are from nutrition-related illnesses. The effects of poor access to food, especially nutrient-rich foods, are devastatingly apparent throughout this expansive continent.
Fenton, an associate professor in the Department of Food Science and Human Nutrition, said that there is an abundance of research in developing countries examining the impacts of iron deficiency and carbohydrates, but not much has been done on essential fatty acids. These are necessary fats that are not naturally produced in the body.
"We did some background work and found that very few people are studying whether children in developing countries are deficient in essential fatty acids," she said. "Those are fatty acids that are not synthesized by the body. We can't make linoleic acid, an omega-6 fatty acid, and alpha-linolenic acid an omega-3 fatty acid. Those have to be consumed."
When an opportunity arose to participate in a collaborative human nutrition research project on fatty acids in Tanzania, an African coastal country of more than 50 million, Fenton quickly threw in her cap.
A Worldwide Reach
With a passion for health and problem solving and a plan to go on to veterinary school, Fenton acquired her bachelor's degree in animal science. But a study examining how calorie-restricted diets influence reproduction in livestock prompted her to change from medicine to nutrition.
She received both her master's degree and doctorate in animal science with an emphasis on nutrition. Eighteen months of postdoctoral research work later, she was accepted into the prestigious Cancer Prevention Fellowship Program at the National Cancer Institute, where she also obtained a master's degree in public health.
Shortly after joining MSU as a faculty member, Fenton built connections with colleagues at the Innovative Agricultural Research Initiative (iAGRI), a U.S. Agency for International Development-funded program exclusively operating in Tanzania. Managed by the Ohio State University, iAGRI is a partnership among Tanzanian institutions, food security cooperatives and six U.S. land-grant universities, including MSU. Through the program Fenton met Theresia Jumbe, an iAGRI student from Tanzania interested in nutrition.
Not long after, Jumbe began to pursue her doctorate at MSU under Fenton's guidance. Together, they embarked on a project to explore the role of essential fatty acids in growth and cognitive development of 2- to 6-year-old children in the village of Rudewa Mbuyuni in Kilosa, Tanzania. To get a baseline of essential fatty acid levels, blood samples had to be gathered from the 334 children in the study.
Using a finger prick, the researchers collected a drop of blood from each child on an antioxidant-treated card. The cards were sent back to the United States and examined by William Harris, a professor of medicine at the University of South Dakota.
"One of the reasons this research is unique is that it's more challenging from a technical standpoint than work on other health problems," Fenton said. "The equipment used in gas chromatography analysis is expensive, and the work is time-consuming relative to some of the other routine blood measurements, so we're especially thankful to Dr. Harris."
Results showed that more than 23 percent of the children were experiencing preclinical essential fatty acid deficiency, more than 30 percent were stunted and 13 percent were underweight – all according to World Health Organization standards.
Matthew Pontifex, an assistant professor in the MSU Department of Kinesiology, was then tapped to assess the cognitive skills of each child in the study. An expert in neurocognitive kinesiology, Pontifex helped the team employ a method called the dimensional change card sort test, a tool that measures brain functioning.
Children were asked to sort a set of cards according to specific criteria. As the test advances, the difficulty increases. Researchers determined that children who had higher whole blood levels of essential fatty acids were three to seven times more likely to successfully complete all tasks than those with lower whole blood essential fatty acid levels.
"Tanzanian diets are mainly starchy and cereal-based, with the intake of fats below recommended levels," Jumbe said. "Tanzania is home to several seeds, nuts and oils, but the fatty acid profiles and mineral levels of these foods are poorly described."
Much of the fats and oils in American diets come from animal foods and refined oils, which are expensive compared with plant-based ones. Though Fenton and Jumbe did not perform a thorough diet analysis of individuals in the village, they conducted surveys to determine the most common foods. The research group found that pumpkin seeds, soybeans and various oils – common to the region — could provide the needed essential fatty acids. They intend to eventually provide residents with ways in which they can incorporate these types of foods into their diets.
After the completion of the initial stages of the project, Jumbe graduated with a doctorate in human nutrition from MSU. She is the first woman from the iAGRI program to earn a Ph.D. She now works on the faculty at Sokoine University of Agriculture in Tanzania.
A similar initiative is set to begin in Ghana this year led by Mary Adjepong, a student of the Borlaug Higher Education for Agricultural Research and Development program at MSU.
"Essential fatty acid deficiency is an obvious issue to most of us who do nutrition research," Fenton said. "Our hope is that, through the Tanzania findings and our next work in Ghana, we can show that this is a significant challenge that requires our attention."
Sarah Comstock, assistant professor in the MSU Department of Food Science and Human Nutrition; Eric Crawford, professor in the MSU Department of Agricultural, Food and Resource Economics; and Joyce Kinabo, associate professor at Sokoine University of Agriculture, also contributed to the Tanzania project.
This article was published in Futures, a magazine produced twice per year by Michigan State University AgBioResearch. To view past issues of Futures, visit www.futuresmagazine.msu.edu. For more information, email Holly Whetstone, editor, at whetst11@msu.edu or call 517-355-0123.