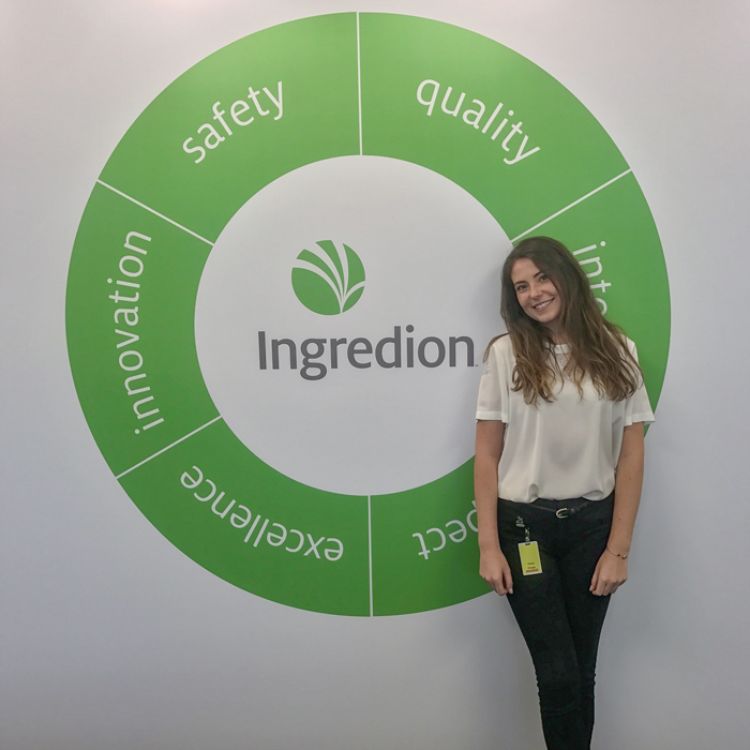 Working in the food industry doesn't always mean you're on a farm, in a grocery store, or on a production floor. In fact, for Food Industry Management (FIM) senior Fiona Muegge, it means solving internal problems at Ingredion Incorporated, a Fortune 500 ingredient manufacturing company, so her teams can operate more efficiently and deliver the highest quality food and experience to their customers.
"What seems like really simple things can actually have a big impact on operations here," said Muegge. This summer, Muegge worked in the Customer Service wing of Ingredion with the Logistics, International Compliance, and Pricing teams as the company's first Customer Support Intern.
"I work with customers to satisfy their needs whether it be putting in their orders, communicating issues with different departments, sending out technical documents about our products, making sure there is sufficient inventory for specific products, or figuring out delivery details for logistics."
Among her daily duties, Muegge worked on several projects that would create a lasting imprint on her teams. "Our Sweetener and Specialty Customer Service team was printing off 1,500 pages per day," said Muegge. "And I helped work on a solution to reduce the time spent and resources wasted by this massive amount of printing for things like orders, forms, and emails."
Muegge and her team decided that an online workspace would be the best way to limit internal printing, and created custom notebooks and spaces for the team's needs. "Now, they only print about 100 pages a day," said Muegge. "And all our information is contained in one place, which has saved a ton of time already."
Landing the inaugural Customer Service internship role was dependent on Muegge's people skills, which she exercised at the MSU Diversity Career Fair. "The Director of Customer Service at Ingredion is an MSU alumnus, and after waiting in a long line to speak with him, it was a casual and genuine conversation about my previous experience and leadership skills with lots of laughter in between." Two weeks later, Muegge was invited to the global headquarters for an in-person interview and received the position not long after that. "Now every time the director walks past me at the office he yells 'Go Green!' and I'll reply with 'Go White,'" said Muegge. "It's something I love about being a Spartan outside of Michigan."
Muegge hopes to continue creating small but impactful changes during her career, and during her last year on campus. As the Food Marketing Association's Vice President of Membership, she hopes to get more people involved as there will be more events coming up to help people in our program prepare for professional events.
Graduating in May, Muegge wants to create those lasting impacts on the food industry, but also enjoy her time her on campus before finding new opportunities. "My classes and internships have taught me so much, but the MSU experience taught me more," said Muegge. "'I've learned that trekking across campus in a blizzard makes you appreciate when the sun shines."