MSUAFRE student Elissa Mutschler has received the 2018 American Degree from the National FFA Organization, one of the organization's highest honors.
Elissa Mutschler, a junior in the Agribusiness Management (ABM) program, has received the 2018 American Degree from the National FFA Organization — an honor received only after extensive work, commitment, and service over several years.
One of 58 students from Michigan to receive the degree this year, Mutschler joined a record-breaking group of 4,255 national FFA members obtaining the 2018 honor. The degree was awarded at the National FFA Convention & Expo on October 27, 2018 in Indianapolis, to less than one percent of FFA members. It is one of the organization's highest honors.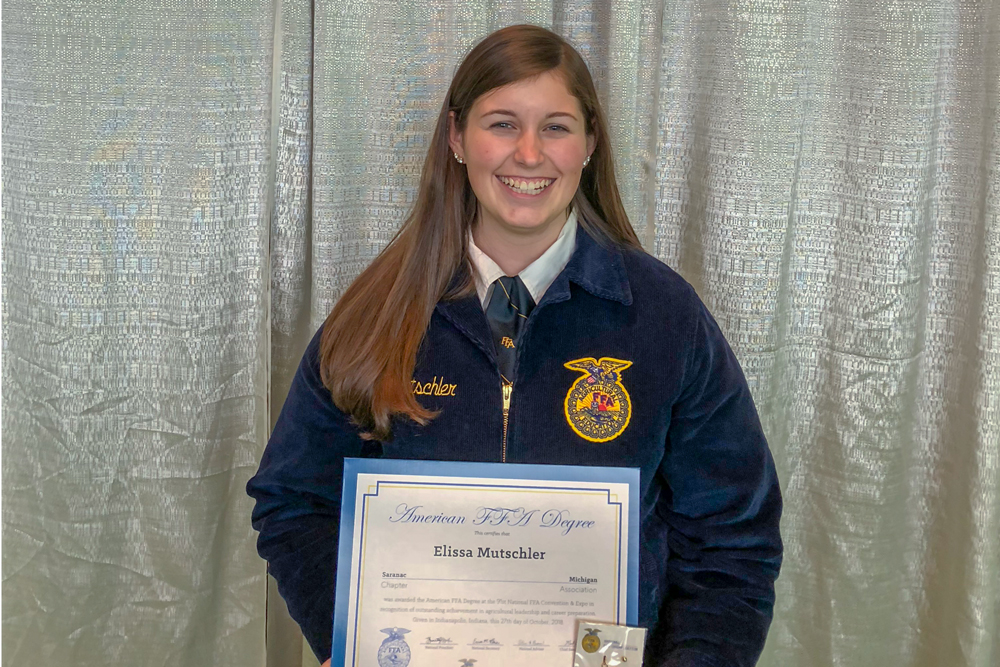 "To be able to finish my FFA career with the highest achievement that a member can receive was really important to me as I was getting closer and closer to the end of my time in the organization," said Mutschler. "I also got to show what a great FFA chapter we have in my hometown, even though it isn't very big."
Originally from Saranac, Michigan, Mutschler became interested in agriculture from family friends who owned a dairy farm. In sixth grade, she started showing animals at the county fair, and joined FFA as soon as she was able to. There, she became heavily involved in the local agriculture community, and gained friends and mentors through her FFA advisors.
"My advisors have had such a large impact on my life that I don't know where I would be in life and my career if I didn't have them or FFA," said Mutschler. "They were amongst the people who recommended ABM at Michigan State and told me what my career could look like with that degree."
Beginning just last fall in 2017, Mutscher has excelled in the Department of Agricultural, Food, and Resource Economics (AFRE), thriving in courses and helping to lead NAMA, the National Agri-Marketing Association.
"From the various clubs that AFRE offers to the connections that I have formed with faculty and students, I have truly found my home here in the AFRE department — and I don't know if I could have found that somewhere else," said Mutscher.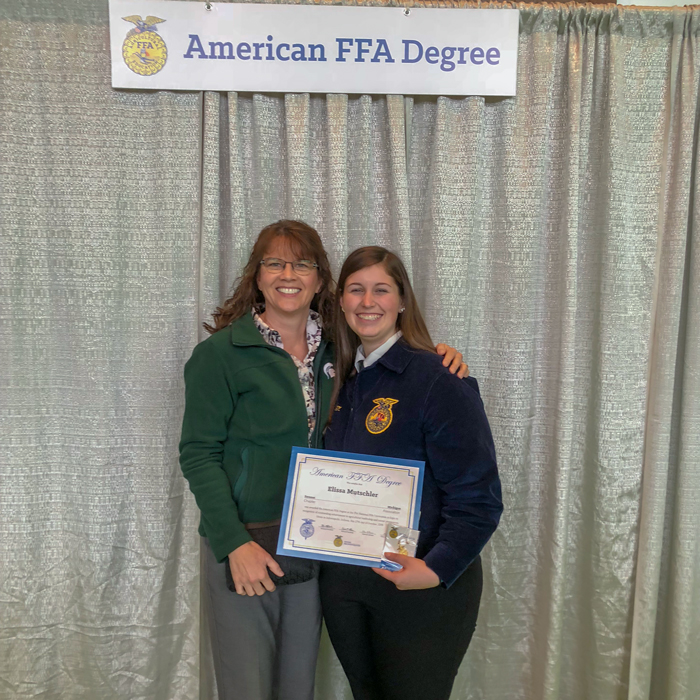 Mutschler with one of her FFA advisors
Off campus, Mutschler has worked for Harvey Milling Co. as an intern within the greenhouses and farm-retail store, and this year, will work with AgroLiquid in St. John's, Michigan. "I'm really excited for my internship as a sales and marketing intern, and can't wait to learn more about the industry this summer," said Mutscher. "I will also be traveling for part of my internship so I'm really excited to learn more about agriculture across the United States."
Though she's still got a few more years in East Lansing, Mutschler hopes to do big things with her accomplishments — from finishing her degree in three years to continuing to help others in an industry she's passionate about.
"I want to work with farmers and be able to communicate their needs as a business and as people who do so much for our world," said Mutschler. "I'd also love to teach — I want to help educate the general public about agriculture, how many job opportunities there are in the industry, what it does for the world."
Learn more about the ABM program and our undergraduate leaders.