New Grains for Brewing and Distilling Virtual Happy Hours this Thursday
MSU Extension invites you to our new Grains for Brewing & Distilling Virtual Happy Hours every Thursday from through Nov. 19, 2020.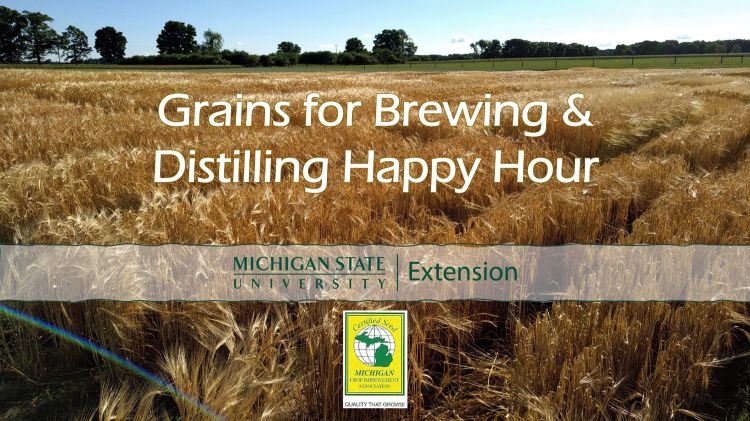 For those who have the privilege of working with barley, rye and other small grains for malting and craft beverage production, the opportunity to invite everyone to an in-person, on-farm field day is the highlight of the summer. Michigan State University Extension small grains for craft beverages team thoroughly enjoys presenting our work, giving and receiving updates from valued colleagues and coming together to share our thoughts, a meal and maybe even a craft beverage.
As we pivot and adjust to doing things differently, instead of traditional field day gatherings we would like to introduce our eight session series of virtual gatherings: Grains for Brewing and Distilling Virtual Happy Hour. We have eight episodes planned that will each focus on a specific topic with video recordings made available after each meeting:
Each Virtual Happy Hour will include 30 minutes of presentations from MSU researchers and industry leaders, then 15 to 30 minutes of open discussion with the beverage of your choice. Short, sweet and thirst quenching!
This week's episode will be Thursday, Oct. 22, at 3:30 p.m. EST. We'll look at grain quality evaluation. It can be a "dry" topic (pun intended), but we'll have a lively chat with Aaron MacLeod of the Center for Craft Food and Beverage at Hartwick College; Nicole Shriner, who heads the Fermented Beverage Technology program and analysis lab at MSU; and Christian Kapp, who leads the MSU Quality Lab at the Upper Peninsula Research and Extension Center. Join us to find out why quality assurance and quality control are so critical from farm to glass!
Subscribe and Join in on the Grains for Brewing and Distilling Virtual Happy Hour