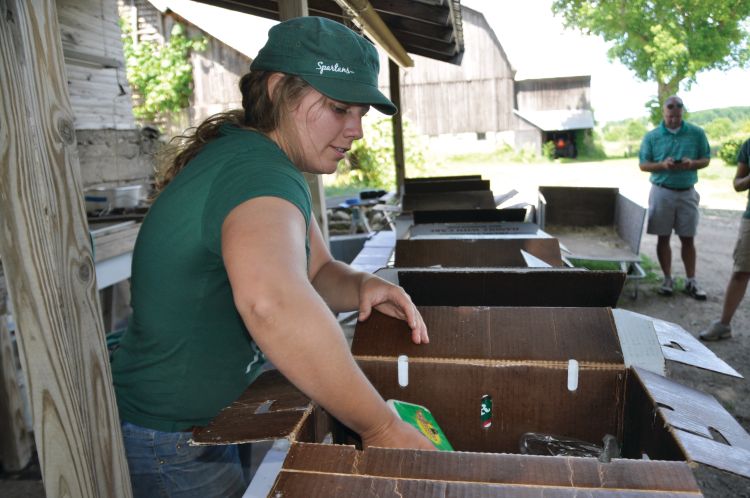 EAST LANSING, Mich. – The Michigan State University (MSU) Institute of Agricultural Technology (IAT) will offer a new certificate program in Food Processing, Technology and Safety in partnership with community colleges starting in the fall 2019 semester.
The new program will prepare graduates to safely operate and maintain equipment-processing systems in order to meet industry needs for a trained and skilled workforce. Graduates will earn both a certificate from MSU and an associate degree from a one of the participating Michigan community college partners.
Students can participate in the new food processing program at MSU in East Lansing, as well as at IAT partner locations Muskegon Community College in Muskegon and Northwestern Michigan College in Traverse City. The on-campus MSU IAT program partners with Lansing Community College to offer an associate degree.
Kellogg Community College in Battle Creek will also offer the program pending final approval by the Higher Learning Commission.
IAT Director Randy Showerman, Ph.D., said this new program would expand access to specialized training programs that assist employers in hiring skilled food processing employees.
"IAT is celebrating its 125th anniversary this year while at the same time expanding opportunities for industry growth and workforce development in Michigan," Showerman said. "The recent addition of the Bay College partnership in Escanaba and now the new Food Processing, Technology and Safety program shows the MSU's commitment to Michigan agriculture and the food industry."
MSU students and faculty from the departments of Food Science and Human Nutrition (FSHN) and Biosystems and Agricultural Engineering finalized plans for three mobile food processing labs that will travel between the different program locations. One of the mobile labs is in development now and will be completed in the fall.
FSHN is also supporting updates to its current on-campus food processing lab. Read more on the MSU mobile food lab and on-campus food processing lab updates.
"We are eager to expand the options we have to prepare individuals to take on positions in the food industry," said Nancy Turner, Ph.D., professor and chair of FSHN at MSU. "The two-year program curriculum gives students classroom, laboratory and hands-on training that will provide essential job skills needed to flourish in the food industry. Additionally, if interested students have the option to transfer to MSU to earn a bachelor's degree."
IAT Program Coordinator Clarence Rudat will be involved with the IAT Food Processing, Technology and Safety program at Muskegon Community College.
"Students will receive training on the latest innovative equipment along with have experiences in implementing food safety protocols required for the Food Safety Modernization Act," Rudat said. "These experiences will prepare them for mid-level management positions in a variety of food processing industries."
Learn more about the Food Processing, Technology and Safety program. Interested students should apply to the IAT by Aug. 9 for the fall 2019 semester.
Related Articles