Choice Modeling, Grocery Stores, and Global Impact from David Ortega
Assistant professor David Ortega tackles pressing retail and agricultural issues around the world, with the help of MSU, AFRE, and prominent economics methods.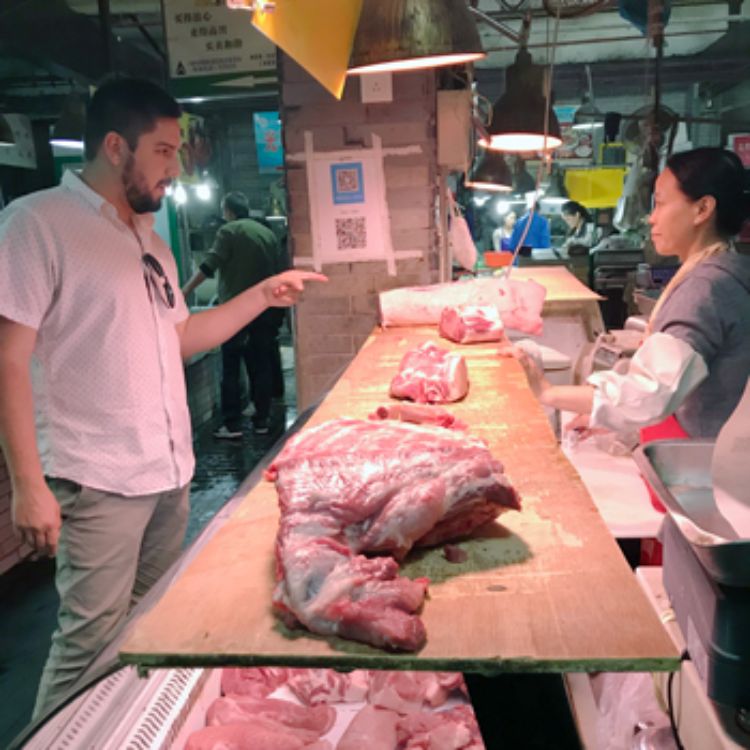 The supermarket is David Ortega's research come to life — and it's his playground.
The Agricultural, Food, and Resource Economics (AFRE) assistant professor says, "You can learn a lot about customers and producers from what grocery stores are selling, where they're displaying certain items, and what shoppers are drawn to."
Grocery store roaming is only a small portion of what fuels Ortega's research and fills his days. Most of them are spent applying choice modeling and preference elicitation methods to pressing food issues around the world, that impact both consumer and producer decision making. In the nearly five years since being hired at Michigan State University, Ortega's research projects have ranged from evaluating farmer adoption of drought tolerant rice in South Asia, to understanding how local Michigan consumers value animal welfare, to reviving the coffee industry in Rwanda.
International Research
Most recently, Ortega has been working with the African Great Lakes Region Coffee Support Program team within the Food Security Policy Lab for three years, with the role of better understanding farmer incentives, motivations, and barriers to supplying the specialty coffee market.
"Our main goal on this coffee project is to increase coffee farmer productivity as well as increase coffee quality," says Ortega. "That combination will increase demand and prices for Rwandan coffee, and will eventually improve the welfare of thousands of farmers."
In between international trips to get hands-on interaction with his research, Ortega is in Agriculture Hall working and collaborating on several projects. With choice modeling and pork (domestic or international) at the center of most of projects, Ortega has studied farmer behavior and how they adopt new practices and technologies, how the Chinese market can present market opportunities for local US producers (which got him on Stateside!), and how drought-tolerant seeds bundled with weather index insurance could help those in South Asia, a project he has been working on with collaborators at the International Food Policy Research Institute.
Engaged at AFRE
On top of his research, Ortega also teaches two classes in AFRE, Food Marketing Management, and Retail Information Systems, both focused on real-world applications. Ortega likes to bring knowledge and examples from his research into the classroom, and present items like an $11.99 bag of coffee from Costco, that originally was purchased from the farmer in Rwanda for 50 cents. This example and others that Ortega brings showcases important steps on the value chain from farm to table, and can illustrate how things going on internationally, say in Rwanda, can affect your grocery shopping in Michigan.
One of the reasons why Ortega is able to work on the projects he does is the room for collaboration AFRE and MSU provide.
"I've had a lot of support to pursue exactly what I've wanted, and gotten to collaborate with our faculty members, researchers from different areas within the college and even those outside the college and university," says Ortega. That flexibility has allowed Ortega to apply his methods to industries he wouldn't have thought of, and together with other researchers, has written papers and made impactful contributions to areas outside the normal scope of agricultural economics.
Ortega plans to continue pursuing projects that see significant effects locally, regionally, and internationally. His work covers a whole range of themes in various places, but what ties them together are his methods and his end goals.
"Most of my work has the overarching goal of making people's lives better," says Ortega. "That's when I'm most proud of my work, when people are positively impacted by my research and have easier access to safe food or have an increased quality of living."
Learn more about Ortega and his work at afre.msu.edu/people/ortega.