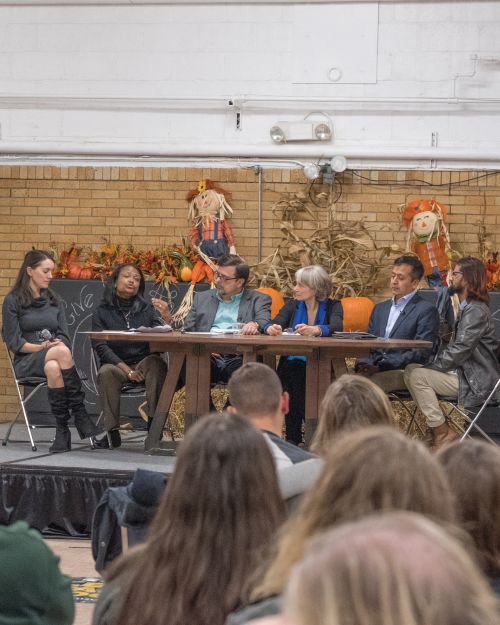 Food access was the topic of lively conversation as Michigan State University (MSU) hosted its first "Our Table" event on Nov. 16, the Thursday before Thanksgiving. More than 100 guests from the local community and MSU attended the event held at Cristo Rey Community Center, 1717 N. High St. in Lansing. Attendees were encouraged to donate to their local food pantry or to Cristo Rey.
Joseph Garcia, executive director of Cristo Rey Community Center, said access to healthy, affordable food is something most take for granted, but it's a real concern for many.
"Food is a big part of what we do here (at Cristo Rey)," said Garcia. "We need to make connections between better eating and improved health to lessen the likelihood of people getting sick. I hope this event will be the start of MSU and Cristo Rey Community Center working more closely together to make important impacts like these."
In addition to Garcia, "Our Table" panelists were:
They sat at a wooden table made from fallen MSU campus trees crafted for this initiative. It was created by artist Nathan Shaver who works with MSU Shadows, part of the Department of Forestry.
Sheril Kirshenbaum, a science communicator and author of "Unscientific America: How Scientific Illiteracy Threatens Our Future," moderated the conversation.
"'Our Table' aims to inspire people to cast aside their phones and engage in meaningful conversations not only in communities, but in homes and around dinner tables," Kirshenbaum said.
This was the first in a series of "Our Table" discussions in which MSU brings together food experts, agricultural producers, health professionals and community members to listen to each other and foster dialogue. It is part of Food@MSU, a new campus-wide initiative led by the colleges of Agriculture and Natural Resources, Arts and Letters, and Communication Arts and Sciences that aims to help consumers make more informed decisions about food, and its impacts on health and the planet.
This article was published in Futures, a magazine produced twice per year by Michigan State University AgBioResearch. To view past issues of Futures, visit www.futuresmagazine.msu.edu. For more information, email Holly Whetstone, editor, at whetst11@msu.edu or call 517-355-0123.