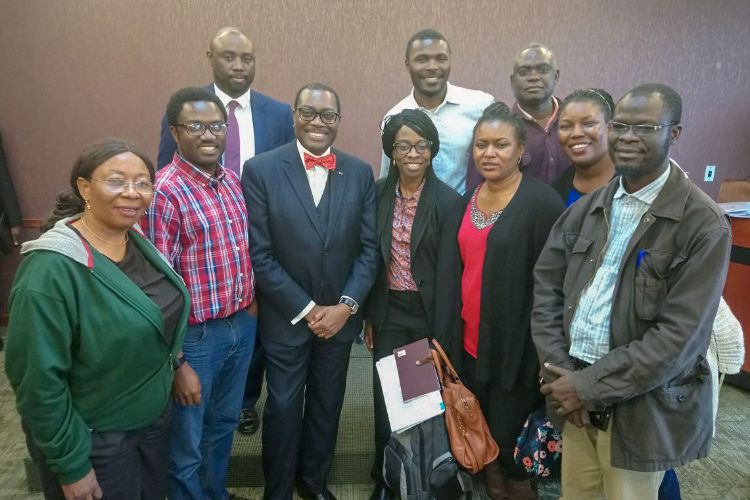 Between April 14 and May 12, 2018, the Department of Agricultural, Food and Resource Economics (AFRE) is hosting three Nigerian scholars under the USAID funded Nigeria Agricultural Policy Project Policy project led by AFRE faculty, Dr. Saweda Liverpool-Tasie. The three faculty, professor Ifeyinwa Achike, Dr. Phillip Agber and Dr. Kabir Salman are the academic supervisors of the three Nigerian graduate students studying at MSU for the Spring 2018 semester under the Policy Project Scholars Program.
The chief objectives of the professors' visit was to monitor the progress of their students and to interact with MSU faculty in areas of mutual interest. During their visit, the professors have met with more than 15 MSU faculty members in varying fields related to agriculture and economic development. The department also co-hosted the visit of another Nigerian faculty member, Dr. Bukola Osuntade, who is collaborating with Dr. Liverpool-Tasie and Dr. Laura Schmitt-Olabisi (CSUS) on an MSU Alliance for African Partnership funded project on climate change and the Nigerian poultry sub-sector.
The Nigerian faculty have attended classes and participated in several activities across campus. On April 27, 2018, the Nigeria Agricultural Policy Project collaborated with the MSU African Studies Center and African Graduate Students organization to host its inaugural roundtable discussion on using interdisciplinary research and collaboration to strengthen research that addresses the needs of stakeholders. The roundtable attended by 26 participants featured Nigerian faculty visiting MSU under the Project Scholars Program, alongside MSU faculty and graduate students involved in interdisciplinary research in the USA and internationally. Participants at the roundtable concluded:
Looking at a problem from different perspectives is critical and helps to avoid unfavorable outcomes. This can result in the most efficient utilization of scarce research resources.
Bringing stakeholders into the research process early helps ensure that the right questions or needs are being addressed.
Interdisciplinary research is fast becoming the required approach to get a comprehensive understanding of many of the complex problems of 21st century agriculture.
Though actual implementation of inter-disciplinary research remains a challenge, participants and faculty members agree that the first step toward achieving that is having discussions like the roundtable.
Beyond consultation and exchanges with MSU faculty, the Nigerian professors pursued additional opportunities such as visiting MSU farms, The Kellogg Biological Center, MSU student organic farms and the campus wide discussion with Dr. Akin Adesina, president of the African Development Bank Group, who actually commended the Nigeria Agricultural Policy Projects scholars program during the campus discussion.
Learn more about the Nigeria Agricultural Policy Project Policy project and Dr. Saweda Liverpool-Tasie.