Through courses, clubs, and connections, first-year student Holly Pummell is finding ways to "Go Green."
It's only Holly Pummell's second semester on campus. She found two majors that combined her interest in business and passion for the environment. She found a community of students who share her goals and aspirations. She found a support system of advisors and faculty members throughout the entire university. She's in five clubs. And she wants to tackle some of the world's toughest food issues. It's only Holly Pummell's second semester on campus.
A Clare, Michigan native, Pummell knew she wanted to be a Spartan since she was 10 years old — but she didn't know what she would find here.
"This has been my dream school for a long time." said Pummell. "And it has exceeded my expectation just in these short six months."
After meeting with AFRE advisor Dale Elsoff, Pummell discovered this department felt like home. With support from advisors like Dale, Pummell was confident in her decision to become an Environmental Economics and Management (EEM) major, as it combined a sustainability program with business-oriented learning. The combination of classes focused on policies, sustainability, and economics has since allowed her to engage with subjects she hadn't thought about before, and network with a wide range of professors and students.
"The faculty and other students in this college really care about each other," said Pummell. "They make you feel important and a part of something bigger than yourself."
Those conversations she had in her EEM classes triggered a new interest in Pummell, who then picked up Food Industry Management (FIM) as her second major, now intent on working on sustainability within the food industry.
After establishing her focus within her courses, Pummell dove into the opportunities outside the classroom. "Michigan State is a very 'green' campus," said Pummell, and as she continued her career on campus, she found a sea of clubs and experiences focused on the environment.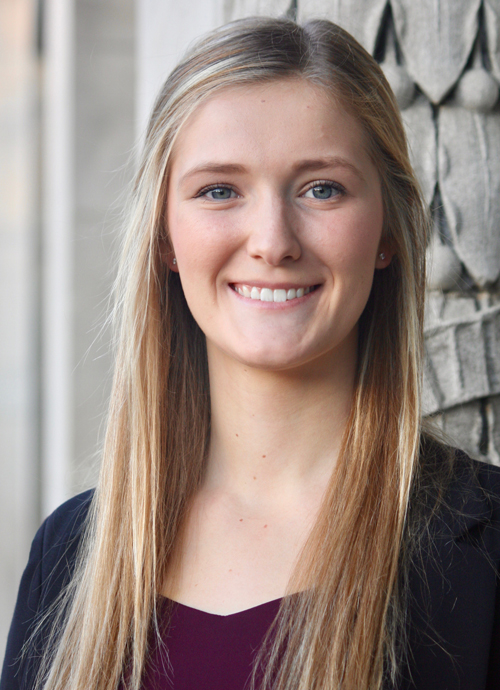 Leading Outside the Classroom
Pummell now serves as the social media coordinator and co-founder of the Sustainable Business Association, is involved in the Residential Initiative on the Study of the Environment (RISE), engages with Land Grant Goods, MSU's first student-run business that produces environmentally conscious products, and attends the Food Marketing Association (FMA) meetings regularly.
"My involvement in these organizations all stem back to the core of my majors, and my focus on sustainability," Pummell said. "There are so many opportunities throughout the MSU experience. It's allowed me to not only explore different career options and connect with amazing people, but also engage in an even more sustainable lifestyle on campus and in East Lansing."
Pummell was also chosen to go to the Food Institute in Chicago at the end January to tour and network with different food companies based in the Chicago area — which she said "excited her for her future career."
"I want to be able to live and be involved in having a more sustainable and efficient world, whether it's in renewable energy, agriculture, or the food industry. As of right now I want to tackle the problem of food waste at the consumer level and food loss at the producer level."
"My goal is to be a part of that sustainability movement, and use my major as a tool to tackle the wicked problems in our society."
It's only Holly Pummell's second semester on campus.