Q & A with EEM Major Holly Pummell
With an interest in sustainability and business, Environmental Economics and Management (EEM) Senior Holly Pummell, tells us why EEM was the major she was looking for.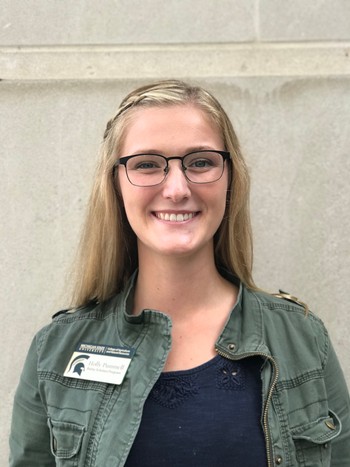 Hometown: Clare, Michigan
Major: Environmental Economics and Management (EEM)
Expected graduation date: Spring 2021
Why did you choose to study EEM?
During my junior year of high school, I attended a Green and White Day at MSU. I decided to attend the CANR's informational session, but I was early. Fortunately, the faculty running the session sat down with me and explained the resources and opportunities with CANR. I told him about my passion for the environment but also wanting something in business. I mentioned I came from a rural background being from Clare, Michigan. He directed me to the Department of Agriculture, Food, and Natural Resources.
In the fall of my senior year [in high school], I met with Dale Elshoff, the EEM advisor at the time, and I fell in love with the program. I wanted a business-related major that had a concentration on natural resource management but utilized economics. I was drawn to the size of the department and the support from the staff and faculty. AFRE has been an essential part of my development, and I appreciate all the people I have met along the way.
What has been one of your best experiences within your major so far?
I have been fortunate to be involved in the department. I have had the opportunity to serve as a Student Representative for the Undergraduate Policy Committee and AFRE Advisor Committee. I also worked for the department as a grader and completed undergraduate research.
My favorite experience was being the co-founder of the Sustainable Business Association (SBA). SBA's goal was to create a network of EEM students to learn about career opportunities, develop professionally, and positively impact campus culture around sustainability. I was fortunate to see the organization grow and create a community for EEM students. I served as SBA's President for the last three years, and I appreciate all the people I met, the speakers we had present, the events we attended and helping AFRE grow the major.
Can you tell us about your undergraduate research experience?
One of my favorite undergraduate experiences was working with Dr. Liverpool-Tasie on understanding the perceptions of climate change on the maize-poultry value chain in Nigeria. The opportunity to have this research experience enriched my program of study in Environmental Economics and Management.
Undergraduate research is an opportunity to be mentored by an experienced professor, learn research methods, and challenge yourself. Dr. Liverpool-Tasie taught me the importance of literature reviews, identifying key points in data, and interpreting findings. I was challenged by her every week, and it was a rewarding experience. Our work was published in the summer of 2020, and I am so proud of what we accomplished.
Any advice for current students?
Be your own advocate and set goals. Throughout my time as an undergraduate student, I had five keys experiences I wanted to have:
Undergraduate Research,
Education Abroad,
Involvement in student organizations and committees,
An internship, and
Be in the Izzone.
All were accomplished by advocating for myself and being willing to put in the work.
Enjoy the process of your academic journey and foster relationships along the way! Support systems are important!
Plans after graduation?
After graduation, I will be completing an internship with the Demmer Scholars Program at the federal level for natural resource policy. The program was canceled in 2020. I am excited about the prospects of 2021. The internship program is three months long and includes classroom and educational excursion experiences on the weekends.
I plan to attend graduate school in the fall of 2021. I have applied to the University of Georgia's Master of International Policy to focus on Human/Energy Security and Colorado State University's Master in Political Science with a concentration in environmental politics and policies. After graduate school, I would like to work for the United States government. My goal is to work for the United States Agency for International Development in their Civil Service department.