Raise your hand for Michigan 4-H!
Join me in voting for Michigan 4-H to support the next generation of 4-H'ers.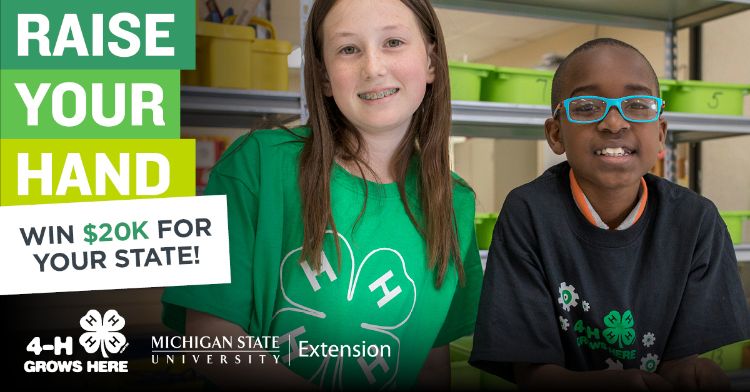 An important part of Michigan State University's College of Agriculture and Natural Resources is Michigan State University Extension and their youth development program, Michigan 4-H. This key program provides kids with the opportunity to learn by doing, grow from failure and develop the skills they need to handle whatever life throws their way. No one knows this better than 4-H friends and alumni like myself who have experienced these programs firsthand.
As a proud past participant of 4-H, I was honored to be recognized this fall with seven other 4-H alumni when I was inducted into the 2018 class of the Michigan 4-H Emerald Clover Society. The ceremony for this induction was a memorable night where I heard from many about the profound impact that 4-H has had an youth for decades and how the lessons learned in 4-H are carried with us still today as adults.
With the words of my Emerald Clover Society peers still fresh on my mind, and ever present stories of inspiring current Michigan 4-H youth such as national Youth in Action Award winner Addy Battel, I want to bring the 4-H opportunity to more youth in our state. That's why I'm voting for Michigan 4-H in the national Raise Your Hand competition. From now through May 15, each state is competing for a chance to win a $20,000, $10,000 or $5,000 cash prize to support 4-H programming in their state. You can help Michigan 4-H take the lead by raising your hand, too!
Raising your hand for 4-H is a simple process:
Visit http://www.4-H.org/RaiseYourHand and register as a 4-H alum or supporter.
Vote for Michigan 4-H as you complete the registration. Each hand raised (registered) between now and May 15 will count as a vote for our state to win. Even if you have registered previously, please do so again this year.
Tweet, post and share your #4HGrown experiences and tag fellow 4-H alumni and supporters, asking them to vote for Michigan as well.
Whether you're a 4-H alum or not, please take the opportunity to raise your hand for this life-changing youth development program that helps to grow responsibility, compassion, respect and a value of hard work. Together we can grow the next generation of true leaders.