Registration now open for the 2nd annual Great Lakes Hop and Barley Conference
The premier Great Lakes craft beer ingredient conference has moved to a larger venue and expanded to include a trade show.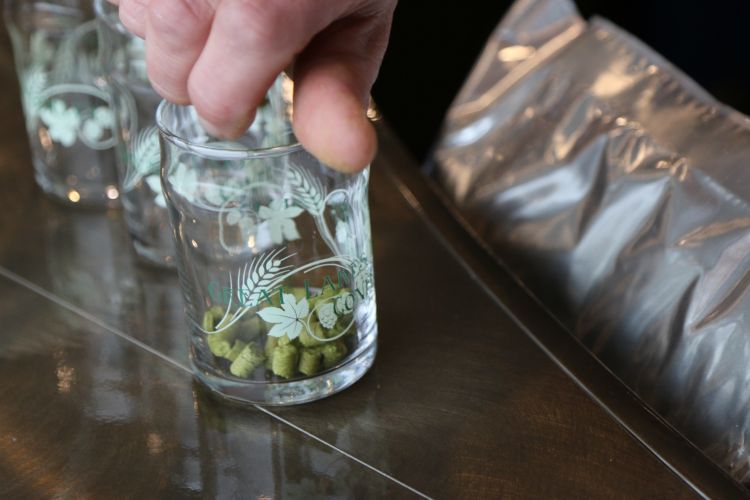 Educators from Michigan State University Extension with support from Michigan State University AgBioResearch, and the Michigan Brewers Guild are hosting the 2nd Annual Great Lakes Hop and Barley Conference March 16-17, 2016 at the Grand Traverse Resort in Acme, Mich. Due to an overwhelming reception at the 1st annual conference last year held in Grand Rapids, a larger venue has been chosen to accommodate more attendees. An expanded trade show will also be featured. Register today!
Three concurrent tracks will be offered, including beginning hop management, advanced hop management, and malting barley and malt production. The beginning hop track is for those considering hop production, the advanced hop track is for those with hops currently in production. The barley and malt track targets both malting barley and malt producers. Participants are welcome to move between tracks to catch speakers and topics of interest. An engaging keynote, the "Beervangelist", Fred Bueltmann, will launch the conference on Wednesday before participants break into their respective tracks. The hop tracks are packed with great presenters including Dr. Heather Darby (University of Vermont), Sam Turner (B.T. Loftus Ranches), Dr. Mary Hausbeck (Michigan State University), and Dr. Paul Matthews (SS Steiner). These dynamic speakers will cover topics including hopyard weed management, sustainable production, downy mildew management, and hop breeding.
Those participating in the barley and malt track will learn about DON management from Dr. Paul Schwarz (North Dakota State University), potential for winter barley production from Dr. Eric Stockinger (Ohio State University), and Dave Thomas will be joining us, author of The Craft Maltsters' Handbook, presenting specifically on the evolution of malting and rise of the craft malting industry. Additional presentations will highlight malting barley quality analysis, research conducted throughout Michigan, and much more!
Wednesday evening the Michigan Brewers Guild will host a Brewer/Grower mixer highlighting beers produced throughout the Great Beer State and providing for important networking opportunities. Thursday afternoon offers a tour of MI Local, a new hop farm and processing facility located outside of Traverse City. Additional registration for this tour is required.
Registration is now live for this exciting opportunity to learn more about the quickly growing craft ingredient market – relevant for farmers, growers, processors, maltsters, educators, industry resources and craft brewers. Registration did fill prior to the 2015 conference, so be sure to register today.
To view the complete agenda, review sponsorship or vendor opportunities, or to register please visit www.events.anr.msu.edu/hopandbarley16.
Any questions can be directed to the conference planning committee:
Betsy Braid, braidbet@msu.edu, 517-884-7081 (ANR Event Services)
Ashley McFarland, ashleymc@msu.edu, 906-439-5176 (Upper Peninsula Research and Extension Center)
Erin Lizotte, taylo548@msu.edu, 231-946-1510 (Wexford County)
Rob Sirrine, sirrine@msu.edu, 231-256-9888 (Leelanau County)
Scott Graham, director@michiganbrewersguild.com, 989-732-0569 (Michigan Brewers Guild)
Accommodations for persons with disabilities may be requested by contacting Betsy Braid at 517-884-7081 to make arrangements. Requests will be fulfilled when possible, please contact us regarding arrangements no less than one month prior to the event.