Reinvigorating MSU's connection with Africa
Initiated by MSU International Studies and Programs, the Alliance for African Partnership aims to increase institutional capacity and turn research into impact by strengthening partnerships among African institutions.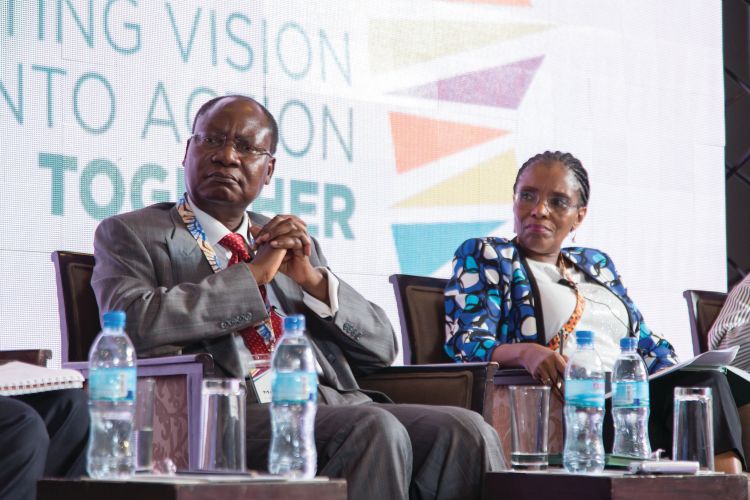 While 2017 marks the beginning of Year of Global Africa on campus, Michigan State University (MSU) has been working with partners on the African continent for many decades.
Before the African Studies Center was established at MSU in the 1960s, Nnamdi Azikiwe, who later became Nigeria's first president, reached out to MSU seeking a partnership to build a land-grant model university in Eastern Nigeria.
In response, many MSU faculty and families were involved in creating and operating the first "land-grant" university on the continent. While the collaboration was put on hold during Nigeria's civil war and its aftermath, relations were officially restored in 1990.
The depth of MSU's partnership with the University of Nigeria laid an important foundation for long and lasting cooperation between MSU and African universities, institutes and organizations.
In recent years, President Lou Anna K. Simon recently upped the ante by challenging MSU faculty to develop an innovative platform to engage campus researchers and continue building positive relationships with partners in Africa.
Consequently, MSU International Studies and Programs started a cross-continent brainstorming session that culminated in a three-day design workshop in May 2016. MSU faculty and African leaders across a variety of backgrounds convened to discuss what makes an effective partnership and what steps are involved to get there. From that vantage point, the Alliance for African Partnership (AAP) was initiated.
Launched in Tanzania in July 2017, AAP aims to increase institutional capacity and turn research into impact by strengthening partnerships among African institutions and continuing to build bridges to MSU.
"MSU has a reputation for building trusting relationships, for having a strong commitment to working with partners, and recognizing there's a mutual benefit," said Amy Jamison, AAP's associate director for institutional engagement. "MSU has found research opportunities for our faculty. We've had fantastic grad students who become alumni, plus the international experience for our students, and the exchange with our colleagues around research and engagement—it's been a history of learning from one another. The majority of people at MSU take that approach, and AAP is trying to make that solidly institutionalized."
Over a dozen AAP grant projects, awarded in spring of 2017, will address six priority issues:
Agrifood systems
Water, energy and the environment
Youth empowerment
Education
Culture
Health and nutrition
Each project is spearheaded by researchers from decidedly diverse disciplines, with some projects including nontraditional development partners, such as rural community organizations and tech companies.
One $50,000 AAP grant will focus on the labor burden in agrifood systems that disproportionately falls on women.
Using an approach to research and innovation that's responsive to a community's specific needs, environment and constraints, the team is working to solve challenges that put extra pressure on women in East Africa's rural communities.
MSU researchers Jennifer Olson and Susan Wyche from the Department of Media and Information, Erik Goodman and Tim Schmidt from the BEACON Center for the Study of Evolution in Action, and Hannah Robar from the Center for Language Teaching Advancement, partnered with Ruth Oniang'o from the Rural Outreach Africa, and Erik Tarkleson, chief engineer for Tanzania-based Enda Tech, to develop locally-based tech innovations that can help overcome added stressors for women in agriculture.
AAP is intended to be more than just another network.
"Our intention is to think about partnership itself in new ways," said Jamie Monson, AAP co-director and African Studies Center director. "MSU has always had a good ethic in partnering with Africa, but we were keen to imagine what a new landscape for partnership might look like. How can we have partnerships that are equitable, transparent, and that enable and empower Africa's institutions to move towards working to solve their challenges with us in a role as allies? We couldn't just sit here at MSU and say, 'Ok, here's how we're going to design the partnership of the future.' We realized we couldn't go forward until we invited our partners to join together with us in our innovation process. So, we had the convening in May of 2016."
One unexpected partnership already afoot involves Faraja Nyalandu, a young Tanzanian entrepreneur who developed Shule Direct -- an app that provides school children with online access to books and coursework.
Monson was introduced to Nyalandu through the Segal Family Foundation and later invited her to MSU. It was through this that the young woman was introduced to leaders with MSU's Tanzania Partnership Program, which focuses on educational access, among other key issues.
"That's the kind of partnership, networking, that's not really going to be on the radar, but its reverberation," said Monson. "When you build friendships and relationships, then people begin to meet each other and you can facilitate people coming together."
This article was published in Futures, a magazine produced twice per year by Michigan State University AgBioResearch. To view past issues of Futures, visit www.futuresmagazine.msu.edu. For more information, email Holly Whetstone, editor, at whetst11@msu.edu or call 517-355-0123.