Salta Mambetova named new MSU Extension vegetable educator in east Michigan
This position will cover vegetable production in the Thumb and Bay areas of Michigan.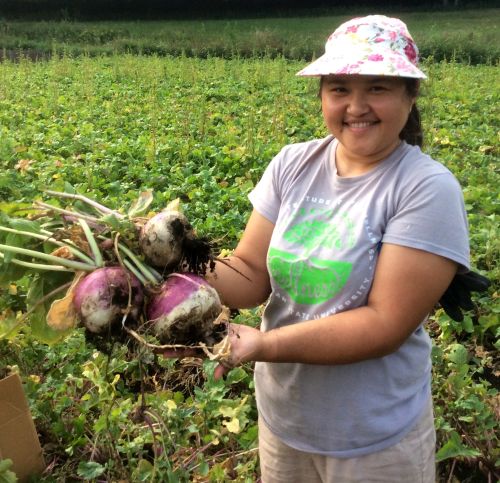 I am honored and excited to join Michigan State University Extension (MSU Extension) as a vegetable Extension educator. My assigned area covers eastern Michigan (Thumb area). I will be based at the Saginaw Valley Research and Extension Center in Frankenmuth, Michigan.
I am originally from Kyrgyzstan and grew up in a post-Soviet time when every citizen who had land became a farmer. My parents had a patch of small land near our house where we grew our own vegetables, fruits, potatoes, etc. I became passionate about growing and caring for plants which led me to receive my bachelor's degree in agronomy from Kyrgyz State Agrarian University. During my undergraduate program, I participated in the Student Field School, a collaborative project between the university and MSU. One of the research projects focused on developing new techniques to use hoop houses during the winter to grow vegetables, and another project evaluated drought-resistant tomato varieties for development into commercial production. These opportunities enhanced my interest and motivation in agricultural science and led me to graduate school.
Through the Student Field School, I was connected with MSU professors and other experts. I pursued my master's of science degree at MSU in crops and soil sciences through a full scholarship from the United States Agency for International Development Integrated Pest Management Lab. My research focused on evaluating late blight gene combinations and the durability of late blight resistance in the potato breeding program with Dave Douches, professor and director of the MSU Potato Breeding and Genetics Program. Through my research, I gained experience in plant breeding, tissue culture, marker technology and plant pathology.
Over the course of my studies, I became interested in plant pathology and I pursued this area as I advanced my education at MSU. My PhD research focused on developing new techniques to detect economically important diseases, such as late blight, black leg/soft rot and common scab of potato, turnip and table beet. After completing my PhD in plant pathology, I was a postdoctoral research associate in plant pathology for one year.
During my graduate and postdoctoral studies at MSU, I had the opportunity to participate in and organize field days, grower meetings and conferences as well as collaborate with potato and vegetable growers. Along with my PhD advisor Noah Rosenzweig, MSU Extension educators and the College of Agriculture and Natural Resources communications team, we published a series of YouTube videos about the importance and management of soft rot diseases during planting, growing, harvest and storage.
After completing my postdoctoral position, I went back to Central Asia to accept an assistant professor position at the University of Central Asia (UCA), Tajikistan. My main responsibility was teaching, but I also had research and community service appointments. At UCA I worked on two projects that gave me the opportunity to continue collaborative research with local growers and greenhouse owners, as well as further the Extension vision for the region.
I am excited to return to Michigan for the opportunity to serve vegetable growers in the eastern region of the state. I aim to develop an Extension program based on the needs of the industry and continue the legacy of a strong partnership between growers and stakeholders and MSU.
My office is located at the Saginaw Valley Research and Extension Center in Frankenmuth. I encourage you to stop by, call or send an email if you want to talk about your production challenges, invite me to your operation, or discuss how MSU Extension can best assist you.