Samantha Power visits MwAPATA Institute while in Malawi
USAID Administrator Samantha Power hosts food security roundtable at MSU-supported food policy research institute
On July 2, 2022, U.S. Agency for International Development (USAID) Administrator Samantha Power visited the MwAPATA institute during her tour of Zambia and Malawi. The MwAPATA Project, which includes the Institute and other partners, is supported by Michigan State University's Food Security Group and was founded with funding from an initial grant by the Foundation for a Smoke-Free World (FSFW). The Project is currently supported by FSFW and the USAID-funded Feed the Future Innovation Lab for Food Security Policy Research, Capacity, and Influence (PRCI).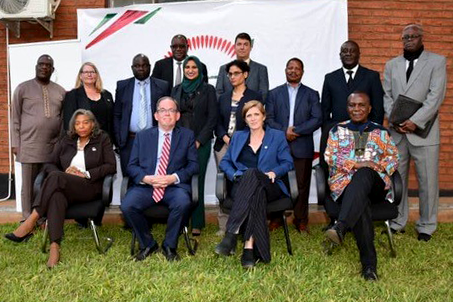 While at MwAPATA, Power hosted a roundtable that addressed key issues of food security. In light of the Russia-Ukraine war and natural disasters such as Cyclone Ana, the roundtable gathered researchers and government officials together to discuss how to mitigate shocks to Malawian food systems and protect the livelihoods and food security of Malawian citizens.
Power focused on major concerns around the food security situation in Malawi, which is one of eight new focus countries for Feed the Future. Possible transition pathways and major actions that could address the food security crisis were discussed, as well as key opportunities to increase resilience within the Malawian agri-food system.
The roundtable was facilitated by Maurice Shines, Deputy Office Director for the USAID Malawi Office of Sustainable Economic Growth, and included William Chadza, Executive Director of the MwAPATA Institute; Professor Richard Mkandawire, Africa Director of the Alliance for African Partnership (AAP) in MSU's International Studies & Programs; Maria Price Detherage, DAA for the Bureau for Africa; Ambassador David Young; and a number of other participants and delegates.
Weather shocks, COVID-19 impacts, declining maize yields, surging fertilizer and fuel prices, and the foreign exchange crisis emerged as key issues during the roundtable. Reforms to the Affordable Inputs Program (AIP), a program through which smallholder farmers are given access to subsidized seeds and fertilizer inputs, were discussed, in addition to the possibility of pivoting toward investments in mega farms to anchor the Malawian agri-food system. The emergence of medium-scale farmers was also a topic of conversation, with more research needed to understand their numbers, location, and potential to contribute to agricultural transformation.
Department of Agricultural, Food, and Resource Economics (AFRE) Associate Professor Milu Muyanga said of the visit, "It was certainly a pleasant surprise when the MwAPATA Institute heard the news that the USAID Administrator, Samantha Power, was to visit the MwAPATA Institute. This comes barely a month after His Excellency the President of Malawi graced the opening of the Institute's 2022 Malawi Agricultural Productivity and Productivity Conference. We feel honored and humbled by Samantha's visit. This is a true testimony that MwAPATA has come of age."
The MwAPATA Institute engages with the government, private sector, and civil society on topics surrounding applied food security policy analysis, policy outreach, capacity building and policy coordination. MwAPATA was established in 2020 to be the first independent Malawian agricultural policy think-tank led by local researchers. MSU Foundation Professor Emeritus Thom Jayne and Muyanga were deeply involved with the discussions leading to MwAPATA's formation. MSU engagement with MwAPATA continues with Muyanga and AFRE Associate Professor Bill Burke as Principal Investigators.
The Malawi government has been a strong supporter of MwAPATA since its inception, with the Vice President opening the first annual policy conference in 2021. Continuing to build regional influence, MwAPATA has recently become a member of the Regional Network of Agricultural Policy Research Institutes (ReNAPRI). ReNAPRI coordinates with affiliated member institutions in 11 African countries.
The MwAPATA vision, "is to be a world-class, credible, and respected local agricultural policy research think tank in Malawi, among the most respected in the world." This aligns with USAID's ongoing commitment to localization, community ownership and locally led development. This recent shift in power dynamics in humanitarian aid toward projects led and developed by local actors has long been a fundamental part of the MSU Food Security Group approach.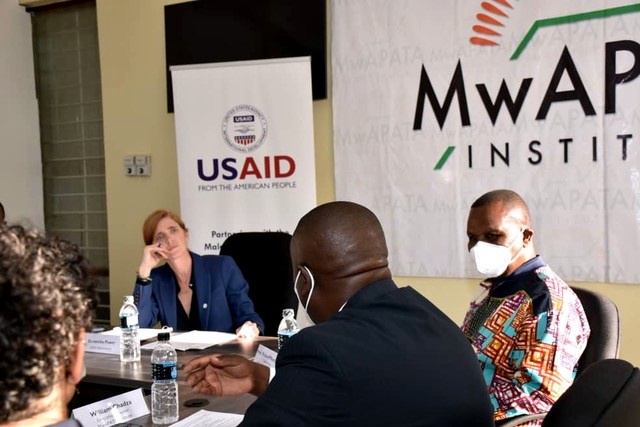 "We are extremely pleased that Administrator Power has chosen to make time in her busy schedule to visit MwAPATA", said PRCI Director professor David Tschirley. "This visit recognizes the fantastic work that the institute's leaders, with assistance from MSU through PRCI, have done to put MwAPATA at the forefront of food security policy analysis and design in Malawi. FSG and PRCI remain committed to partnering with MwAPATA to continue strengthening its capacity to deliver on this mission."
While in Malawi, Power also met with President Lazarus Chakwera to reaffirm U.S. support for mutual development plans and commitment to the democratic process, as well as to discuss the ongoing global food crisis and how Malawi can build a more resilient and sustainable food system. Later, she also reached out to anti-corruption leaders, local investigative journalists, and visited the nation's premiere environmental education facility, Lilongwe Wildlife Center.
Complete Listing of Photo of Roundtable Attendees
Back row: (standing left to right
Alexander Bulirani, Controller of Agricultural Services, Ministry of Agriculture
Jan Duchoslav, Senior Researcher at IFPRI Malawi
Second row: (standing left to right)
Prof Winford Masanjala, Principal Secretary of the Ministry of Finance
Anna Toness, Office Director for Sustainable Economic Growth
Louis Kawenda, Agricultural Policy Specialist
Homa Hassan, NSC Director for Southern Africa
Belien Tadesse, Acting Deputy Mission Director
Joseph Nagoli, Director of Knowledge and Learning, National Planning Commission
William Chadza, Executive Director of MwAPATA Institute
Maurice Shines, Deputy Office Director for Sustainable Economic Growth
Third row (sitting left to right)
Maria Price Detherage, DAA for the Bureau for Africa
Ambassador David Young
Samatha Power, USAID Administrator
Prof Richard Mkandawire, Chairperson of National Planning Commission and MwAPATA Institute, and Africa Director for the Alliance for African Partnership