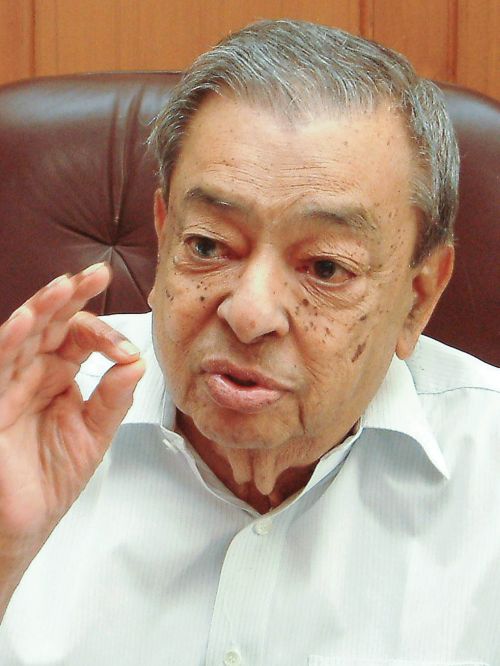 There are few, if any, Michigan State University (MSU) alumni who have influenced more lives than Verghese Kurien. Hailed as the "Milkman of India," Kurien is credited with spearheading a movement that revolutionized India from a dairy-deficient country to the world's largest milk producer.
This was achieved in large part through Amul - a dairy cooperative Kurien helped form with his peers. The cooperative empowered thousands of dairy producers to gain business stability and thrive. Today Amul has transformed into India's largest food brand. It is credited with the invention of milk powder from the abundant buffalo milk instead of from cow milk, which is in short supply in India.
Ironically, in winter 1946, when Kurien first arrived at MSU, he had little interest in dairy. He had been chosen for a government scholarship to pursue an education in dairy engineering only after answering a question about pasteurization. He responded by saying that it had something do with milk. That was all it took and he found himself at MSU.
Kurien went on to flourish at MSU – debating fellow students on subjects of interest and winning a tennis championship. He earned a master's degree in mechanical engineering, with a minor in nuclear physics, in 1948.
This fall, Satish Udpa, MSU executive vice president for administrative services, opened a memorial talk honoring Kurien – who died in 2012 – with a statement about the success of Amul.
"Today India produces more milk than any other country. It produces more than the U.S. It produces more milk than all of the countries in the European Union," said Udpa. "You cannot go to any store in India and not find Amul products and that is because of the genius of all the people who are involved in this company."
Kurien's daughter Nirmala also spoke at the same memorial. She said her father worked hard for equity and equality. In addition, she said she recalled how he was taken aback by racial slurs and the segregation of the bus system in the U.S.
"When he started working for the cooperatives in Gujarat, he was firm that there would be only one line when milk was collected twice a day," she said. "One line every day for the year whatever your class, creed or sex may be."
She added that her father saw no reason for anyone to be passed over for success or taken advantage of for the sake of enterprise. That's what inspired him to help farmers in India become more self-sufficient and successful.
How it all began
In the 1930s, Polson Dairy products had obtained a monopoly over India's dairy industry by working closely with the government to be the only distributer allowed to buy from the Kaira District – the epicenter of milk in India. Producers had little choice but to comply. Consequently, Polson became a successful profitable brand, yet farmers saw little in the way of prosperity in return.
Pushed into action, farmers sought counsel about how to improve their economic and social positions from political leader and future deputy prime minister of India Vallabhai Patel. Patel was adamant about the need to cut out the intermediary in farming and organize into cooperatives. He was convinced that when the producers led every aspect of production and distribution, they'd get a fair profit in return. They followed his advice and formed the Kaira District Cooperative Milk Producers Union.
Kurien arrived back in India in 1949 to serve out his bond to the government at an outdated experimental creamery at Anand. Growing increasingly dissatisfied in his small town, he tried everything to get out of his government-mandated job. He managed to get permission to leave but agreed to stay three months to help install a new pasteurizer and to get it running. He ended up staying for the remainder of his life – 63 years.
The entire time, Kurien fiercely campaigned for a better quality of life for dairy producers in his homeland. Seeing their struggles against a system that could not function without them was unacceptable to Kurien.
It was at the World Food Program in 1968 that Kurien spoke to members of European countries who had a surplus in milk production. He told them about his idea to make India a self-sufficient country in dairy. His presentation convinced the countries to donate milk to India. It was a huge step in Kurien's master plan. With the donations, he helped cities across India gain footing in the dairy industry and increase production. He knew if the dairy industry of India was to thrive, farmers would also have to become the salespeople distributors to take back some of their power.
Kurien financed his plan from the resale of the milk and replicated the work all over India, forming more cooperatives. This became known as Operation Flood.
R.S. Sodhi, managing director of Amul India, who spoke at the same MSU event, said Kurien reached out to farmers that lacked even the opportunity to step inside a primary school. By opening the gates and allowing them to navigate their own industry, farmers were empowered to sell their products.
"Who would have imagined that a cooperative formed by small and marginalized farmer groups from two tiny villages located in the heart of Gujarat 70 years ago would one day transform into India's largest food operation?" said Sodhi of the organization that would later be called Amul. "No one could have predicted that an enterprise that started by just collecting two 50 liters of milk per day in 1946 (would) one day become 22 million liters per day."
In 1989, Kurien was awarded the World Food Prize for revolutionizing the organization of India's dairy industry by founding the National Dairy Development Board, which then pioneered Operation Flood. In his acceptance speech, he stated that it was the courage of over 6 million dairy farmers who organized into 60,000 cooperatives at the time that gave him the strength to challenge an industry.
"Operation Flood, the program that has transformed India's dairy industry, is not a story of the triumph of science and technology; there have been no miracles," said Kurien. "How then was our White Revolution made possible? I would submit that one very important reason is that we have created structures that give our farmers control over the resources they create."
This article was published in Futures, a magazine produced twice per year by Michigan State University AgBioResearch. To view past issues of Futures, visit www.futuresmagazine.msu.edu. For more information, email Holly Whetstone, editor, at whetst11@msu.edu or call 517-355-0123.