Six tips for hosting a food summit
Bring diverse voices together to share a collective story about our food system, network, and begin writing the next chapter.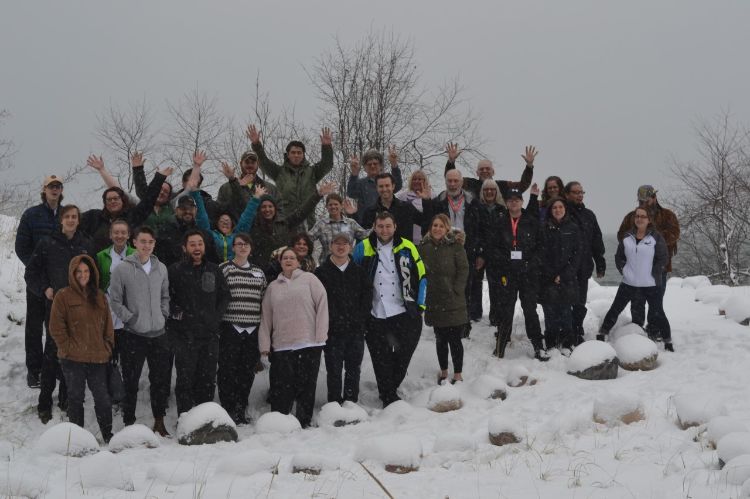 A food summit is an opportunity for people working in different parts of the food system to come together for a "state of our local food system" conversation. Results of a food summit can include education, action, coalitions, and projects -- as well as new relationships between individuals from different parts of the food system, such as a farmer and a restaurant. This article will offer information about food summits, food policy council resources, a food summit case study in Michigan's Upper Peninsula (UP), and broad tips for those who are interested in organizing a food summit.
Why do people organize food summits?
Food summits can be big -- the World Food Summit was held in Rome in 1996 by the Food and Agriculture Organization of the United Nations, which was the occasion for an international declaration about the importance of food security -- or small, like the Upper Peninsula Food Exchange (UPFE) Food Summits that will be profiled in this series, which attracted people from a few counties to talk about what they want to address in their local food system in the next five years. A state-wide Good Food Summit has been held every other year since 2010 aligned with the principles of the Michigan Good Food Charter in order to share information about good food initiatives, legislation, and emergent issues for Michigan. Kathryn Colasanti worked to organize the first Good Food Summit, and says that the word summit "fit well with our idea of bringing together wide representation and collectively establishing a vision for the food system in Michigan."
While a food summit may be specific to a certain city, county, or economic development district, others bring together participants from a much larger geographic region to focus on specific issues and education shared by their communities and governments. Two such examples are the national Food Sovereignty Summit hosted by Oneida Nation of Wisconsin and the Great Lakes Intertribal Food Summit hosted by various tribal communities on a rotating basis:
The Great Lakes Intertribal Food Summit is a regional, travelling summit. The annual event brings together several hundred native farmers, ranchers, gardeners, chefs, businesses, policymakers, tribal agriculture staff, native non-profits working in agriculture, food producers and tribal leaders to share and learn together around traditional food and agriculture and food sovereignty.
It may be useful to facilitate progress in the food system by focusing efforts on a specific sector. If the local school board is avid about having a high quality lunch program, introducing a targeted Farm to School effort could be appealing and have high impact. However, there is also power in bringing together all food system stakeholders in a broader context. Inequities found within one area of the food system are a function of broader system failure. Working together at this level mobilizes the broad stakeholders required in system change.
Local food policy councils are a way to keep connections among local food stakeholders strong -- and councils can form before or in response to a Food Summit. The Western Upper Peninsula Food Systems Council began as a network of people who wanted to organize around local food issues: "through friendships, sharing meals together, and lively dialogue, we started to weave and bind our commonalities together. The Western UP Food Systems Council is the result of sharing our food resiliency dreams, desires for equity and justice, and ultimately, a commitment to be in the service of our communities." Food policy councils can find one another, and support to form or grow, through the Michigan Local Food Council Network, which "formed in 2015 in response to food councils' need for statewide peer-to-peer learning, capacity building, and networking" and has an interactive map of good food infrastructure in Michigan.
Case Study: Planning the Upper Peninsula Food Exchange Food Summits
The UPFE Food Summits, held in three regions of Michigan's UP, are a rural, small-scale approach to the food summit. Rather than hosting one food summit to address a geographic region that comprises about 33% of the state and is home to only 3% of the Michigan's population, UPFE hosted multiple events in broadly defined sub-regions of East, Central, and West to recognize food system subcultures. Different areas of the UP specialize in different growing or foraging practices, have a climate suited to producing different foods, and have access to different kinds of infrastructure (such as shared use kitchens, transportation, or cold storage). In each region of the UP, the food summit brought together stakeholders from different parts of the food system -- food producers and foragers, restaurant owners, institutional food purchasers, policy makers, and educators -- together to learn from one another, identify emerging issues, and take action, either individually or as part of a collective. The planning committee identified these five different groups as key players in the food system and used these groups as "tracks" to build a 60 minute educational presentation or panel tailored to each group's interests. Participants indicated that some areas are not fully represented by the three subregions and that more locations should be added due to travel times exceeding two hours.
The UP Food Exchange is a coalition of food system organizations that use the food summit concept on an annual or every-other-year basis to check in with ongoing food system initiatives like:
During the planning process, the steering committee decided that it was important to mirror the diversity of educational needs with programming specific to each region. In the Eastern Upper Peninsula, the producer education track focused on alternative forms of farm finance to address the issue of an aging farmer demographic. The Central Upper Peninsula producer track emphasized value-added products and diversifying sales channels to educate on the relative opportunity available in that region. In the Western Upper Peninsula, farmers, foragers, fishers, and growers were invited to a sharing session to introduce themselves to one another and discuss in small groups their needs and opportunities for collaboration. Dr. Angie Carter, session facilitator, emphasized that in this region, "We tried to make a point to not call it the 'producer' track because we have many people who want to come and be involved in these discussions who grow, hunt, share, barter food--and don't identify first as producers. Also, because we held the summit on tribal lands, we wanted to honor the many ways we have relations with the plants and animals that feed us."
In addition to celebrating success stories, the group used time at the summit to identify problems and rank projects that will strengthen food system resilience.
Tips for hosting a Food Summit
Bring equity to the planning phase. In planning a regional summit, draw from as many sectors of the food system as possible for the summit planning team. Seek out local stakeholders from many areas and cultural backgrounds to tell their own stories. Food summits as a category don't inherently support equity -- systemic change becomes possible when a food summit is organized around inclusivity, parity, and elevating historically underrepresented voices. Two food summits in the UP were hosted on federally recognized tribal land.
Plan the day around building relationships. Organize the day with tracks and designated communal time that is active -- in addition to or instead of a traditional keynote. The tracks allow people with self-identified common interests or experiences to be together, while "everyone, all together" activities that get people moving and talking to one another allow people from all parts of the food system to find common ground and build alliances across sectors. For instance, the Marquette Food Co-op created a collective timeline with contributions from everyone at the event. Leave open time in the schedule for informal networking and talking so that people can connect based on their interests rather than only their role in the food system.
Feature local food on the menu. This may require special planning to source and purchase. The MSU Extension Community Food Systems team can assist in planning and sourcing local foods, and Taste the Local Difference has a statewide directory of local farms. Consider publicly thanking and inviting those who produced, prepared, and served the food to speak about their role in the meal.
Incorporate more with panels. Panels that take on broader topics offer multiple voices on one issue, rather than one perspective. People who are not from that group can then hear multiple voices. For instance, the Western UP featured a rural retailer and a population center retailer, which compared those two markets -- two realities -- which offers a more nuanced view of the idea of "markets."
Try a Meet and Greet. Give producers (foragers, farmers, food producers) a chance to talk with purchasers (restaurant buyers, institutional purchasers from hospitals, schools, universities, nursing homes, and grocery stores). Cultivate Michigan has resources.