Soil testing through MSU Extension
MSU Extension home lawn and garden and commercial soil tests provide access to personalized fertilizer recommendations for thousands of Michigan residents every year.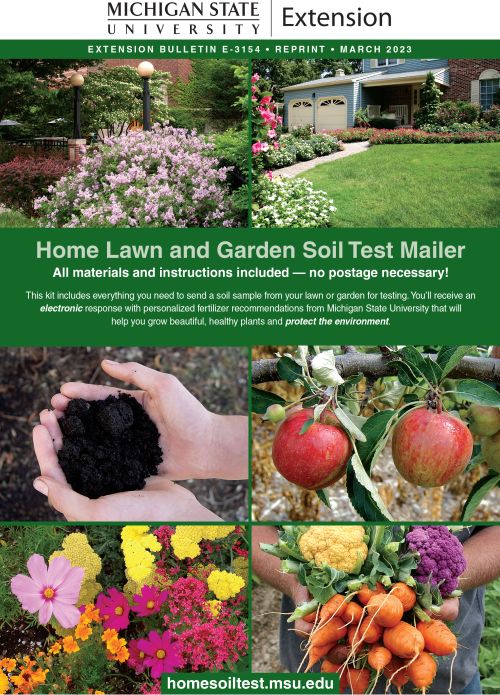 So far this year, Michigan State University Extension has generated over 3,000 personalized fertilizer recommendations, averaging 500 per month for home gardeners and nearly 200 per month for commercial clients.
How it works
Commercial soil sample bags and home lawn and garden mailers are available for purchase from MSU Extension. A&L Great Lakes Laboratories, Inc. (A&L), analyzes the soil samples and sends the data to MSU Extension. MSU Extension staff then generate MSU recommendations and send those directly to the client. All MSU recommendations utilize the latest research and follow state laws and guidelines, including Generally Accepted Agricultural Management Practices (GAAMPs), enabling farms to stay within the provisions of the Michigan Right to Farm Act.
As a reminder, please do not send samples to the MSU Soil and Plant Nutrient Laboratory (SPNL), which closed on Dec. 31, 2022. Samples sent to SPNL will not be processed.
Which test do I need?
We offer both home lawn and garden soil tests and commercial soil tests. It is important to choose the correct soil test for your application.
The Home Lawn and Garden Soil Test Mailer is appropriate for all types of home soil samples, including lawns, trees, shrubs, flowers, vegetables and fruits. The mailer includes instructions on how to collect a soil sample, a simple form to fill out identifying what you plan to grow (e.g., lawn, vegetables, flowers, shrubs), a bag for the soil sample, and a postage-paid envelope for your convenience. You will receive a report with easy-to-interpret instructions for adding recommended fertilizers or other amendments. You can receive further assistance through Ask Extension or by calling the MSU Lawn and Garden Hotline (1-888-678-3464), both of which may be accessed through our Gardening in Michigan website. The mailer can be purchased in person at MSU Extension offices or online from the MSU Extension bookstore (shop.msu.edu). The cost is $26.
Commercial soil sample bags are appropriate for wildlife food plots as well as farm, landscape, nursery, athletic field and other commercial operations. Although slightly lower priced than the Home Lawn and Garden Test Mailers, they do not include postage to the lab and recommendations will be given at farm-scale (e.g., pounds per acre), which is difficult for home gardeners to interpret. Diagnostic responders who answer our Lawn and Garden Hotline are not trained to answer questions related to commercial tests. Commercial clients are instead supported by MSU Extension educators specializing in particular crops. Commercial soil sample bags can only be purchased in person at MSU Extension offices. The cost for the commercial sample bag is $18 and does not include shipping costs to the lab for analysis.
Why test your soil?
Plants need the correct pH and balance of nutrients to be healthy and productive. Whether you are converting land to a new use or have been growing the same crop for many years, a soil test is essential to guiding your soil management. The soils in our lawns, gardens and fields can become depleted over time, making them less productive. Rather than just guessing what nutrients are needed, it is helpful to test the soil. This protects against over-application of nutrients, which can harm plants, cause imbalances in the soil and pollute our waterways. Soil should be tested every two to three years.
What will the MSU soil test tell me?
The current level of plant nutrients in your soil, including phosphorus (P), potassium (K), calcium (Ca) and magnesium (Mg).
Personalized recommendations for fertilizer tailored to what you plan to grow.
The pH of your soil, if lime or sulfur is needed, and the amount to add.
The soil organic matter (OM) level and cation exchange capacity (CEC) of your soil.
Note: This is not a test for soil or water contamination or toxicity, and the test does not provide soil texture.
Why not go directly through a commercial lab?
MSU provides specific recommendations for the unique needs of over one hundred crops, many of which are not covered by recommendations from commercial labs. MSU's recommendations are built on decades of research and designed to optimize plant health and productivity while protecting Michigan's soils and abundant water resources.
Other fertilizer recommendations will often be higher than what is provided by MSU Extension, resulting in higher input costs for fertilizer and potentially detrimental effects on the environment. Thus, any initial savings on testing your soil directly through a commercial lab may be lost, in the long run, as you pay for additional — and unnecessary — fertilizer and soil amendments.
Finally, MSU Extension may not have the capacity to assist in interpreting results obtained through other sources. To be assured that you have the current MSU recommendations for fertilizer and soil amendments, please use the new MSU Extension soil testing program for your home lawn and garden or commercial soil testing needs!