Southeast Michigan vegetable update – July 1, 2020
It has been hot, and it will stay hot. Be on the lookout for downy mildew, thrips, aphids and spider mites.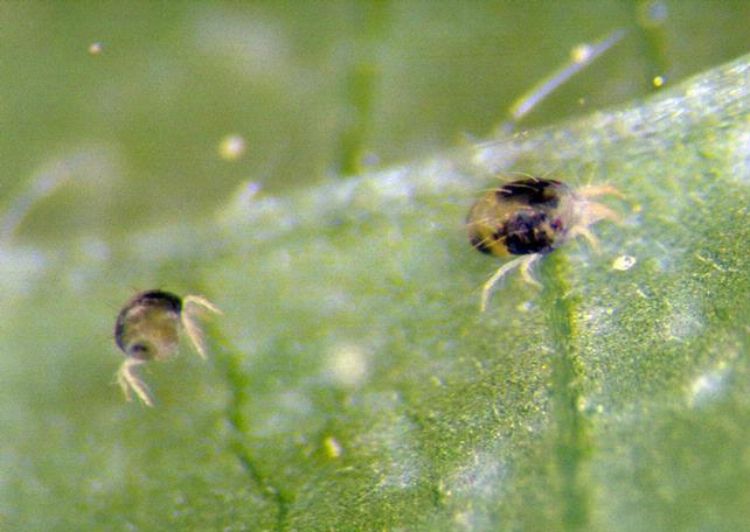 Weather
We are in an unusual weather pattern that will keep us in the longest heat spell we have had in Michigan since 2012. Our area did get 2 inches of rain over the weekend but going forward the best chance of rain is at least a week out. Humidity will increase going into the weekend. Potential evapotranspiration rates will be as high as we ever see in Michigan and will stay high for multiple days (read as: irrigation will be critical).
The table below shows rainfall totals for the Michigan State University Enviroweather stations in southeast Michigan, as well as degree-days calculated using the Baskerville-Emin Method. Degree-day average for Commerce and Hudson is over five years, while Deerfield is over four years. Rainfall is in inches. For a refresher on degree-days and how to get this information in your area, see "Accessing growing degree days with Enviro-weather" from MSU Extension.
Rainfall and degree day totals as of July 1, 2020

Station

Degree days (base 42)

Degree days (base 50)

5-year degree day average (Base 50)

Rainfall since April 1

Commerce

1460

893

929

9.07

Deerfield

1614

1005

1092.7

8.49

Hudson

1464

893

1005.5

9.76
General notes
The hot, dry weather promotes outbreaks of aphids, thrips and spider mites. Selective chemistries will help preserve natural enemies for more season-long pest control.
The hot weather and rising humidity mean there is a high risk of nitrogen loss from Urea. Irrigation, cultivation or stabilizer products are all options for minimizing the loss.
Calm weather in the mornings and evenings will be good for spraying but note there is great inversion potential. As long as there is a little bit of wind, the inversion should be broken. The Deerfield Enviroweather station has an inversion tool that can be used to see what inversion potential exists in one part of the region. We are also in a spray window for field crops, so this inversion potential creates drift risk.
Crop updates
Cucumber and melon growers should note that downy mildew has been confirmed in Monroe County. The disease was well-developed on the samples received by campus. Targeted downy mildew fungicides should be used weekly and chemistries should be rotated. The below products performed well in 2019 MSU trials.
2020 recommended tank mixes for Michigan:
Ranman plus chlorothalonil or mancozeb
Orondis Opti
Elumin plus chlorothalonil or mancozeb
Zampro plus chlorothalonil or mancozeb
Previcur Flex plus chlorothalonil or mancozeb
Pumpkin and squash growers do not need to be concerned about the downy mildew detection in Monroe County. Our current understanding of downy mildew is that there are multiple clades (think of them like strains), and the clade we are seeing currently in cucumbers does not typically infect pumpkins or squash.
Vine crop growers should note that powdery mildew has been reported in Ohio. Scout with a focus on the underside of older leaves. The trigger to start treatment is one infected older leaf per 50 inspected leaves. Scout fields once a week. Usually we see powdery mildew around the time fruit starts to set, and most pumpkins have some male flowers just starting to develop on the plant. If you do detect powdery mildew, see the Midwest Vegetable Production Guide for product recommendations.
If you will be in the car or tractor in the next week, I highly recommend the Great Lakes Vegetable Producers Network conversation with Cornell University plant pathologist Meg McGrath, who has been working on powdery mildew for a long time. It contains a lot of useful information on both conventional and organic powdery mildew management. It is available on Spotify, Apple Podcasts and other podcast apps, or online with no application necessary.
Strawberry harvest is wrapping up or has wrapped up on most farms. For information about renovation, see "Renovate perennial strawberry fields to maximize yield next year."
Early sweet corn is silking. Corn earworm is present in our area, the numbers are low but there isn't any silking field corn yet to dilute the pressure in sweet corn. Catches in Monroe County average 0.6 moths per night, and two moths a night in Lenawee County. In situations where no field corn is silking, the threshold for treatment is one to three moths per trap per night. For treatment options, see the Midwest Vegetable Production Guide.
Reach out
Please contact me at schuhmar@msu.edu or 517-264-5309 with questions, concerns or to schedule a field visit. I have the ability to do field visits on a limited basis.
Great Lakes Vegetable Producer's Network
The Great Lakes Vegetable Producer's Network is a live weekly roundtable discussion during the growing-season for commercial vegetable producers in the Great Lakes and Midwest region. It is broadcast live via Zoom at 12:30 ET/11:30 CT every Wednesday from the first week of May to the first week of September. Listen live or later. If you have a pressing vegetable production issue that you would like discussed, simply email it, along with your phone number, to greatlakesvegwg@gmail.com.